MLB.com Columnist
Bill Ladson
Max respect: Turner aids ace, makes Nats go
While Scherzer is at a loss for words to describe rookie's latest performance, Braves skipper isn't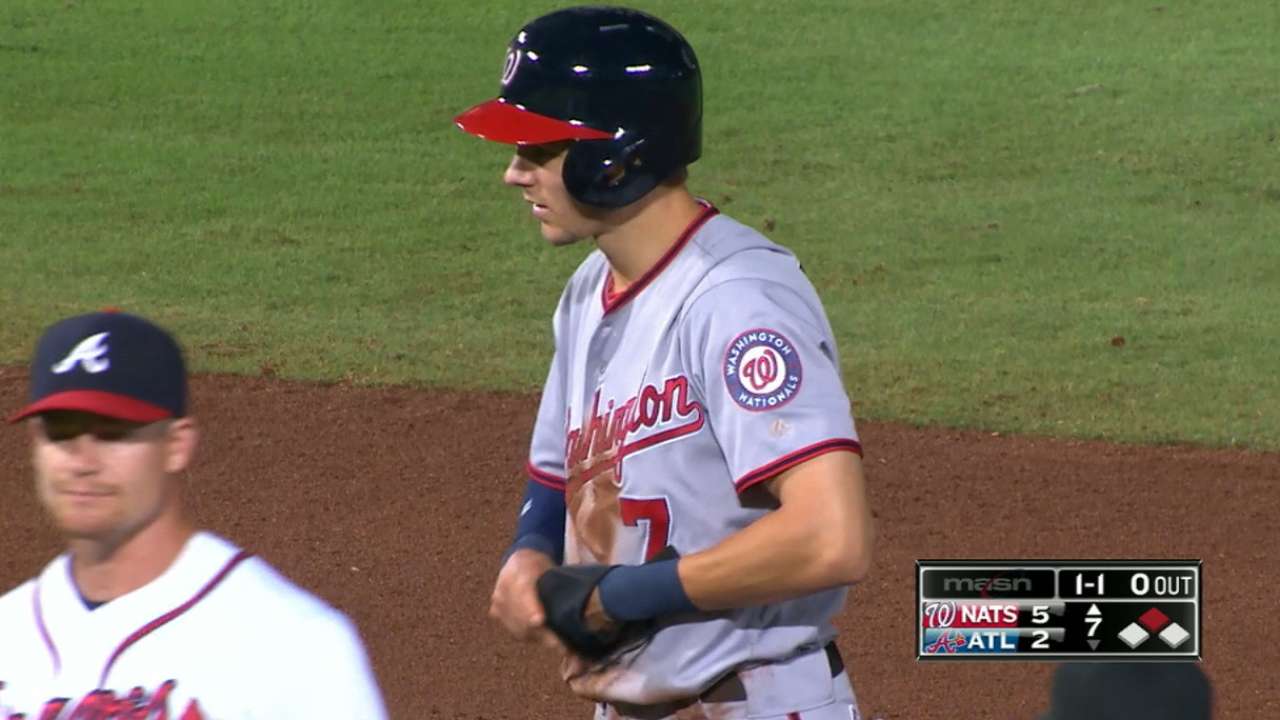 ATLANTA -- Nationals right-hander Max Scherzer couldn't stop gushing about teammate Trea Turner after the team's 7-2 victory over the Braves on Friday night. As Scherzer puts it, "Trea has his fingers all over it again."
All Turner did was go 4-for-5 with four runs scored, two RBIs and two stolen bases. His two-run homer in the second inning gave the Nationals a 4-0 lead. But ask Turner which at-bat he took the most pride in, Turner picked the last at-bat in the ninth inning, when he hit a ground-rule double against right-hander Shae Simmons.
"As the game goes on, you can throw away at-bats, especially if the game is not super close," Turner said. "Simmons is a pretty good pitcher. He has pretty good stuff. To stay in the approach that I had, try not to do too much at the same time, not give the at-bat away, it's something I take pride in."
Turner seems to take pride in every at-bat against the Braves this season. He is 24-for-52 (.462) with four home runs, 14 RBIs and six steals in 11 games. Turner has no idea why he has so much success against Atlanta.
"I couldn't tell you," Turner said. "I don't know, luck on my part. I had some bad games before when I faced them, and I figured out the adjustment I needed to make."
Braves manager Brian Snitker is impressed from what he has seen from the rookie center fielder.
"His hands work about as good as anybody I've seen," he said. "We can't solve him, that's for sure. He's energetic. He's making them go. He's refreshing to watch. He plays the game the right way, and he can play multiple positions. He's made an impact on that team and an impression on me during the short time he's been here."
Scherzer said there aren't enough adjectives to describe what Turner has done since he has become Washington's leadoff hitter. Turner is hitting .349 with nine home runs, 32 RBIs and a team-leading 26 stolen bases in 58 games. He stole second and third during the seventh inning to set up Daniel Murphy's sacrifice fly.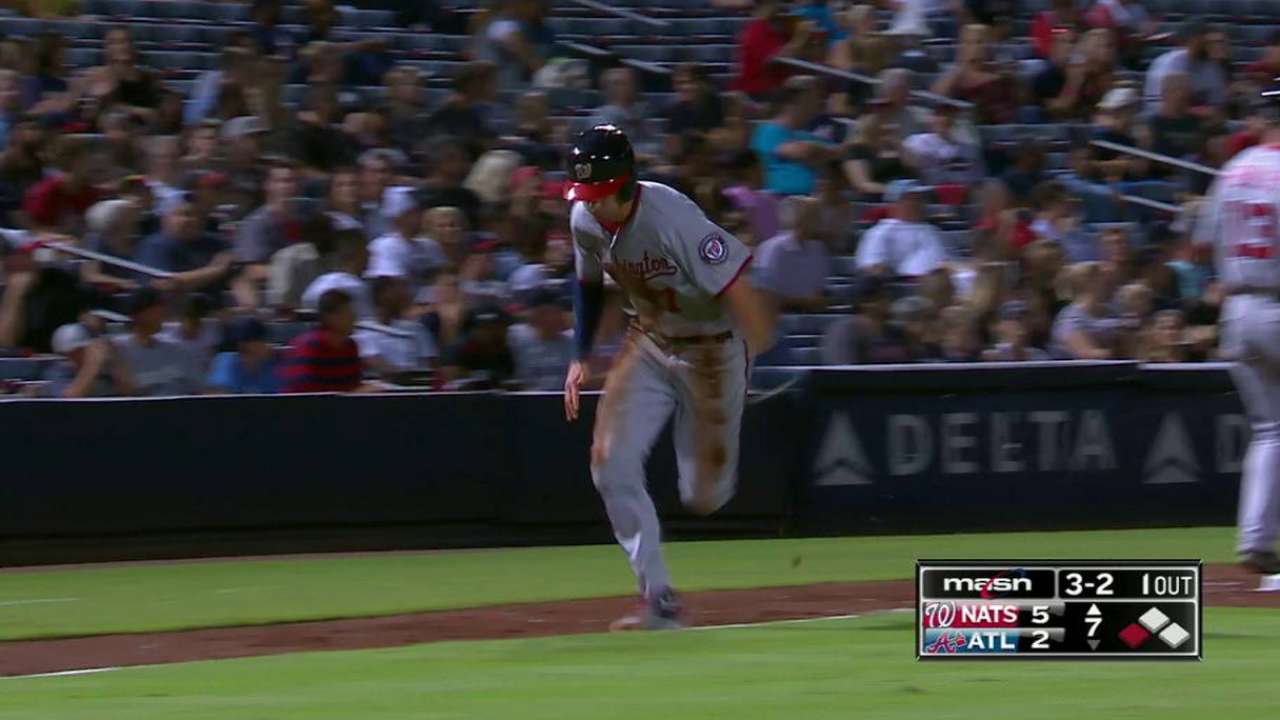 "This guy can do everything with the speed," Scherzer said after his 17th victory. "I've never seen a guy have this much speed and this much power from that frame. It's unbelievable what he does. He impacts the game in so many different ways. He was asked to play center field, and he is excelling at that.
"He's playing like he played 10 years in the big leagues, and he is a rookie. He is off and running literally and figuratively."
Bill Ladson has covered the Nationals/Expos for MLB.com since 2002 and writes an MLBlog, All Nats All the Time. He also can be found on Twitter @WashingNats. This story was not subject to the approval of Major League Baseball or its clubs.