Bucs' big bats fuel doubleheader sweep of Reds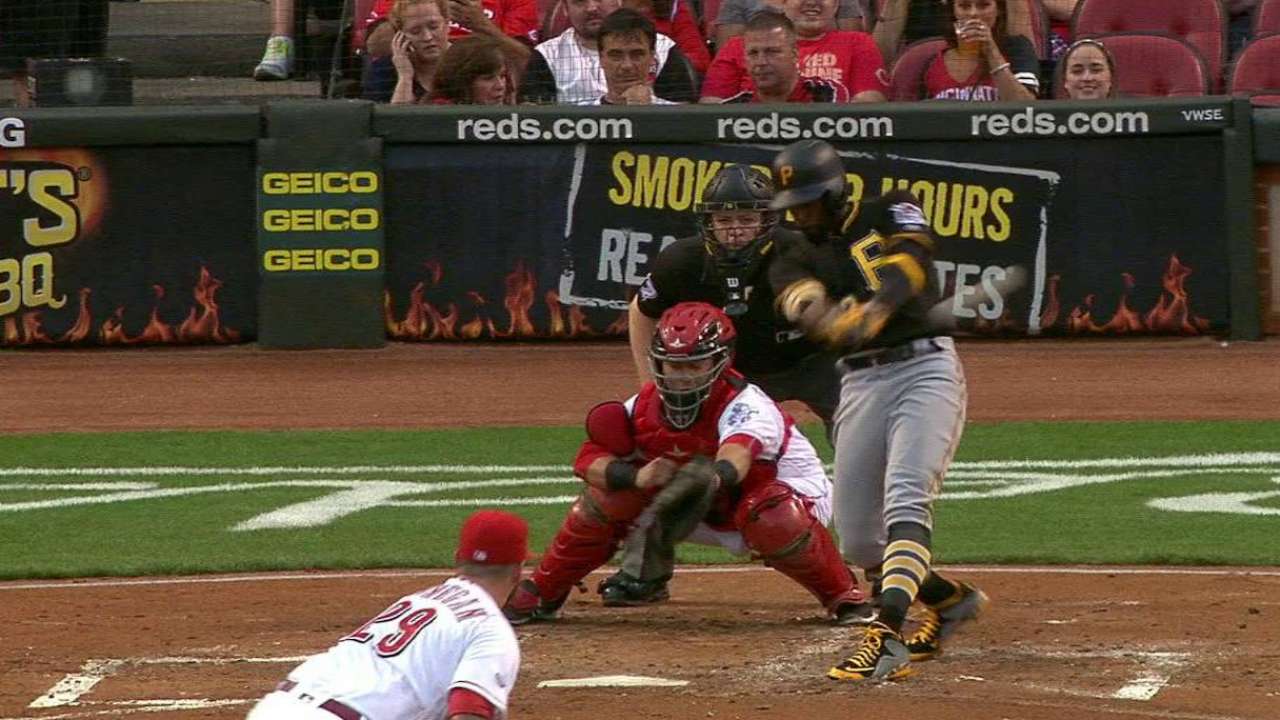 CINCINNATI -- From start to finish, Saturday was about patience for the Pirates. Preparing for a doubleheader against the Reds, a 12-hour day at the ballpark, they first had to wait through an hour-long rain delay before Game 1. Then the Bucs forced the Reds to throw nearly 400 pitches, drawing 19 walks in 18 innings. After cruising to a victory in Game 1, Pittsburgh capped a highly productive day at the plate with a 7-3 win in Game 2 on Saturday night at Great American Ball Park.
The Pirates saw 393 pitches on the day -- 196 in the opener, a 10-4 win, and 197 in the nightcap -- as they swept the Reds in a doubleheader for the first time since August 2007. They piled on 22 hits, 11 in each game, and outscored the Reds, 17-7. Sean Rodriguez led the charge, homering in both games, but contributions came from all over the lineup.
"[Hitting coach Jeff Branson is] always preaching to us to be stubborn in our approach, whatever that may be," Rodriguez said. "Just being stubborn, sticking to it and following through no matter the situation. Just committing to it and selling out to it the whole at-bat."
With the doubleheader sweep, the Pirates moved within five games of the Mets for the National League's second Wild Card. Pittsburgh's postseason hopes have nearly evaporated with 14 games remaining, but they are still mathematically alive after stringing together four straight wins.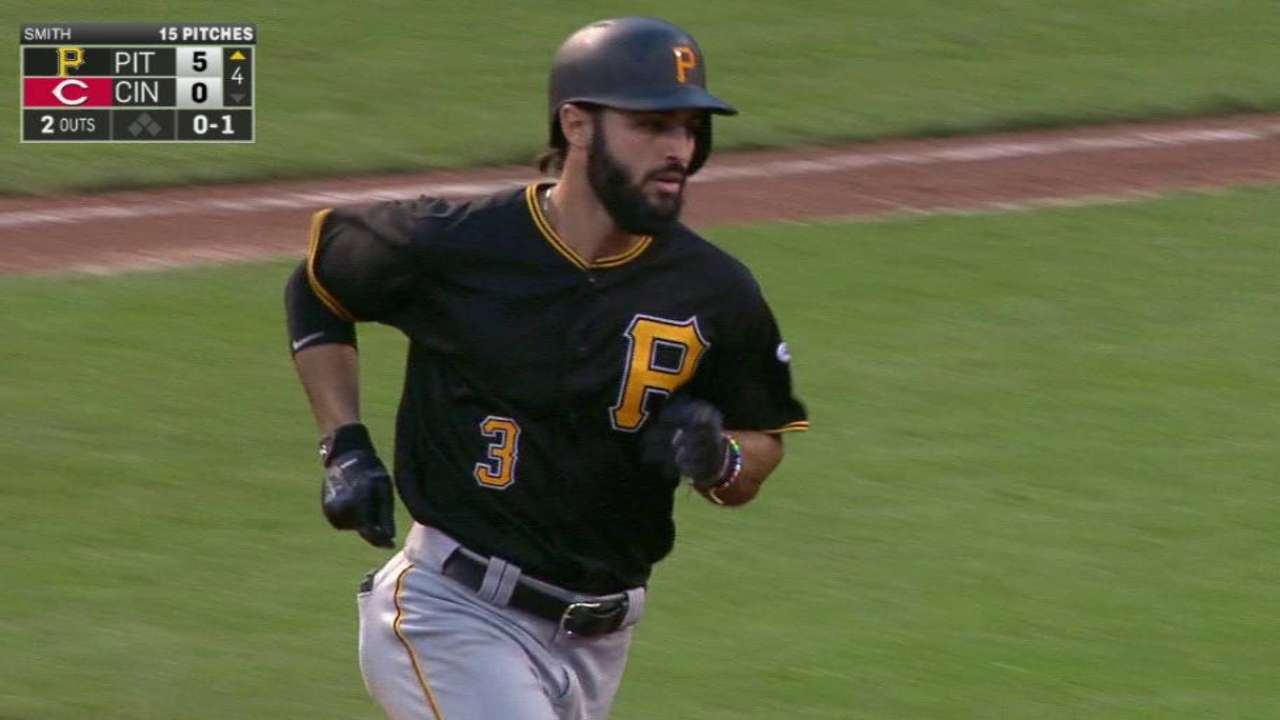 The Bucs sent nine men to the plate twice in one day, in the four-run first inning of Game 1 and again in the four-run second inning of Game 2. After going deep to center in the opener, Rodriguez crushed a solo shot, his fourth of the week, a Statcast-projected 428 feet into the second deck in left field. Andrew McCutchen drove in five runs on the day, Josh Bell pounded five hits, and their rookie starters -- Jameson Taillon and Trevor Williams -- each picked up their first Major League RBI. Showcasing the Pirates' patience, Williams plated a run in his first big league start by drawing a bases-loaded walk against Brandon Finnegan.
• S-Rod on power streak with regular role
Williams ran out of gas after four-plus innings in his first Major League start, surrendering back-to-back homers to Scott Schebler and Ramon Cabrera in the fifth inning, then put the game in the Pirates bullpen's hands. Juan Nicasio answered the call by pitching two innings, and setup man Felipe Rivero recorded five key outs.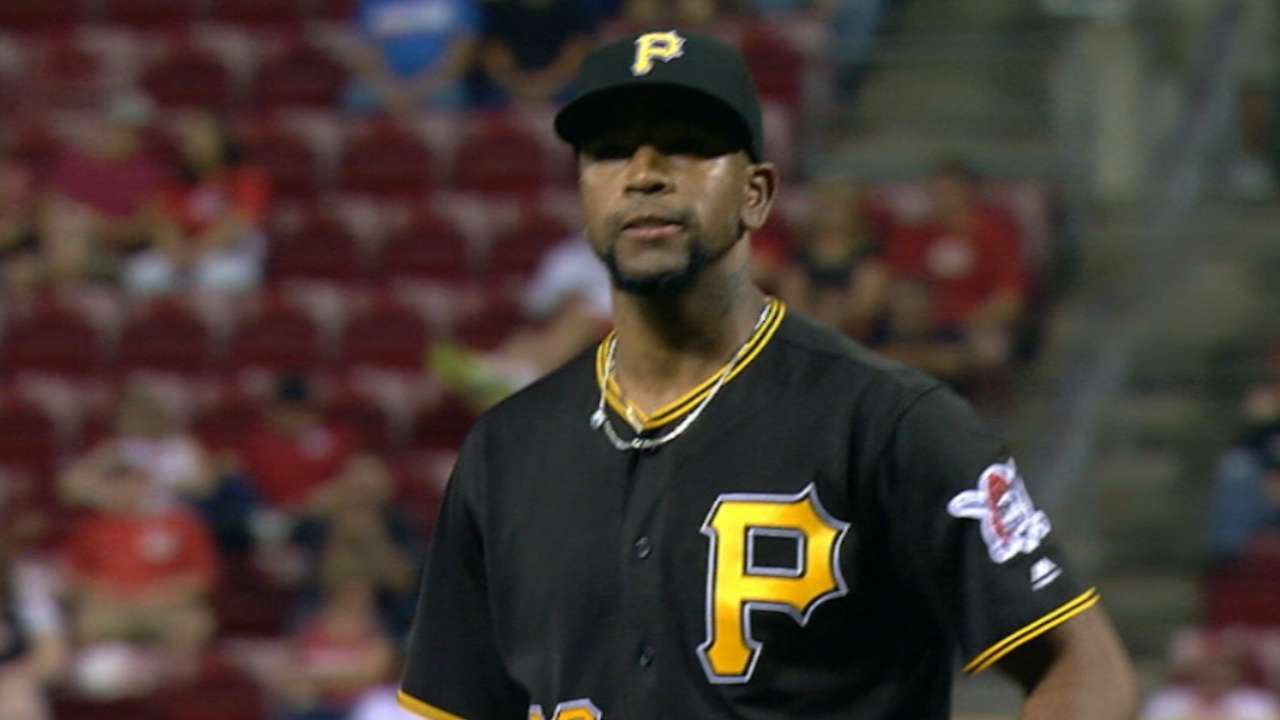 "Very aggressive outing for Nicasio and Rivero," manager Clint Hurdle said. "I actually told them to go to Sandals in the Bahamas and meet us Tuesday in Milwaukee."
• Reds 'fairly certain' Finnegan will get 1 more start
The relief work was enough to support an offense that has now scored 41 runs over its last four games after putting up 49 in its previous 15 contests.
"Team effort all over the place for 18 innings," Hurdle said.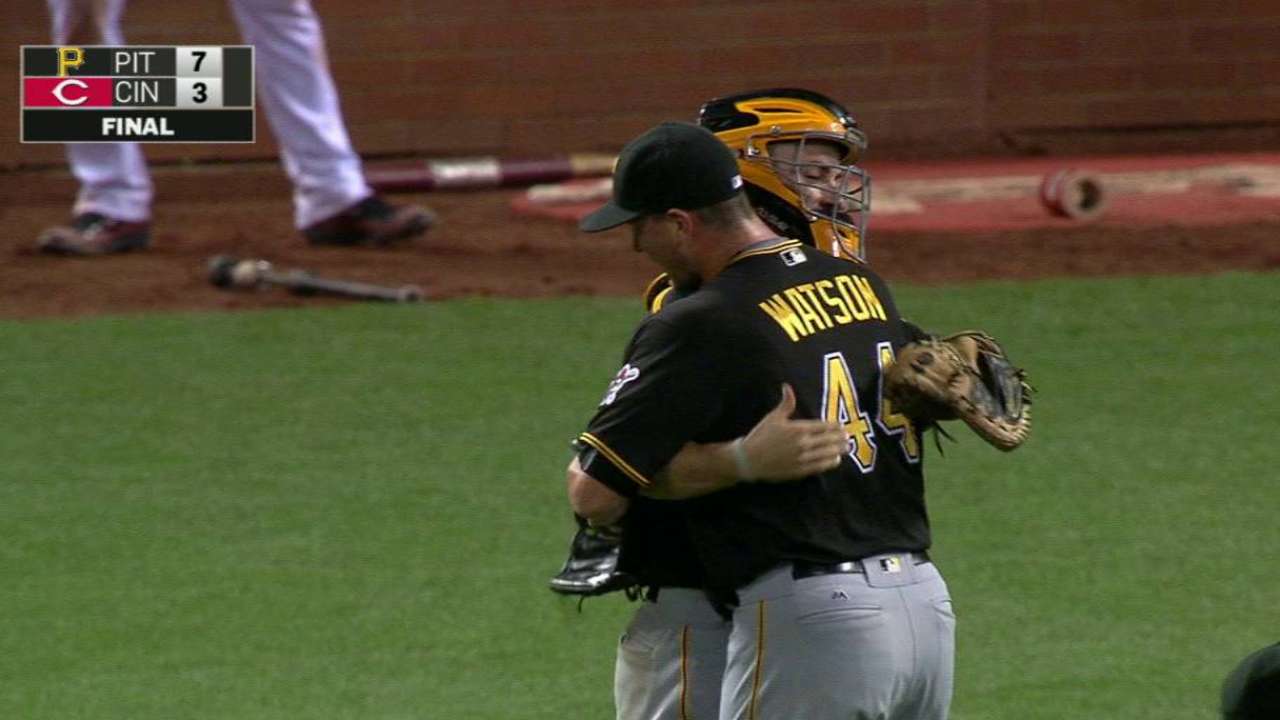 MOMENTS THAT MATTERED
Walk on: Williams had an eventful night on the mound, watching a potential gem quickly get away from him, and at the plate. The rookie starter breezed through the minimum 12 batters in his first four innings. Four batters into the fifth, he was out of the game, having hit a wall being about two weeks removed from starting a game.
"It was four innings of special, very, very well-executed pitching," Hurdle said. "He gave us a good push."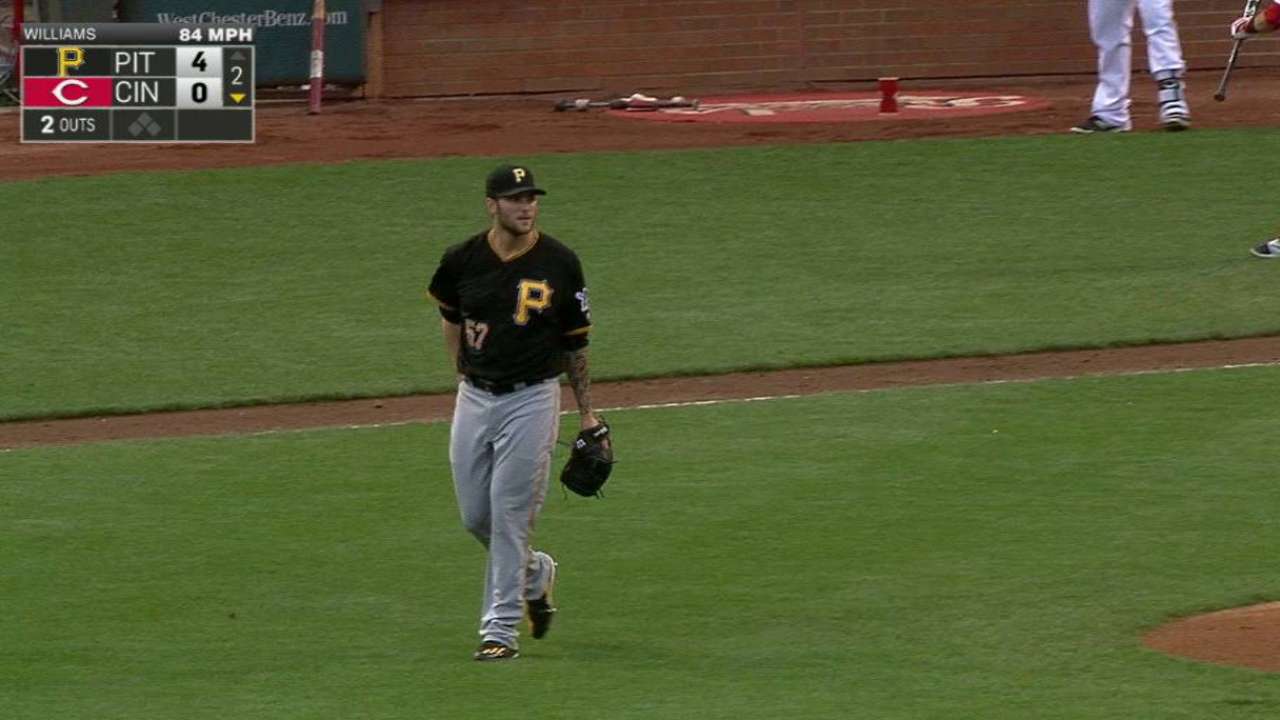 Williams drew two walks in his first two plate appearances, the latter accounting for his first big league RBI. Williams walked and scored on McCutchen's RBI single in the second inning. He worked another walk against Finnegan with the bases loaded in the third, forcing in another run. After two plate appearances, Williams got his first official at-bat in the fifth inning and struck out.
"You get RBIs any way you can," Williams said. "I'm glad we scored enough runs tonight where it didn't really matter that much."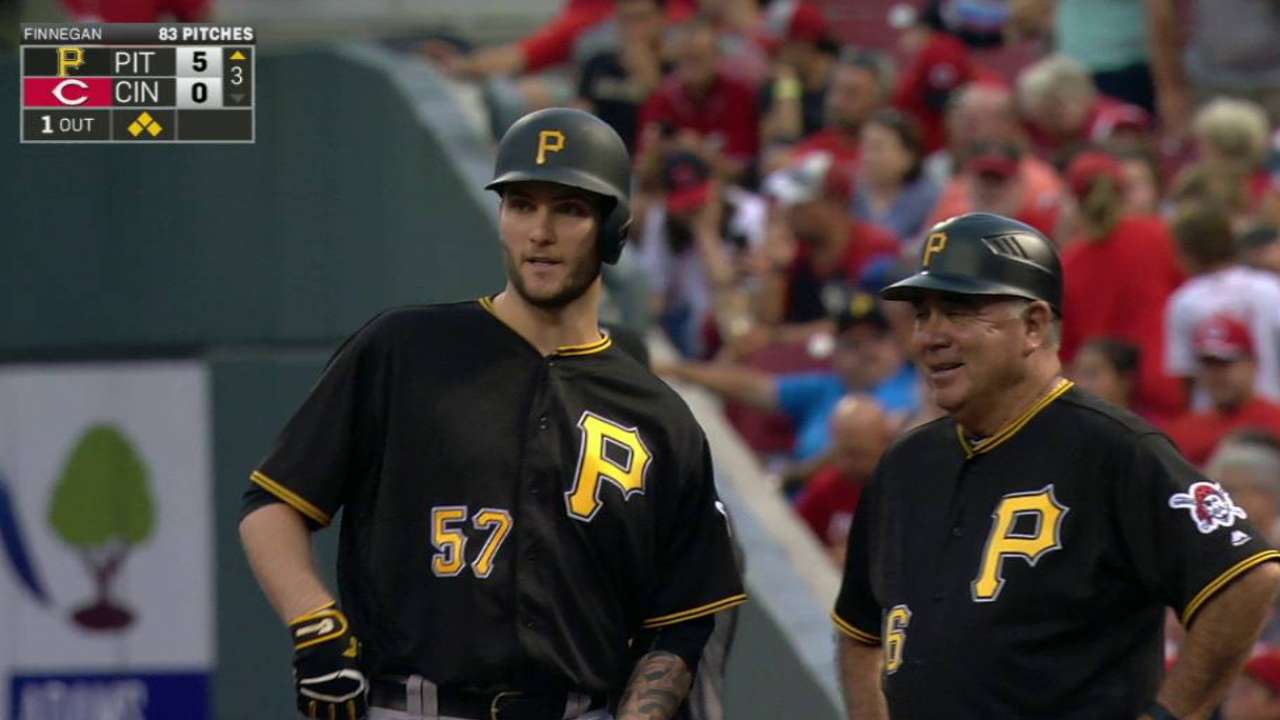 Costly defense: Errors were a theme for the Reds. After three errors cost them three unearned runs in the first game, a second-inning drop by Schebler with two outs off the bat of Jordy Mercer allowed the inning to continue and brought a run home. Finnegan threw an additional 11 pitches and allowed two more unearned runs. Of Finnegan's five runs allowed, two were earned.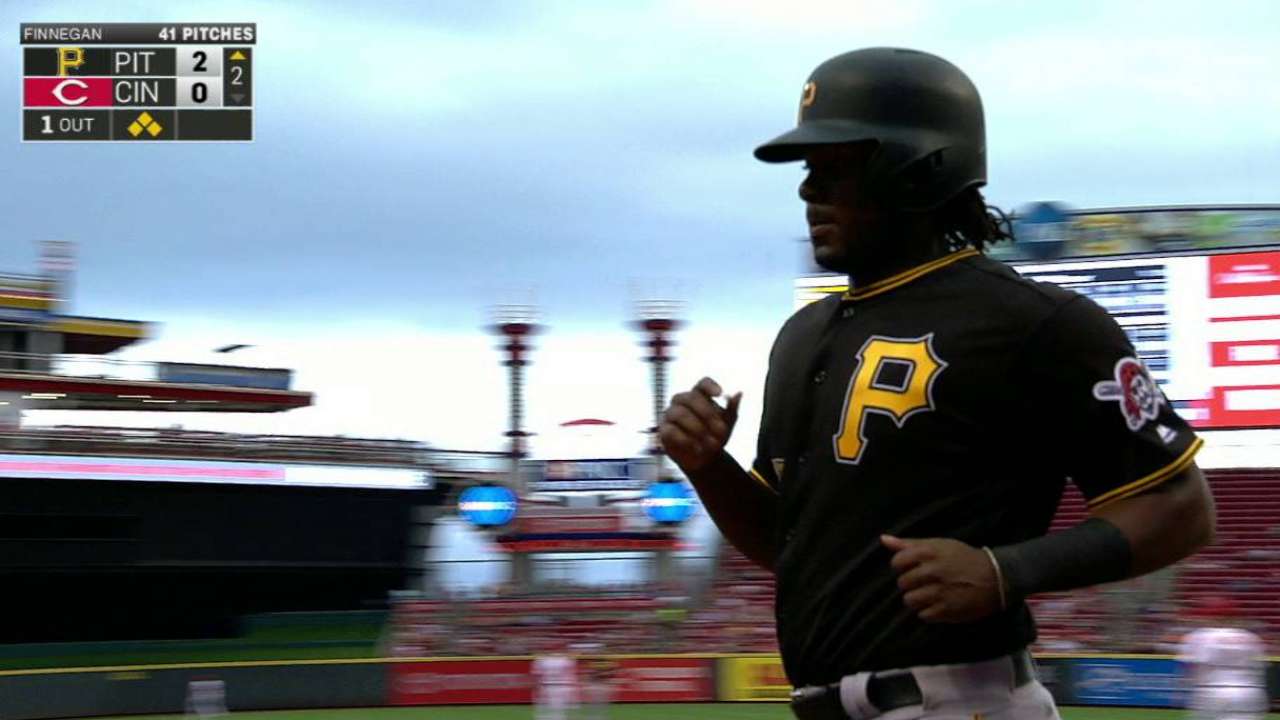 Back-to-back: After Williams retired his first 12 batters in order, the Reds got to him with back-to-back homers from Schebler and Cabrera, which traveled a Statcast-estimated 433 and 333 feet, respectively. Cabrera's was his third homer of the season, but his second in as many days. It was the sixth time this season that Reds hitters have hit back-to-back homers, and first since Aug. 28 when Schebler and Brandon Phillips went back-to-back against the Diamondbacks.
Good Juan: Nicasio turned a possible big frame into minimal damage and extended an impressive streak at the same time. Nicasio inherited Williams' jam in the fifth, entering the game with runners on the corners and nobody out. He got Ivan De Jesus Jr. to ground into a run-scoring double play, clearing the bases, then struck out pitcher Josh Smith. It was Nicasio's 29th straight appearance with a strikeout, the longest such streak by any pitcher this season. The stretch spans 68 strikeouts over 44 innings.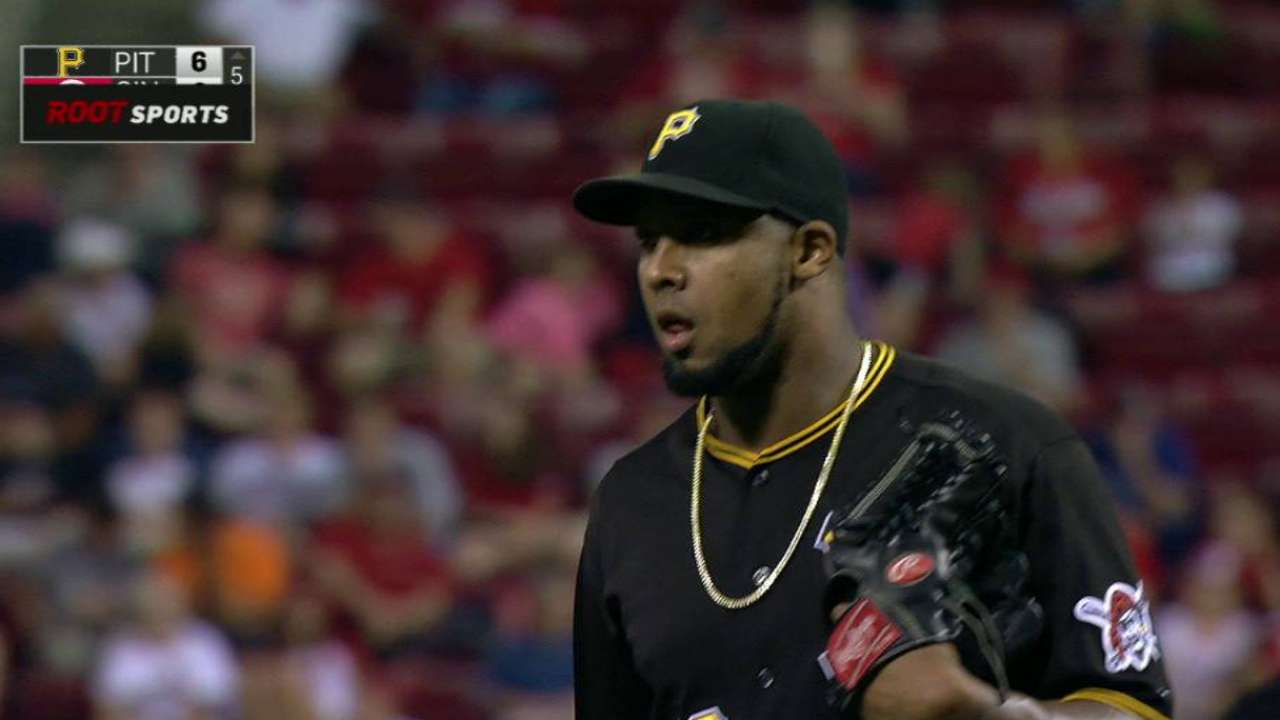 QUOTABLE
"Thankfully [Finnegan] threw four balls way out of the zone so I didn't have to make an attempt."-- Williams, on coming to the plate in a bunt situation in his first Major League at-bat
"Besides one batter, I commanded the ball all night. Can't sit there and say I wasn't commanding it at all. The only thing different I could've done is not walk the pitcher. Other than that, there's nothing I can do about anything. They had seven singles. They had seven singles. Usually that doesn't beat anybody. Just happened to hit it just soft enough and just hard enough for it to fall in. Nothing you can do about it." -- Finnegan, after giving up five runs (two earned) on seven hits and two walks over 2 1/3 innings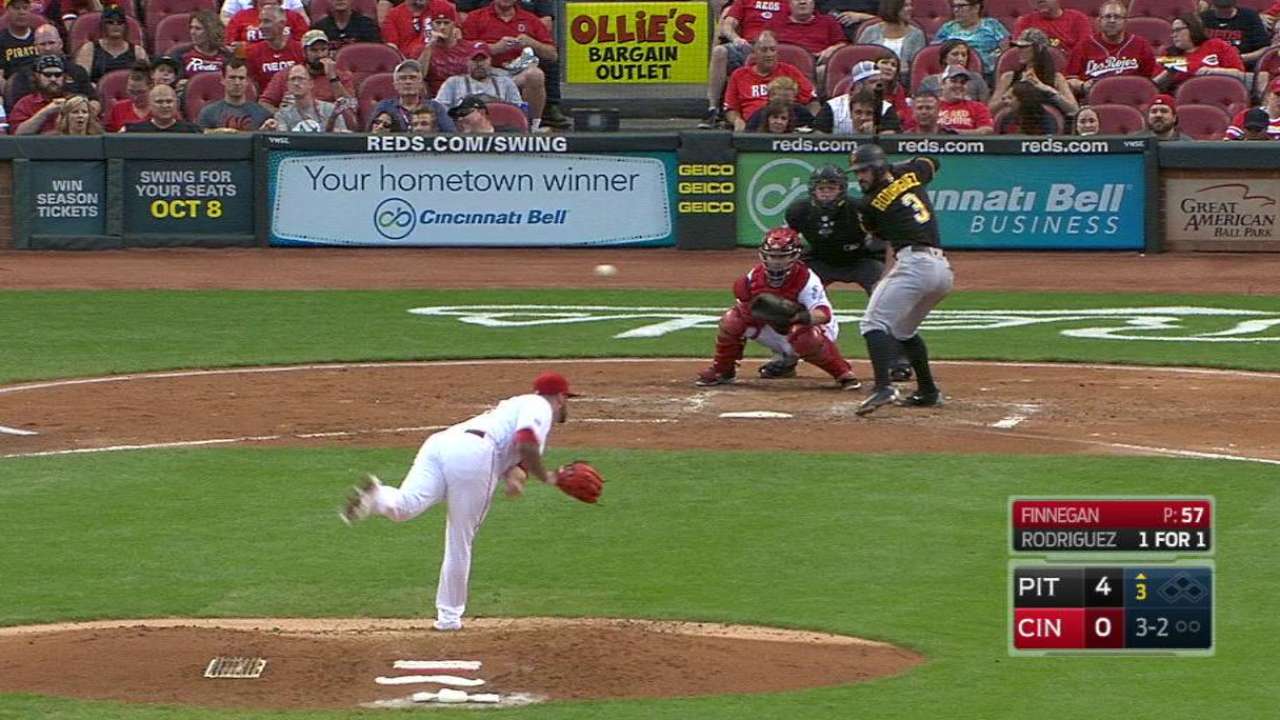 SOUND SMART WITH YOUR FRIENDS
Matt Joyce established a new Major League record in the seventh, drawing his 21st walk of the season as a pinch-hitter. Joyce had been tied for the single-season pinch-hit walk record with the Braves' Greg Norton (2009) and the Mets' Matt Franco (1999).
"It's a weird kind of record. It's not something as a kid where you're like, 'I want that record!'" Joyce said. "But at the end of the day, it's an MLB record. I think that's definitely something to be excited and proud of."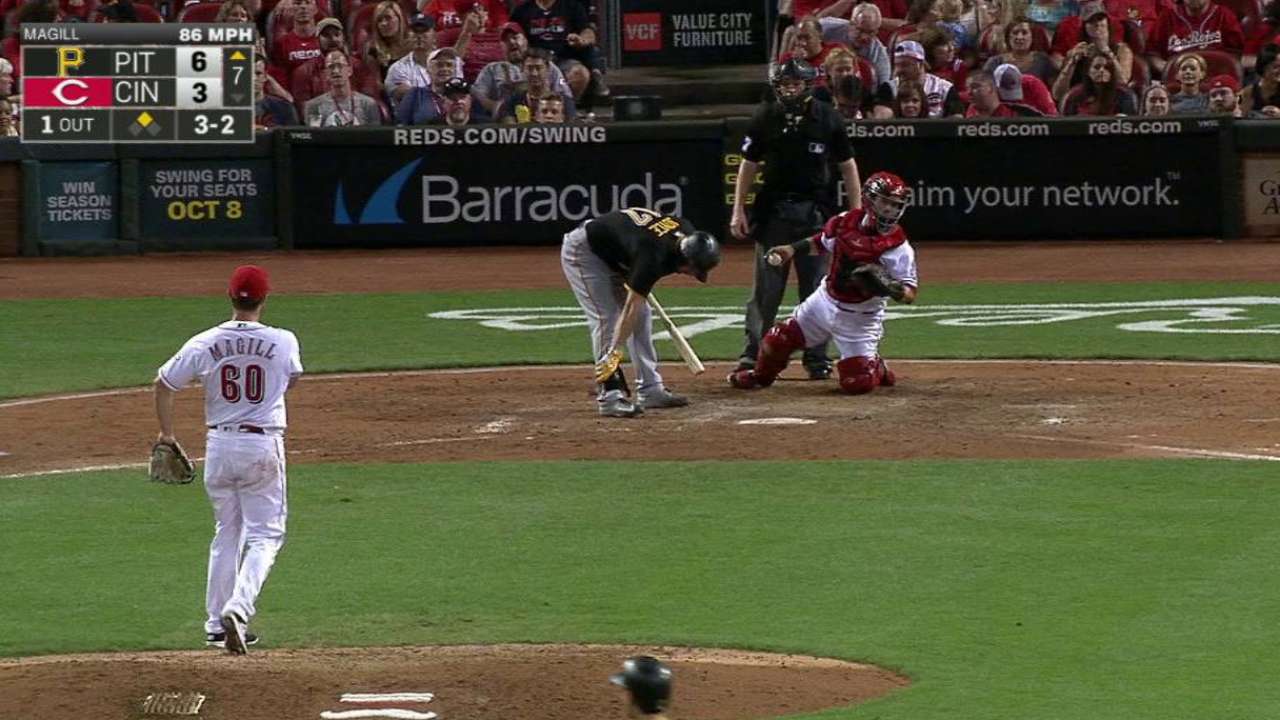 With nine walks in the second game, the Reds broke their franchise record for most walks allowed in one day with 19 following their 10-walk first game. The franchise record was previously 17, which it had done it four times times, most recently on Aug. 23, 1970. The last team to walk 19 in a game was the Tampa Bay Devil Rays on April 28, 1999, against the White Sox.
"It's not up to standard, as you can tell," Reds manager Bryan Price said. "We've given up a lot of runs in this series, in large part because we're not throwing it over the plate with the consistency we need. We've been starting rallies with the walks, we've been extending rallies with the walks and now it just -- 19 walks in two games makes for a slow tempo and a lot of negatives."
In the top of the seventh, Matt Magill entered the game for the Reds in relief and became the 32nd different pitcher used by the team, extending the club record previously held by the 2003 team, which used 30 pitchers. It tied the Reds with the Mariners for second in the Majors this season, trailing the Braves (34). The 2014 Rangers hold the Major League record with 38 different pitchers used.
WHAT'S NEXT
Pirates: Coming off an 11-strikeout performance in Philadelphia, right-hander Ivan Nova will try to secure the four-game sweep for the Pirates on Sunday at Great American Ball Park at 1:10 p.m. ET. Nova is 5-0 with a 2.41 ERA in eight starts for Pittsburgh, and the Bucs have only lost one of his starts. The righty has displayed remarkable command, striking out 43 batters while walking only three in 52 1/3 innings.
Reds: Dan Straily follows his career-high eight-inning performance against Milwaukee in the Reds' series finale against the Pirates on Sunday. In four previous starts against the Pirates, Straily is 1-2 with a 3.52 ERA in 23 innings.
Watch every out-of-market regular-season game live on MLB.TV.
Adam Berry has covered the Pirates for MLB.com since 2015. Follow him on Twitter at @adamdberry.

Cody Pace is a reporter for MLB.com based in Cincinnati.

This story was not subject to the approval of Major League Baseball or its clubs.