Bucs' bats erupt in DH-matinee win over Reds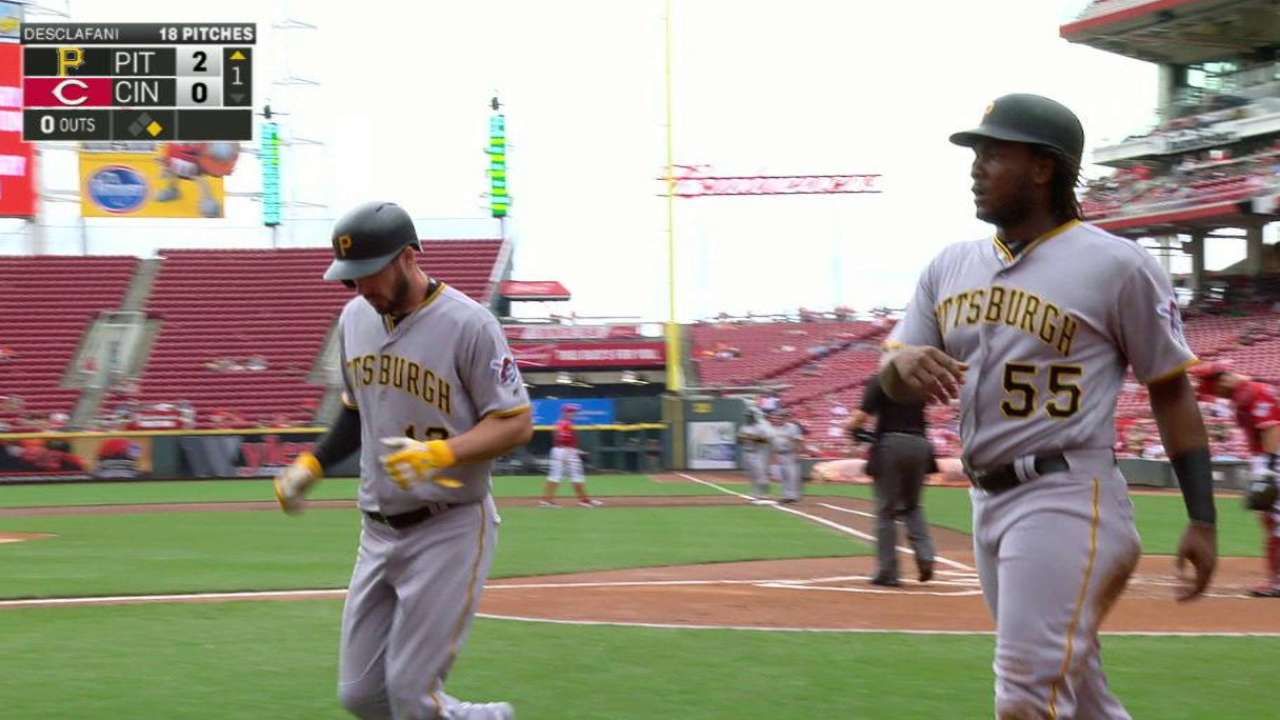 CINCINNATI -- Held silent for most of the month, the Pirates bats have come to life. The Pirates scored four runs in the first inning and cruised to a 10-4 win over the Reds, their third straight, in the first half of Saturday's doubleheader at Great American Ball Park.
Pittsburgh stumbled out of the gate in September, going 3-10 while averaging only 3.38 runs per game. But the Bucs have scored 34 runs during their three-game winning streak, pulling back within a game of .500. Andrew McCutchen paced the Bucs with three RBIs. Sean Rodriguez provided the biggest hit of the day, crushing a two-run homer to center field in the third inning. Rodriguez's career-high 15th homer came off his bat at 107 mph and traveled a Statcast-projected 404 feet. The Pirates have homered in five straight games, going deep 10 times during that stretch.
"This has been a great road trip. I feel like [Nos.] 1-8, 1-9, there's no easy, free outs," said rookie starter Jameson Taillon, who helped extend the lineup to nine men with an RBI single in the fifth. "Tough at-bats, making guys throw pitches. ... We've hit a lot of homers, too."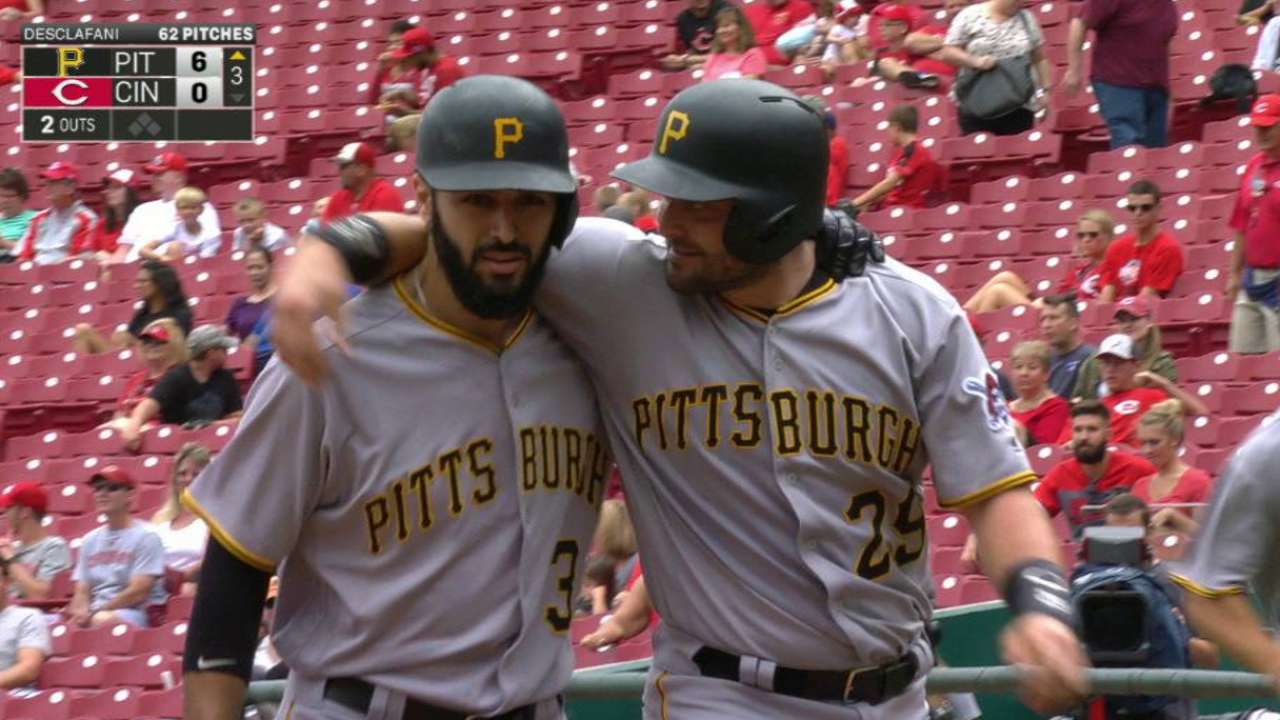 Returning to the rotation after skipping a start, Taillon took advantage of the Bucs' four-run first inning. He wasn't his typically sharp self, lacking his dominant curveball, but he kept Pittsburgh in position to win, allowing three runs on nine hits with two strikeouts in five innings.
"I thought I made some pitches when I had to," Taillon said. "It's September. We're here to get outs. They gave me a big lead, so I was just trying to push through it."
• Taillon grinds out fourth victory
Reds right-hander Anthony DeSclafani didn't fare as well in his first start since Sept. 7, allowing six runs (four earned) on six hits and three walks in four innings.
"No excuses, [he] just wasn't sharp," Reds manager Bryan Price said. "In the early going, in particular, [he was] all around the plate and they were able to build that four-run lead early and then the two-run homer by Rodriguez to extend the lead."
The win put the Bucs five games back of the second spot in the National League Wild Card race, pending the results of Saturday's later games.
MOMENTS THAT MATTERED
First time for everything: Making his first Major League start at second base and batting eighth, Alen Hanson came to the plate with one out in the first inning. Hanson hit a grounder that second baseman Brandon Phillips couldn't handle, hustling to safely reach first base and drive in Jung Ho Kang from third base. Hanson was awarded his first Major League RBI on the error.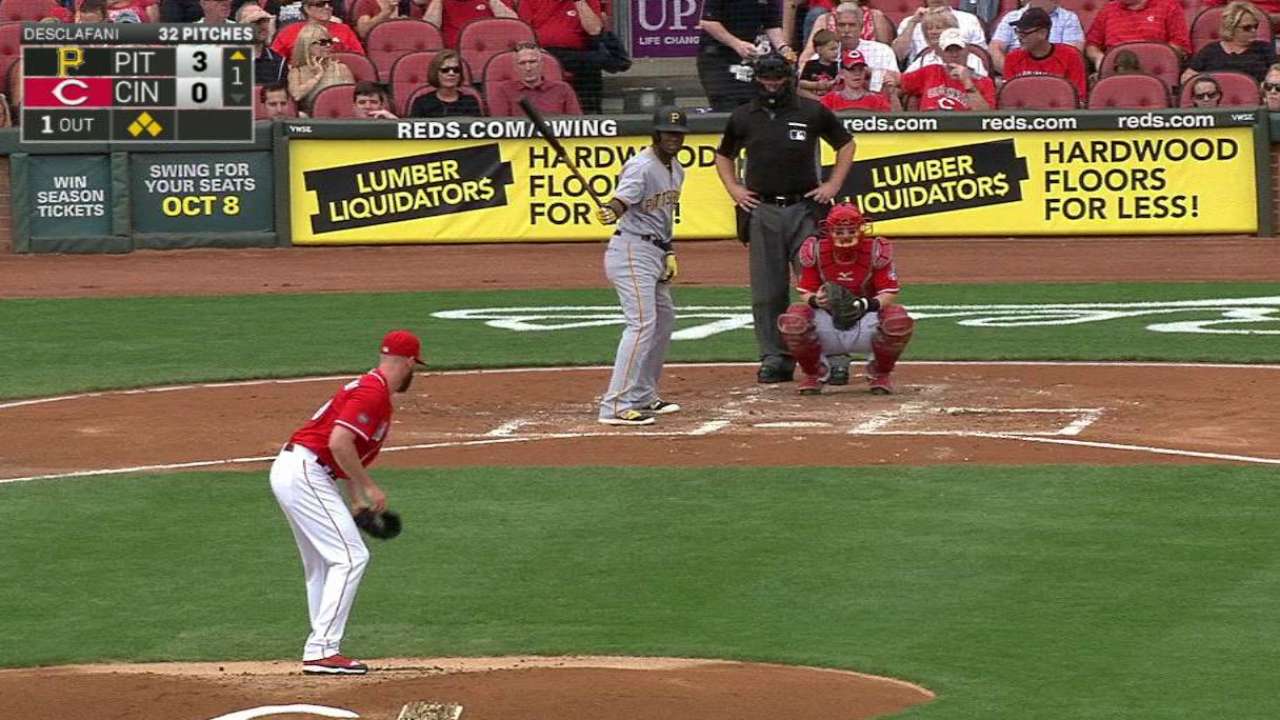 "I thought [Hanson] took advantage of the opportunity," Pirates manager Clint Hurdle said.
Four innings later, Taillon drove in his first run with a single to center, scoring Francisco Cervelli from second on an aggressive send by third-base coach Rick Sofield and an excellent dive. Taillon wasn't really keeping an eye on Cervelli, though.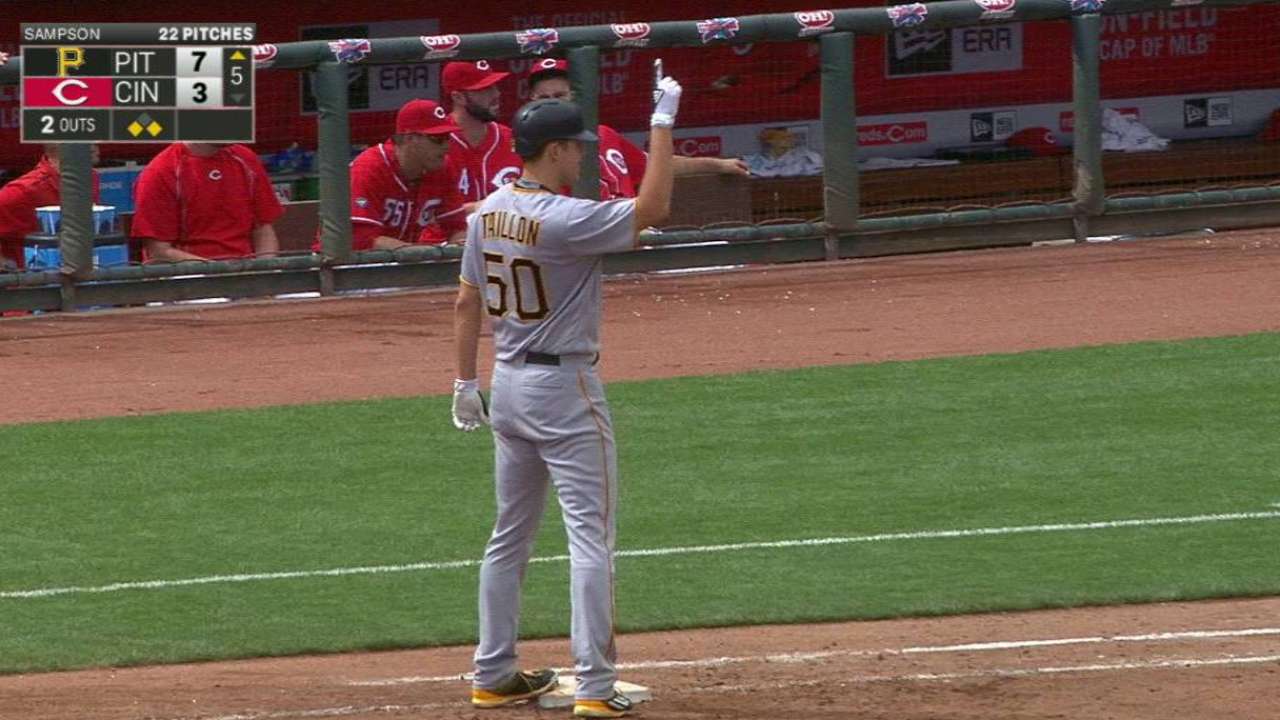 "I was just so caught up in trying to make it to first base and not do anything stupid," he said. "First career RBI is pretty cool. I might be done with career firsts, hopefully, by the end of the year."
E4: Phillips' first error came in the long first inning on a ball off the bat of Hanson that he kept in front of him but couldn't recover in time to get the out at first. It ended up not being as costly because DeSclafani induced a double play to end the inning. The second proved more costly, as it kept the third inning alive for Rodriguez, who hit a two-run homer. It was the third career two-error game for Phillips but his second this season.
Walk this way: The Pirates blended power with patience, despite facing a doubleheader and an hour-long rain delay before the game. Pittsburgh drew 10 walks, its second-highest total of the season behind an 11-walk day in Los Angeles on Aug. 13, including three in the four-run first inning against DeSclafani. Leadoff man Matt Joyce set the tone, working a full count and drawing a walk to begin the game.
"He got us out of the blocks," Hurdle said. "Lot of walks. Made them throw a lot of pitches. ... I just like the fact that we're not forcing things."
Kang, who extended his on-base streak to eight straight plate appearances with a first-inning walk, scored on Phillips' error. The 10 walks allowed also tied a season high for the Reds.
"You don't give yourself a chance when you're going to walk guys and give free bases," DeSclafani said. "Teams are going to take advantage of that stuff."
Duv-all the way out of here: Adam Duvall's three-run homer, which travelled at a Statcast-projected 410 feet with a 103.8-mph exit velocity, brought the Reds back within a reasonable deficit after falling behind by six runs early. The homer gave Duvall 92 RBIs on the season, which is the most by a Reds' hitter since Jay Bruce had 109 RBIs in 2013.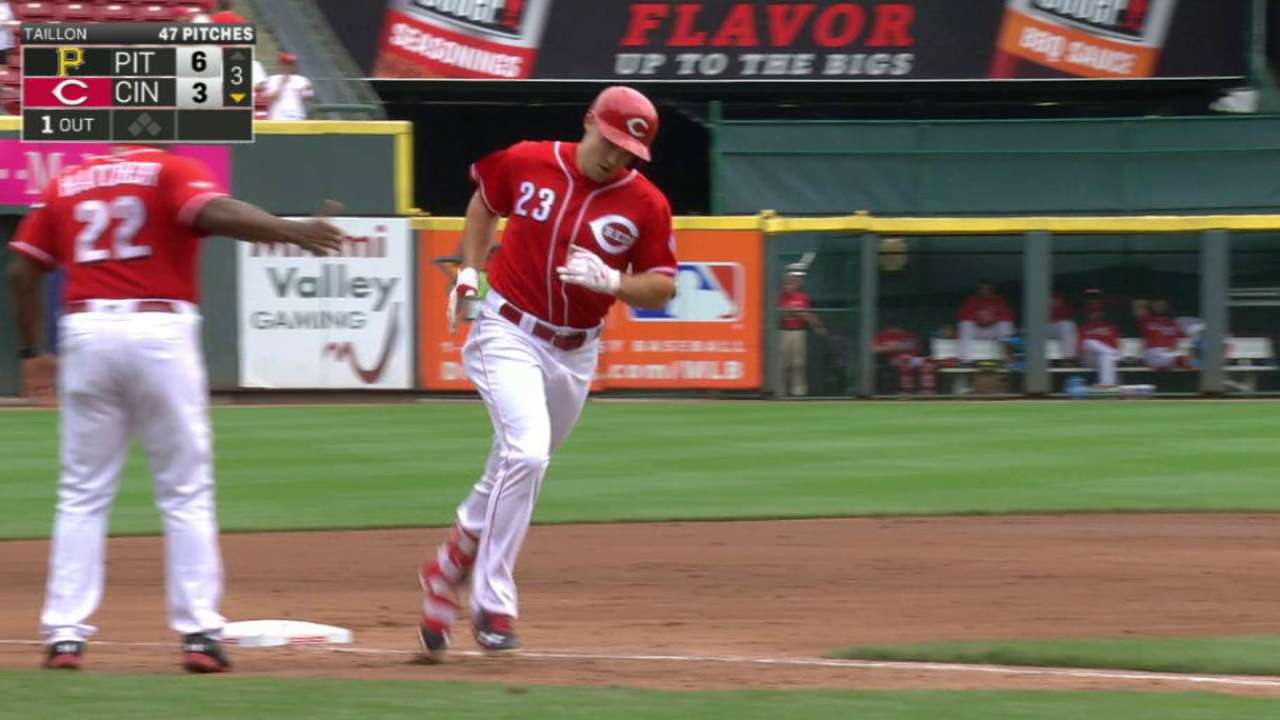 QUOTABLE
"I feel like the lineup is working very well for us. I believe if we continue like this, making contact and getting on base, we're going to have a very successful end."-- Hanson, on the Bucs' offensive outburst
"I felt [terrible] today. It was just a bad game on my part. I didn't get any momentum going. This game falls on me, for sure. There was no momentum going and I got us in a hole early. I take full responsibility for this game. It was just a bad game. I'm going to put it behind me. I've got two starts left, and I'm trying to make the most of those and hopefully finish the season strong. But today, I was bad. Today was not good." -- DeSclafani, on his tough outing
SOUND SMART WITH YOUR FRIENDS
Pirates left-hander Wade LeBlanc pitched three scoreless innings to end the game, picking up the unconventional save -- his second of the season, his first for the Pirates. It was Pittsburgh's third multi-inning save of the year, joining Jared Hughes (three innings) and A.J. Schugel (2 1/3 innings). LeBlanc's effort was highly appreciated by Hurdle, trying to manage a tired bullpen nearing the end of a stretch of 18 games in 17 days.
"That's my job," LeBlanc said. "That's the job of a long man: Be there when they need you and throw until they take the ball."
UPON FURTHER REVIEW
Already up six, the Pirates pressed for an additional run in the eighth, challenging a double play that would have allowed Cervelli to score from third. David Freese grounded to third to start the double play, turned by second baseman Hernan Iribarren. Hurdle asked the umpires to review whether or not Freese beat Iribarren's throw to first, but there wasn't enough information to overturn the call, so the call on the field stood.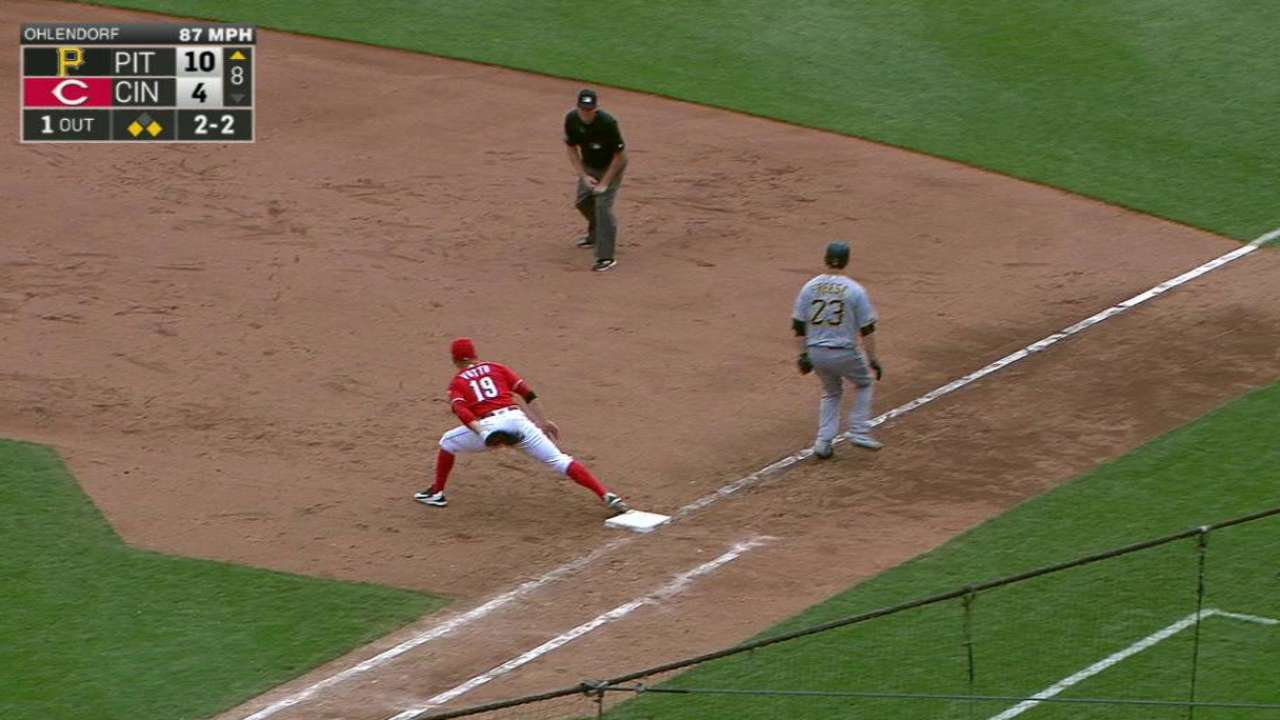 Adam Berry has covered the Pirates for MLB.com since 2015. Follow him on Twitter at @adamdberry.

Cody Pace is a reporter for MLB.com based in Cincinnati.

This story was not subject to the approval of Major League Baseball or its clubs.