O's show patience in slow, steady comeback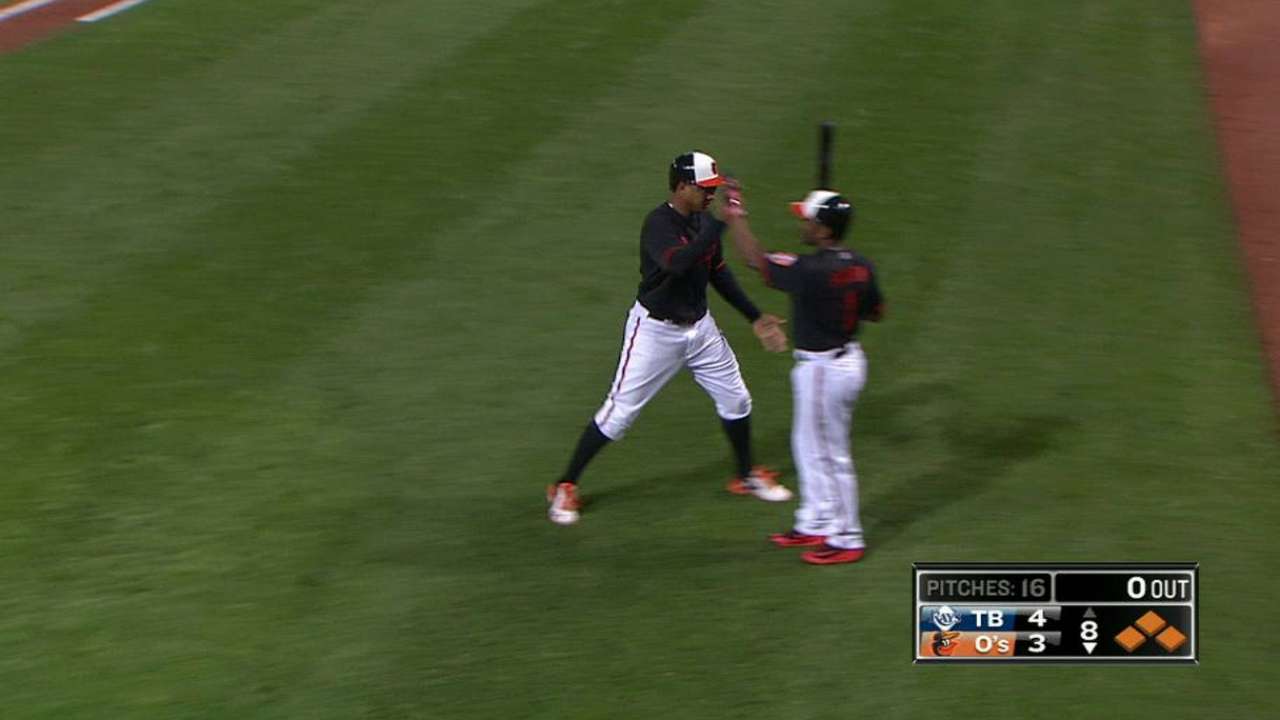 BALTIMORE -- The Orioles, who lead the Majors in home runs, have relied on their power to carry them for much of the season. Faced with an early four-run hole vs. the Rays on Friday, they used that familiar formula -- homers from Pedro Alvarez and Chris Davis -- to start chipping away at the deficit. But in putting the finishing touches on the rally in the final innings of their 5-4 win, the O's turned to small ball.
Closer Zach Britton said that with the playoffs approaching, it's something Baltimore will need to do more of as runs become a premium.
"You've got to get the job done somehow," Britton said. "Sometimes it's not with the home run. Sometimes it's putting the ball in play and getting a guy in. Obviously, we are known for the power more so than manufacturing the runs, but every now and then we find a way to do it. That's what you're going to have to do if you want to get into the postseason, get late into October."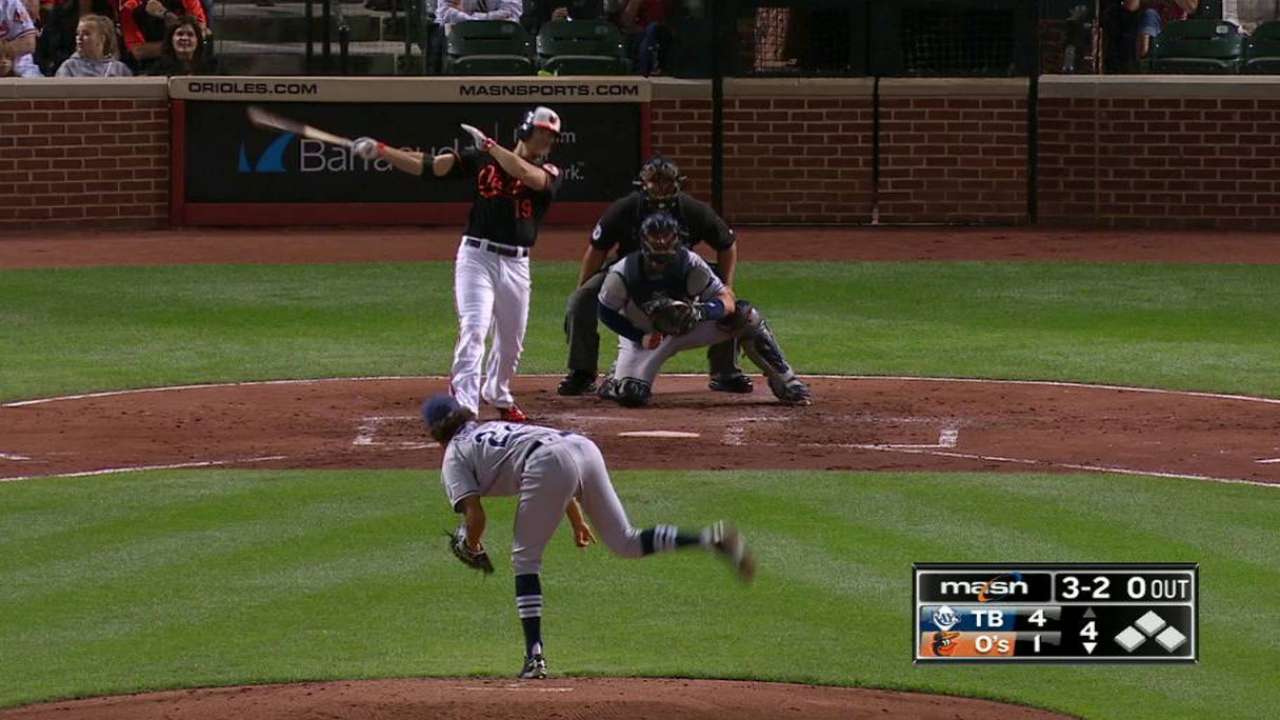 The Orioles were able to push across the two runs they needed in the eighth with just one ball leaving the infield. Baltimore displayed patience against Rays reliever Brad Boxberger, as Jonathan Schoop and Alvarez drew back-to-back walks before Matt Wieters was hit by a pitch.
"There's a lot of good at-bats there," manager Buck Showalter said of the eighth. "Jon, a very patient walk. Matty got hit by a pitch. And I thought Pete had a real unemotional at-bat."
With the bases loaded and no outs, J.J. Hardy hit a soft ground ball into the hole at shortstop for an RBI infield single. One batter later, Michael Bourn drove a fastball deep enough in left field to score pinch-runner Nolan Reimold from third for the go-ahead run.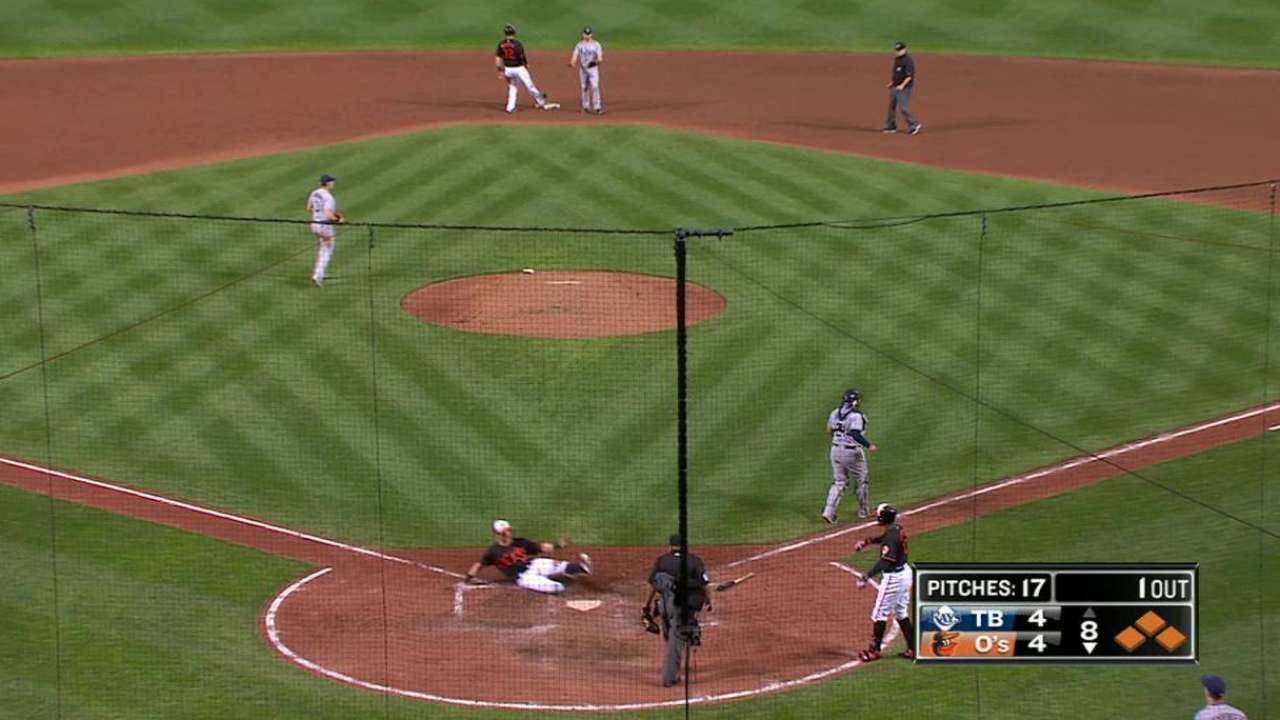 It wasn't the typical Orioles offense, but it proved to be the difference in a key September comeback.
"We had opportunities again tonight, and that was the game tonight that we really needed to win," Wieters said. "We had to try and scratch and fight."
Ryan Baillargeon is a reporter for MLB.com based in Baltimore. This story was not subject to the approval of Major League Baseball or its clubs.