Perfect relay home seals O's win over Rays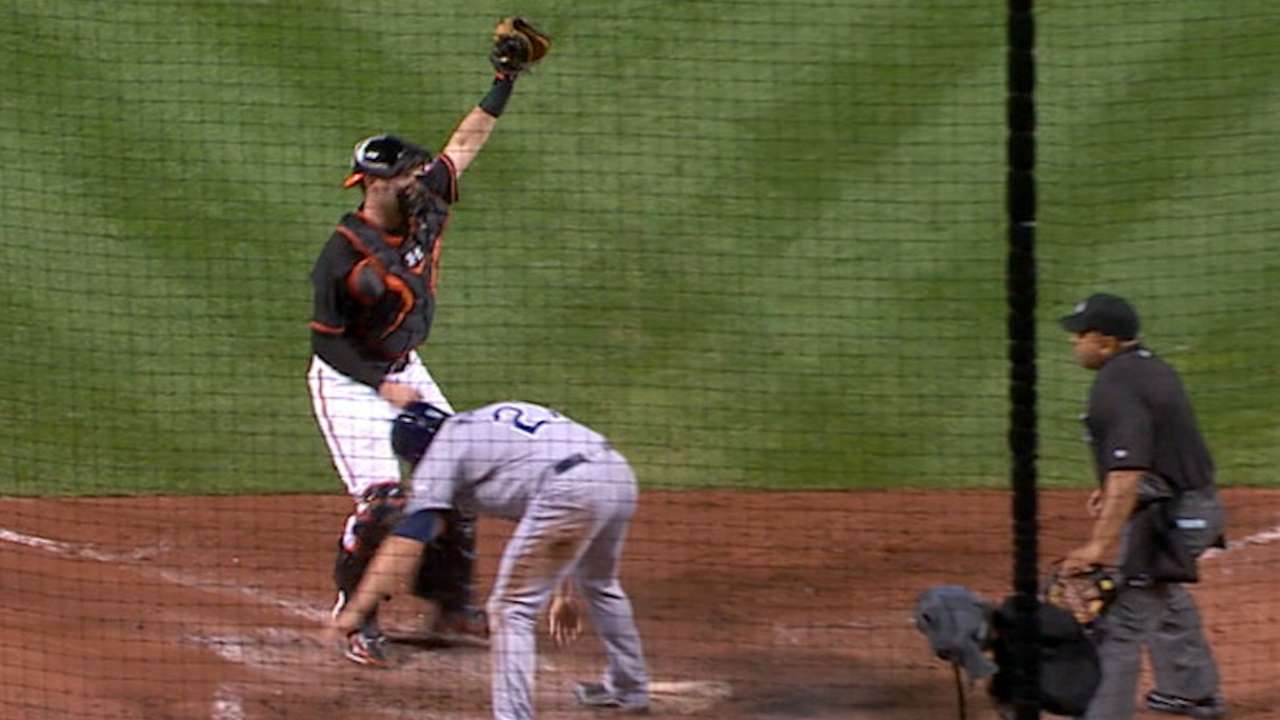 BALTIMORE -- With 43 straight saves under his belt, Orioles closer Zach Britton put his perfect mark in the hands of his defense Friday. The O's fielders delivered with a perfect relay to throw out the potential tying run at the plate for the final out of a 5-4 win over the Rays.
Rays shortstop Alexei Ramirez lined a 3-2 pitch down the left-field line, and the Rays sent Mikie Mahtook from first. While Mahtook went first to home in 10.1 seconds -- the Rays' fifth-fastest first-to-home time of the season per Statcast™ -- the Orioles used two strong throws to nab him at the plate. Left fielder Michael Bourn hit Manny Machado, who fired a strike to catcher Matt Wieters.
"It was just a great play all around by Manny on the throw and Wieters with the tag," Britton said. "He does that probably better than anybody in the game [with] that tag right there, and that was huge."
While the Rays were making good contact off Britton, the right-hander has allowed just one earned run since April, so Tampa Bay wasn't going to be cautious with a chance to tie the game.
"Loved the send. You have to. I think it was a no-brainer right there," Rays manager Kevin Cash said. "I think Charlie [Montoyo] does a tremendous job at third, and that's a big part why. Put the pressure on the defense. It took two perfect throws, and that's what they did."
Bourn, whom the Orioles acquired on Aug. 31, started the game in right field but moved to left to begin the ninth. O's manager Buck Showalter lauded him for hitting the relay man in the right spot to allow for a good throw home.
"Mike got it out of there in a hurry and got the ball back in fair ground, so you create a good angle to throw the ball to third," Showalter said. "A lot of guys make the mistake of throwing that ball on a straight line to home plate and it blocks the lane to throw in."
The Rays challenged whether Wieters was blocking the plate, but after the umpires reviewed the call, they confirmed that Wieters hadn't violated the rule.
"It's a rule that a couple years ago that we went through a lot to get the exact wording, and I knew if the throw took me in there I was OK," Wieters said. "I really wanted to make sure I didn't miss the tag."
Ryan Baillargeon is a reporter for MLB.com based in Baltimore. This story was not subject to the approval of Major League Baseball or its clubs.