Rookie Berrios: 'I want to be dominant'
Despite loss to Mets, Twins note pitcher's improvement in early innings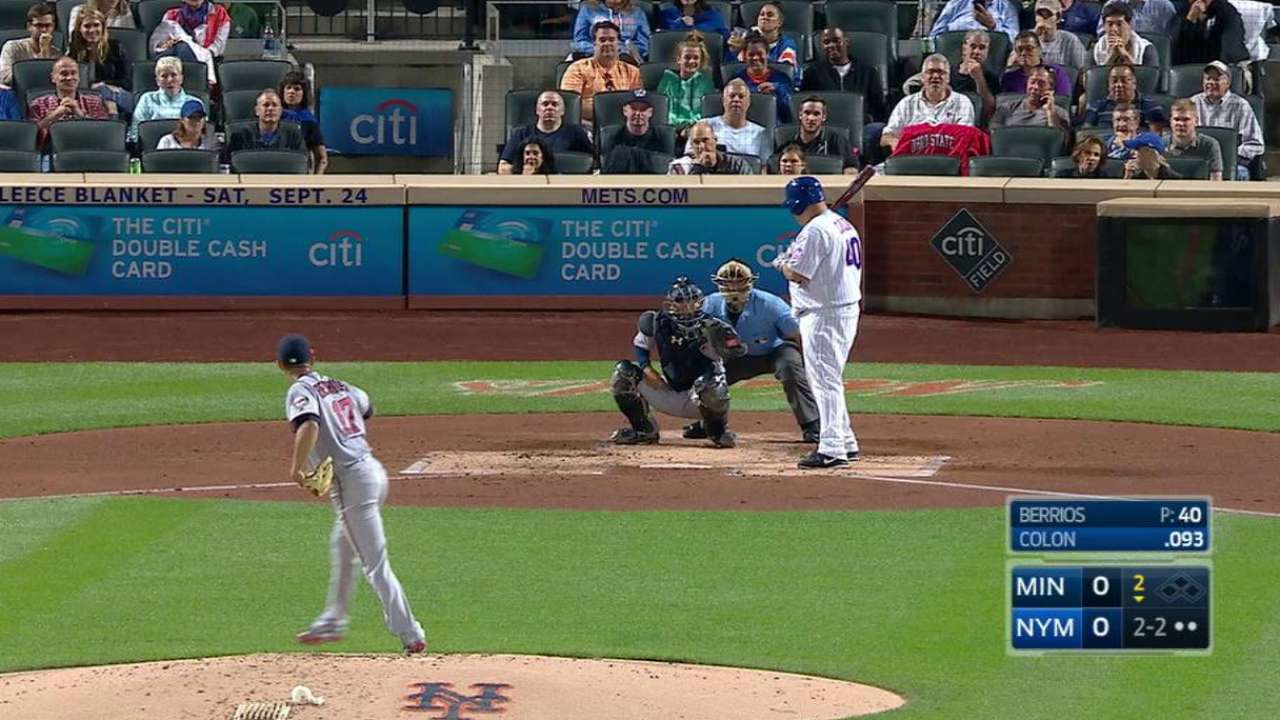 NEW YORK -- When Jose Berrios got the final out of the first inning Friday night, he returned to the Twins' dugout to find manager Paul Molitor waiting for him.
"It might not be the prettiest zero you'll ever put up," Molitor told his young right-hander. "But it's a zero."
Berrios had walked the bases loaded, but he got out of it by getting Mets second baseman T.J. Rivera to fly out to center field.
For a 22-year-old whose struggles have been acute early in games, the Twins would like to think that's progress. Even in Minnesota's 3-0 loss to New York, on a night when Berrios pitched just four innings and gave up back-to-back home runs to Jose Reyes and Asdrubal Cabrera, there was that small sign of improvement.
The Twins believe in Berrios, despite too many walks, too many hits, too many home runs and an ERA that sits at 8.88 through the first 12 starts of his Major League career. They've talked to him and worked with him, and they still believe it's a matter of more time and more work to get the success they believe is there.
Berrios believes, too, and that's why he wasn't fully ready to accept Molitor's message.
"I don't want it to just be a zero," he said through an interpreter, after the loss. "I want to be dominant."
He has been dominant, at times, in the Minor Leagues. Even this season, Berrios had a 2.51 ERA in 17 starts at Triple-A Rochester. In back-to-back starts in June, he went eight scoreless innings while allowing three hits to Columbus, and then seven shutout innings, allowing just one hit to Pawtucket.
That success has yet to translate to the Majors, where in his last eight starts before Friday, Berrios couldn't even make it through the first two innings of a game without giving up a run. When he didn't make it out of the third inning last Sunday against the Indians, Molitor and pitching coach Neil Allen met with him, and Allen suggested changes in his delivery.
"We're looking for the things that are improving," Molitor said. "It might be subtle, but we're seeing some progress."
It's not as simple as doing the things that brought Berrios success in the Minors, because big league hitters are different. Molitor said what others have said, that the gap between Triple-A and the bigs might be bigger now than ever.
"It's hard to measure how many more swings he gets [in Triple-A] on pitches that are enticing and aren't strikes," Molitor said.
Berrios doesn't seem to have lost confidence, despite the struggles, and he hasn't lost his youthful excitement. The Twins like that, even if they worry that he sometimes gets overexcited on the mound.
He got excited at the plate Friday, too, because pitching in a National League park meant he got to bat for the first time since he was in high school. His only at-bat came in the third inning, and when he rolled a ball to right field off veteran Mets right-hander Bartolo Colon, he had a hit and a 1.000 professional batting average.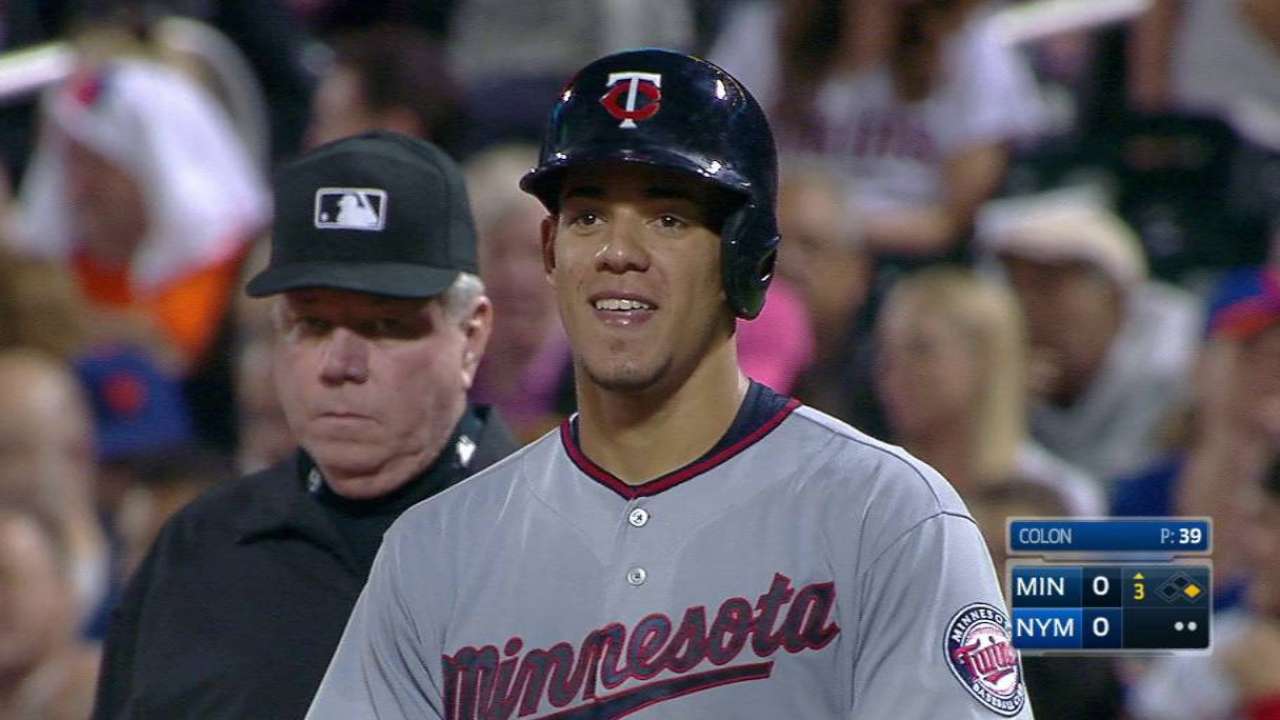 "It was a beautiful moment," Berrios said. "I saw [first-base coach] Butch Davis and I said, 'This is fun.'"
Success on the mound would make it much more fun, but that's been hard for Berrios to find so far.
"I think it's a matter of time before he starts to figure it out up here," Molitor said Friday afternoon.
Friday night, he figured it out just a little in the first inning. As Molitor said later, the Twins will take that as a small victory in a rough season.
Danny Knobler is a contributor to MLB.com based in New York. This story was not subject to the approval of Major League Baseball or its clubs.