Who will be odd man out in Toronto's rotation?
Liriano or Dickey likely to fill No. 5 starter role in final weeks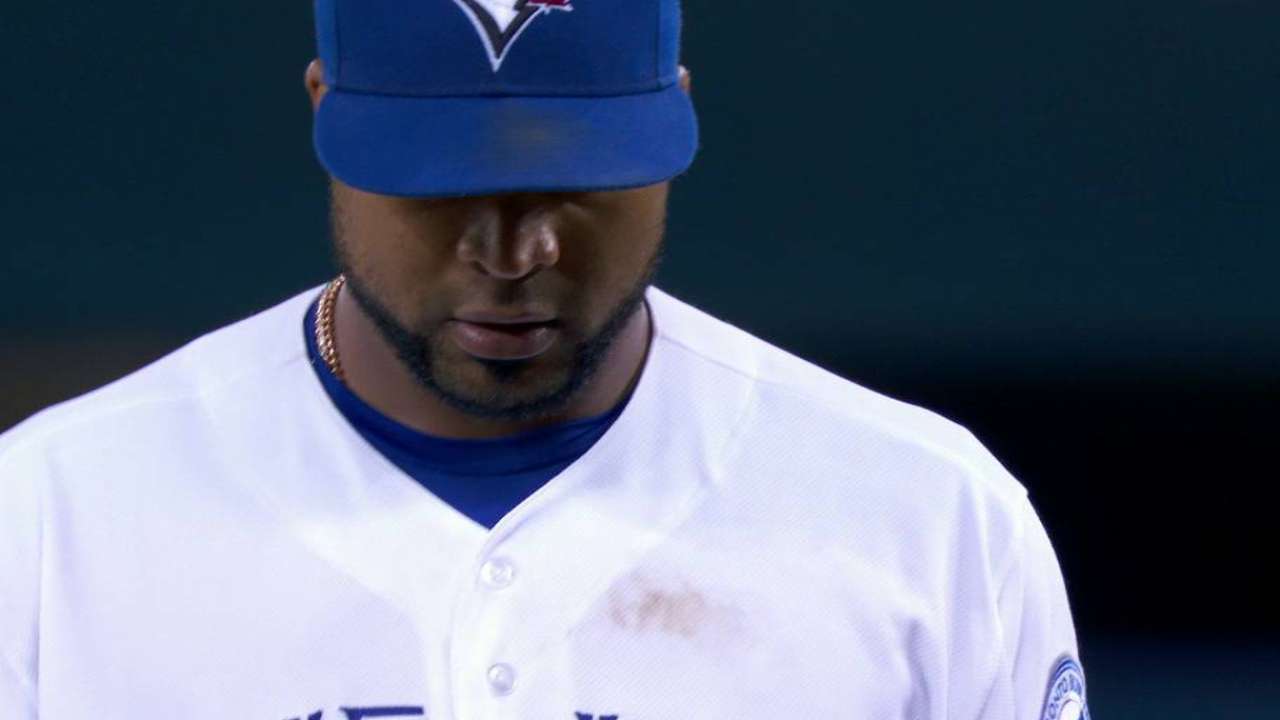 ANAHEIM -- The end of the regular season is within sight but the Blue Jays still have to make some critical decisions regarding the alignment of their starting rotation.
Toronto went with a six-man rotation for most of August but the club has since placed Francisco Liriano and R.A. Dickey in the bullpen for brief stints. The reality is that there is not room for both starters with less than three weeks remaining and the club will have to pick one.
Dickey tried to stake his claim to the job by tossing five scoreless innings in Toronto's 5-0 victory over the Angels on Friday night. Prior to that outing, Dickey had not pitched in 10 days, and while that is understandably frustrating for any pitcher, the veteran knuckleballer seemed willing to accept whatever decision the club makes in the coming days.
"I know kind of where I stand right now, so any time I can contribute, I'm happy to do that," Dickey said. "I think the thing that we all need to do, this is not a time for ego or hubris. If we want to make it far, we have to take that component out of it. So, when my number is called, I hope to contribute and thankfully today it ended up in a win."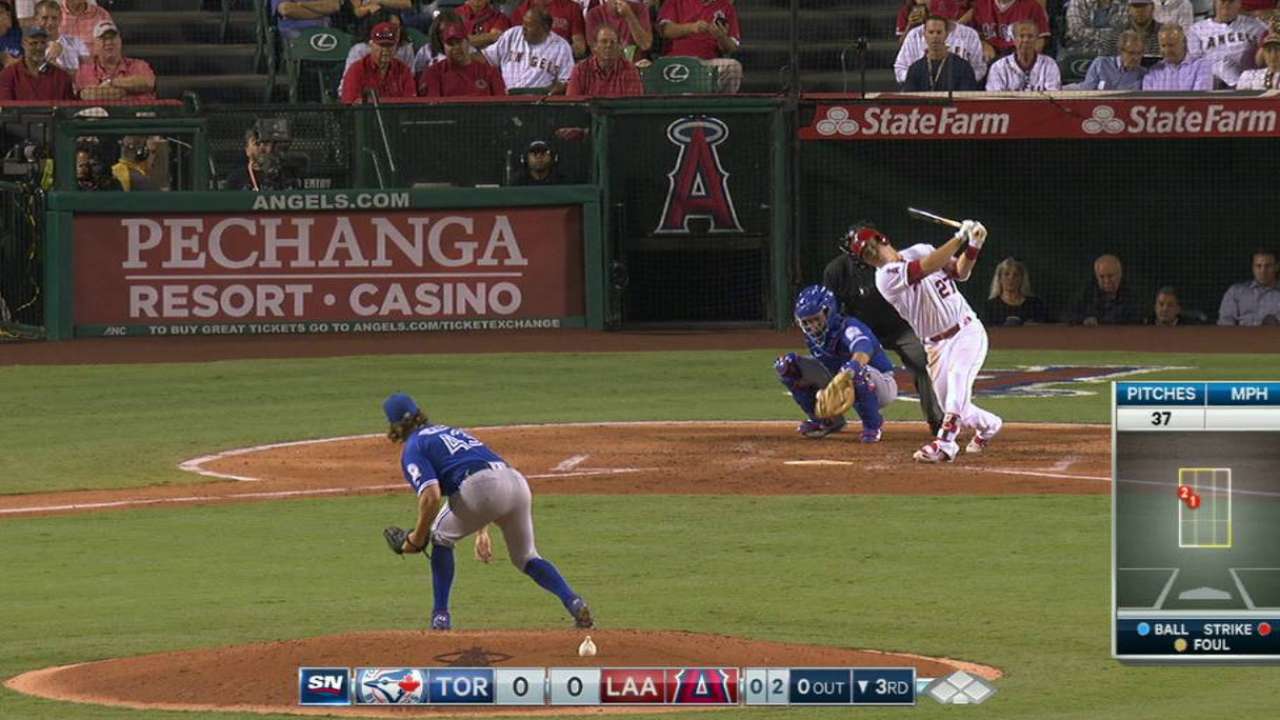 The Blue Jays won't have to wait very long before the second guy in this equation attempts to respond because Liriano is set to face the Angels on Saturday night. That will give the Blue Jays a fair look at each starter, but all things being equal, there will be other factors to consider as well.
Liriano is a realistic option to be used out of the bullpen while Dickey likely would go unused in that role. On the other hand, Dickey's outings require the light-hitting Josh Thole to start behind the plate, and with the offence struggling to score runs of late, that becomes even more problematic.
Either way, it's clear the priority will be making sure that J.A. Happ, Marco Estrada and Sanchez, who is set to start Wednesday in Seattle, are pitching every five days to maximize the number of potential quality innings from the starting staff.
"We're soldiers in this, right?" said Dickey, who was informed a couple of days after his last start that he was temporarily being removed from the rotation. "So we do what we're told and I pitch when they tell me to pitch. Sometimes they tell me right away, sometimes they wait a couple of days, but we're professionals. We have to be ready to go when our number is called that's the end of the story."
Donaldson still at DH
Josh Donaldson got the start at designated hitter on Friday night for the second consecutive day as he continues to recover from a hip injury, which caused him to miss a three-game series vs. the Rays earlier this week.
Donaldson once again fielded ground balls prior to Friday night's game but the club is taking a cautious approach in his return to the field. The veteran slugger went 1-for-2 with a pair of walks and an RBI and the hope is that he might be ready for a return to third base on Saturday night.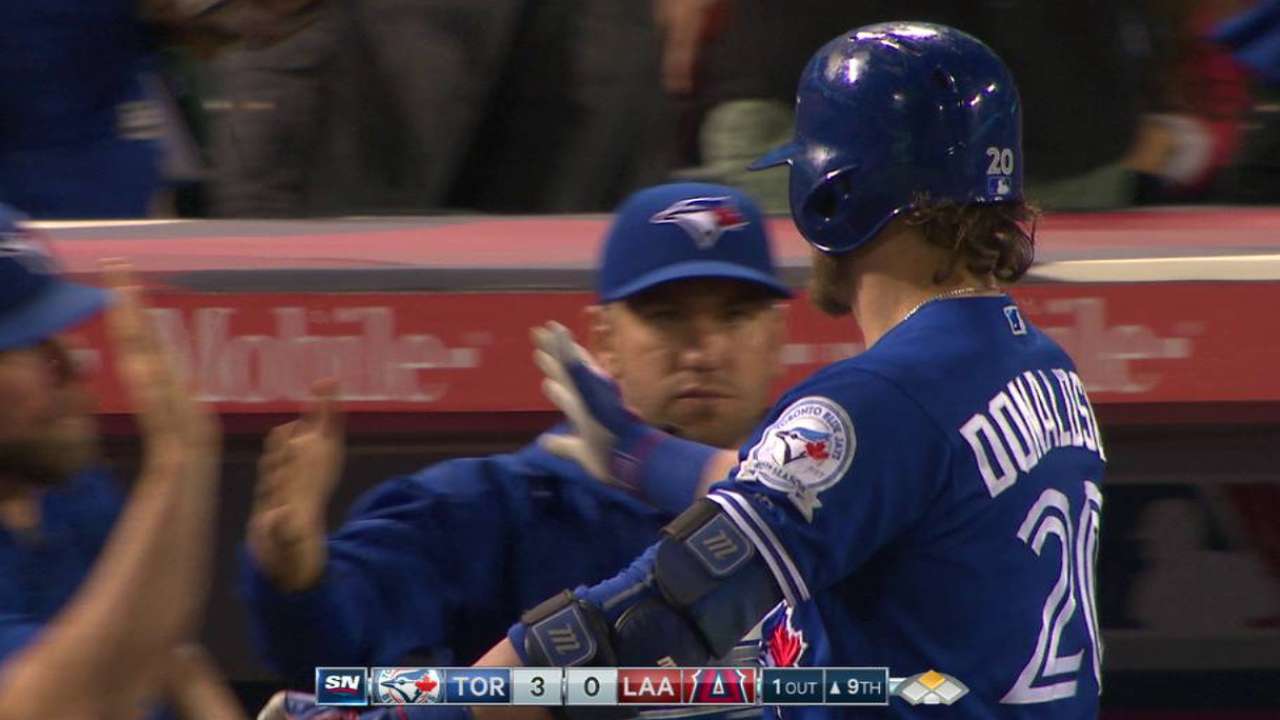 "We're going to give him one more day for sure and then we'll try to get him out there tomorrow," Gibbons said Friday afternoon. "Just to be cautious."
Gregor Chisholm has covered the Blue Jays for MLB.com since 2011. Follow him on Twitter @gregorMLB and Facebook, and listen to his podcast. This story was not subject to the approval of Major League Baseball or its clubs.