Corbin finds success in D-backs' bullpen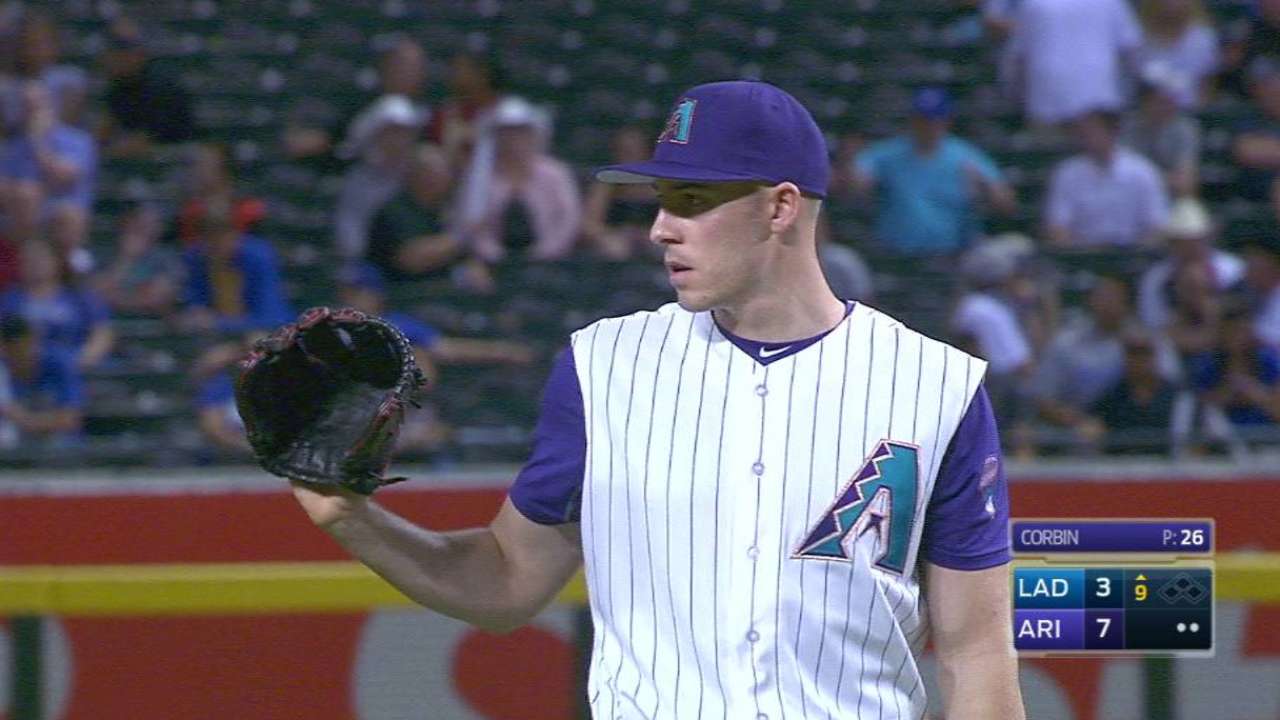 PHOENIX -- By moving Patrick Corbin from the starting rotation to the bullpen, the D-backs have accomplished what they hoped to do. The left-hander struggled for the first four months of the season and looked nothing like the starter who was a former All-Star.
The D-backs needed to build up Corbin's confidence, put him in positions to succeed and get him back to doing what he did so well prior to his Tommy John surgery in late 2013, and even after he finally returned for the second half of 2015.
Consider Corbin rounded back into form. He pitched three perfect innings with four strikeouts to notch a save in Thursday's win over the Dodgers and has posted a 1.46 ERA over his last six relief outings, spanning 12 1/3 innings.
"I think if we would've just decided after he struggled to not pitch him anymore the rest of the season, we still would've felt like he was going to be one of our five [starters] going into next year with what his track record has been," manager Chip Hale said. "But what he's done out of the bullpen, in pitching more than one inning and giving us three [Thursday] night, has given us a lot of hope that he's going to be in the top of our rotation."
Corbin entered 2016 as the club's No. 3 starter. But he went 4-12 with a 5.58 ERA over 24 starts in arguably the worst stretch of the left-hander's Major League career, which began in 2012.
He went 14-8 with 3.41 ERA in 32 starts in 2013. Then, even after missing a season-and-a-half, Corbin went 6-5 with a 3.60 ERA in 16 starts in 2015.
Corbin saw no mechanical issues during his video work early this season. He eliminated bullpen sessions between starts, which didn't fix the issues either. It took some rest and a month of relief outings to re-find success.
"I just feel like I'm working ahead better, throwing more strikes, and getting back to my game, which is pounding guys inside and going to my slider," Corbin said. "When I was starting, I felt like it just wasn't coming out as good as it has before and I was trying to work on some other things and try to see why. I think the time not throwing every fifth day, throwing 100 pitches, it helped recover my arm a little bit maybe."
Corbin feels better. And after outings such as Thursday, when he struck out four and dominated for three innings, he's impressing his team, too.
"His arm speed was so much better than it was early in the year," Hale said. "His breaking ball was very good, he threw a very good change-up, the fastball had great life. We just keep doing this, three or four innings, and then next year expect him to be right back to somewhere in that rotation."
Jake Rill is a reporter for MLB.com based in Phoenix. This story was not subject to the approval of Major League Baseball or its clubs.