Bregman likely done for season with hamstring injury
Altuve returns to lineup for series opener in Seattle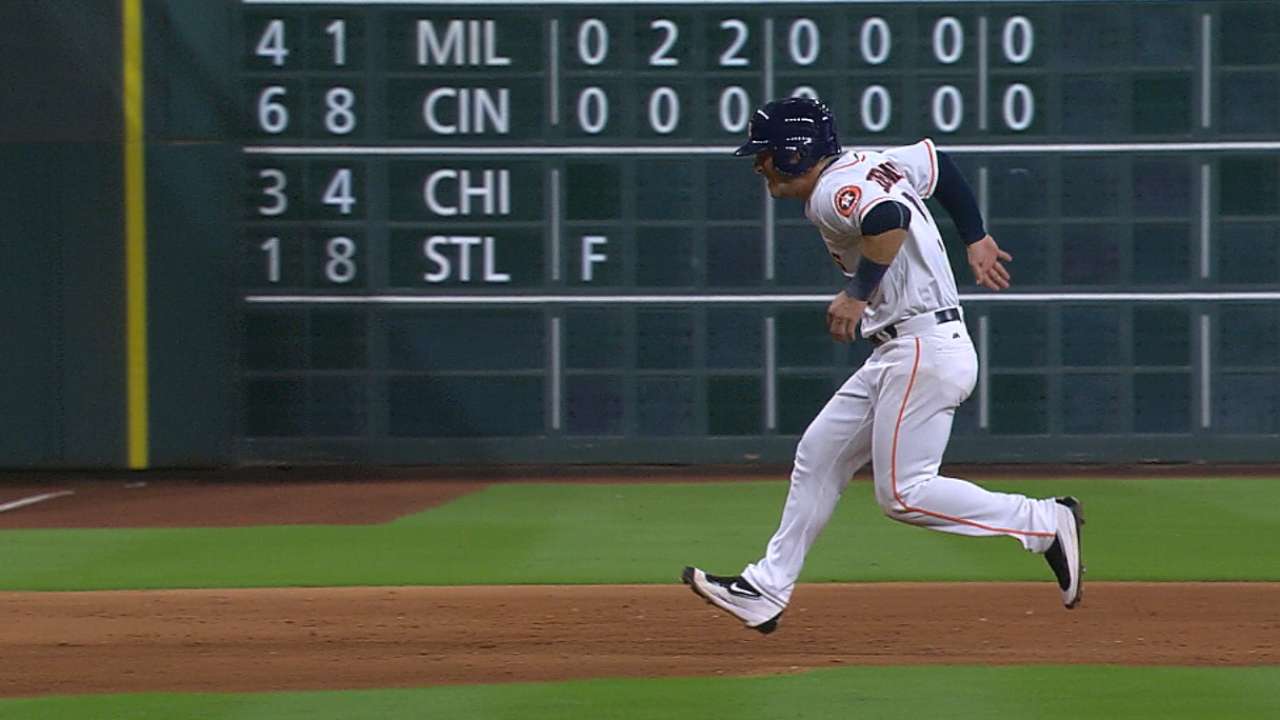 SEATTLE -- Alex Bregman's rookie season is likely over, unless the Astros make the postseason.
The infielder, who left Wednesday's game in Houston with a hamstring injury suffered while running the bases, has been diagnosed with a right hamstring strain. Astros manager A.J. Hinch said Friday it's the kind of injury that would require a 15-day DL stint had it happened earlier in the season, but there's no need to do that with expanded rosters in September.
But considering there are only 16 games remaining on the schedule prior to Friday, it's likely Bregman doesn't return. He didn't travel with the team on its six-game road trip, which began Friday against the Mariners. The team called up infielder Colin Moran from Triple-A Fresno on Friday to provide some depth.
"The diagnosis for [Bregman] is a little disheartening," Hinch said. "He's got a hamstring injury that would normally require a DL stint right away, which means that we think it's at least 15 days, if not more. Where we're at on the schedule, that obviously is not a good sign. So, he'll be back in Houston and beginning the therapy needed and the treatment needed. He won't be with us."
The Astros did get some good news Thursday when All-Star second baseman Jose Altuve was cleared to play after suffering discomfort in his right oblique Wednesday. Altuve didn't fly with the team to Seattle late Wednesday so he could be examined by doctors in Houston on Thursday.
"I didn't fly with the team the last day and the doctor looked at me yesterday and he said I was good, "Altuve said. "We talked about it this morning about how I feel and we decided I feel pretty good and we're going to go out there and play the game, and win the game."
Losing Bregman is a blow. He's been a fixture in the second spot in the lineup and was hitting .260 with eight homers and 32 RBIs, having had a 25-game on-base streak snapped on Monday. After starting his career in a 1-for-32 slump, Bregman hit .305 with a .354 on-base percentage with eight homers and 32 RBIs.
"It's a loss for us on a lot of fronts," Hinch said. "He's a really good player and he was hitting in the two-hole. He was in the middle of a lot of things that were going right for us. So it's definitely a blow for us."
Cuban rookie Yulieski Gurriel will likely get most of the starts at third base in the final two weeks of the regular season with Bregman out. Bregman, the No. 2 pick in last year's MLB Draft out of LSU, was called up July 25.
Brian McTaggart has covered the Astros since 2004, and for MLB.com since 2009. Follow @brianmctaggart on Twitter and listen to his podcast. This story was not subject to the approval of Major League Baseball or its clubs.