Napoli's ground-rule double clears 19-foot wall
Upton loses fly ball in lights as two runs score; Indians slugger adds two-run homer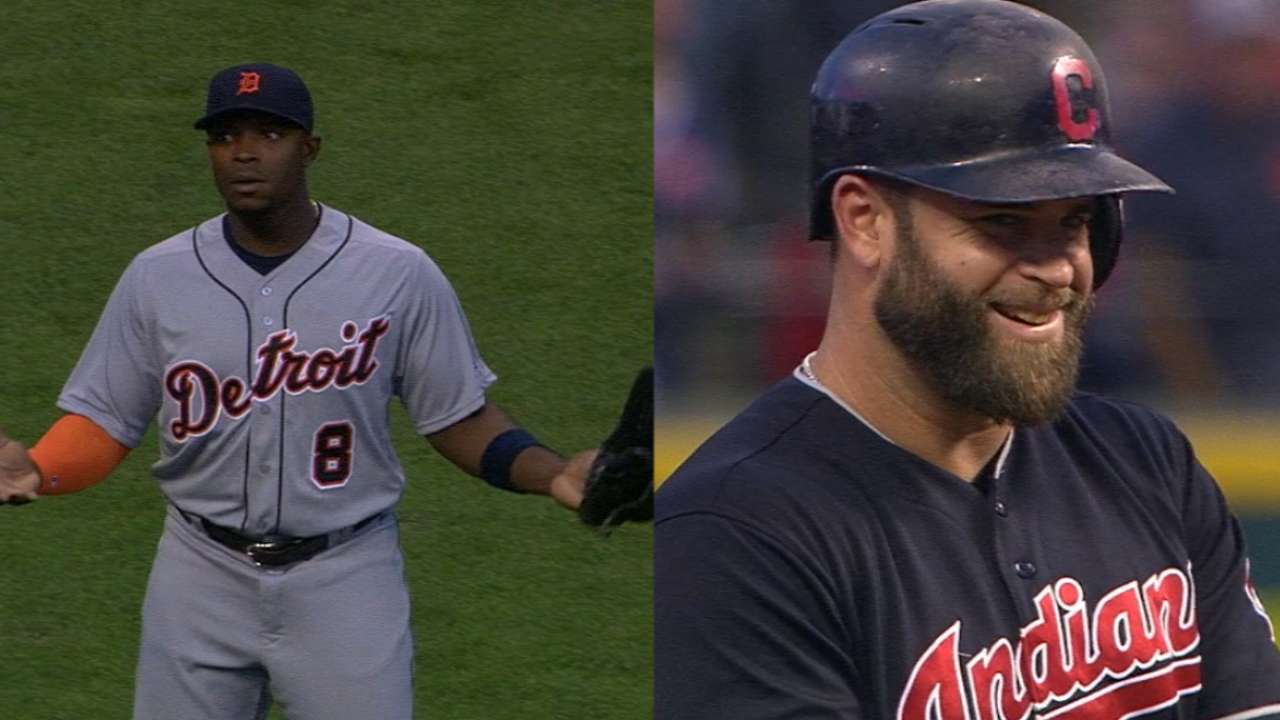 CLEVELAND -- When Justin Upton stopped running and put his hands up, Mike Napoli assumed that the Tigers outfielder was trying to pull a fast one on Cleveland's baserunners. The Indians slugger assumed his deep fly to left field would be caught, resulting in a routine sacrifice fly.
Napoli did not anticipate the confusion that followed. With an assist from Progressive Field's lights, which toyed with Upton's eyes, Napoli wound up with an improbable ground-rule double that cleared Progressive Field's 19-foot wall, and got the Tribe's offense rolling in an 11-4 rout over Detroit in a critical division clash on Friday night.
"I thought he was deking the runners," Napoli said. "I'll take it."
Napoli's first-inning double, which bounced off the warning track behind Upton, led to two runs and came during a three-hit showing for the Tribe's first baseman. Napoli ended with four RBIs, including another pair on a home run that cleared the big wall in left in more traditional fashion, sailing to the back of the Home Run Porch and bouncing out of the ballpark.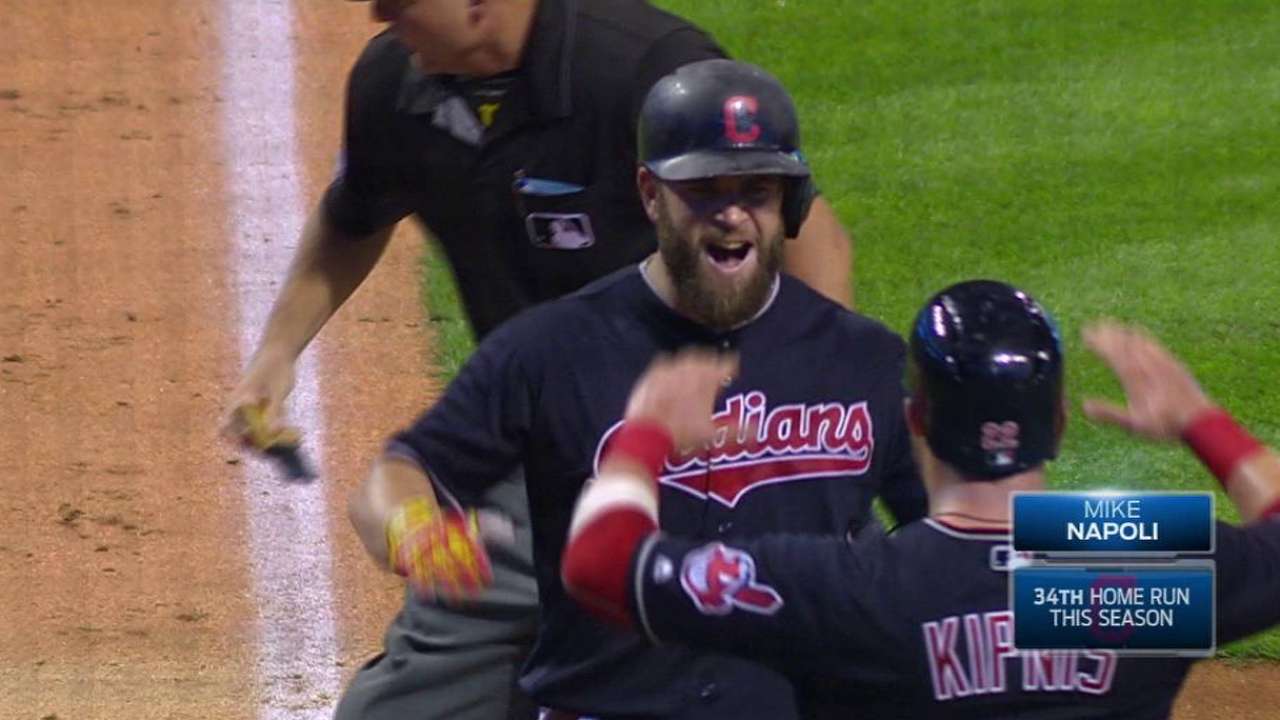 The slugger helped set the tone for Cleveland's attack, which capitalized on multiple mistakes by the Tigers. That has happened throughout this season series for the Indians, who improved to 12-1 against a Detroit team that has had the Tribe's number in recent years. Now, the American League Central-leading Tribe boasts a seven-game lead over the Tigers with 15 games left on the schedule.
Cleveland's magic number is down to nine for clinching its first division crown since 2007.
"That's what we're working towards every year," Indians ace Corey Kluber said, "is to have games like this later on in the year, and hopefully past the regular season. That's what everybody is striving for. So, I think when you get into these situations, after you've worked so hard to get there, it's fun to embrace them."
That is part of the reason the Indians targeted Napoli over the offseason.
With a clear need for right-handed power, Cleveland reeled in the veteran slugger on a one-year pact, promising regular playing time and faith that he could overcome some recent injury woes. The Indians also liked the fact that Napoli has extensive postseason experience. He has played in 51 playoff games, been to two World Series and won a title with the Red Sox.
Napoli has repaid the Indians with career bests in home runs (34) and RBIs (98), and plenty of tape-measure blasts that have bruised hands and dented seats in the bleachers.
"When he connects," Kluber said, "it goes a long ways."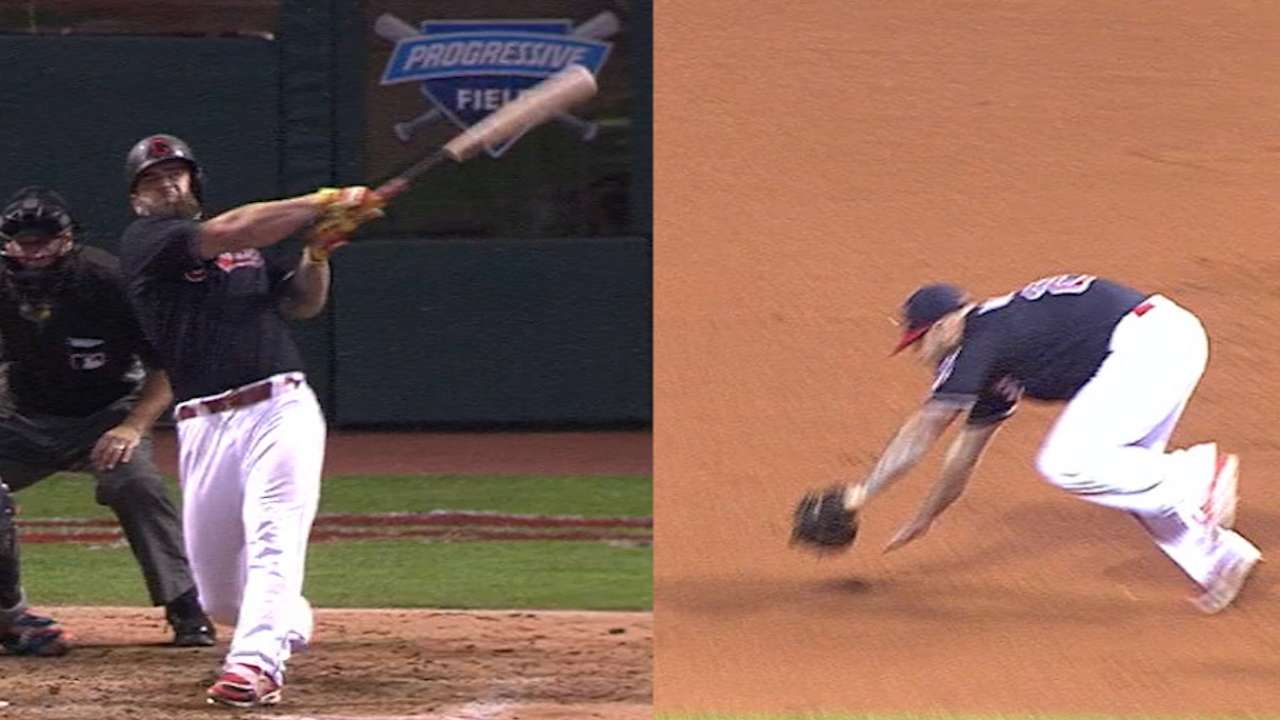 Both of Napoli's two-run hits came off Tigers rookie Michael Fulmer, though this time it was the double that dropped more jaws than the blast.
Napoli sent the fly ball to left with one out and Francisco Lindor and Jason Kipnis on second and third, respectively. As the baseball began dropping toward the ground, Upton slowed to a stop and motioned that he could not see the ball. The dusk, combined with the positioning of the toothbrush-style lights that loom over the upper deck on the first-base side of the stadium, created a tough situation.
"At that time of night," Napoli said, "fly balls, as infielders, you're just trying to point it out. You know it was a fortunate break for us."
As Upton stood in the outfield grass, the baseball bounced on the warning track, shot up over the wall and sneaked through the black railing above the yellow line atop the 19-foot barrier. That allowed Kipnis and Lindor to score with ease.
Ground-rule doubles are not uncommon in Cleveland, but no one associated with the Indians could recall seeing one clear the left-field wall. Napoli's double had the perfect mix of height, angle and confusion.
According to Statcast™, the baseball flew off Napoli's bat at a 49-degree launch angle with a 95-mph exit velocity. It traveled a projected distance of 316 feet, just beyond the edge of the grass in left. Napoli's double was the first successful hit in the Majors this season with that combination of exit velocity and launch angle. Batters had gone 0-for-24 previously under the same circumstances.
"We caught a break," Indians manager Terry Francona said. "We would've had one there. We got two, which, playing these guys, you take every one you can get."
Jordan Bastian has covered the Indians for MLB.com since 2011, and previously covered the Blue Jays from 2006-10. Read his blog, Major League Bastian, follow him on Twitter @MLBastian and listen to his podcast. This story was not subject to the approval of Major League Baseball or its clubs.