Scott never gave up on his dream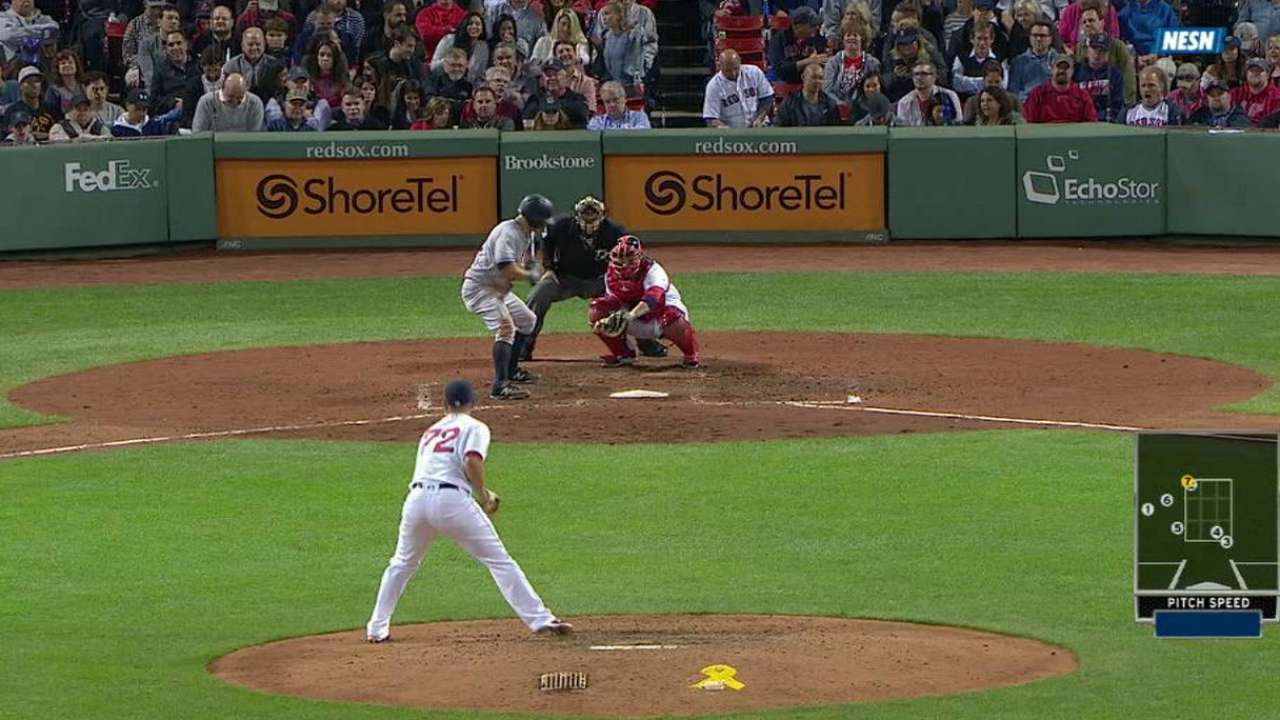 BOSTON -- Perhaps, Robby Scott's greatest reward to eclipse his long baseball journey was being a massive contributor to one of the Red Sox's most dramatic comeback wins of the season.
The 27-year-old made his second Major League appearance on Thursday, tossing three scoreless innings that proved to be the difference in Boston's 7-5 walk-off victory against the Yankees. Scott effortlessly plowed through New York's lineup, striking out Brett Gardner and inducing a grounder from red-hot rookie Gary Sanchez.
But Scott's grand moment on the big stage didn't come easy. Managing to stay under the radar for most of his professional career, Scott graduated from Florida State University where he posted a 4.82 ERA in 16 relief appearances for the Seminoles in 2011.
Next came the opportunity that Scott describes as a challenging stepping stone -- playing for the Yuma Scorpions in the independent North American League. Scott struck out 19 batters over 11 consecutive scoreless innings with Yuma before the Red Sox signed him as a free agent on Aug. 9, 2011.
"Nobody wants to be in independent ball, nobody wants to be at that stage," Scott said. "But at the same time, it's a chance to further your career. Unfortunately, you're not an affiliate, you're not with an organization, but it's still an opportunity to play professional baseball.
"Anybody that has that opportunity to play, I fully encourage them. If they still have a love for the game and they can do it, they might as well just go ahead and do it. When I was done with college ball I never thought I'd be here, but once I had that opportunity and signed, I knew what I wanted and I was going to go get it."
After signing with the Red Sox, Scott moved up from the New York-Penn League and Gulf Coast League before he played for the Salem Red Sox, Portland Sea Dogs and finally Triple-A Pawtucket. He was perhaps Pawtucket's best pitcher this season, posting a 2.54 ERA in 32 games that included six starts. Scott struck out 73 batters over 78 innings, limiting opposing hitters to a .202 batting average.
"[Thursday] night when I was warming up, I kept telling myself, 'Envision yourself warming up in Pawtucket,'" Scott said. "Of course it was a little overwhelming, looking up and seeing the fans and all that. And then you look over your right shoulder you see the Green Monster staring you down a little bit. But this is the moment we all play for and we all hope for, the opportunity is there and it's here now."
Red Sox manager John Farrell said Scott embodies a no-fear attitude and pitching coach Carl Willis echoed that remark, crediting the reliever's work ethic to his journey and experience. Willis said Scott has the ability to be a high-leverage pitcher, especially against lefties, holding them to a .147 average, .206 on-base percentage and .253 slugging percentage in Pawtucket this season.
"He wasn't a guy that was highly drafted, highly sought after coming out of college," Willis said. "He's had to really work on his craft to get here, and I think that gives you a tremendous amount of confidence when you in a sense, beat all the odds to get here. It's something to definitely be proud of."
Deesha Thosar is a reporter for MLB.com based in Boston. This story was not subject to the approval of Major League Baseball or its clubs.