Dozier sparks offense in first start for Royals
Club's No. 2 prospect logs RBI single off White Sox ace Sale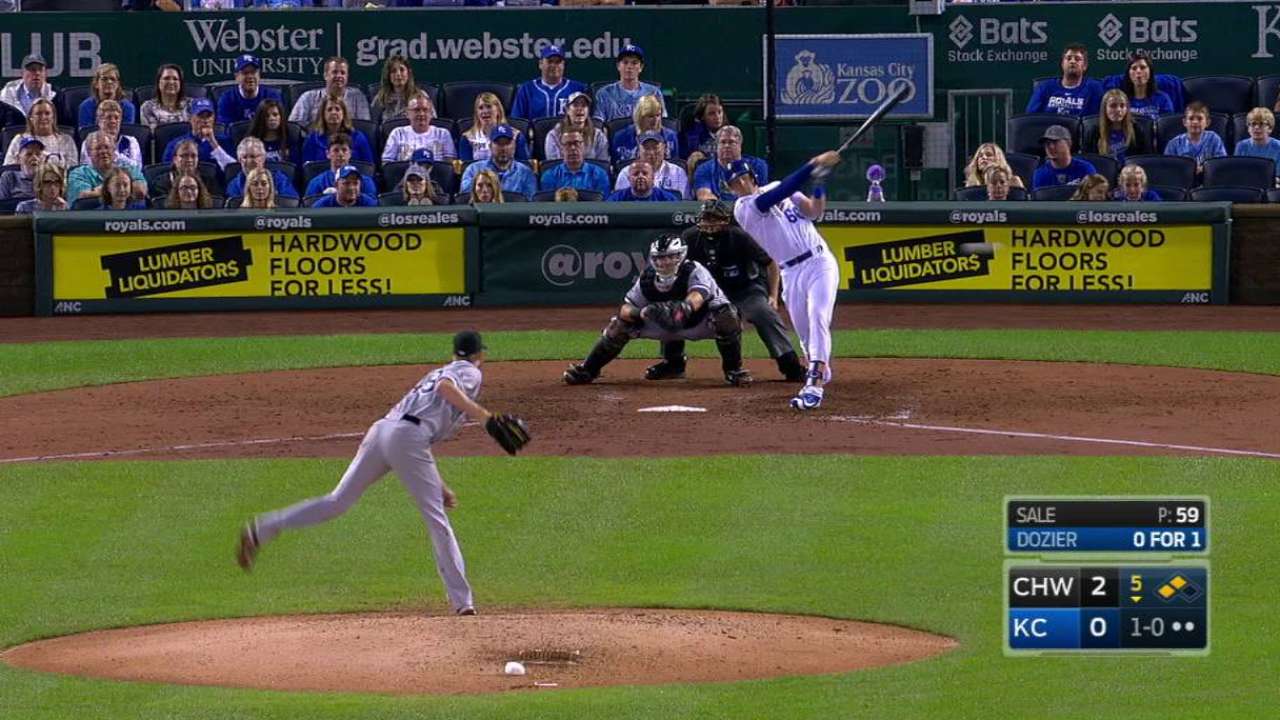 KANSAS CITY -- Royals manager Ned Yost isn't ready to wave the white flag on the 2016 season. But Yost said he will mix in more of his young players down the stretch, starting with 2013 first-round Draft pick Hunter Dozier.
Dozier got his first Major League start on Friday, playing right field in a 7-4 loss to the White Sox. Dozier even got a hit and his first Major League RBI, and he did it off tough White Sox left-hander Chris Sale.
"He's such a tough pitcher," Dozier said. "I got a fastball and I hit it pretty hard, but they were shaded in the six-hole and I knew I had to hustle. Luckily, I got a hit there and we got two runs."
Going forward, Dozier likely will play more as the Royals' postseason possibilities fade.
"We'll go day to day with him," Yost said before the loss. "I don't have a plan written down on when he's going to play and not going to play.
"But, of course, you want to see him. We'll see how it goes, see how he does. If he gets hot, we'll use him."
But Yost admitted he is intrigued by what Dozier could bring to the lineup, especially in right field. Dozier, the club's No. 2 prospect, according to MLBPipeline.com, was drafted as a shortstop, then converted to third base with the Royals.
Kansas City has depth at third base with Mike Moustakas coming back from an ACL injury in 2017, and Cheslor Cuthbert behind Moustakas. The Royals, therefore, tested Dozier in the outfield this season at Triple-A Omaha.
Yost said Dozier most likely will see the majority of playing time in right field, not third base, in the final 15 games of the regular season.
"Pretty much, yeah," Yost said. "The majority of the time he played in Triple-A in the last month or so has been in the outfield. [Omaha manager Brian Poldberg] said he did fine out there. We'll get a look."
Dozier had a breakthrough season in the Minors, hitting a combined .296 between Double-A Northwest Arkansas and Omaha with a .533 slugging percentage. He also set career highs in doubles (44), homers (23) and RBIs (75).
Jeffrey Flanagan has covered the Royals since 1991, and for MLB.com since 2015. Follow him on Twitter @FlannyMLB. This story was not subject to the approval of Major League Baseball or its clubs.