Rangers being conservative with Barnette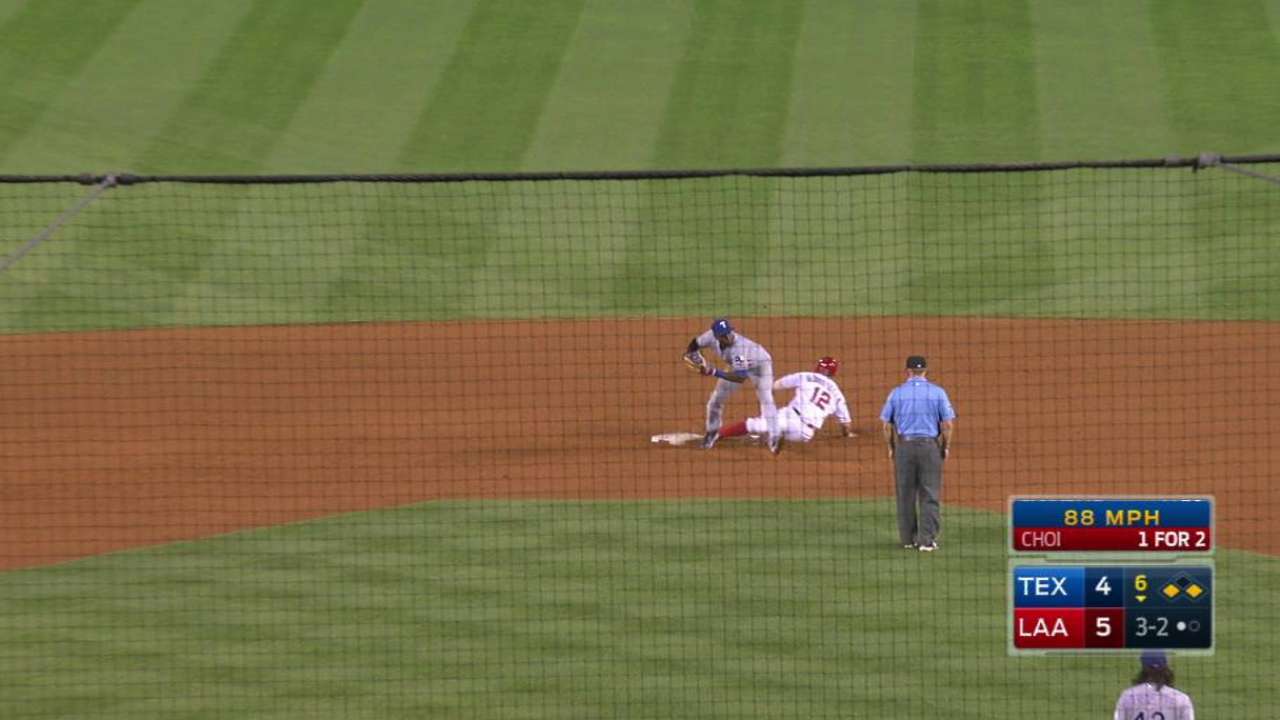 ARLINGTON -- The Rangers may be without right-hander Tony Barnette, who is dealing with a strained left oblique, until the final week of the season. But that doesn't mean he has had any setbacks in his recovery.
With the postseason creeping closer, and the Rangers' lead in the American League West at 8 1/2 games entering Friday's series opener with the A's, the team is taking a conservative approach with one of its most prominent middle relievers.
"Obviously, if he's healthy, he feels good and the ball is coming out of his hand well, we'd love to see him in some Major League games," manager Jeff Banister said. "Just to know what we've got, see where he's at and his feel for the baseball. Right now I don't expect him, or think that he would be back until probably that last week."
Barnette threw 15 pitches off flat ground on Friday and said he "let it go" when playing catch from about 90 feet. The next step in his recovery will be throwing off a mound, a step he believes isn't too far off.
Barnette has not pitched since injuring the oblique on Sept. 4, on the follow-through of a pitch to Houston's Jose Altuve.
"I've just got to keep pushing on with the progress, keep pushing it and testing it day by day," Barnette said. "I think it's the proper amount of precautions. For me, things are going well and are moving in the right direction."
In his rookie season, Barnette has established himself not only as one of the Rangers' most reliable relievers, but as one of the more consistent relievers in the AL. His six relief wins are tied for sixth in the AL, and his 2.15 ERA is third-lowest among all rookie relievers with a minimum of 50 innings pitched.
Elvis thriving with more days off: Shortstop Elvis Andrus is on pace to play in the fewest number of games he's played since 2010, but he's already matched his RBI total from last season (62) and is five away from matching his career high, set in 2013. Not to mention, his current slash line of .295/.353/.417 would set career highs across the board.
After observing Andrus during his first year as manager, Banister believed increased off-days would be fortuitous.
"I think Elvis wore the 161 or the 160 [games] as a badge of honor, as most veterans do," Banister said. "But I didn't feel that was the best thing for his performance. Early on it was a little bit of a struggle. He didn't really want to [sit]. But I think as the year has gone on and he's seen how it has benefited him to take some days off, he's OK with it."
Andrus will not reach the 150-game mark for just the third time in his eight-year career. He's played in at least 156 the last four seasons.
Jurickson Profar has given Banister some flexibility when it comes to giving Andrus a day off, and Hanser Alberto has also proven to be a capable defensive replacement.
"If you're going to be a championship team, you have to have a solid bench," Banister said. "You have to have guys that you can put out there that are going to go out and give you their best professional effort and be prepared. And then there has to be some production along the way, too."
Rangers beat
• Shin-Soo Choo hopes to swing with a regular bat in the next few days as he prepares for a possible return in the postseason. He has been throwing and swinging with a fungo bat over the last week.
• Class-A Advanced High Desert defeated Visalia, 5-4, on Thursday in the opener of the best-of-five Cal League championship.
• The Texas Rangers Baseball Foundation and Globe Life And Accident Insurance Company has awarded grants to 10 non-profit organizations in Texas and Louisiana to support youth baseball and softball programs. The recipients will be recognized on the field before Saturday's game against the A's.
Ryan Posner is a reporter for MLB.com based in Texas. This story was not subject to the approval of Major League Baseball or its clubs.