Davis has Classic invites from U.S., Mexico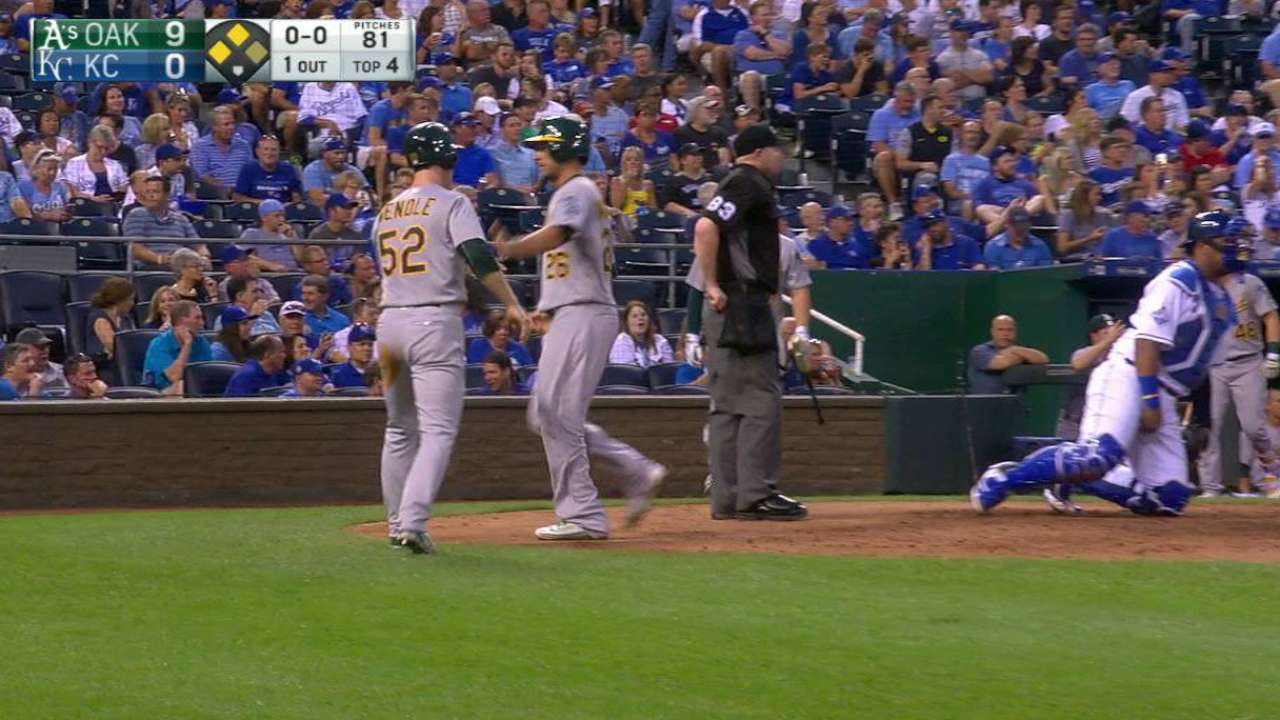 ARLINGTON -- For much of the year, A's left fielder Khris Davis has given serious thought to playing for Mexico in next spring's World Baseball Classic. Then the U.S. squad came calling.
Now Davis, who says he's on the preliminary invitee list for both teams, has a decision to make.
"I would go for the best opportunity," Davis said. "I would probably lean toward the better team, which might be the U.S., but we'll see. It's a tough decision."
Davis, 28, was born in Southern California but has family ties to Mexico, the native country of his mother, Sonia Alarcon, who grew up in the state of Sinaloa. He's already spoken with Dodgers first baseman and likely Mexico participant Adrian Gonzalez -- Adrian's brother, Edgar, is the manager of the team -- about the international competition.
When asked if Gonzalez could convince him to side with Mexico, Davis offered his signature crooked smile, saying, "Possibly."
It's no wonder Davis' power is a hot commodity; he has obliterated previous career highs, with 37 home runs and 94 RBIs -- figures that rank him among the game's most prolific power hitters.
Dating back to Aug. 6 of last season, Davis' 57 home runs are second most only to Blue Jays designated hitter Edwin Encarnacion's 58. Davis excites with titanic shots, his home runs traveling a Statcast-estimated 409 feet on average this season -- many of them opposite-field shots.
Having watched Davis for nearly a full season now, manager Bob Melvin has grown accustomed to such thrills and recognizes their potential impact, and entertainment value, on a national stage.
As an organization, the A's are very supportive of the World Baseball Classic and those who want to participate.
"I think it would be well deserved," Melvin said. "When you're looking at the best hitters in all of baseball now, you have to group him in with some of the best in the league. And if you've been here to witness the power, our division is not an easy division to hit home runs in, especially night games in our ballpark. I think the length of his homers have been equally impressive as the numbers."
Davis watched the World Baseball Classic championship game between South Korea and Japan at Dodger Stadium in 2009 and vividly recalls the electric atmosphere.
"Just seeing the different cultures and how they chanted and cheered for their players, it was just a different energy, different style of baseball," Davis said. "Just to make new friends and play whatever role they ask me to play and learn something from that role, I think it would be cool. Definitely win the tournament for sure and see how much fun I can have."
"I think it would be great," Melvin said. "I think any time you can embrace something like that and [if it's] something he wants to do, I'm all for it. I think he's pretty passionate about it, and if that's the case, I think it would be fun to watch him."
Jane Lee has covered the A's for MLB.com since 2010. Read her blog, Major Lee-ague, and follow her on Twitter @JaneMLB. This story was not subject to the approval of Major League Baseball or its clubs.