Rhythmic adjustments have Peraza thriving
22-year-old seeing boost in exit velocity since latest promotion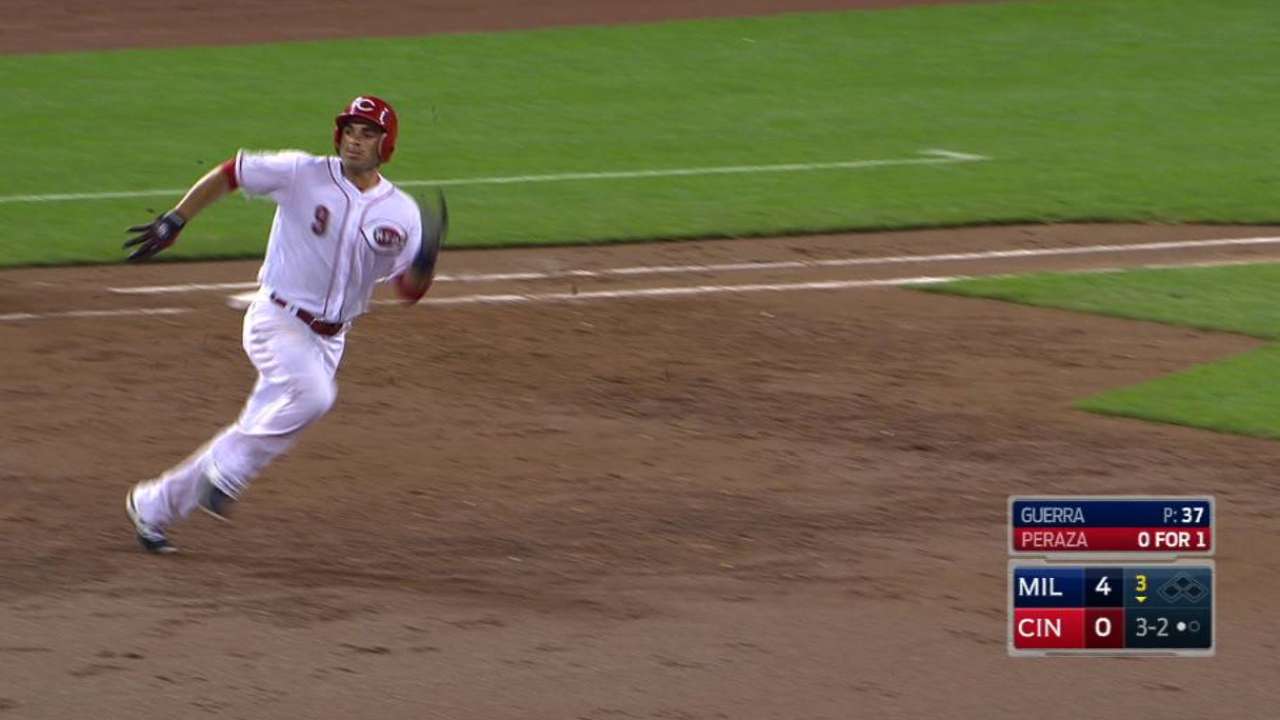 CINCINNATI -- The mystique of young players that succeed quickly in the Major Leagues makes them seem like they're overnight sensations who burst on the scene. But 22-year-old Reds infielder/outfielder Jose Peraza has already been putting in work for years to avoid simply being a flavor of the month.
In 2011, Peraza joined the Braves' organization as a 16-year-old. Reds hitting coach Don Long was Atlanta's Minor League hitting coordinator from 2011-13.
"I always felt about him that he was always the youngest player pretty much in whatever league he played in. And he was always one of the better players," Long said. "I think he's got a natural confidence in himself when he plays baseball that he knows he can compete and play the game. That's a trait of his I've seen the last six years."
Peraza is batting .320/.346/.404 with two home runs, seven doubles, 18 RBIs and 15 steals. His biggest surge has come after his Aug. 20 promotion, when he got regular playing time at either shortstop or center field because of injuries to Zack Cozart and Billy Hamilton.
Since then, Peraza is batting a National League best .389 (35-for-90) after going 1-for-5 with a run scored in Friday's 9-7 loss to the Pirates. In his two previous callups, he played sparingly -- especially for a six-week stretch in the big leagues before he was sent back to Louisville on Aug. 2.
Playing regularly for Louisville, Peraza kept working and regained both his confidence and the rhythm of the swing he had been working on all year with Long and assistant hitting coach Tony Jaramillo.
"He has a little more flow to his pre-pitch. He gets his rhythm and his body in motion and is fluid with it," Long explained. "Before it was a little more kind of a two-part move. I think that's helped him as well.
"It's been an ongoing thing since Spring Training, especially with his hands. He gets his hands in motion and keeps them moving prior to the pitch instead of kind of having them stagnant or getting them back and stopping and then trying to restart. I think this last time he went down to Triple-A, he captured a good feeling with that and it's carrying forward up here, too."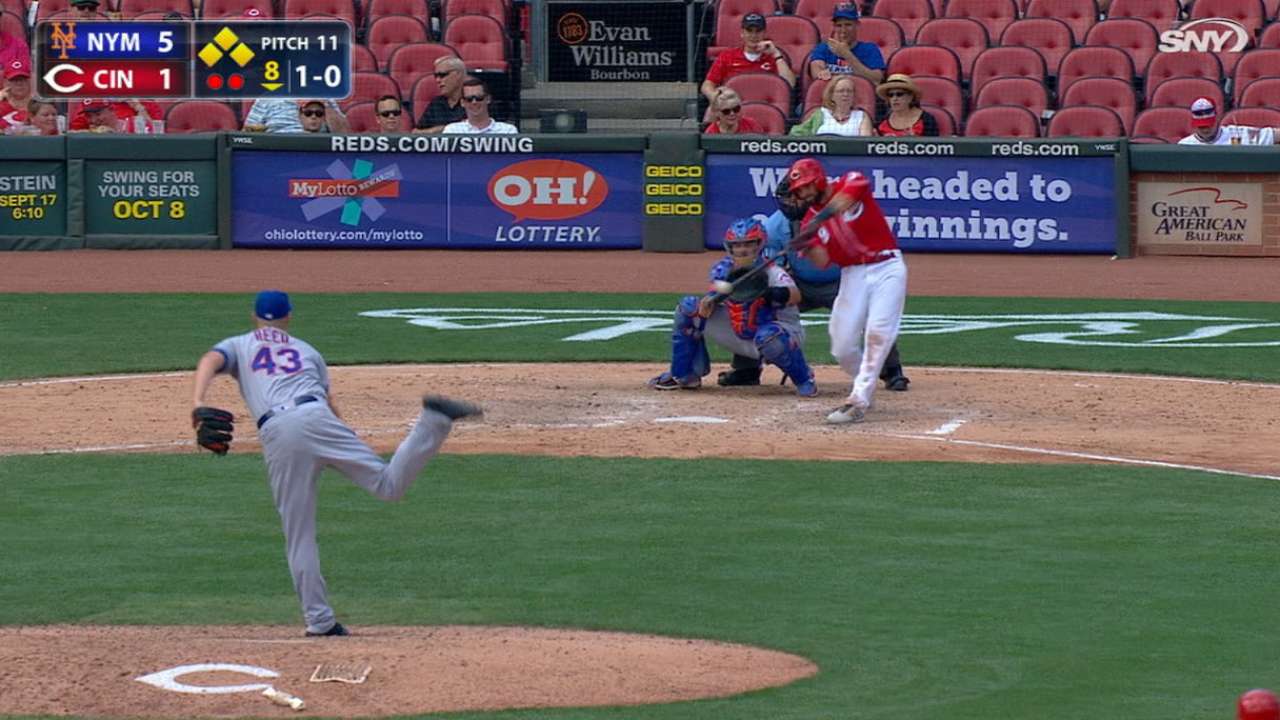 The changes with his hands weren't always easy, but Peraza has gotten comfortable with the adjustments.
"At the beginning it was hard, but the more that you practice and the more natural it becomes," Peraza said via translator Julio Morillo. "Sometimes in a game, I don't feel that good and I know because my rhythm is not there. I've figured it out faster and know what I have to do in order to get the rhythm back."
The improved rhythm has brought improved dramatic data changes. According to Statcast™, Peraza's exit velocity has jumped from 50.6 mph over the first two callups (410 pitches) to 87.6 mph in his third promotion (305 pitches). His line-drive percentage is up from 23 percent to 37.8 percent and his fly-ball percentage is down (32.4 percent to 24.3), according to Baseball Info Solutions.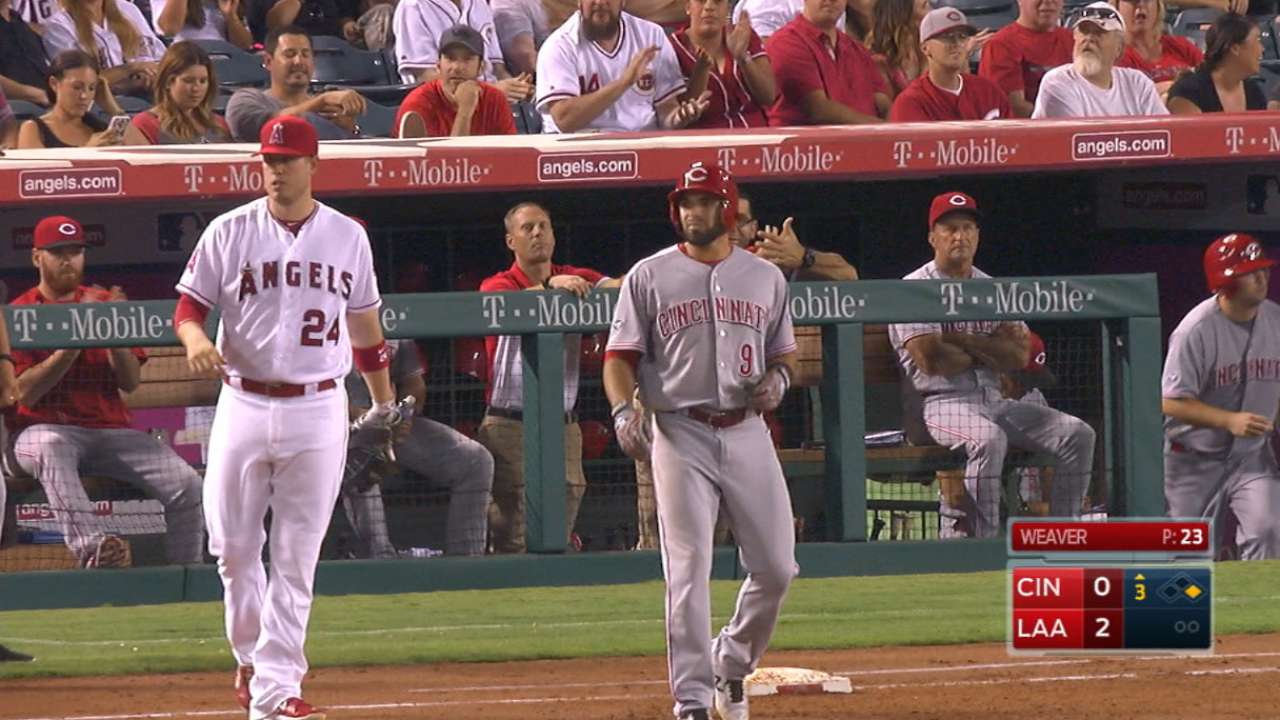 Also, soft contact is down (24 percent to 16), while hard contact is up (18.4 percent to 28).
"I understand my game," Peraza said. "I think if my game is hitting the ball on the ground or hitting a lot of line drives, it helps me to succeed in this league instead of fly balls. I try to be focused on hitting the ball to the middle and opposite field or put the ball on the ground and take advantage of my speed."
Mark Sheldon has covered the Reds for MLB.com since 2006, and previously covered the Twins from 2001-05. Follow him on Twitter @m_sheldon and Facebook and listen to his podcast. This story was not subject to the approval of Major League Baseball or its clubs.