Castillo, Cole set for rematch as rosters expand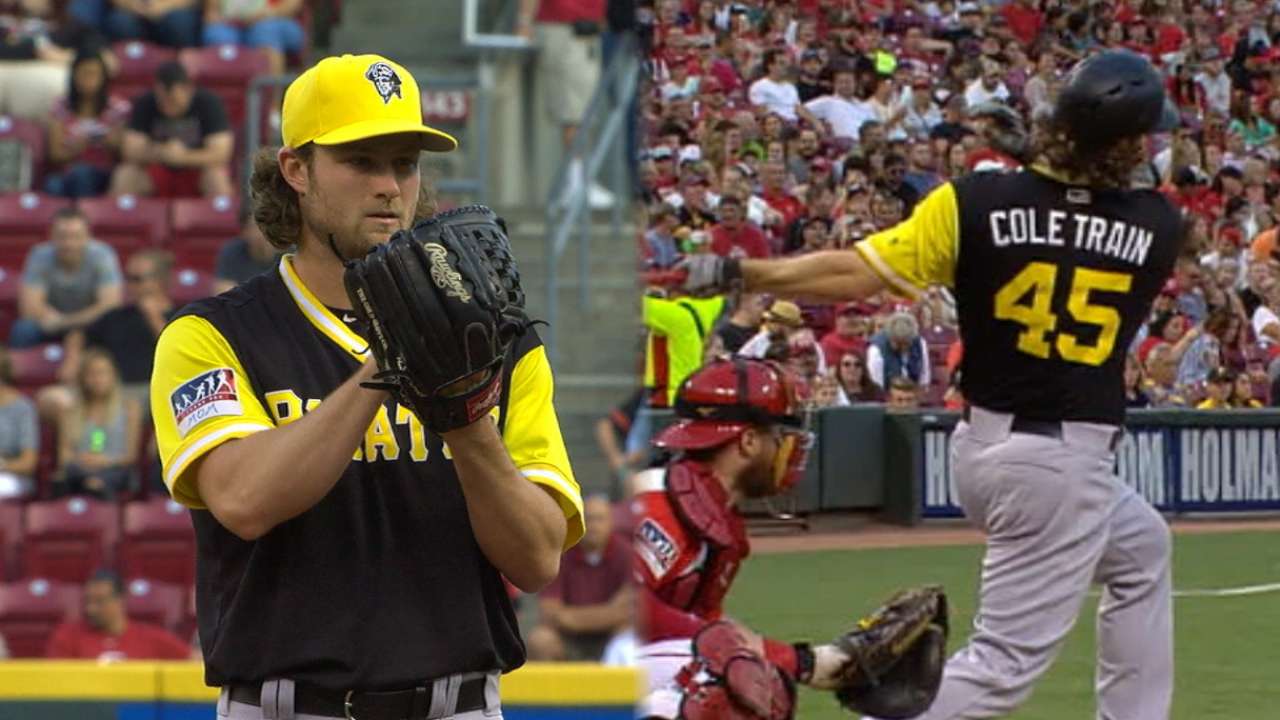 Five days after wrapping up a series in Cincinnati, the Pirates and Reds will meet again this weekend at PNC Park. Both clubs may feature some new faces, however, as Major League rosters are set to expand from 25 to 40 players before Friday's series opener.
The Bucs took two of three from the Reds last weekend at Great American Ball Park, their first series victory of the year against Cincinnati. Pittsburgh right-hander Gerrit Cole pitched the most memorable game of that series when he "Little Leagued" the Reds, as manager Clint Hurdle said, with seven shutout innings and a home run off Luis Castillo in the Pirates' 1-0 victory on Saturday. The two pitchers will square off in a rematch on Friday.
Cole's homer was the only damage done against Castillo, as the 24-year-old right-hander allowed two other hits and one walk while tying a career high with nine strikeouts. It was the end of a strong month for Castillo, who recorded a 2.76 ERA and 32 strikeouts while holding opponents to a .178 batting average in five August starts despite going 0-3.
Cole is also rounding into form down the stretch of an up-and-down season. He has worked at least six innings in each of his last 10 starts, posting a 3.17 ERA with 68 strikeouts in 65 1/3 innings during that stretch.
Things to know about this game
• Andrew McCutchen might be more ready than anyone to turn the page on August. After performing at his MVP-level best in June and July, McCutchen slashed .222/.300/.283 with only one home run and eight RBIs in 28 August games. McCutchen's average exit velocity is slightly up from his hot two-month stretch, according to Statcast, but his average launch angle ticked down from 15 degrees to 12.4 degrees in August.
• For all their past success against Cole, only one current Reds hitter has homered against him: Adam Duvall. Scooter Gennett and Billy Hamilton have been particularly tough on Cole, posting identical .391 on-base percentages in 23 career plate appearances each.
• When Cole outdueled Castillo on Saturday in Cincinnati, Cole's 101.3-mph homer off Castillo was the second-hardest batted ball the Pirates hit off the Reds' starter. Meanwhile, Cole only gave up two batted balls that had higher exit velocities.
Adam Berry has covered the Pirates for MLB.com since 2015. Follow him on Twitter and Facebook and read his blog. This story was not subject to the approval of Major League Baseball or its clubs.