McCarthy, Kluber set to square off in Cleveland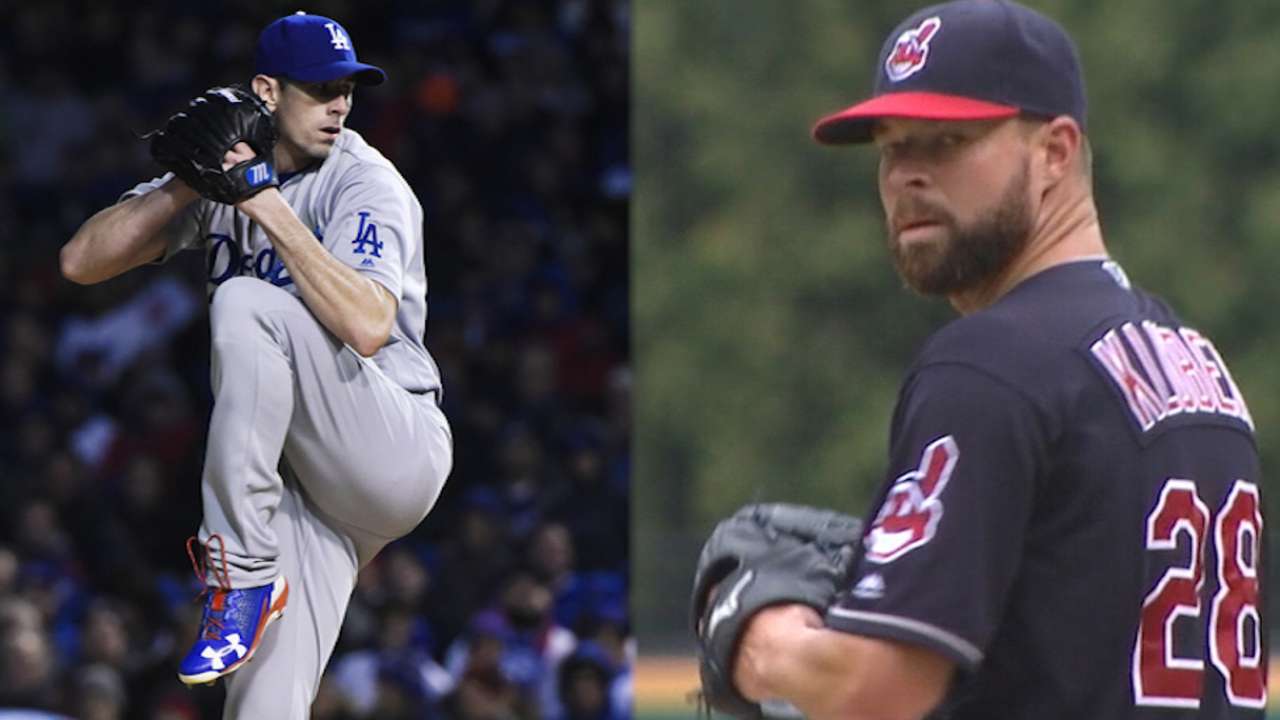 Right-hander Brandon McCarthy is in the midst of one of the best seasons in his 12-year career, in part due to the resurgence of his cutter. Now he'll get to show off the pitch against the lefty-heavy Indians on Wednesday at Progressive Field.
He'll face off against Cleveland right-hander Corey Kluber.
McCarthy committed to the cutter, which he only used 13.3 percent of the time in his previous three seasons, over the offseason. And when Dodgers pitching coach Rick Honeycutt gave him a new grip in Spring Training, it clicked immediately.
Now McCarthy uses it more than any other pitch, at a 31.7 percent rate, and his 3.28 ERA is at a five-year low. He's been especially dependent on the cutter against left-handers, using it 34.8 percent of the time. That figures to make it a key pitch against the Indians, who regularly start seven lefties or switch-hitters.
"I felt I could trust it more and more this year, I noticed that even bad ones were better than they had been in the past," McCarthy said. "That's when the trust comes. You know that even if you don't throw a great one, there's still a good chance for success. You feel much more confident."
Kluber will be making his third start since coming off the 10-day disabled list with a lower back strain. He threw six innings in each of his last two starts, with 18 strikeouts, three walks and just three runs given up.
If Dodgers closer Kenley Jansen enters the game, look for lots of strikeouts and plenty of infield flies. Jansen has struck out about 45 percent of opponents this season, and in the Statcast Era (2015-17), 22.7 percent of his field outs have come on popups - the fourth-highest rate among relievers.
Three things to know about this game
• One of Kluber's keys to success in his last two starts has been avoiding the long ball. He didn't give up a homer in either start after giving up seven home runs in his six starts before the DL stint. His 15.2 percent HR/FB rate would be his career high.
• McCarthy's average exit velocity against is 84.4 mph, according to Statcast. That ranks seventh out of 146 starters with at least 100 balls put in play against them for lowest average exit velocity.
• Four Indians have faced McCarthy at least 10 times in their career with mixed results. Michael Brantley is 3-for-13 with a strikeout, Edwin Encarnacion is 3-for-10 with two homers and a double, Jason Kipnis is 4-for-11 with two strikeouts, and Carlos Santana is 3-for-11 with a homer and three strikeouts.
Ben Weinrib is a reporter for MLB.com based in Cleveland. This story was not subject to the approval of Major League Baseball or its clubs.