MLB.com Columnist
Barry M. Bloom
Chapman could be on Yankees' radar again
With Betances' recent struggles, New York knows where to get help for 2017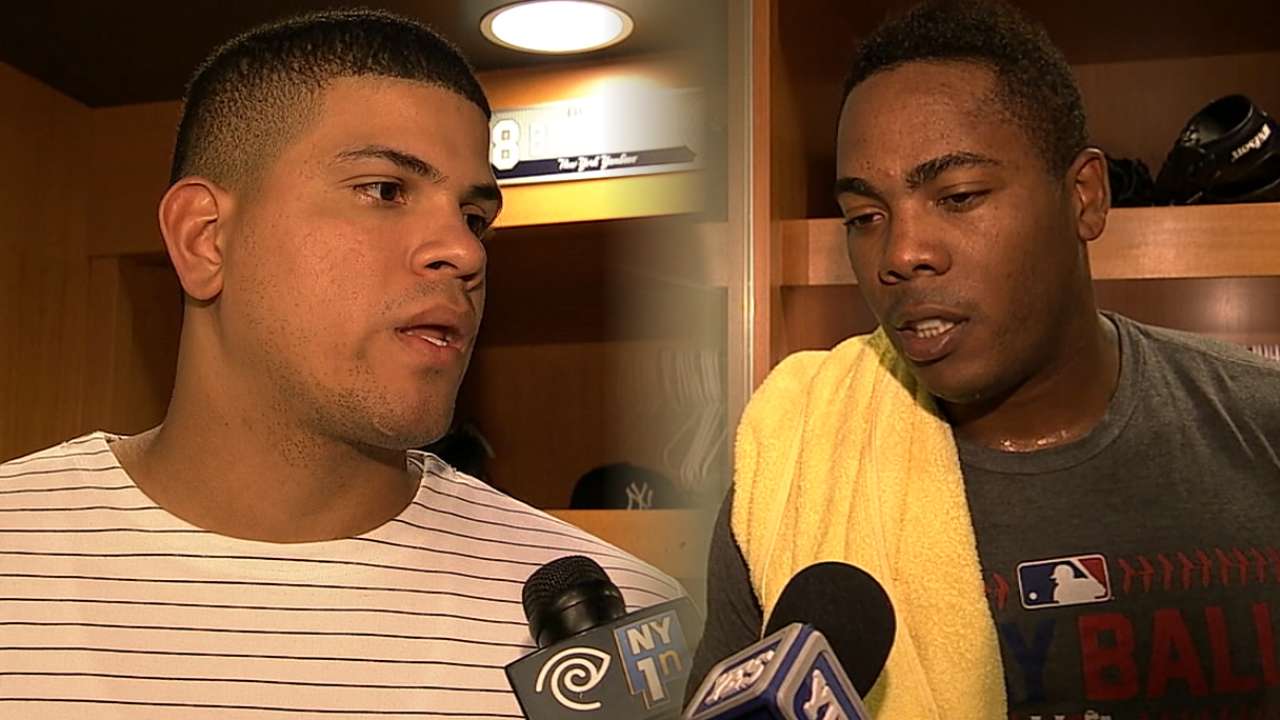 BOSTON -- It may be a tad early to write off the Dellin Betances closer experiment, but if you're in Yankees baseball operations, you might want to consider bringing back Aroldis Chapman to fill that role again when the hard-throwing left-hander becomes a free agent this offseason.
Betances has been fine since Chapman was traded to the Cubs and Andrew Miller was dealt to the Indians, but there are some in the club hierarchy who believe the big right-hander is a better fit for a multi-faceted role as a setup man.
Last year the Yankees had Miller coming off a season when he saved 36 games and won the Mariano Rivera Award as the best reliever in the American League. Betances set Miller up and whiffed 131 batters in 84 innings.
Yet, general manager Brian Cashman saw fit to get Chapman in a trade with Cincinnati. He can certainly get Chapman again.
"That's for the offseason," Yanks manager Joe Girardi said on Friday night before the Yanks played the Red Sox again at Fenway Park. "We'll talk about the season when it's the offseason."
The Yankees may have 15 games to go, but barring another surprising resurgence, the season effectively ended with Betances' 21-pitch performance on Thursday night.
If the Hanley Ramirez three-run bomb erased a three-run Yankees lead heading into the ninth inning in a devastating 7-5 loss and was the only dinger Betances gave up at Fenway this season, it would be one thing.
But it wasn't. It was the third, costing the Yankees three games, a six-game flip in the AL East standings.
Rothschild: Betances capable of closing
On April 29, David Ortiz hit a two-run homer with one out in the eighth to beat Betances, 4-2. Two nights later, Betances was brought in with one out and one on in the seventh. This time it was Christian Vazquez who hit the two-run shot that cost the Yankees the game.
Betances' overall line against the Red Sox this season is seven runs on eight hits -- including the three homers -- in 5 2/3 innings for an 11.12 ERA.
The three games at Fenway would be enough to shatter the confidence of any young pitcher.
"Sure, it could," Girardi said. "The one thing that you can say is that [the Red Sox have] probably seen him as much as any team has, so I think as a pitcher, sometimes you have to make some slight adjustments, and we'll get it ironed out."
If there's one commonality, though, among the three games, it's that Chapman wasn't in a Yankee uniform. He missed the month of April and the first 30 games because of a domestic dispute suspension.
The Yankees opened 8-16. Chapman certainly would have made his mark sometime within those first 30 games when Betances continued to set up Miller, who left the Yankees with nine saves this season.
"That's way too far back to think about," Girardi said. "I'm sure it would have made somewhat of a difference [to have Chapman]. I don't remember the scores of the games. I don't remember really blowing a whole lot of games late. If I remember, I thought a lot of our struggles early on were offensive."
Just to refresh Girardi's memory, there were seven games through May 1 the Yankees lost by one or two runs when Chapman certainly would've had an impact.
Upon Chapman's return, Miller slipped back to an eighth-inning role and Betances to the seventh. Miller and Betances both were picked for the AL All-Star team and pitched their normally assigned innings in San Diego on July 12.
Until Chapman was swapped to the Cubs on July 25, the Yankees were an amazing 19-2 when all three relievers pitched in the same game. Chapman had 20 saves and 44 strikeouts in 31 1/3 innings during his brief tour with the Yankees.
Miller resumed the closer's role until he was swapped to the Indians on July 31.
At that juncture, the 6-foot-8 Betances was hoisted into that job for the first time. It was much like the great Rivera, having inherited the role from John Wetteland after the right-hander was named MVP of the 1996 World Series and then left via free agency.
"I've talked to him a few times," Rivera said last month about the similarities between his transition and that of Betances. "I watch the games, and if I see something wrong I will let him know. But he has a tremendous opportunity. He has to make sure he takes advantage of it."
Betances had a nice run in August, saving seven games in eight opportunities. On Sept. 6, Girardi had to replace him with Blake Parker in the ninth inning of a 7-6 win over the Blue Jays at Yankee Stadium. Betances lost a game against the Dodgers on Wednesday in New York. And then there was Thursday's debacle.
Girardi didn't want to use Betances for three consecutive games, but he had him warming up anyway in the ninth inning and brought Betances in, following Tommy Layne and Parker when the Red Sox stirred up some trouble.
Betances' M.O. lately has been falling behind on just about every hitter.
"I know my stuff is there, it's just a matter of being consistent and making sure I get strike one," Betances said. "If I fall behind, obviously the advantage goes toward the hitter. I think that was the problem [Thursday] night.
"Obviously you don't want to throw many pitches on your third day in a row, so you have to be aggressive. You can't fall behind. Obviously in a three-run ballgame with a man on, you can't walk the first guy. I think that's where it all starts."
In addition to all this, Betances has already made 69 appearances and thrown 70 very high-pressure innings this season, 244 over the past three seasons. Even at 28, that's a lot of wear and tear on a young arm.
Betances could use some help. In the offseason, the Yankees know just where to go out and get it.
Barry M. Bloom is a national reporter for MLB.com and writes an MLBlog, Boomskie on Baseball. Follow @boomskie on Twitter. This story was not subject to the approval of Major League Baseball or its clubs.