Broxton fractures right wrist after great catch
Brewers center fielder will miss remainder of season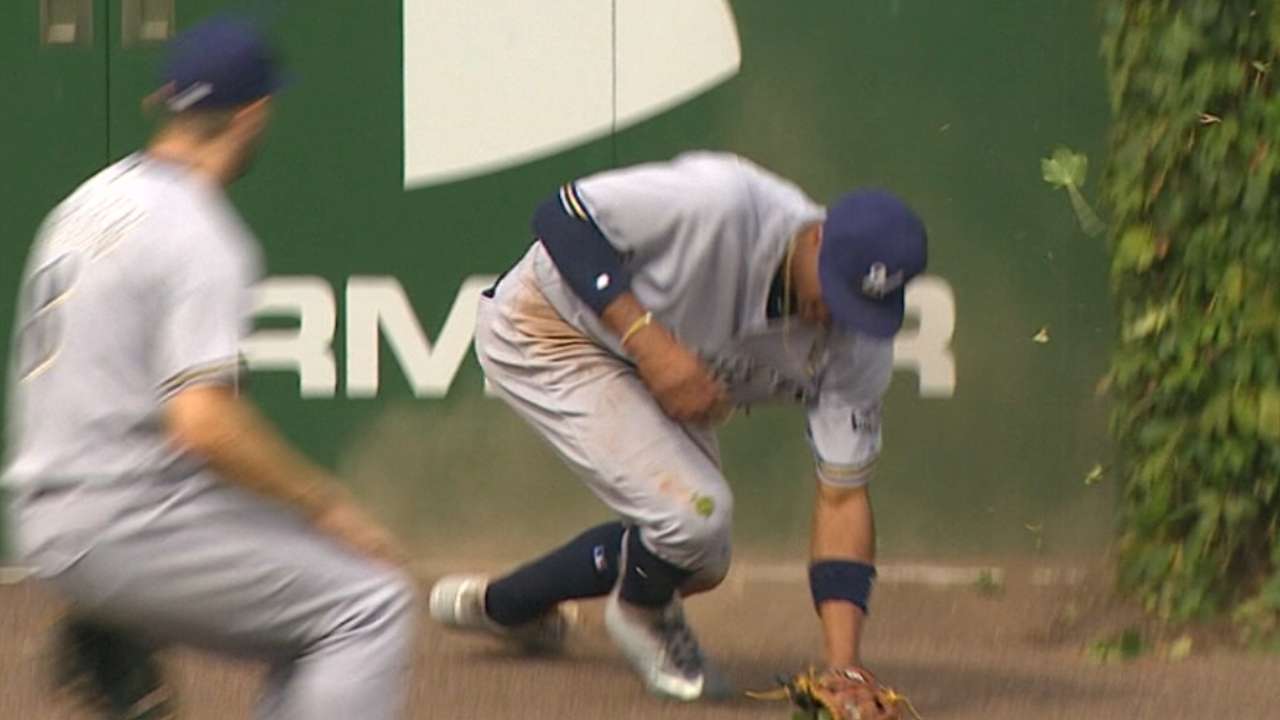 CHICAGO -- Keon Broxton's running catch on Tommy La Stella's deep fly to center was another highlight-worthy play, but it was also a bad break, literally, for him and the Brewers on Friday afternoon at Wrigley Field.
Broxton, who'd been playing well since being recalled July 25 from Triple-A Colorado Springs, will miss the rest of the season after fracturing his right wrist making the grab in the third inning of the Brewers' 5-4 loss to the Cubs. Manager Craig Counsell said Broxton will not need surgery to repair the wrist fracture, which should heal in six-to-eight weeks.
Broxton gave chase on La Stella's fly ball and grabbed the ball on the run, but he slammed into the ivy-covered brick wall and fell to the ground on the warning track.
"As soon as I hit, I knew my wrist was broken," said Broxton, who went 1-for-1 with a walk and a stolen base in his first two plate appearances. "I've had broken bones before, so I know what it feels like."
In the visitors' clubhouse, Broxton described in detail what happened to Brewers starting pitcher Chase Anderson, who took a no-decision after allowing two runs in six innings.
"I can just imagine how painful that would be," said Anderson, who had his scoreless streak end at 14 2/3 innings. "He was describing it to me like a Coke can hitting a wall and just crushing it. He held onto the ball. That was an athletic play right there, and he's one heck of an athlete."
The fact Broxton didn't drop the ball was a bittersweet source of pride afterward.
"Once the ball hit my glove, I wasn't going to let it come out," Broxton said.
Kirk Nieuwenhuis replaced him in center field, but he also left the game in the seventh inning with a lower abdominal strain. Counsell said Nieuwenhuis will "miss a little bit of time," with the injury, which had been nagging him prior to aggravating it on a running catch to end the fourth inning.
Counsell said Milwaukee will need to add a player to the roster. The Brewers didn't announce any moves, but according to a baseball source, outfield prospect Michael Reed will join the team in Chicago. Reed, ranked by MLBPipeline.com as the No. 27 prospect in the Brewers' system, hit .248 with eight home runs and 45 RBIs for Colorado Springs this season.
Counsell said wind played a role in Broxton's injury, carrying the ball La Stella hit to the wall and bringing Broxton along with it at nearly full speed.
"That's a big factor in this," Counsell said. "The wind was pushing everything [out] today. As much as anything, that caused it, probably, because you're not taking that into account when you're going for a ball with the wall near."
Broxton was beginning to gain more confidence in the Majors, hitting .294 with eight home runs and 17 RBIs since being recalled.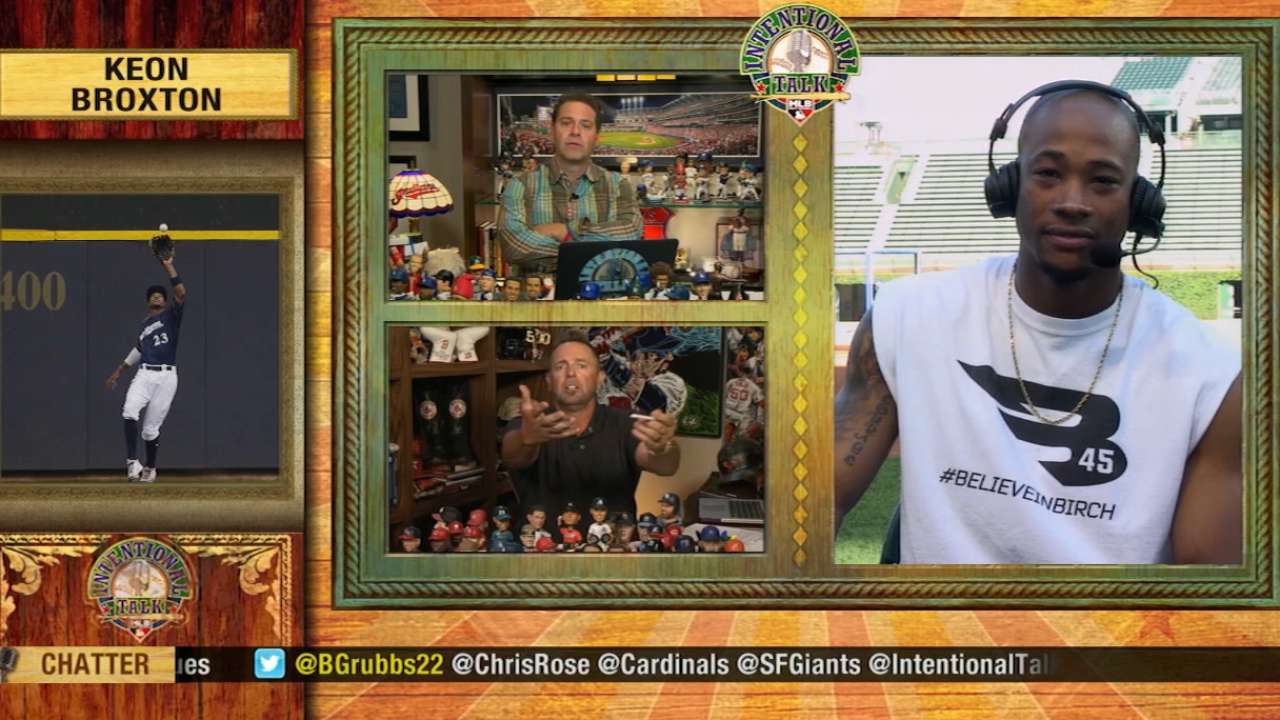 Broxton had also made an appearance Thursday on MLB Network's Intentional Talk to discuss a number of subjects, including a recent leaping grab at the wall in Miller Park to rob Cubs first baseman Anthony Rizzo of a home run.
"It's very disappointing," Broxton said. "I wanted to finish out the season and just keep working, and keep getting more comfortable and getting more experience. It's a tough loss right now, but I'll come back strong."
Brian Hedger is a contributor to MLB.com based in Chicago. This story was not subject to the approval of Major League Baseball or its clubs.