Arm and hammer: Ramirez stays red-hot
First baseman has six homers in his past nine games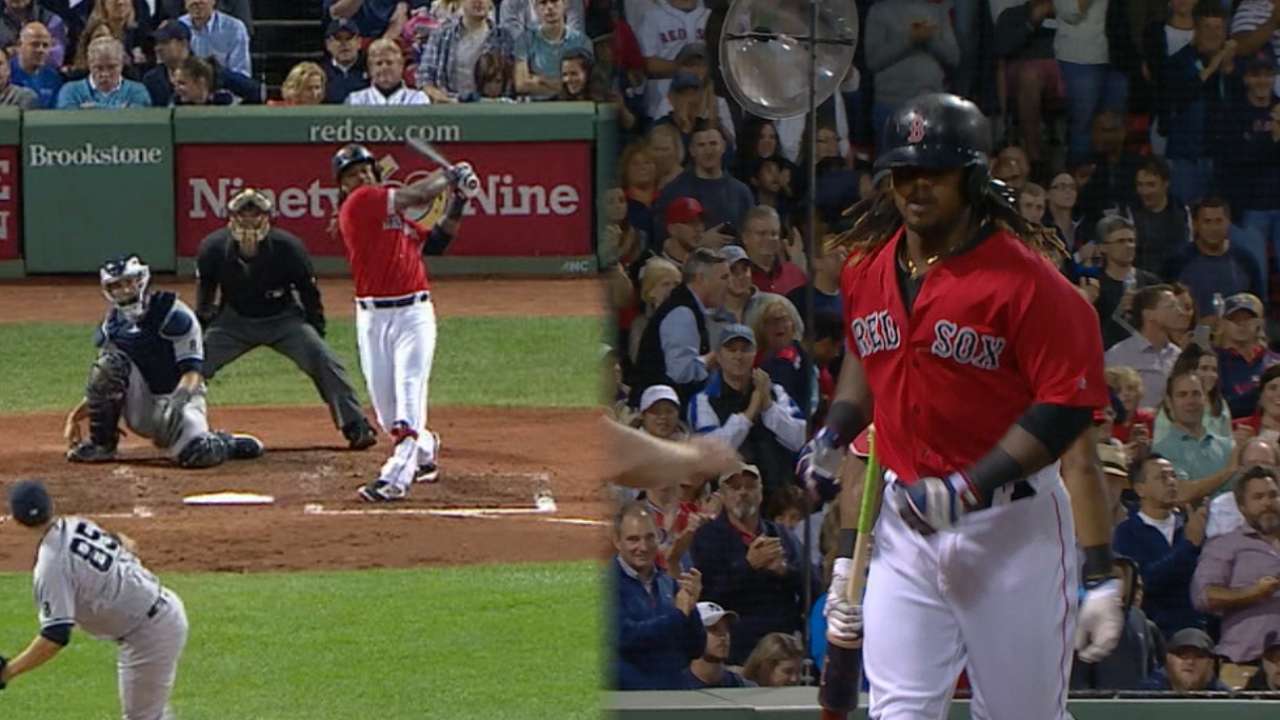 BOSTON -- You weren't watching a replay on Friday night when Hanley Ramirez sent a baseball soaring to the center-field bleachers at Fenway Park against the Yankees.
The latest missile wasn't a game-winner, but instead a not-so-subtle reminder that he is the hottest hitter on the Red Sox right now. His solo shot in the bottom of the fourth and RBI single in the third contributed to a 7-4 win over the Yankees.
Ramirez's 26th home run of the season went a Statcast-projected distance of 442 feet and had an exit velocity of 110 mph. It looked eerily similar to the three-run rocket against Dellin Betances that was projected at 426 feet with an exit velocity of 106 mph.
Which one does Ramirez think he hit better?
"Both of them," the slugger deadpanned.
On a team that boasts David Ortiz, Dustin Pedroia and Mookie Betts, Ramirez is the most dangerous weapon during this stretch.
For those who thought Ramirez's time as an elite hitter was over after his disappointing 2015 season, the first baseman has issued a statement stretch of late.
.@HanleyRamirez, now you're just showing off. https://t.co/2KWaHnvpua pic.twitter.com/92JsW3TPwy

— Boston Red Sox (@RedSox) September 17, 2016
"He's on fire right now," said Jackie Bradley Jr. "He's torching the ball. He's hitting the ball all over the place. He's hitting the ball in clutch situations. He's been the guy this past week and it's been fun to watch."
If it seems not many Red Sox games have occurred lately without Ramirez putting a baseball over the wall, it's because there haven't been. Ramirez has six home runs in his last nine games, nine in his last 16 and 10 over his last 19.
"I haven't gotten hot yet," Ramirez claimed unconvincingly. "I think we've got to keep forward, pushing to the limit, grinding every day, give it everything we've got, and as a team, keep playing how we've been playing."
Since July 3, the Sox are an American League-best 40-27. With 15 games left, they hold a two-game lead in the East.
And there is numerical evidence to support how key Ramirez is to their success.
Consider, for example, that the Red Sox have won the last 10 games in which Ramirez has an RBI, and 20 of the last 26.
It is also worth noting that Ramirez's 40 RBIs since Aug. 11 lead the Major Leagues. With runners in scoring position during that time, Ramirez has a ridiculous line of .417/.500/.917.
Ramirez is in line for his best season since 2013, when he had an OPS of 1.040 during an injury-shortened (336 plate appearances) year with the Dodgers.
This year, Ramirez is healthy (134 games, 503 at-bats) and productive (26 homers, 102 RBIs, .858 OPS).
"The good thing that I can say right now is that I know my teammates have my back and they keep pushing, too," Ramirez said. "They're going out there and keeping me and motivating me all year long. That will make you keep working hard, to see them on the field."
During postgame sessions with reporters, Ramirez would rather be playful than get into technicalities that have led to his turnaround season.
But the baseball must look pretty big to him these days.
"I think I'm just seeing the ball good and not missing my pitches," Ramirez said.
If opposing pitchers are going to make a mistake against the Red Sox, it's best they don't do it with Ramirez wielding his red-hot bat.
"His swing is compact, it's powerful, he's not missing pitches up over the plate," said Red Sox manager John Farrell.
Ian Browne has covered the Red Sox for MLB.com since 2002. Follow him on Twitter @IanMBrowne and Facebook. This story was not subject to the approval of Major League Baseball or its clubs.