Buchholz bends, doesn't break vs. rivals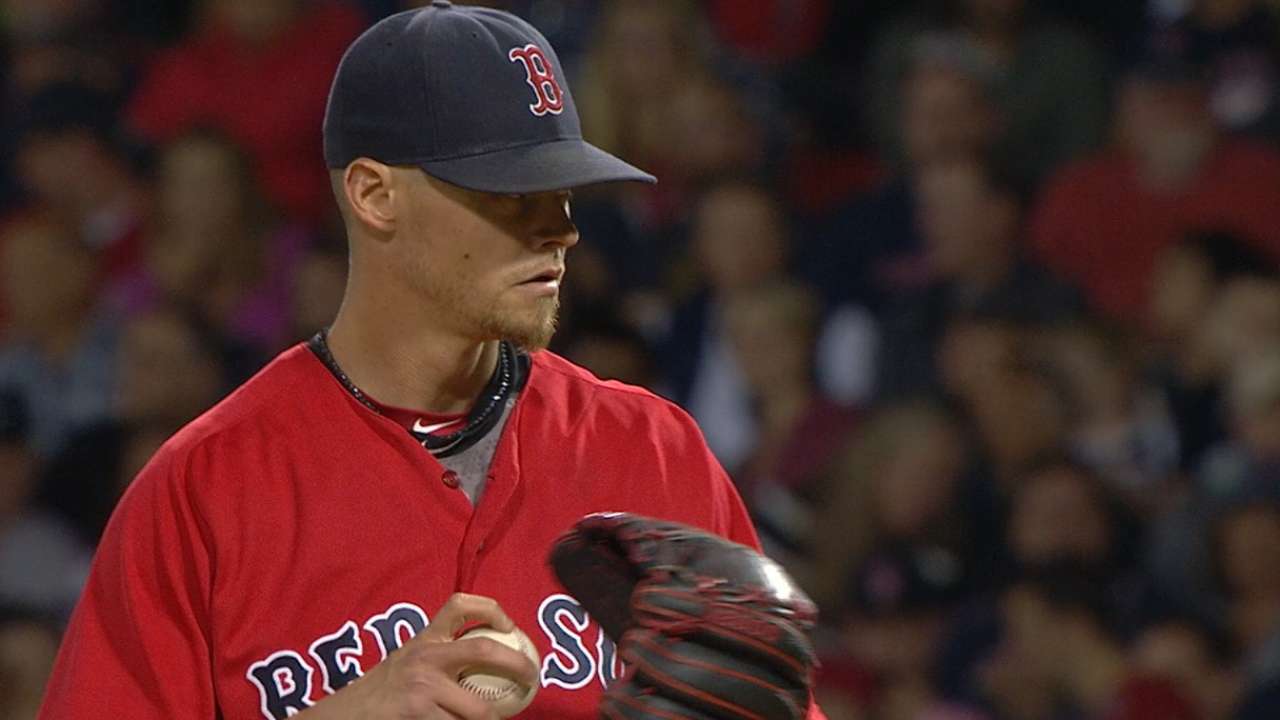 BOSTON -- Within Clay Buchholz's last win at Fenway Park on May 9 and the right-hander's 7-4 victory over the Yankees on Friday night lies a great deal of improvement on the starter's ability to minimize damage and keep the Red Sox in the game.
After a tough outing in Toronto his last time out, Buchholz bounced back against a club he historically struggles against. Going forward, his outings as a whole may earn him a spot in Boston's postseason rotation, if it is to reach there.
Entering Friday, Buchholz was 5-9 with a 6.19 ERA against the Yankees and hadn't won against them since Sept. 15, 2013. On Friday, however, he allowed just two runs to a younger New York lineup. The righty got Gary Sanchez to hit into inning-ending double plays twice to wiggle out of early jams before the Yankees' rookie doubled off the Green Monster on a changeup in the fifth.
"Given my whole career, I've never really thrown that well against the Yankees," Buchholz said. "I feel like they've always mashed up a little bit against me. We were able to grind through a couple of at-bats and scatter the hits even when they scored two. Obviously wasn't trying to give that pitch there, but [Sanchez] is a really good hitter."
For Hanley Ramirez, Buchholz's six-inning outing on 93 pitches was what the doctor ordered.
"That's all we need. Keep us in the game, give us a good outing," said Ramirez, who went 2-for-3 with a homer. "He's been doing a pretty good job. The good thing about him is his personality. He's always the same guy in the clubhouse."
Buchholz now has four quality starts in his last six, allowing three runs or fewer in seven of his last nine starts.
Red Sox manager John Farrell said he thought Buchholz handled himself well against the Yankees, moving out of the jams he created and staying away from a troublesome inning. His performance allowed Boston to hang on, stay in the game and create the ferocious offense that opposing teams have struggled to contain.
"I don't know that you can place a true value on it. He's come up big," Farrell said. "With the exception of one start, he's been six innings and low runs, even no runs allowed. He looks comfortable on the mound. Pitching from the stretch has been a major adjustment for him to allow for some consistency, particularly with men on base. That's where the location of pitches has probably its greatest meeting, and that's where it showed up here tonight."
Deesha Thosar is a reporter for MLB.com based in Boston. This story was not subject to the approval of Major League Baseball or its clubs.