Yanks' playoff aspirations stalled by rivals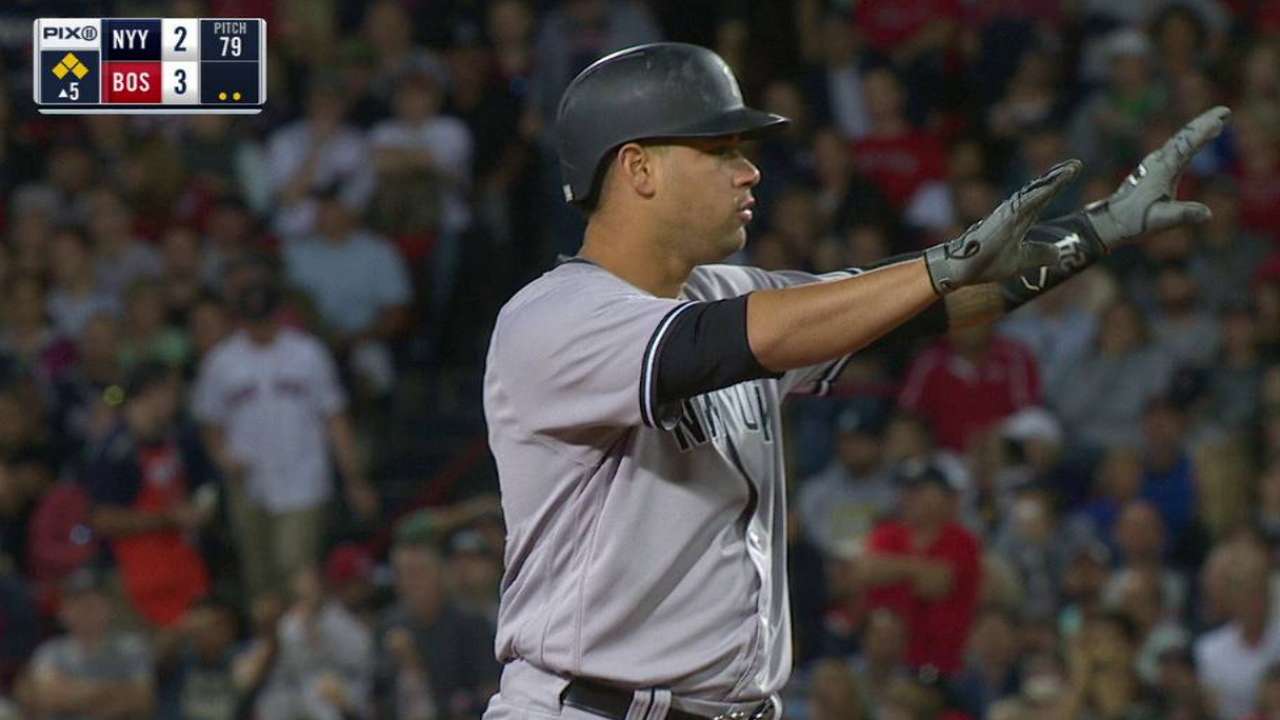 BOSTON -- Just a week has passed since the Yankees' seven-game winning streak resuscitated dreams of playoff baseball in the Bronx, but 48 hours at Fenway Park have sounded an alarm that time is running out on this long shot.
The Yankees vowed that they would bounce back from a crushing loss in Thursday's series opener, but instead, it was more of the same on Friday as the Red Sox padded their American League East lead by coasting to a 7-4 victory at Fenway Park.
New York has lost three straight and five of its last six, and to salvage a split of the series, the Yankees will need to defeat left-handers David Price and Drew Pomeranz over the next two days. Manager Joe Girardi's words remain positive, but his optimistic tone has taken a hit.
"It's frustrating. We've got to start winning games, that's the bottom line," Girardi said. "It's got to start tomorrow. We know we're seeing a good pitcher, but it's got to start tomorrow."
After being one out away from moving within three games of the AL East lead on Thursday, the Yankees now sit six games behind Boston with 15 to play. They trail the Blue Jays, Mariners and Tigers for the second AL Wild Card.
"I think we've just got to focus on the next game at hand and get back to playing well," Chase Headley said. "We've been in every game, we've had a chance to win, we've just got to find a way to do it. We've been in this spot before and we've just got to respond again."
The Yanks had few answers for right-hander Clay Buchholz, who limited them to Gary Sanchez's two-run double off the Green Monster over six solid innings.
Though Buchholz scattered seven hits, five relievers held the Yanks in check as they finished just 1-for-11 with runners in scoring position. Billy Butler's first Yankees homer came with New York down by five runs in the ninth.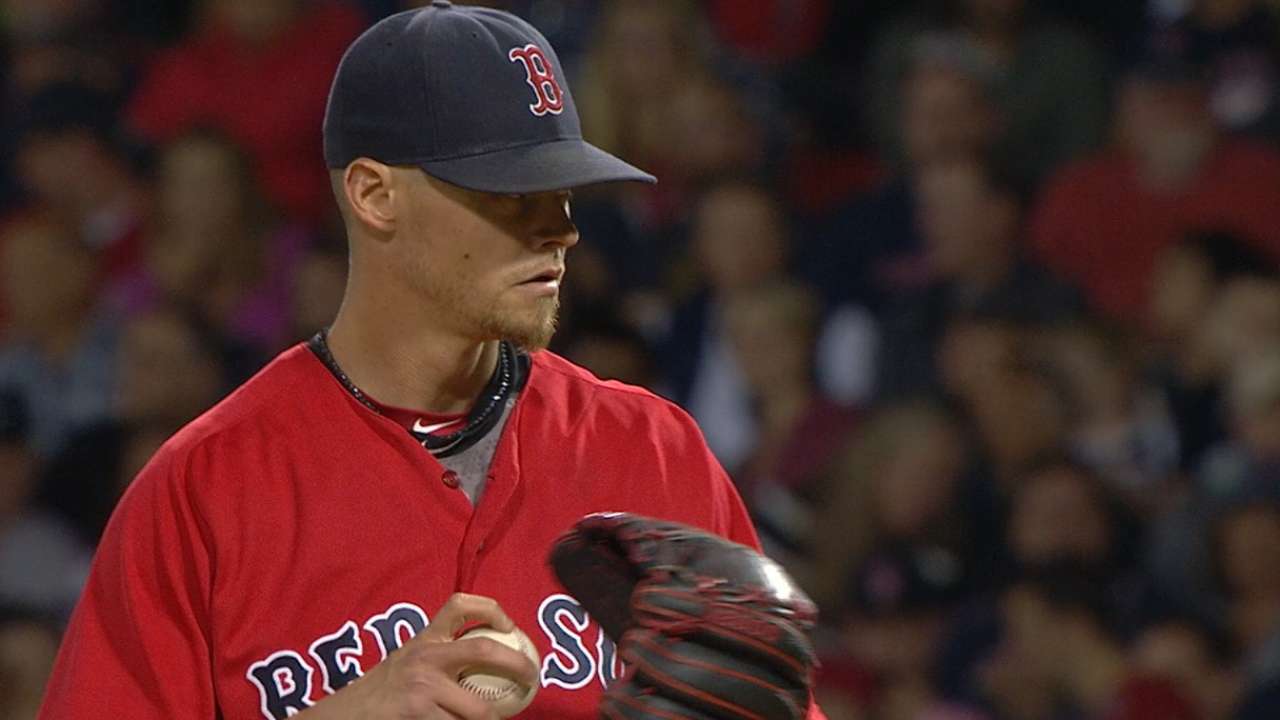 "We didn't come up with any base hits in those situations," Girardi said. "We hit some balls hard but we didn't score. We had some opportunities and we didn't take advantage of them."
The first two games in Boston have called Girardi's bullpen usage into question. Rookie Luis Cessa had thrown just 64 pitches through five innings, but Girardi believed that Cessa's fastball was "starting to leak a little bit" over the plate in what was a 3-2 game at the time.
"I was a little surprised. I was mentally getting myself ready for the next inning," Cessa said. "I know it was going to be tough at-bats from them, but at the end of the day, it wasn't my decision, so I respect that."
Girardi opted to go batter-to-batter with his relatively inexperienced bullpen; David Ortiz greeted James Pazos with a booming double and Jonathan Holder served up a Travis Shaw sacrifice fly and Sandy Leon's run-scoring ground-rule double as the Red Sox pulled away.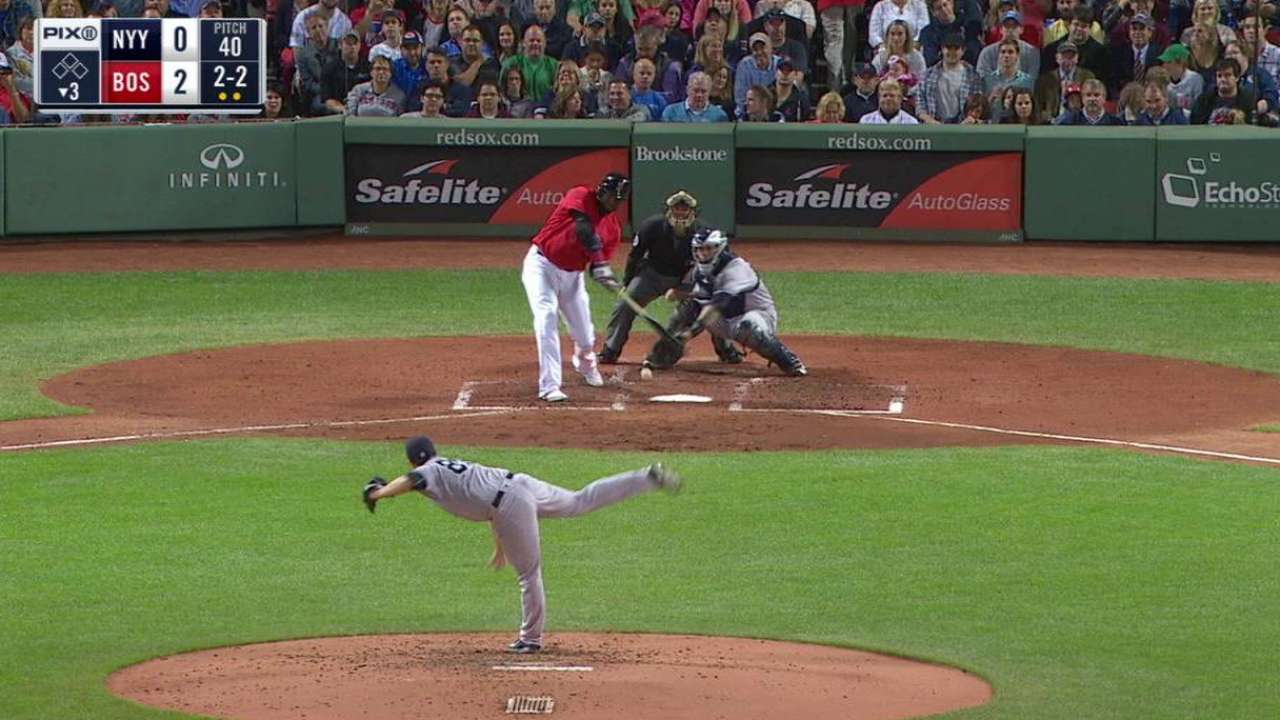 "[Cessa] kind of got through the first inning by some good defense," Girardi said. "We just thought it was the third time through and we'd try to give them some different looks."
The Fenway losses present a tall task for the remainder of the Yankees' longest road trip of the season, which sees them visit the Rays for a three-game series next week before what they hope still can be a key four-game showdown with the Blue Jays in Toronto.
"Things can change quickly. We saw it happen," Girardi said. "We saw it change in a week dramatically. It can happen again."
Bryan Hoch has covered the Yankees for MLB.com since 2007. Follow him on Twitter @bryanhoch, on Facebook and read his MLBlog, Bombers Beat. This story was not subject to the approval of Major League Baseball or its clubs.