Seasons collide for MLB dads, college football sons
Rangers bench coach Buechele is father of Longhorns' freshman QB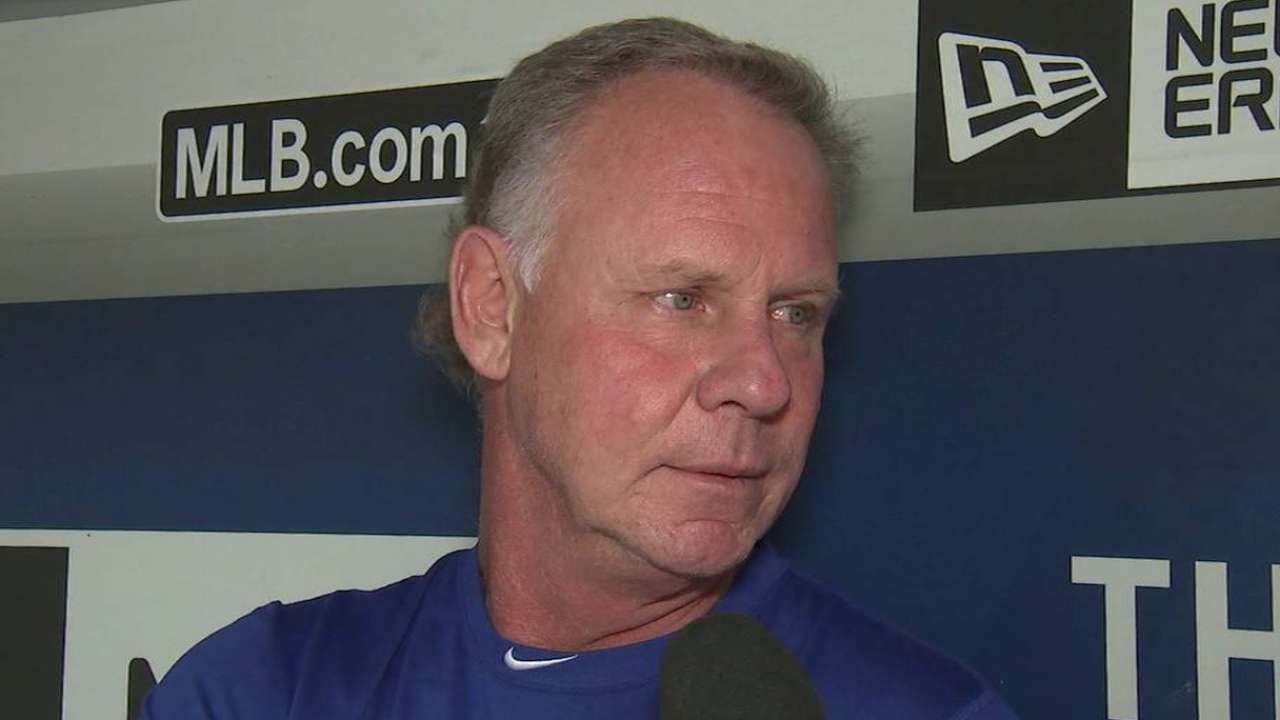 Rangers bench coach Steve Buechele knows a little something about big-time college football. After all, he roomed with future NFL Hall of Fame quarterback John Elway at Stanford.
It's not a stretch, however, to suggest that Buechele's greatest gridiron-relayed thrill occurred on Sept. 4, when his son Shane, a true freshman, started at quarterback for Texas in front of a jam-packed Darrell K. Royal-Texas Memorial Stadium crowd and a national television audience and helped the Longhorns upset Notre Dame.
And get this: He wasn't the only former Major Leaguer at the game. Torii Hunter, whose son Torii Jr. is a wide receiver for the Fighting Irish, was also in attendance.
Baseball has a well-documented history of sons following their dads to the big leagues. There have been over 200 such combos, including Ken Griffey Sr. and Junior, Bobby and Barry Bonds, Yogi and Dale Berra, Felipe and Moises Alou and Sandy Alomar Sr. and Sandy Jr. and Roberto. There have even been a handful of three-generation families: The Bells, the Boones, the Colemans, the Hairstons.
Baseball sons who go on to play college football are rarer, but the current list is pretty impressive. And it can be pretty exciting for the fathers; Rangers manager Jeff Banister insisted that Buechele skip the game at Globe Life Park in Arlington so he could attend.
"It was an absolutely incredible experience," Buechele said. "To be able to share that day with my wife and my other children, friends from Texas and friends from California who flew in; to take in the pregame and the college atmosphere. It was overwhelming. It was just an absolutely awesome experience."
Buechele never discouraged his son from playing football.
"It's what he loves to do. I've never pushed any of my kids toward anything," he said. "It's what they want to do. [Shane] loves baseball -- still does to this day. But football is his passion. So I don't mind it one bit. I support him in whatever he does."
The 6-foot-1, 191-pounder became the first freshman to start the season opener at quarterback for the Longhorns since Bobby Layne in 1944 and threw for a pair of touchdowns. After two games he's 38-for-53 (71.7 percent) with 6 TDs and one INT. The Longhorns' next game is Saturday night at Cal.
Hunter Jr. caught four passes for 37 yards and a touchdown before being knocked out of the game with a concussion. The 6-foot, 195-pound senior had 28 catches for 363 yards and two touchdowns last season. The Irish host Michigan State on Saturday.
Buechele and Hunter didn't see each other at the game -- probably not a shock in an announced crowd of 102,315. But with all the sons of big leaguers playing in major programs, it wouldn't be surprising if former big leaguers don't bump into each other at a game. Here are some of the sons who are having success in football:
Arizona WR Trey Griffey
Father: Hall of Fame CF Ken Griffey Jr. (Mariners, Reds and White Sox, 1989-2010)
Griffey had a promising, but injury-shortened 2015 season, averaging 25.8 yards per reception for his 11 catches. The 6-foot-3, 209-pound redshirt senior is off to a strong start this year, with eight catches for 140 yards and one touchdown in the Wildcats first two games.
He was drafted by and signed with the Mariners in June, and he hasn't ruled out playing baseball someday. But Griffey told reporters when fall practice opened that he's concentrating on the gridiron right now.
"You never know," he said at the time. "Right now I'm focused on Arizona football. Going out there and winning."
Next game: Saturday vs. Hawaii.
Texas Tech QB Patrick Mahomes II
Father: RHP Pat Mahomes (Twins, Red Sox, Mets, Rangers, Cubs and Pirates 1992-2003)
Two games into the Red Raiders' season, the 6-foot-3, 230-pound junior has inserted himself into the Heisman Trophy discussion. He's completed over 70 percent (68-for-96) of his passes for 1,023 yards with nine touchdowns and two interceptions. He's also run 21 times for 101 yards and three TDs as Texas Tech has scored a total of 124 points.
Last season as a sophomore, he led the nation with 393 yards per game of total offense and ranked fourth with 4,653 passing yards. Mahomes started his college career as a two-sport player, but he passed on baseball this year.
Next game: Saturday vs. Louisiana Tech.
Washington WR/KR Dante Pettis
Father: Five-time Gold Glove OF Gary Pettis (Angels, Tigers, Rangers and Padres, 1982-92)
In the Huskies' season opener against Rutgers, the 6-foot-1, 188-pound junior tied a school record with his fourth career punt return for a touchdown and also caught two passes. In the second game against Idaho, he had a career-best six receptions for 88 yards and two touchdowns.
As a sophomore, Pettis played in every game, including eight starts, and he set the school record with an average punt return of 16.9 yards, which also led the Pac-12 and ranked fourth in the nation. At Serra (Calif.) High School, Pettis also starred in basketball and track. For his Huskies career, he's caught 55 passes for 785 yards and four TDs.
Next game: Saturday vs. Portland State.
TCU QB Kenny Hill
Father: 1994 All-Star RHP Ken Hill (Cardinals, Expos, Indians, Rangers, Angels, White Sox and Devil Rays, 1988-2001)
In his first year with the Horned Frogs, Hill is 69-for-105 (65.7 percent) with three touchdowns, three interceptions and a 134.7 QB rating. He has also run 22 times for 138 yards and five TDs.
The 6-foot-1, 205-pound junior sat out last season after transferring from Texas A&M. He opened the 2014 season as a sophomore starter for the Aggies and passed for 2,649 yards and 23 TDs in the first eight games. But after reeling off five straight wins to open the campaign, things turned sour, and Hill ended up transferring.
Next game: Saturday vs. Iowa State.
Houston WR Derek McLemore
Father: 2B-3B-OF Mark McLemore (Rangers, Angels, Mariners, Orioles, Athletics, Indians and Astros, 1986-2004)
Although McLemore lettered in both baseball and football at Southlake (Texas) Carroll High School, the 6-foot, 197-pound redshirt junior has stuck strictly to football since signing with the Cougars. In Houston's three games this year, he has one catch.
Next game: Sept. 24 at Texas State.
Tennessee WR Brandon Johnson
Father: Two-time All-Star, four-time Gold Glove C Charles Johnson (Marlins, Dodgers, Orioles, White Sox, Rockies and Devil Rays, 1995-2005)
The Volunteers returned four upperclassmen who contributed at wide receiver last season. So while the 6-foot-2, 180-pound freshman has suited up for each of the first two games, he hasn't seen any action yet. Last week, however, Johnson had the black stripe taken off his helmet, a symbolic action that's taken when a newcomer officially becomes part of the team.
Tennessee beat out LSU, Mississippi State, Georgia and Miami to sign Johnson, who was a PrepStar All-Southeast Region selection at American Heritage School in Plantation, Florida where he had 20 receptions for 237 yards and three TDs as a senior. He was also a star basketball player in high school.
Next game: Saturday vs. Ohio University.
Paul Hagen is a national columnist for MLB.com. This story was not subject to the approval of Major League Baseball or its clubs.