MLB.com Columnist
Terence Moore
Wait a second: A closer look at Dozier's power
Twins slugger could accomplish rare marks for his position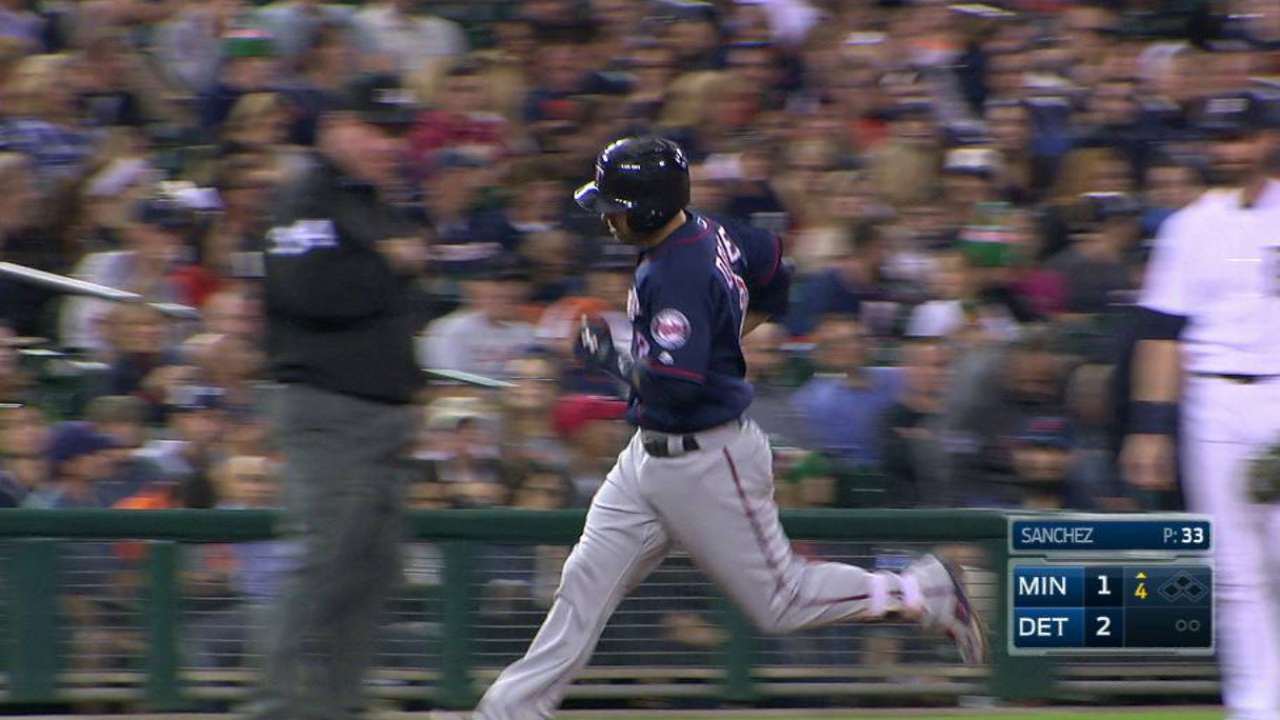 We're witnessing one of baseball's greatest feats this season. It's not quite Cy Young grabbing a 511th victory or Rickey Henderson swiping all of those bases or Willie Mays making impossible catches. It's also much less than Joe DiMaggio's hitting streak and most things involving the bat and the glove from the likes of Mickey Mantle, Hank Aaron and Ken Griffey Jr.
Even so, when you consider the history of the game since its professional birth soon after the Civil War, Brian Dozier is doing the unthinkable.
That's because Dozier plays second base.
Now let this sink in: Before Dozier continued his torturing of pitchers Thursday in Detroit with a ninth home run in 13 games for 41 overall, the only person to slam 40 or more during a season for the Twins was Harmon Killebrew, among baseball's legendary men in terms of name, stature and power.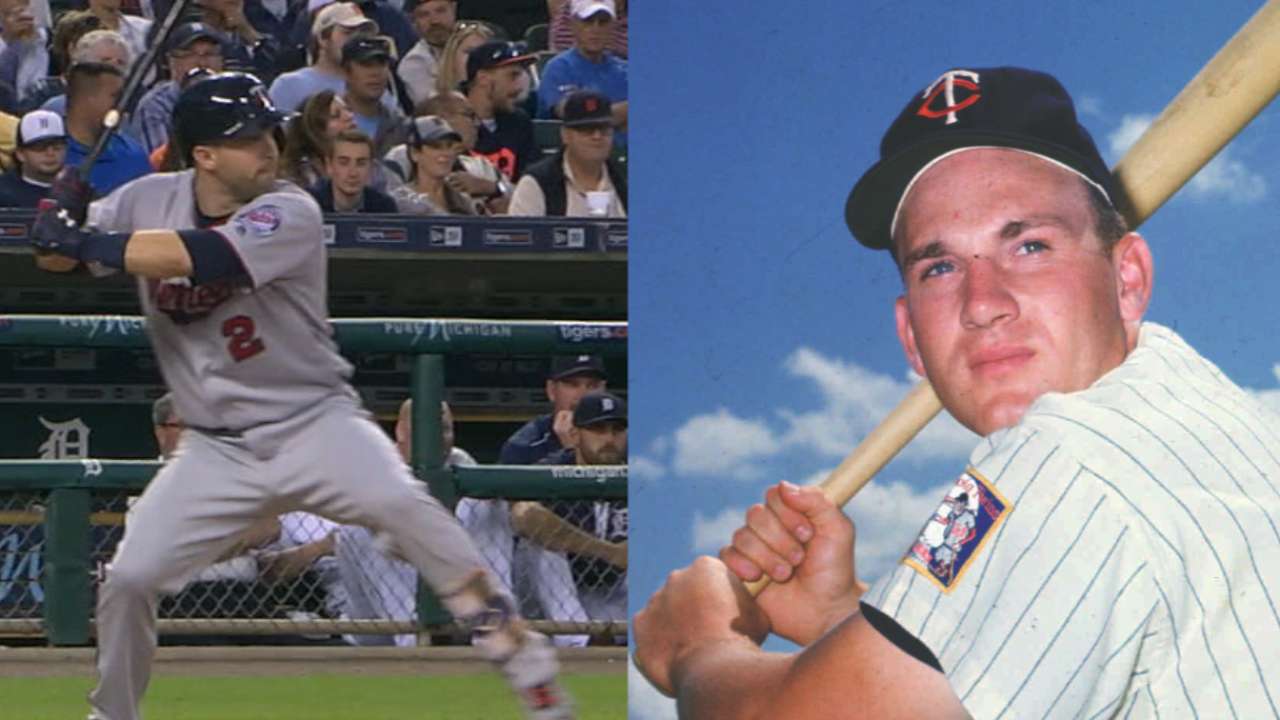 Dozier? Well, nothing against this former Southern Mississippi standout with a trip to the Major League All-Star Game on his resume, but when you envision guys who jack that many balls over fences, you see Killebrew, along with other prototypical corner outfielders, corner infielders and designated hitters. Those types of sluggers range from Babe Ruth, Willie Stargell and Mike Schmidt to Mark Trumbo, Edwin Encarnacion and Chris Davis.
They weren't second basemen, though. Players at that position are usually light hitters, but only if you live in the past.
Take Bill Mazeroski, for instance. Here we are, 10 U.S. presidents later, and he still is one of the top heroes for Pirates fans after his walk-off homer in Game 7 of the 1960 World Series beat the Yankees. That was drama enough, but this made it better: He played second, and he was more noted for his Gold Gloves Awards than his average bat that produced 18 homers -- you know, combined over the previous two regular seasons.
Mazeroski is in the Hall of Fame. So is Nellie Fox, who spent decades as the quintessential second baseman.
Fox finished with 35 homers in 19 seasons.
Nobody cared, because second basemen for decades were more like Fox and later Tommy Helms, the starter for the early Big Red Machine when we moved to Cincinnati in the late 1960s. Despite playing in tiny Crosley Field, Helms averaged two, maybe three homers per season, but he turned the double play better than anybody, and he was an efficient hit-and-run guy at the bottom of a loaded lineup with Pete Rose, Johnny Bench and Tony Perez.
So you can imagine my shock-filled joy when the Reds traded for Joe Morgan before the 1972 season, and we all watched him evolve over the years into something the game had never seen. He was baseball's best-fielding second baseman, he stole bases with the elite, he hit for average, and he slammed homers like no second baseman anybody had ever done. In 1976, when the Reds won back-to-back World Series titles, he even ripped 27, and he led the Major Leagues in slugging percentage at .576.
Dozier's slugging percentage is .583.
Dozier isn't the only second baseman these days with a bunch of homers. The Mariners' Robinson Cano has 33, the Tigers' Ian Kinsler has 26, the Nationals' Daniel Murphy has 25, and the Mets' Neil Walker has 23.
Let's get that asterisk out of the way for Dozier. Two of his homers came as a designated hitter. Still, if -- or when -- he bangs his 40th and beyond as a second baseman, he'll challenge the Major League-record of 42 that Davey Johnson had while playing that position in 1973 with the Braves. Johnson actually finished with 43 homers that season, but one came as a pinch hitter, and all of his power appeared out of nowhere.
Prior to that, Johnson spent seven years with the Orioles, and he never slammed more than 18 homers during any of those seasons.
"It's funny, because [the Orioles] decided to make a trade, and I also wanted to leave Baltimore, because I was hurt," Johnson once told me, referring to a damaged shoulder that plagued him mostly on offense near the end of his stay with the Orioles. "I wanted them to trade me to the National League, because I loved the aggressive play. I thought it was more conducive to the way I like to play. So I got the opportunity to come to Atlanta, and the Braves cured my bad shoulder, and I hit all of those homers."
Here's another thing that helped Johnson: The Braves' home ballpark back then was Atlanta-Fulton County Stadium, known as The Launching Pad courtesy of that city's high altitude. Teammates Aaron and Darrell Evans also joined Johnson that season in the 40 home run club.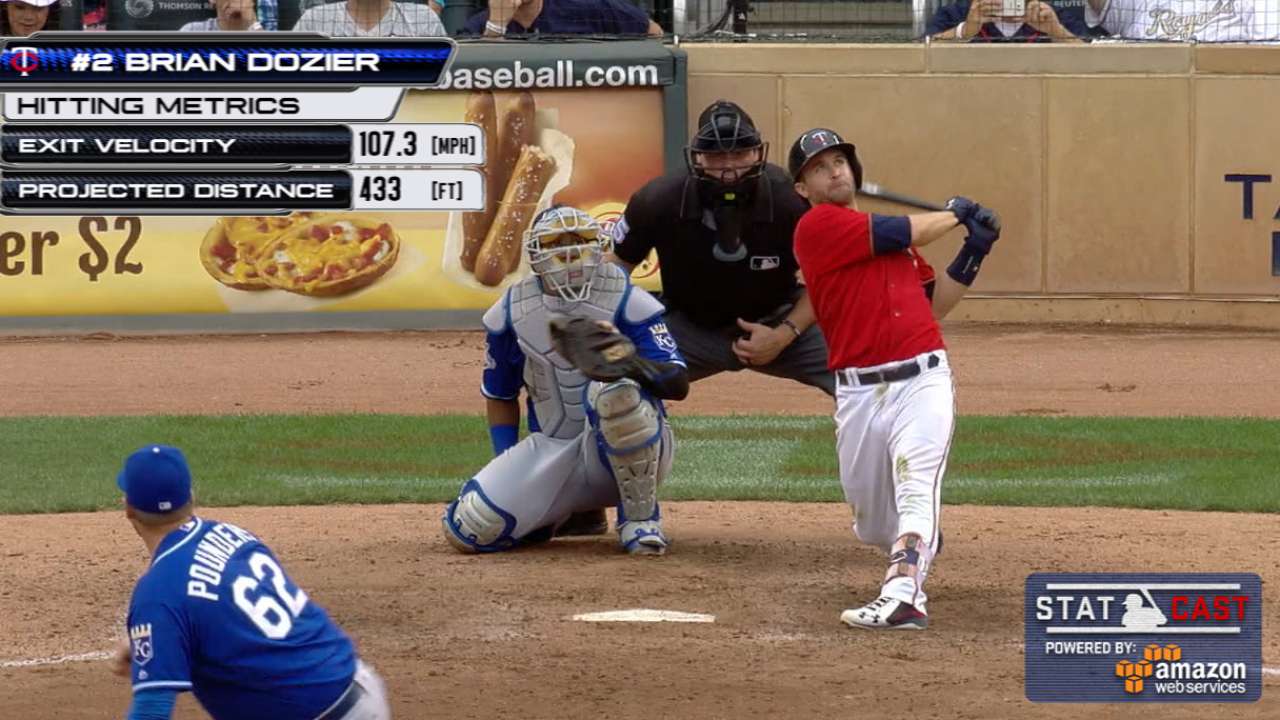 In contrast, Target Field isn't exactly Wrigley Field. According to the Elias Sports Bureau, the Twins' ballpark ranks as just the 13th easiest place to homer in the Major Leagues over the past five years. Plus, when compared to those other bombers who joined Johnson in that Braves' lineup, Dozier is by far the modern-day Sultan of Swat for a Twins bunch that has baseball's worst record. The next closest teammate to Dozier in home runs is Miguel Sano with 23, and then comes Max Kepler with 16.
Heading into Thursday night's action, none of that kept Dozier from sitting just behind Trumbo's 43 homers among all hitters. In case you're wondering, since Rogers Hornsby led the Major Leagues in home runs after the 1922 and '25 seasons, he is the only second baseman to do so.
Dozier could join Hornsby.
Terence Moore is a national columnist for MLB.com. This story was not subject to the approval of Major League Baseball or its clubs.