Working in 3rd straight game, Betances unravels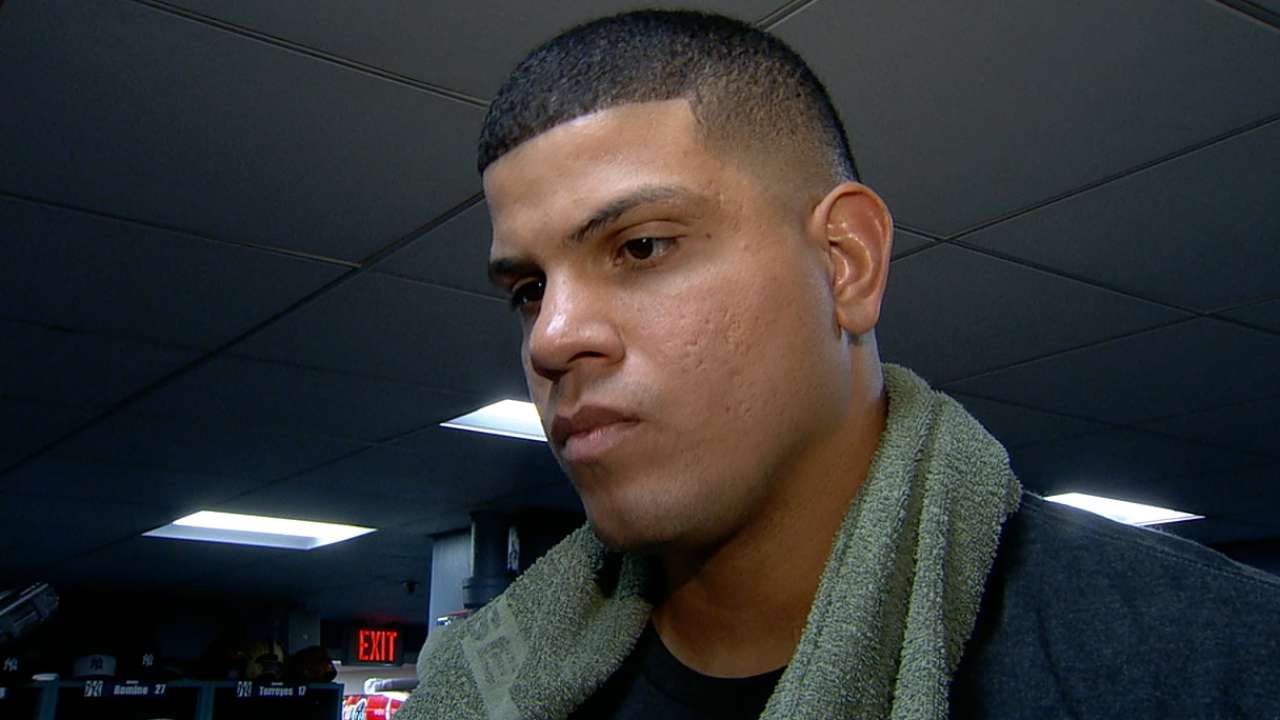 BOSTON -- The Yankees opened a challenging road trip with their most agonizing loss of the season, and the next 10 games on the schedule could represent the greatest test yet toward keeping their postseason dreams alive.
Dellin Betances blew his second consecutive game on Thursday night, serving up Hanley Ramirez's walk-off three-run homer as the Red Sox stunned the Yankees with a five-run ninth inning in a 7-5 victory at Fenway Park, dealing a serious blow to the Yanks' hopes of sneaking up on their rivals for the American League East lead.
Instead of sitting three games back in the division, the Yankees now stare at a five-game deficit with 16 to play. The Blue Jays hold the second AL Wild Card spot and hold a three-game lead on the Yanks.
"It's frustrating; this one, definitely, we had that game," Betances said. "You don't want to do that this late. Obviously, we're trying to win games. When that happens, you're not helping in any case. It's definitely frustrating. I just have to go out there and be better the next time out."
The defeat was the Yanks' fourth in five games, following a seven-game winning streak that resuscitated their postseason chances. Despite his club's Wild Card hopes, manager Joe Girardi was dreaming bigger as the Yankees guarded a 5-2 lead in the ninth inning.
• Hanley's walk-off homer dissected
"This one hurts," Girardi said. "We've got to bounce back. We were in a pretty good position going into the ninth inning and weren't able to close the deal."
Girardi had removed Masahiro Tanaka after seven innings of one-run ball, saying that the right-hander was "tired" after throwing 93 pitches.
Adam Warren served up David Ortiz's 537th career home run in the eighth inning, drawing Boston within three runs and pushing the veteran designated hitter past Yankees icon Mickey Mantle on the all-time homer list. Girardi tried to avoid using Betances, who had thrown 16 and 20 pitches in the last two games against the Dodgers, including a ninth-inning stumble in Wednesday's 2-0 loss.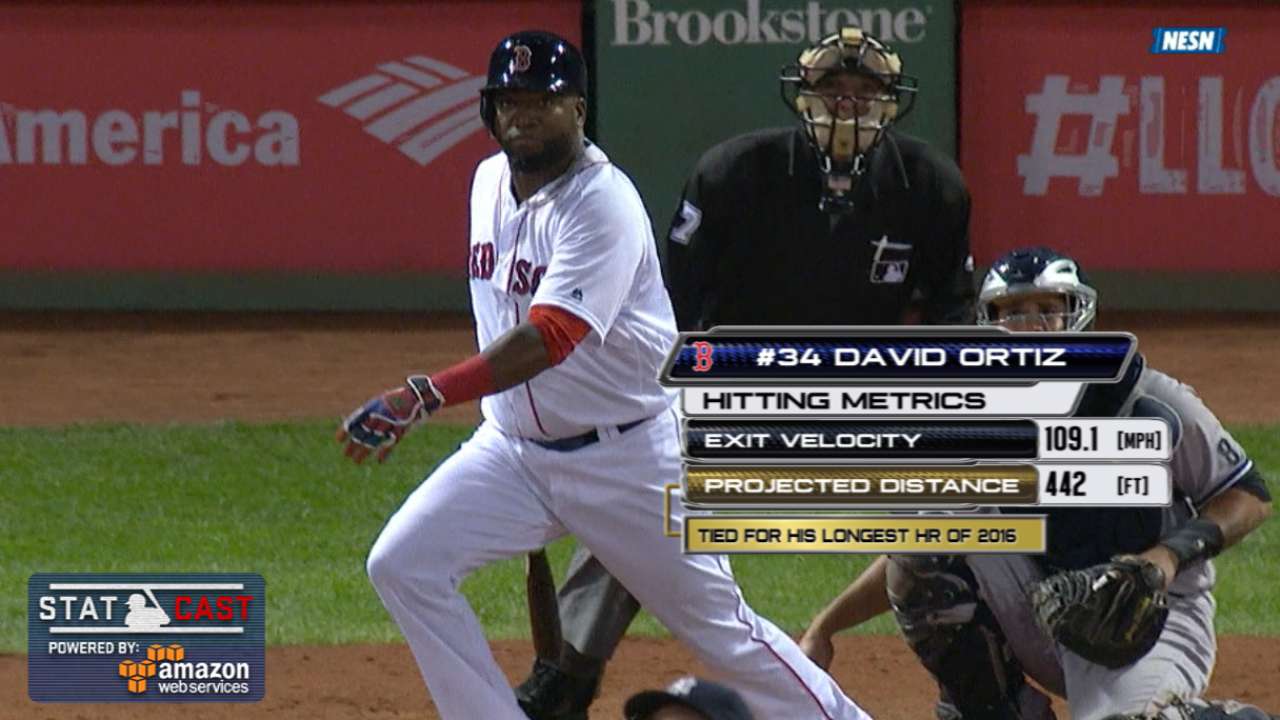 "We were trying to stay away from him, or limit his work as much as possible," Girardi said.
With Girardi electing to go batter-to-batter, Tommy Layne struck out pinch-hitter Aaron Hill and exited as the Red Sox sent up the right-handed-hitting Chris Young. Right-hander Blake Parker brushed Young's helmet with a pitch, sending Young to first base, and Girardi immediately signaled for Betances.
"We thought the best chance of getting through that ninth and not using Dellin was to match up," Girardi said. "Parker hit Young with a curveball that just grazed his head. We said all along if one guy gets on, we're going to get to Dellin."
Betances wouldn't use his third straight day of work as an excuse, but he clearly lacked his typical command. Eleven of his 21 pitches missed the strike zone, and he induced just one swinging strike while again shying away from his fastball.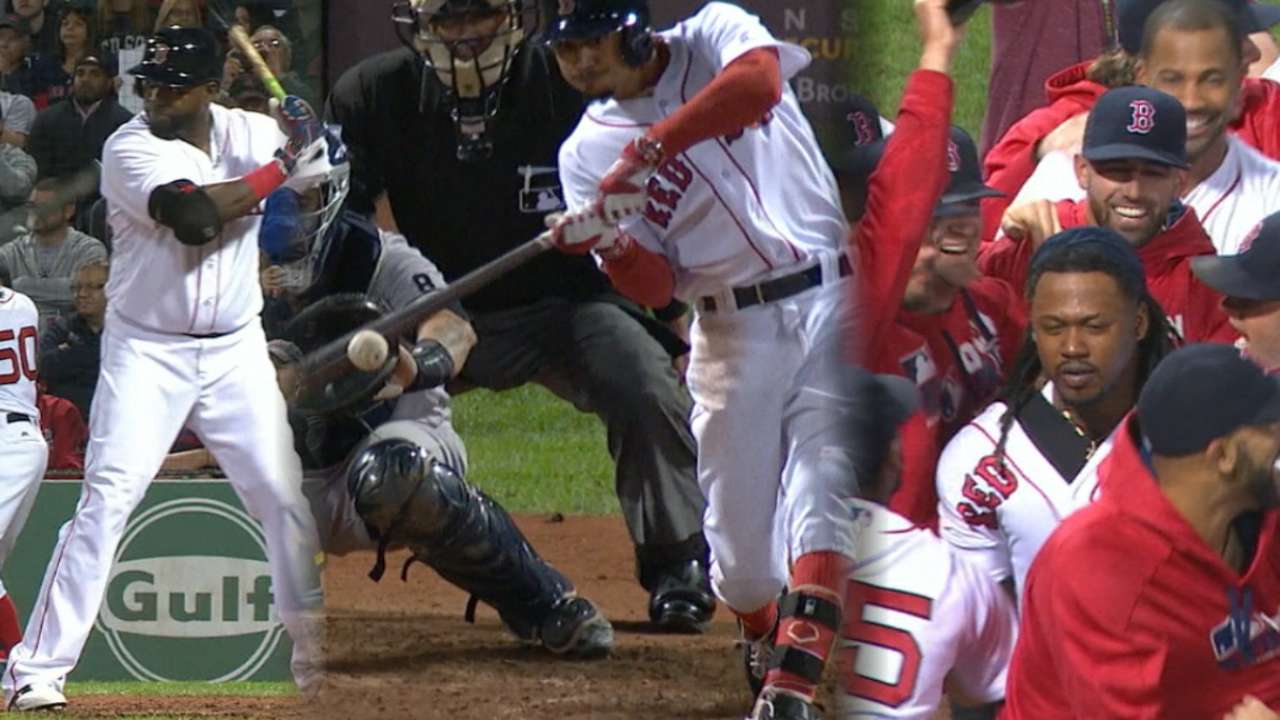 That set up run-scoring singles for Big Papi and Mookie Betts before Ramirez dealt the crushing blow, a drive to center field that was projected by Statcast™ at 426 feet -- the longest that Betances has permitted all year.
"I was one out away, and I wasn't able to put any of those guys away," Betances said. "I left a couple of pitches up; the 3-1 to Ortiz was up, Betts hit that ball in the hole and then I fell behind on Hanley, which didn't help there. He put a really good swing on it."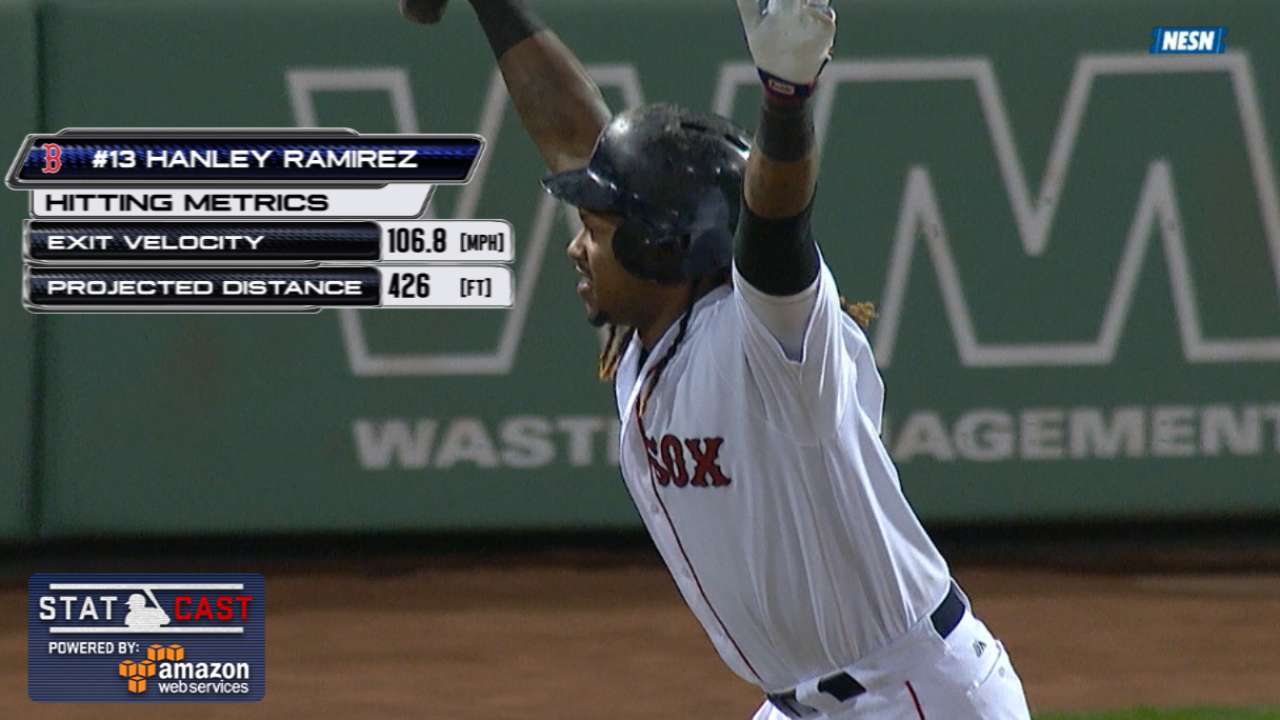 Even if his command was a bit off, Betances threw his final pitch with a spin rate of 2,500 rpm, which is typical for the closer. A high spin rate is often what makes a four-seamer effective, as it what gives the ball a "rising fastball" effect. The league average is 2,264 rpm, and Betances (2,503 rpm average) typically sits far above that.
Betances said that he was trying to rear back and blow that 99.3-mph fastball by Ramirez, but the Yankees felt that they had a gripe on the 2-1 pitch to Ramirez. Girardi and Betances both said they believed Ramirez crossed the plate on a checked swing, but first-base umpire D.J. Reyburn did not see it that way.
"I definitely thought he went," Betances said. "I'll have to check video, but I thought he went. Obviously, it changes the situation, but at the end of the day, I have to make a pitch, and I didn't."
Chase Headley said that the game should have never come down to a checked swing or even a five-run ninth inning. New York wasted numerous opportunities to pad its advantage after knocking Eduardo Rodriguez out after 2 1/3 innings.
The Yankees left two men in scoring position in the third inning, stranded Didi Gregorius at third base in the fifth, watched Headley get tagged out at home plate to end the eighth and finally left the bases loaded against Joe Kelly in the ninth.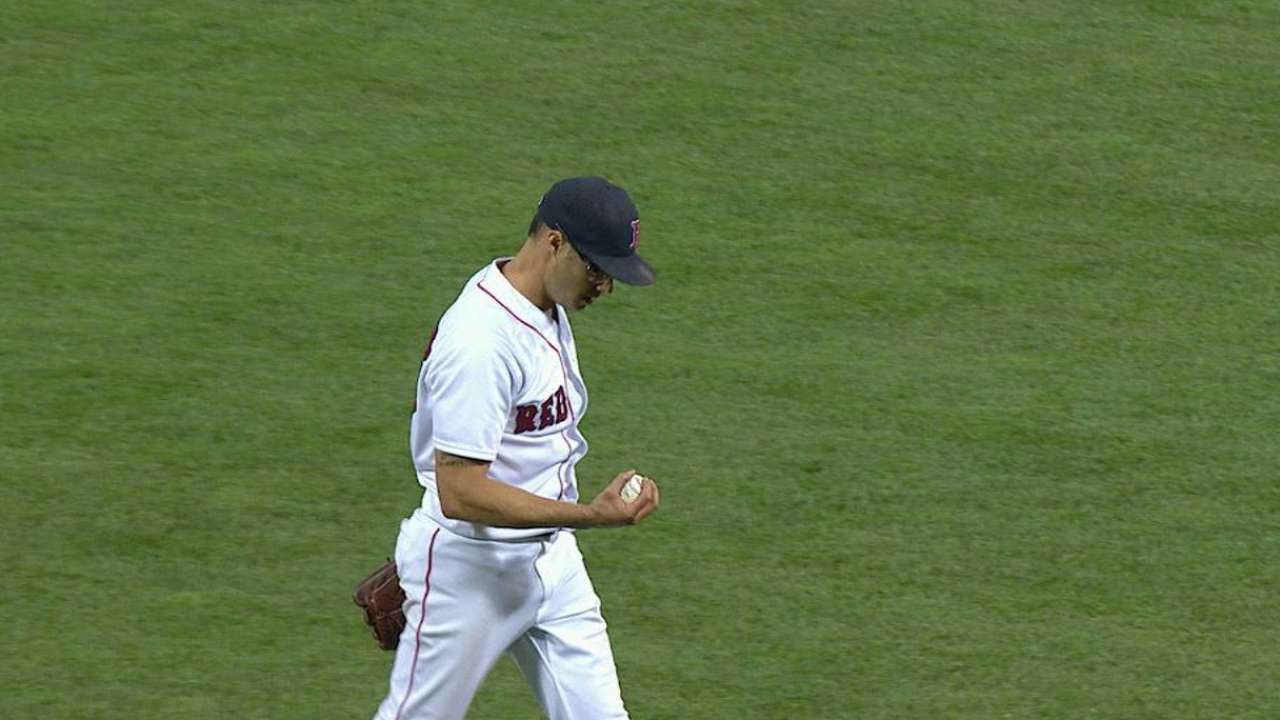 "He was throwing 100 mph, and Hanley got on top of one and hit it out, so don't put this one on Dellin," Headley said. "It was a game we had in hand. We had a chance to blow it open, and we didn't do it."
Bryan Hoch has covered the Yankees for MLB.com since 2007. Follow him on Twitter @bryanhoch, on Facebook and read his MLBlog, Bombers Beat. This story was not subject to the approval of Major League Baseball or its clubs.