Statcast of the Day: Hanley's HR dissected
Walk-off drive is longest home run hit off Betances this season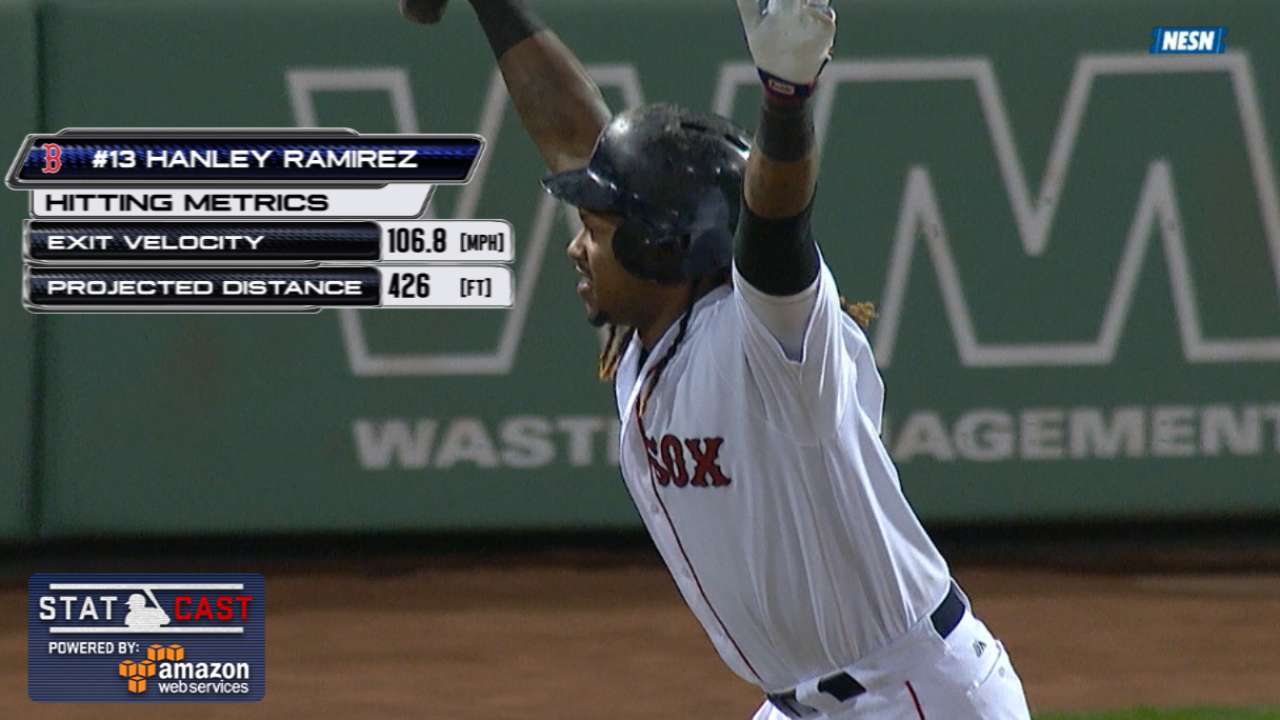 BOSTON -- Hanley Ramirez went to the plate sitting fastball and aiming for the moon against Dellin Betances with two outs in the bottom of the ninth on Thursday night at Fenway Park.
By the time his three-run, walk-off rocket landed in the bleachers in center field, the Red Sox -- and all of their fans -- were over the moon following an exhilarating 7-5 victory over the Yankees.
The pitch Ramirez ripped came in at 99.3 mph from Betances, according to Statcast™. It had a projected distance of 426 feet, the longest of the six homers Betances has allowed this season. It was also the fastest pitch on record that Ramirez has connected on for a homer. The previous high was a 96.8 mph heater from Mat Latos on April 26, 2010.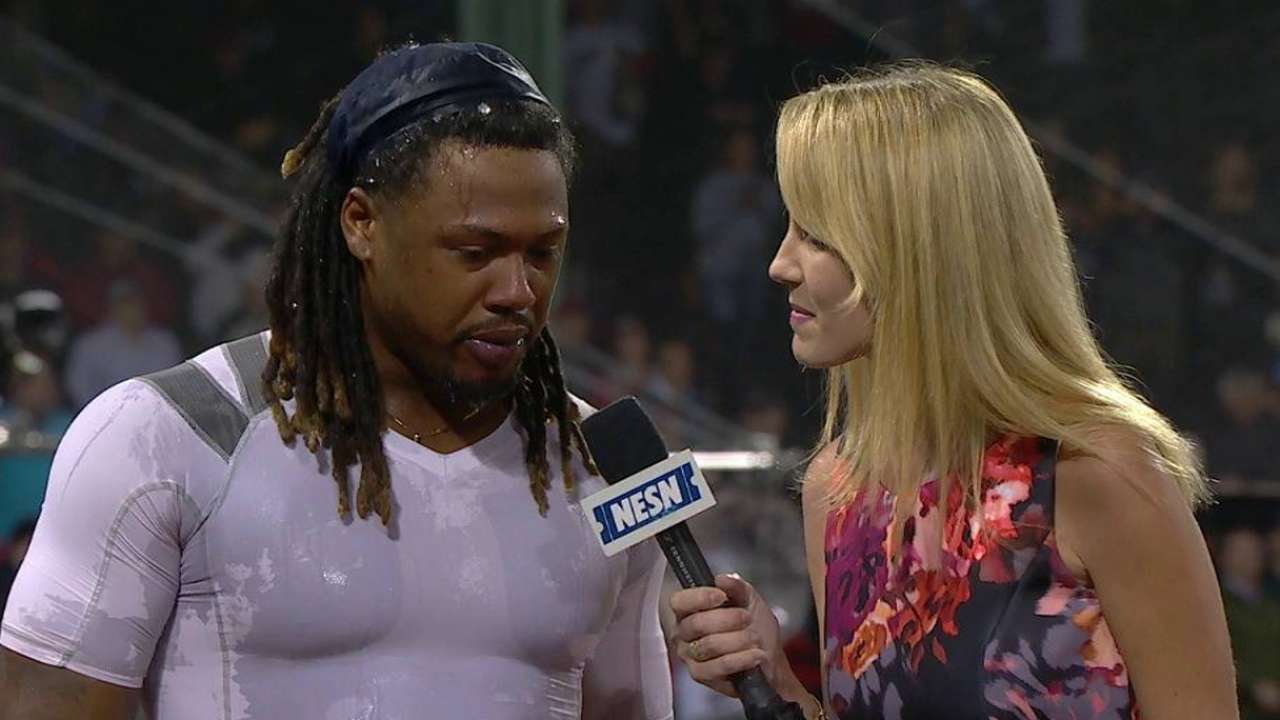 Ramirez winning this one off Betances in such theatrical fashion made it all the more gratifying. The homer had an exit velocity of 107 mph and was hit at a launch angle of 28 degrees.
Consider that just five homers in the Major Leagues this season have been hit on faster pitches than the 3-1 offering Betances fired to Ramirez, with the fastest being a 102.4 mph fastball from Aroldis Chapman that Twins catcher Kurt Suzuki hit into the left-field seats at Targed Field on June 18.
"I was trying to go to the moon," said Ramirez. "That's why I was sitting on a fastball the whole time. Just stay back and let it rip."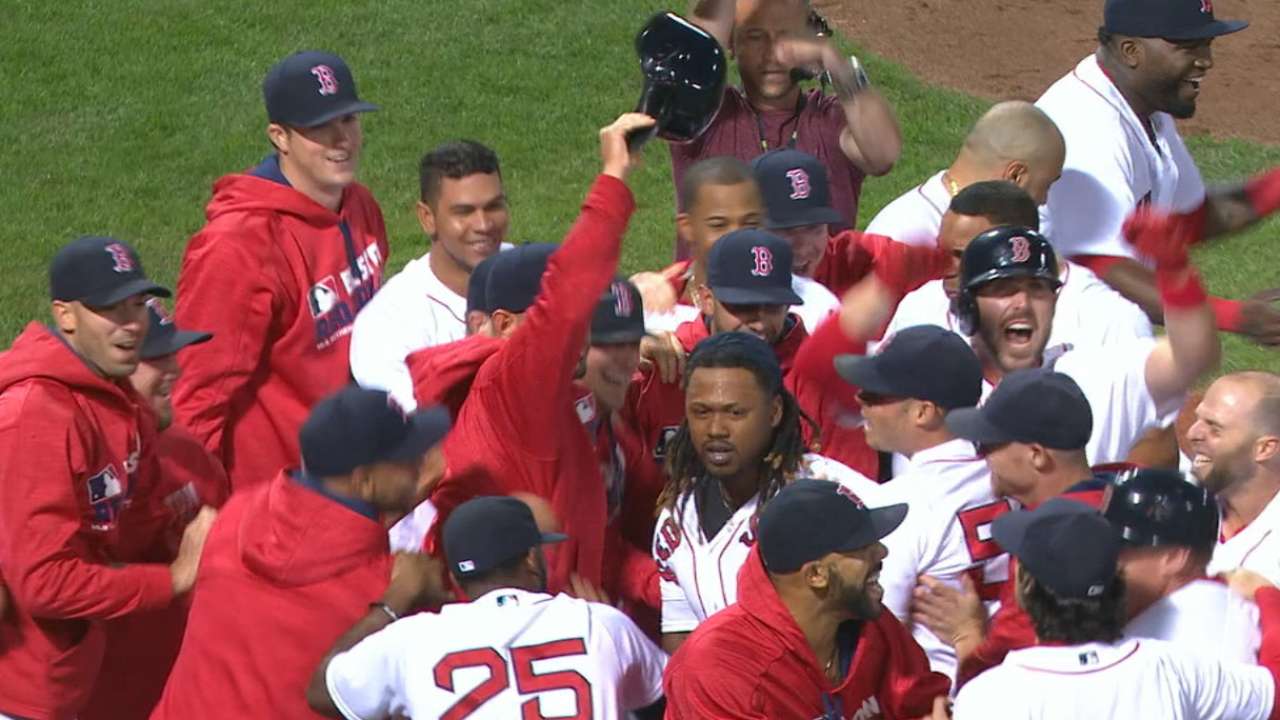 It was your classic power-against-power matchup, and Ramirez prevailed to cap a five-run bottom of the ninth, giving the Red Sox a game they trailed, 5-1, after seven innings.
In the context of the postseason race, it was a big win for the Red Sox, who extended their lead over the Orioles to two games in the American League East while pushing the Yankees five back in the division and three back in the AL Wild Card chase.
"I wasn't able to get it done," said Betances. "I was trying to make pitches there. Obviously, you don't want to give up the lead there. Hanley put on a good swing. I fell behind, and he put on a good swing."
Betances also appeared to get a bad break when Ramirez seemed to offer at a 2-1 pitch, but first-base umpire D.J. Reyburn ruled that Ramirez checked his swing.
That played right into Ramirez's "sitting on heat" approach.
The game-ending pitch had a spin rate of 2,500 rpm, which is typical for Betances. A high spin rate is often what makes a four-seamer effective, as it what gives the ball a "rising fastball" effect. The league average is 2,264 rpm, and Betances (2,503 rpm average) typically sits far above that.
But Ramirez, who now has 25 homers and 100 RBIs, was locked and loaded for the pitch.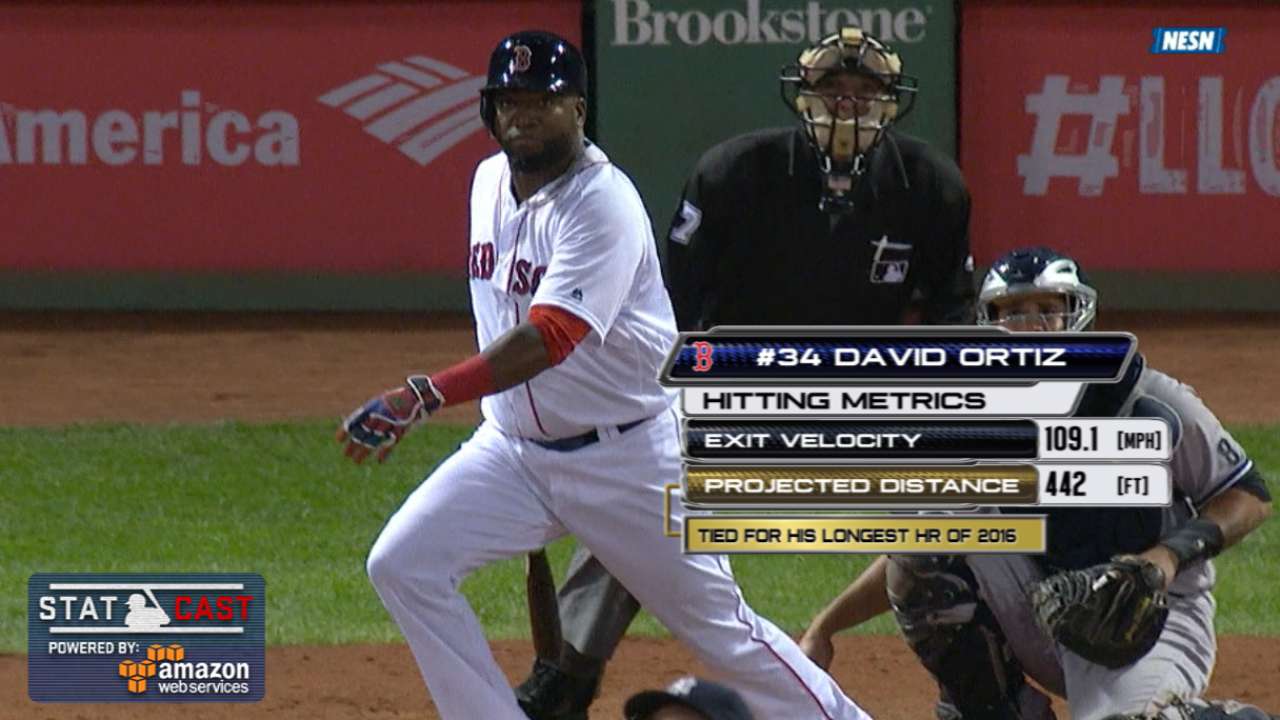 "He's locked in, man," said David Ortiz, who passed Mickey Mantle for 17th on the all-time list with career homer No. 537 an inning before Ramirez ended the game. "We all know he's a good hitter. He's surrounded by good hitters, and he's on."
Ian Browne has covered the Red Sox for MLB.com since 2002. Follow him on Twitter @IanMBrowne and Facebook. This story was not subject to the approval of Major League Baseball or its clubs.