MLB.com Columnist
Anthony Castrovince
Heavy wait title: Cubs-Indians G1 tonight!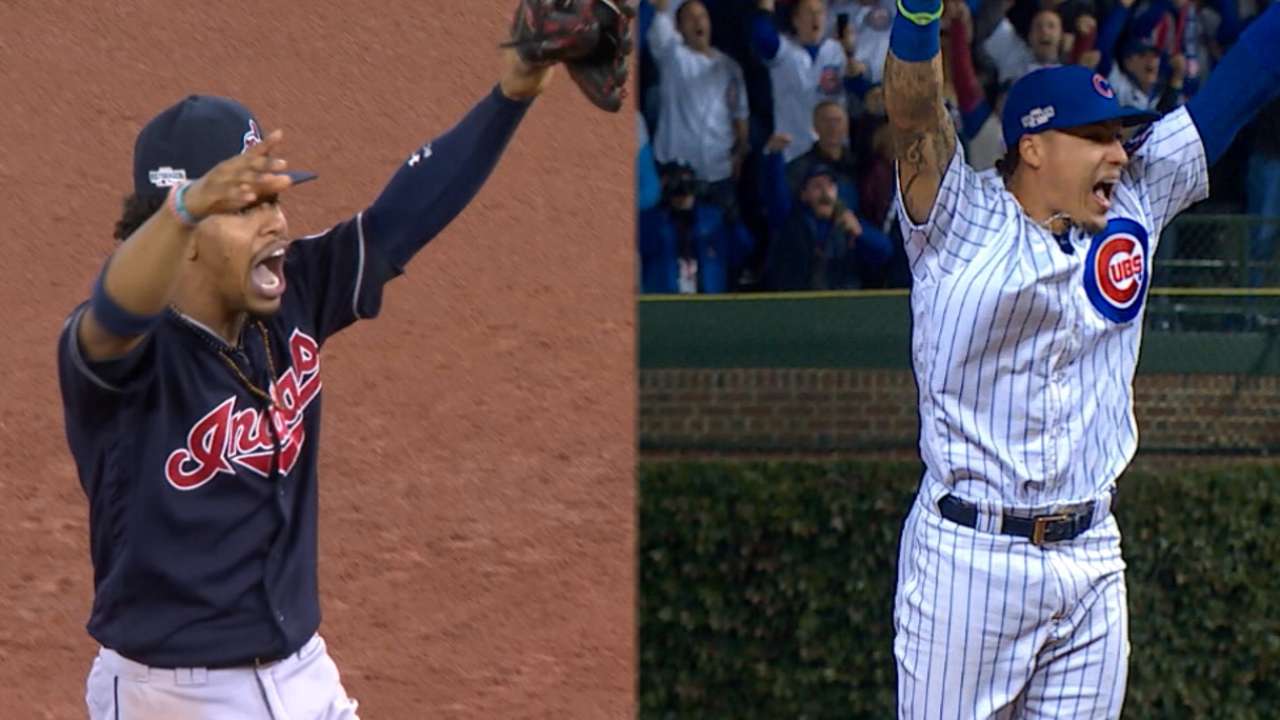 The game without a clock is about to begin a World Series that offers fans the time of their lives. And when it's all said and done, everybody associated with the winning team will have waited a lifetime for that thrill. The Cubs and the Indians had a combined championship drought of 176 years, a combined pennant drought of 89 years. So to see them on this stage tonight at Progressive Field, to know what this advancement means to their respective fan bases and know the context of this clash in the sport's long history is to appreciate what a special spectacle it is.
It's about time.
• World Series Game 1: Tonight, 7:30 p.m. ET air time | 8 ET game time on FOX
Time is truly the essence of this fascinating Fall Classic, which begins with tonight's 7:30 p.m. ET air time/8 p.m. game time on FOX with Indians ace Corey Kluber opposing Jon Lester. One way or another, one of the two longest active championship droughts in the sport is about to come to its merciful conclusion, which means two clubs with "C" logos are about to stage a Must-C Series.
Now, the players, the coaches, the managers, they'll drown out the talk of droughts. They have to. To buy into those storylines would be to focus on something outside the lines, and these ballclubs have much too much respect for each other to do that.
"I think that stuff is for fans," Tribe manager Terry Francona said. "I think fans enjoy talking or commiserating, however you want to put it. But I don't feel responsible for the fact that my dad couldn't win. That was his fault. We're going to have our hands full playing against the Cubs. And trying to go back and win for years, that doesn't help."
Still, no matter what is said publicly, the clock carries weight here. When one of these teams win, it will be about much more than their individual story, their moment in time. It will be about time itself.
"Hopefully, they'll be able to get this done," Cubs manager Joe Maddon said of his club, "and at that point, you can really reflect on everything and interact with the folks, and really try to get down to the root of all this. But in the meantime, man, I really anticipate and expect our guys to stay right in the moment."
Only adding to the allure of the moment, two guys at the helm of these clubs know a bit about drought destruction.
Francona and Cubs president of baseball operations Theo Epstein once collaborated on the end of the "Curse of the Bambino" in Boston, so it's oddly appropriate that they'll now have their curse-breaking abilities in other markets tested head-to-head.
"We've been through a lot together," said Epstein, "and it's pretty cool to be up against him."
For the Cubs and their fans, it has been 108 years of unrewarded hope and, for that matter, 71 years of waiting just to even get back to this point of the postseason. And whether you believe that's attributable to bad luck, bad management or a bitter billy goat owner, the bottom line is that this current concoction of the Cubs constructed by Epstein and Co. was built to be a juggernaut.
The 103-win regular season only amped up the expectations and the pressure.
"You know, there will be nerves and there will be adrenaline and all that stuff when I go out there to throw the first pitch and kind of get the ball rolling," Lester said. "But once you get into the game, I feel like then you're able to go back to your game plan and what you're trying to think of."
For the Indians and their fans, it has been a 68-year wait for a title, prolonged by the heartbreak of watching two of the greatest regular-season winning percentages in history snuffed out on the Series stage in 1954 and '95 and the utter agony of losing a Game 7 lead with two out in the ninth in '97. The Indians weren't nearly as widely acclaimed as World Series contenders, especially when they lost prominent players like Michael Brantley, Carlos Carrasco and Danny Salazar to injury, but Francona has again proven himself as a skipper capable of exceeding the sum of his parts.
"Injuries are a part of the game," Kluber said. "It's going to happen throughout the year. Obviously, we've had our fair share of them, pitching-wise. But I think it's just really guys embracing the challenges of stepping in and filling those shoes. ... I think it's had good results for us."
Clearly, there is a decent amount of emotional baggage rolling, an awesome alignment of angst, into this one. But there's plenty of pure baseball intrigue, too.
The Indians, who just so happen to be benefiting from Kluber's claim of the victory in July's All-Star Game at Petco Park, have the schedule strength that accompanies home-field advantage. But by the time the first pitch of Game 1 is thrown, their efficient win over the Blue Jays in the American League Championship Series will have granted them five days of downtime spelled only by full-squad workouts and a Sunday sim game. The rest was probably good for their overworked arms in the back of the bullpen (Andrew Miller, Cody Allen and Bryan Shaw have accounted for 35 percent of the Tribe's postseason innings thrown), but it could throw the bats out of whack.
"Because our game is so much rhythm and timing, the rest is good for their bodies," Francona said. "But you also try to let them see some pitching so having five or six days between games doesn't get in the way of their hitting."
The Cubs had a slightly more arduous road through the NLCS, as they had to rebound from a 2-1 series deficit and overcome Clayton Kershaw in Game 6. But they got where they were expected to be, and in a game that rarely rewards the regular season hierarchy (2013 marked the only time in the previous six seasons in which a team with the best record in baseball advanced to the World Series), that's quite a feat, in and of itself.
So watch this Must-C Series.
Watch the Indians, who were one of the best baserunning teams in baseball, try to run all over the Cubs. Watch a Cubs club that crushed left-handers (.807 OPS) this season try to do what nobody else has been able to do and score runs off Miller, the ALCS MVP. Watch Miller and Chapman, non-waiver Trade Deadline targets turned October assassins. Watch Francisco Lindor and Javier Baez, former high school opponents who have been making waves on the October stage. Watch Jason Kipnis go up against his hometown team. Watch Ben Zobrist try to win the World Series in two straight years with two different teams from two different leagues. Watch two of the great, game-changing skippers try to gain the tactical edge.
But mostly, watch history being made. The awesome October stories of the Cubs and Indians are colliding on the World Series stage.
And they're both on the clock.
Anthony Castrovince has been a reporter for MLB.com since 2004. Read his columns and follow him on Twitter at @Castrovince. This story was not subject to the approval of Major League Baseball or its clubs.