Marlins roll on Ichiro's historic day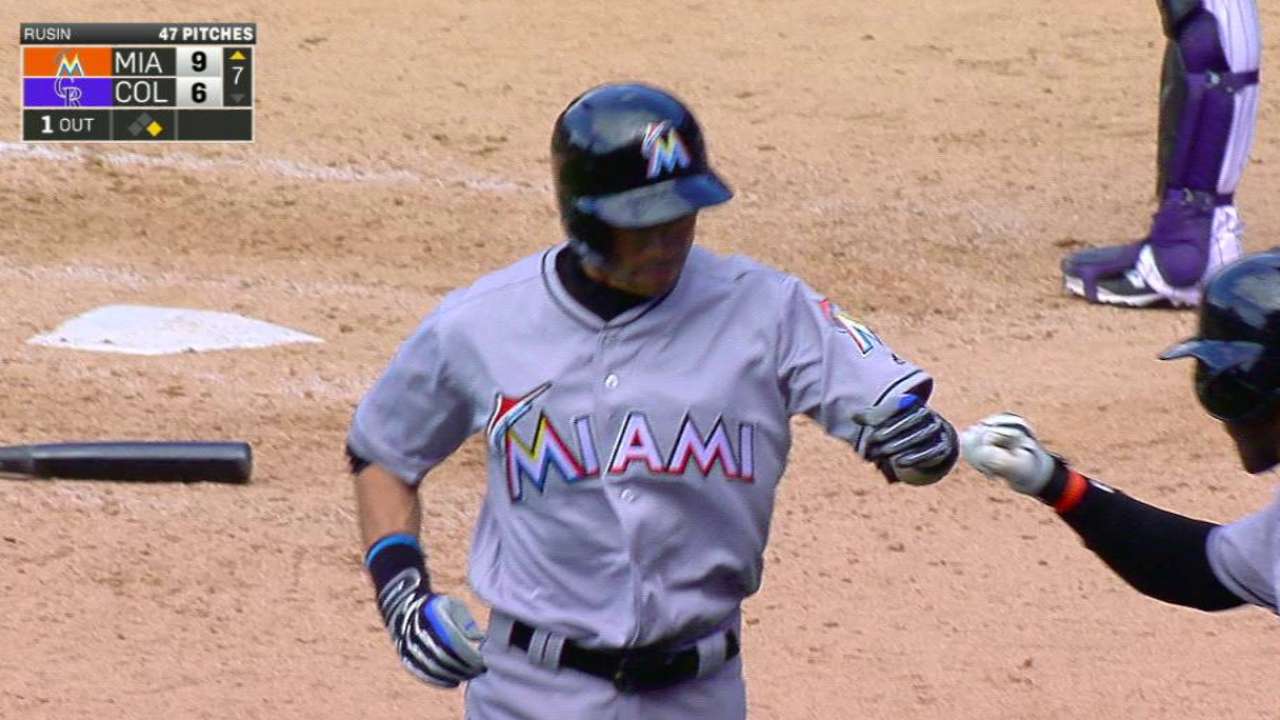 DENVER -- The Marlins celebrated Ichiro Suzuki reaching 3,000 hits by getting at least one from every starting position player -- led by Giancarlo Stanton's second homer in two days -- in a 10-7 win over the Rockies at Coors Field on Sunday.
The Marlins chased Rockies starter Jon Gray after scoring eight runs in 3 2/3 innings. Christian Yelich and Jeff Mathis each had two RBIs in the first, and Martin Prado hit a two-run double before Stanton's two-run homer in the fourth. It was the shortest outing of the year for Gray since he allowed nine runs in 3 1/3 innings in St. Louis on May 19.
"I knew there'd be a bump in the road eventually, but I didn't think I would give up an eight-spot and lose us the game," Gray said. "Nothing went right today. I didn't pitch at all. Didn't command anything. The slider wasn't there. I pretty much lost us the game, lost us the series."
The pair of four-spots gave the Marlins an 8-1 lead, but Nolan Arenado almost single-handedly kept the Rockies in the game. He had five RBIs on a pair of homers off Marlins starter Adam Conley -- a leadoff homer in the fourth and a three-run shot in the fifth -- along with an RBI double in the seventh off Nick Wittgren. However, the rest of the team hit just 6-for-30 (.200) and left 12 runners on base.
After starting 0-for-3, Ichiro picked up his milestone hit with a towering triple off the right-field wall in the seventh off left-hander Chris Rusin. He became the 30th player to reach the mark and the second to collect 3,000 hits after turning 27. Ichiro scored one batter later on Mathis' single up the middle.
"When it gets 8-6, the Ichiro hit is kinda what's been the beauty of him all along -- he's played in circumstances to give guys days off, to come off the bench, to play when a guy's been hurt," Marlins manager Don Mattingly said. "And that hit today was a huge hit for us. They get close, and that triple ends up being the hit that kind of allows us to push forward. So for me, it's fitting that, for this season at least, this hit comes in that kind of context as part of a team win."
With the win and a Cardinals loss, the Marlins took sole control of the second National League Wild Card spot. The Rockies fell four games back of the Marlins and under .500 for the first time since July 29.
MOMENTS THAT MATTERED
Ichiro reaches 3,000 hits: With his seventh-inning drive, Ichiro became just the second player to triple for his 3,000th hit; Paul Molitor did it with the Twins on Sept. 16, 1996. In his professional career, Ichiro has 4,278 hits -- 1,278 in Japan and 3,000 in Major League Baseball. Pete Rose, the all-time hits leader, finished his career with 4,256 hits in the Majors.
"I heard that Paul Molitor was the other player," Ichiro said through a translator, "and obviously I have a special relationship with him. Having something like this that I was able to accomplish the same thing that he was able to accomplish just makes it even more special." More >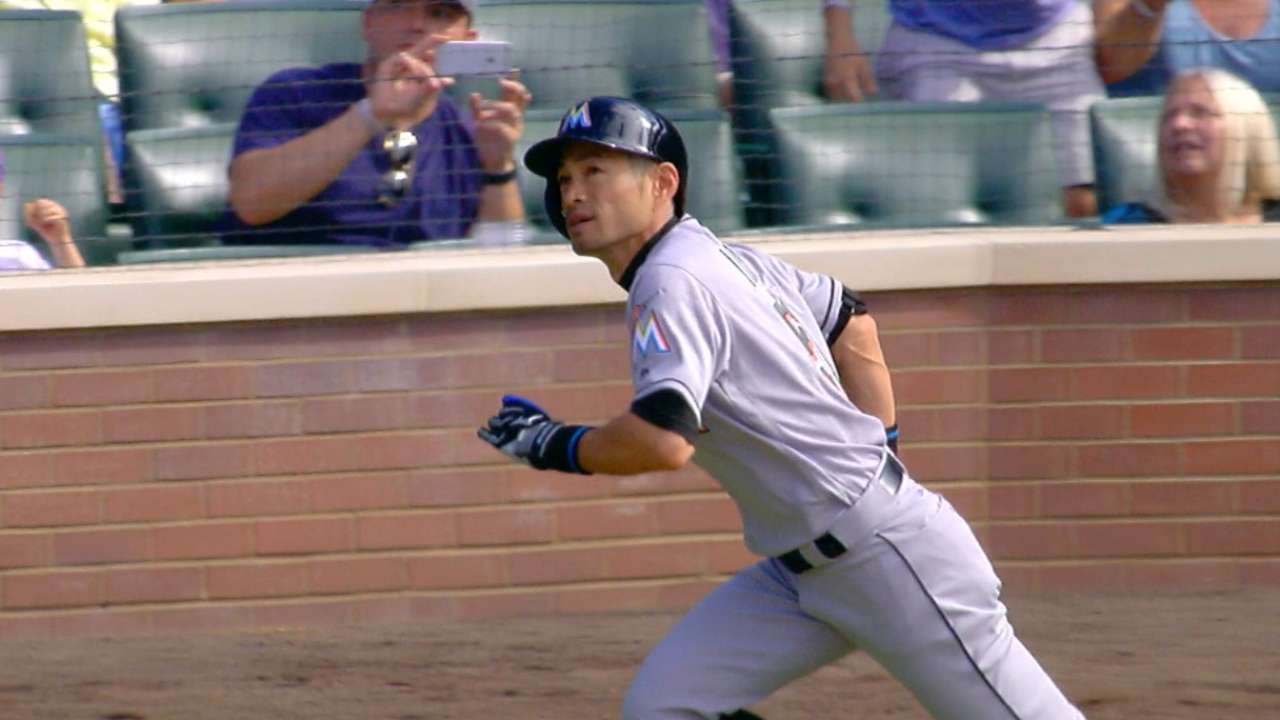 Multi-moment man: Arenado reached base each of his first four times to the plate, and he accounted for five of the Rockies' first seven runs with his 28th and 29th home runs of the season and his double in the seventh. The Rockies were trailing, 8-1, when Arenado hit his solo shot to lead off the fourth, and he brought them to within two runs of the Marlins with his three-run blast in the fifth. The Marlins got a run back when Ichiro scored in the seventh, but Arenado closed the gap again with his two-out, run-scoring double in the bottom of the inning.
"It stinks when you lose, but it's nice to hit the ball hard," Arenado said. "I feel like I haven't been able to do that as much as I would like lately. It was nice to compete and almost give our team a chance at the end."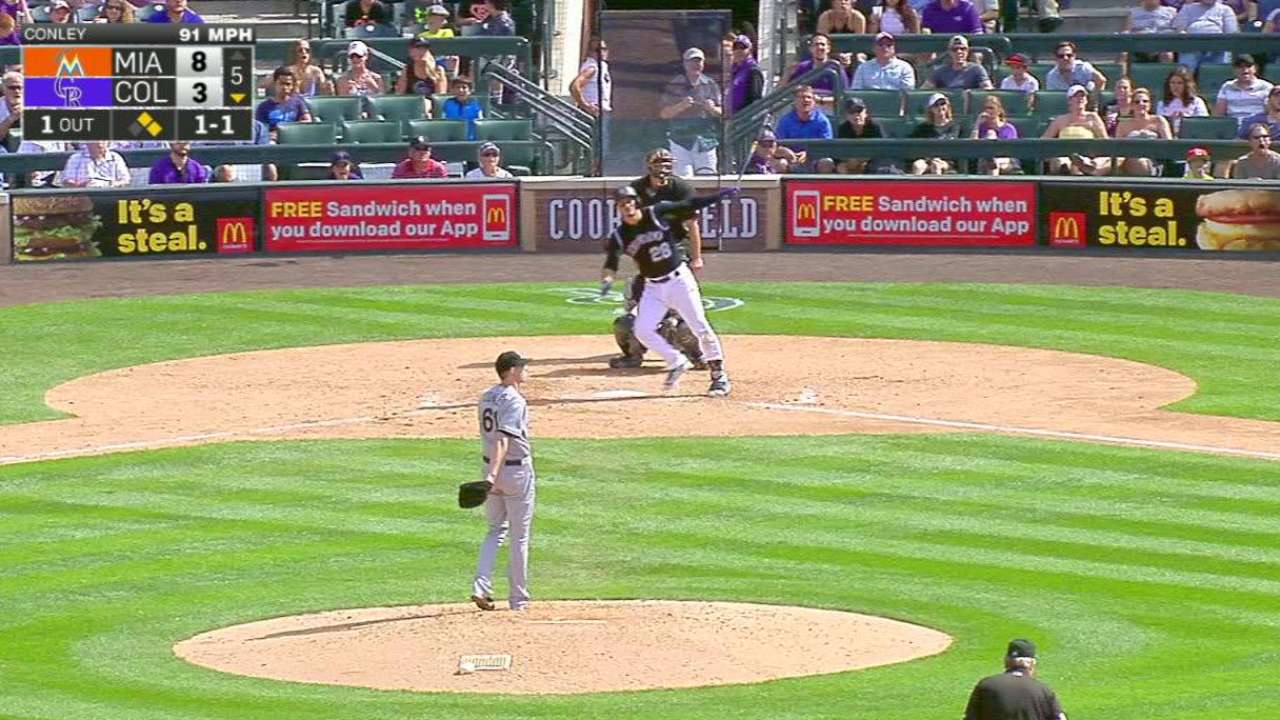 Stanton continues to slug at Coors: Although his fourth-inning home run fell well short of the record 504-foot shot he hit the night before, Stanton continued to put up massive power numbers at Coors Field. In 20 career games at the park, he has 10 home runs and is hitting .317 with a .798 slugging percentage, his highest at any park other than Rogers Centre, where he has only played three games.
"You know the ball's gonna take off," Stanton said. "It's a difference that's huge feet-wise, but you don't have to overswing to get there. It's a great backdrop, a great place to hit overall. It's fast, too. You know it's going to get through if it's a hard ground ball, and it'll go over if you get some backspin on it."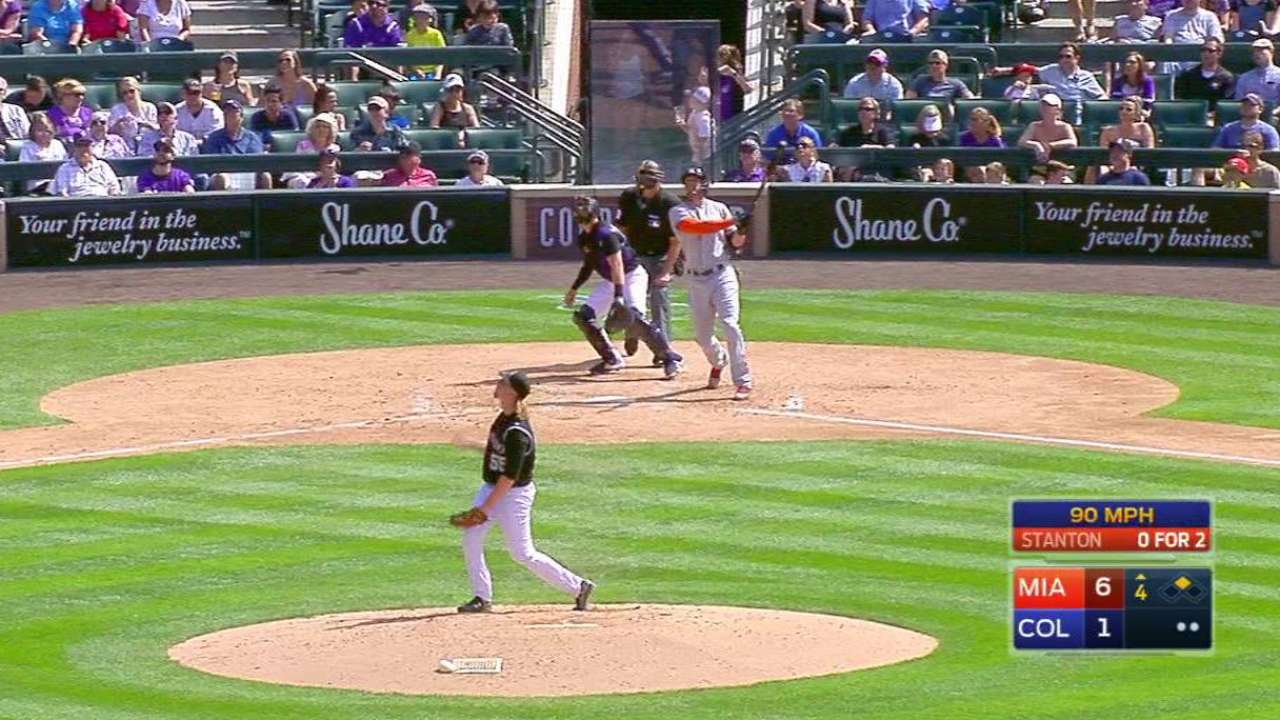 Gray takes a step back: After a run of five straight starts without a loss and six straight quality starts, Gray was unable to complete the fourth inning. He left having twice allowed more runs in an inning than he allowed over his last five starts combined.
"It's been a battle the last couple weeks, actually," Gray said. "I've just been more fortunate those times. I was able to use my slider. It was there the whole first half. It was my best pitch, the one I liked to use to get outs with. When you don't have that, it makes things a lot harder." More >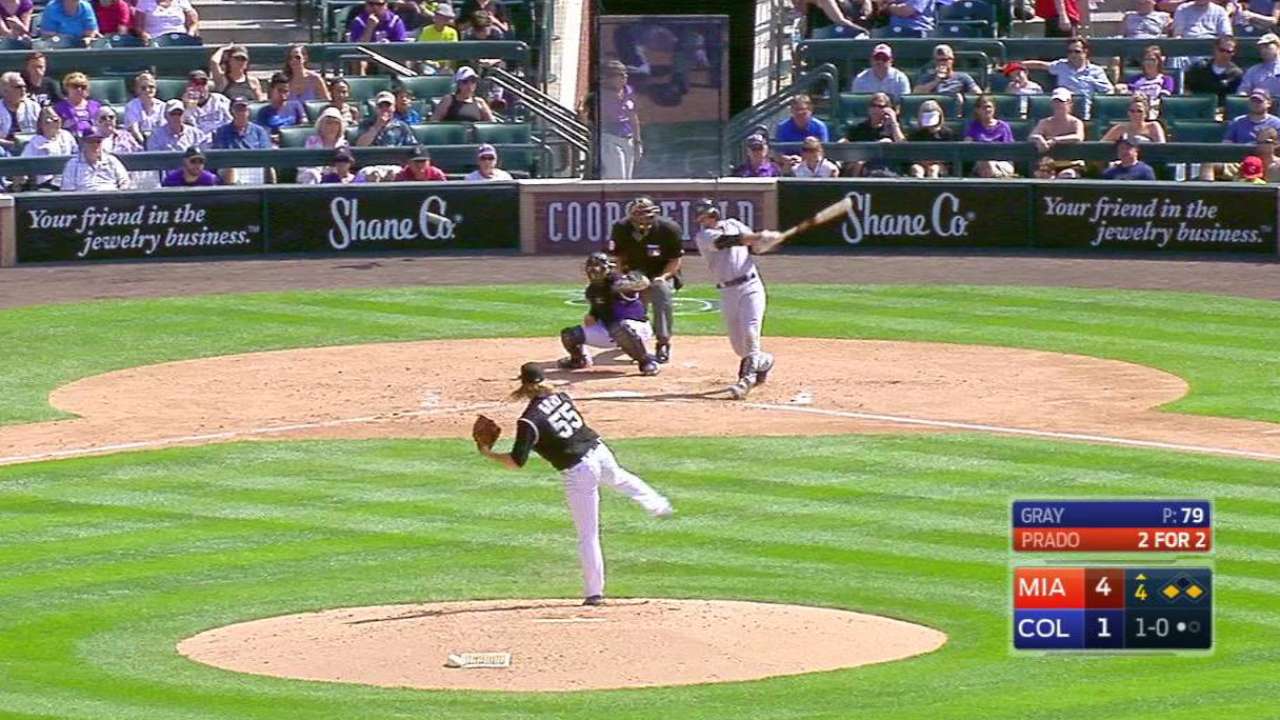 QUOTABLE
"That's what you're supposed to do, you're supposed to show him your respect, give him his time, show him that we love him and we respect his milestone. So that's what we did." -- Dee Gordon, on gathering with Ichiro after his triple More >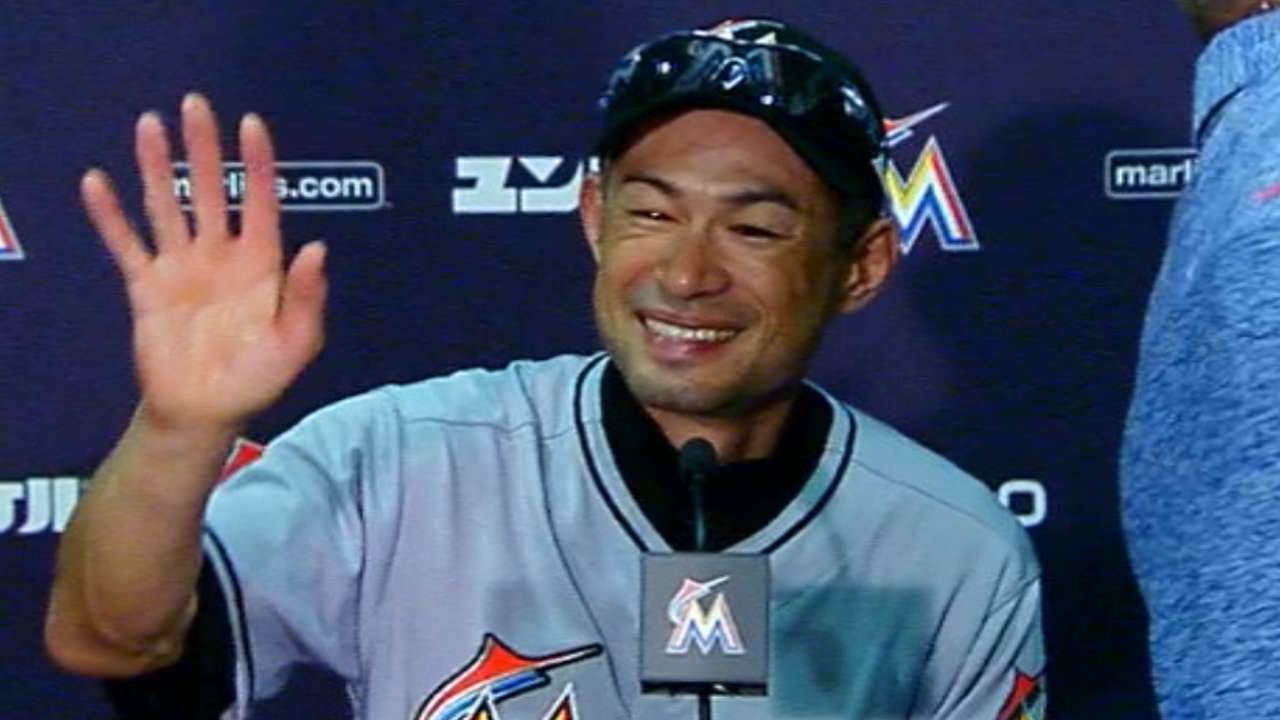 "We battled back. I don't typically want to use Boone [Logan] in games that we're losing, but I felt like we fought back hard to get back in that game to get within two. I wanted to take a shot to keep it there and try and win it late. At the end, it set up well for them, but I like the way we fought our way back." -- Rockies manager Walt Weiss, on his team's resilience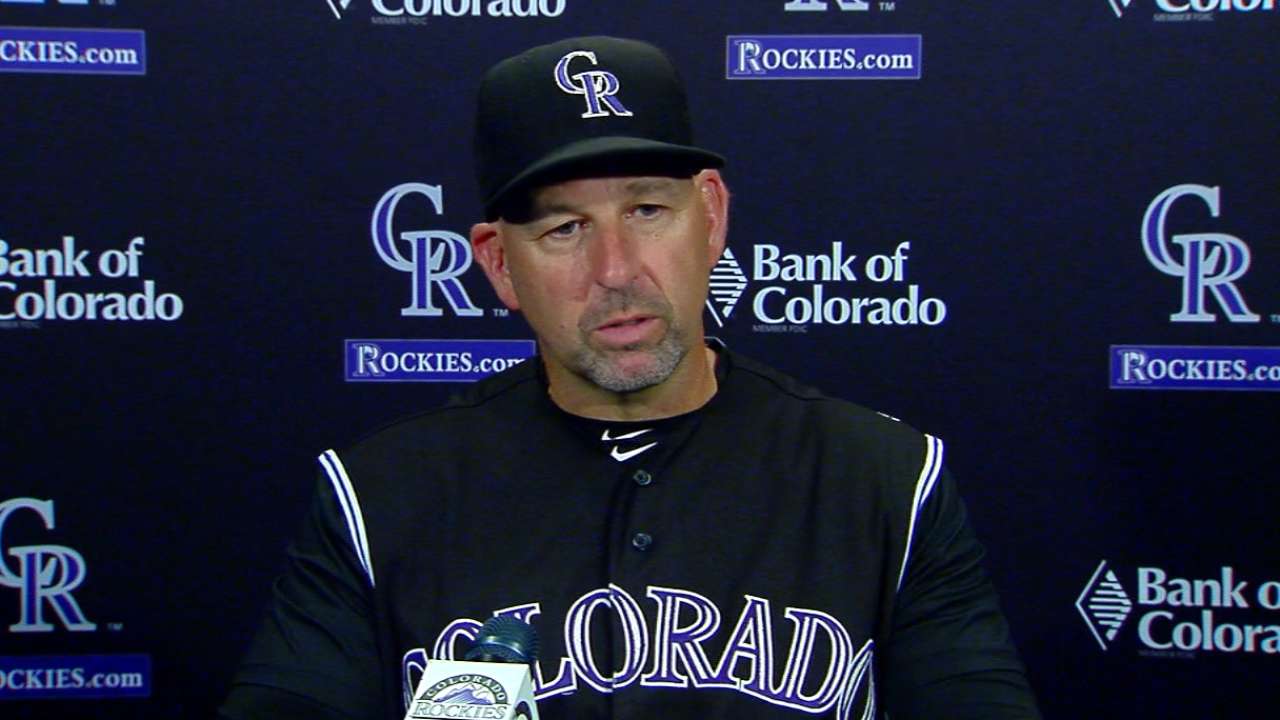 SOUND SMART WITH YOUR FRIENDS
Ichiro's 3,000th hit came on the 17th anniversary of Hall of Famer Wade Boggs' 3,000th hit. It also came on the ninth anniversary of Barry Bonds' 756th home run, which passed Hank Aaron for the most all-time. More >
AFTER FURTHER REVIEW
The Rockies challenged a fifth-inning call that ruled Miguel Rojas safe on a pickoff move by Rusin. After a brief review the call was overturned, as the replay official ruled that the tag was applied before Rojas touched the base.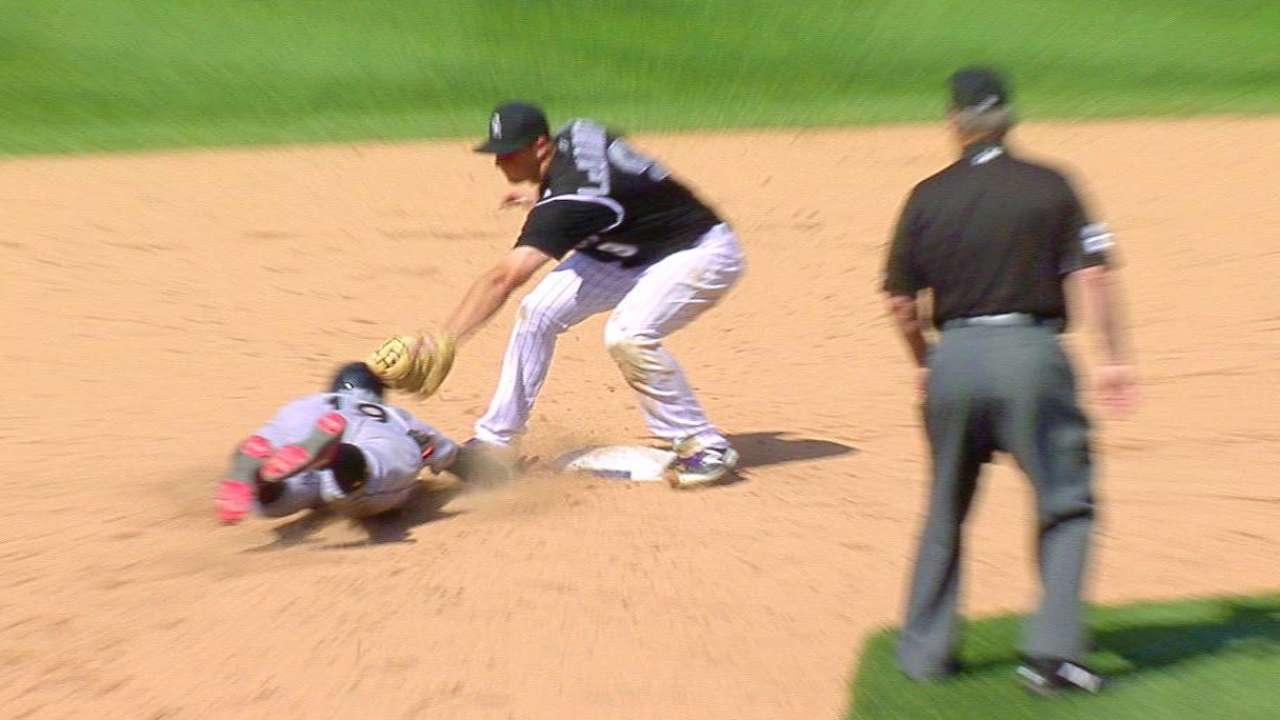 WHAT'S NEXT
Marlins: Ace right-hander Jose Fernandez (12-6, 2.87 ERA) gets the call on Monday as the Marlins head home to take on the Giants at 7:10 p.m. ET in the opener of a six-game homestand. In his only other start against the Giants this season, Fernandez allowed four runs on seven hits over six innings with three strikeouts and no walks.
Rockies: The Rockies send rookie left-hander Tyler Anderson to the hill on Monday as they open a four-game home-and-away set with the Rangers. Anderson (4-3, 3.25 ERA) has made 10 starts for Colorado this season, and his 3.25 ERA is the lowest mark for a Rockies starter through 10 starts in the history of the franchise. He's coming off a career-high seven-inning outing in which he held the Dodgers to two runs on six hits and two walks while striking out six.
Watch every out-of-market regular-season game live on MLB.TV.
Ben Weinrib is a reporter for MLB.com based in Denver who covered the Marlins on Sunday.

Owen Perkins is a contributor to MLB.com based in Denver who covered the Rockies on Sunday. This story was not subject to the approval of Major League Baseball or its clubs.