Rockies' rookie dings Phillies for first win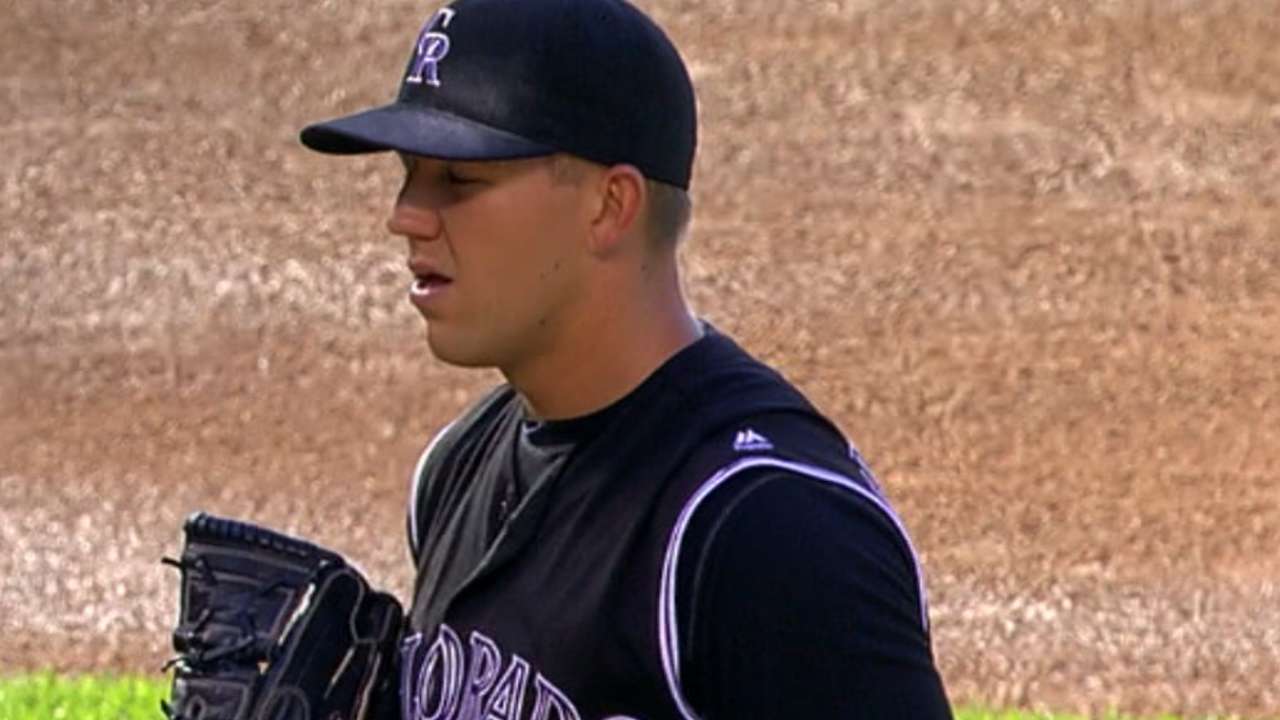 DENVER -- Rockies rookie left-hander Tyler Anderson solved his run-support problem Saturday night. Anderson's first career home run, a two-run shot, tied the game in the fifth, and his teammates helped him earn his first career win by igniting for a six-run sixth en route to an 8-3 victory over the Phillies.
"It was good to see him get his first win, his first hit, his first homer, all in one day -- his first RBI," Rockies outfielder Brandon Barnes said. "Jeez, have a better day, huh?"
Anderson allowed two runs on nine hits over six frames and struck out six while walking none. Phillies first baseman Tommy Joseph hit his second home run of the series on a 4-for-4 night, and Carlos Ruiz knocked in a run on a single. Although he lacked great command, Anderson was able to provide some rest for an overworked bullpen.
"Anderson has been studying this team for about four days, and his plan was unbelievable," Rockies catcher Tony Wolters said. "Sometimes you go on the mound, and the timing and stuff isn't there, but that's how you know he's a big league pitcher. He got through a game with zero of his pitches. No command whatsoever. But he got through. He grinded. That's how you know he's a man, he's a big leaguer. I'm proud of him."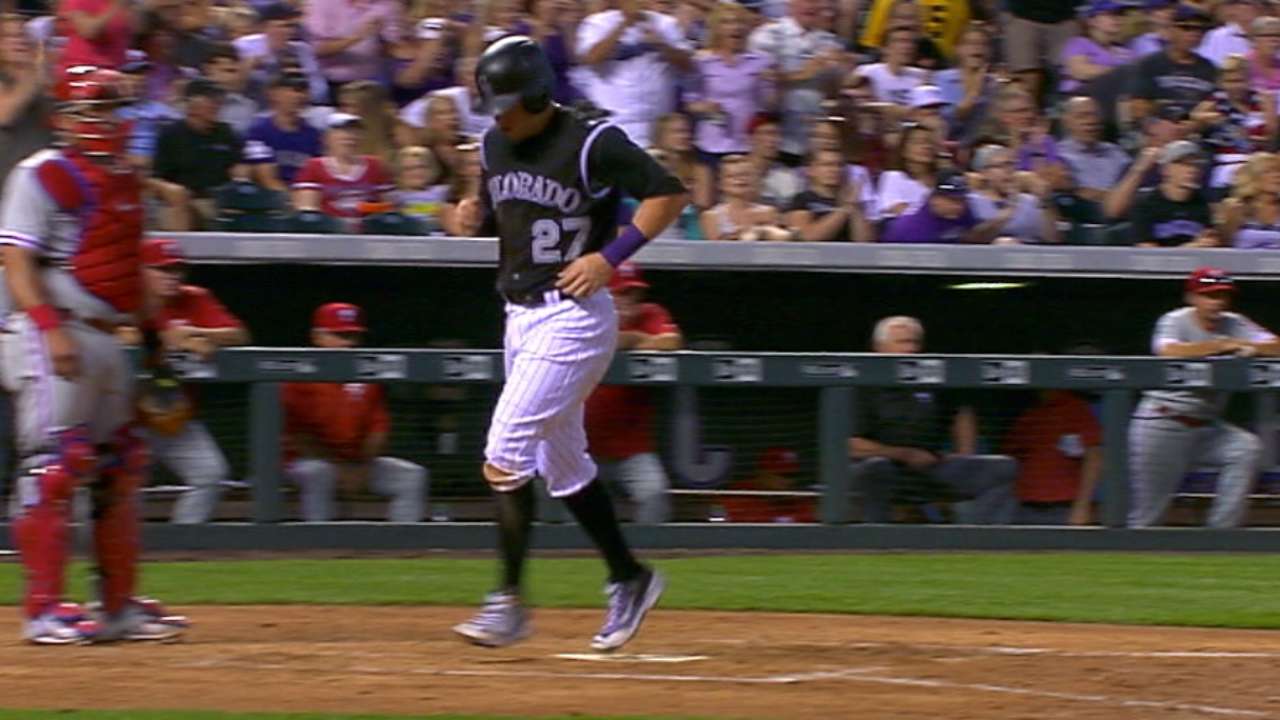 Anderson had received only 2.50 runs of support per game coming into the game, which was fifth-lowest among starters with at least 20 innings. That was not an issue Saturday as seven of the first eight Rockies batters reached base in the sixth, highlighted by Mark Reynolds' bases-loaded walk and Wolters' bases-clearing triple. Wolters' hit chased Phillies starter Jerad Eickhoff, who was tagged for eight runs on eight hits over 5 1/3 innings.
As the run total grew, a member of the family of hawks that nests high above the Coors Field scoreboard zoomed in and out of the press box. Then, it perched atop the box and took in the ballgame. More >
• Rockies offense inspired by Rally Hawks
MOMENTS THAT MATTERED
Anderson's big shot: The pitcher's spot in the order was up with two outs in the fifth and Anderson at 93 pitches. Anderson, who had his first career hit in the third inning, looked back into the dugout to double-check that he would still hit and rewarded Rockies manager Walt Weiss with a first-pitch two-run homer to tie the game. It was the first homer for a Rockies pitcher since Kyle Kendrick hit one in San Diego on Sept. 7, 2015. Anderson's home run nearly didn't happen as Weiss nearly lifted him for a pinch-hitter.
"As close as you can get," Weiss said. "I knew I wanted to stay off a good portion of the bullpen tonight. Those guys have been going hard. That was part of the decision. Tyler convinced us that he still felt real good and strong and really wanted to stay in the game."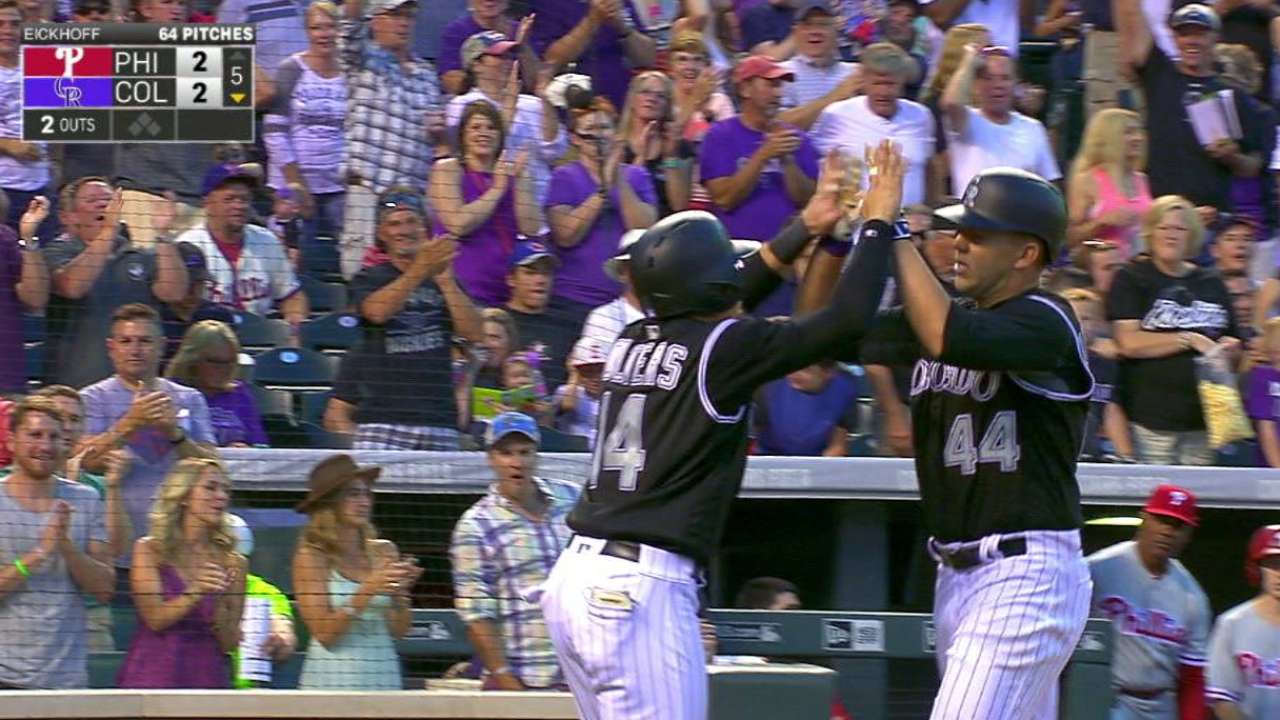 Anderson has not allowed more than three runs in any of his six outings -- four of which were quality starts -- and became the second Rockies pitcher to get his first Major League win, hit and home run in the same game. The first was Jason Jennings.
"Absolutely memorable," Anderson said. "Not something to dwell on, but something to remember for sure." More >
Eickhoff falls apart: Eickhoff had cruised through 4 2/3 scoreless innings before Wolters singled and Anderson homered. But it got much worse for Eickhoff in the sixth. He allowed six of seven batters to reach base as the Rockies scored six runs in the inning. Eickhoff allowed a career-high eight runs in 5 1/3 innings to finish the half at 6-10 with a 3.80 ERA.
"Should I have minimized it a little better?" Eickhoff said. "I think so, no doubt." More >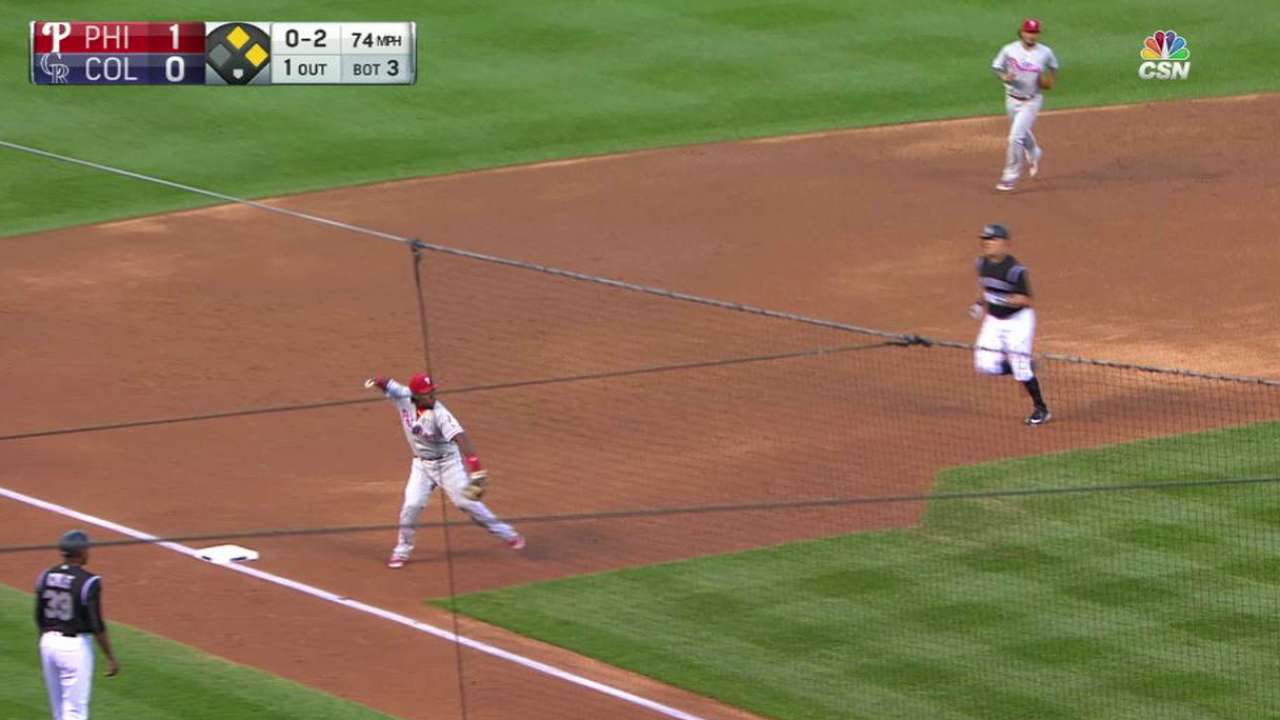 Wolters gets hot: Wolters, mired in a 4-for-26 slump, broke out with a single and bases-clearing triple. He also scored twice. The triple was the first of his career, coming shortly after his first career home run four starts ago on June 25.
"He's been working hard with [hitting coach] Blake [Doyle] on his hitting," Weiss said. "We're trying to iron some things out in his swing and in his grip. It looks like it's paying off."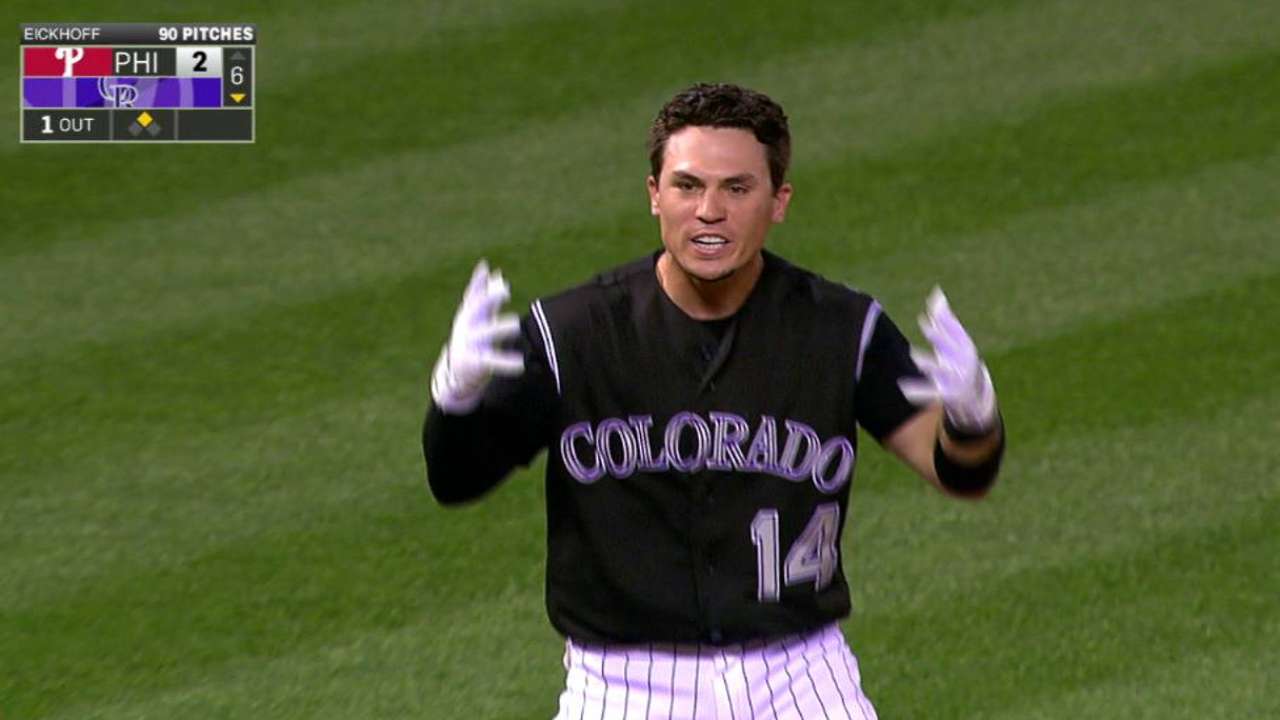 Joseph sizzling: Joseph probably wishes the Phillies could skip the All-Star break to keep hitting. He went 4-for-4, homering in the second, doubling in the fourth, singling in the fifth and singling in the eighth. He is hitting .625 (10-for-16) with two doubles, three home runs and six RBIs in his last five games.
"Especially here, in a good hitting ballpark, I'm happy that the guys are accumulating hits, raising their averages or maintaining their averages, so they can carry that positive part of it into the second half," Phillies manager Pete Mackanin said.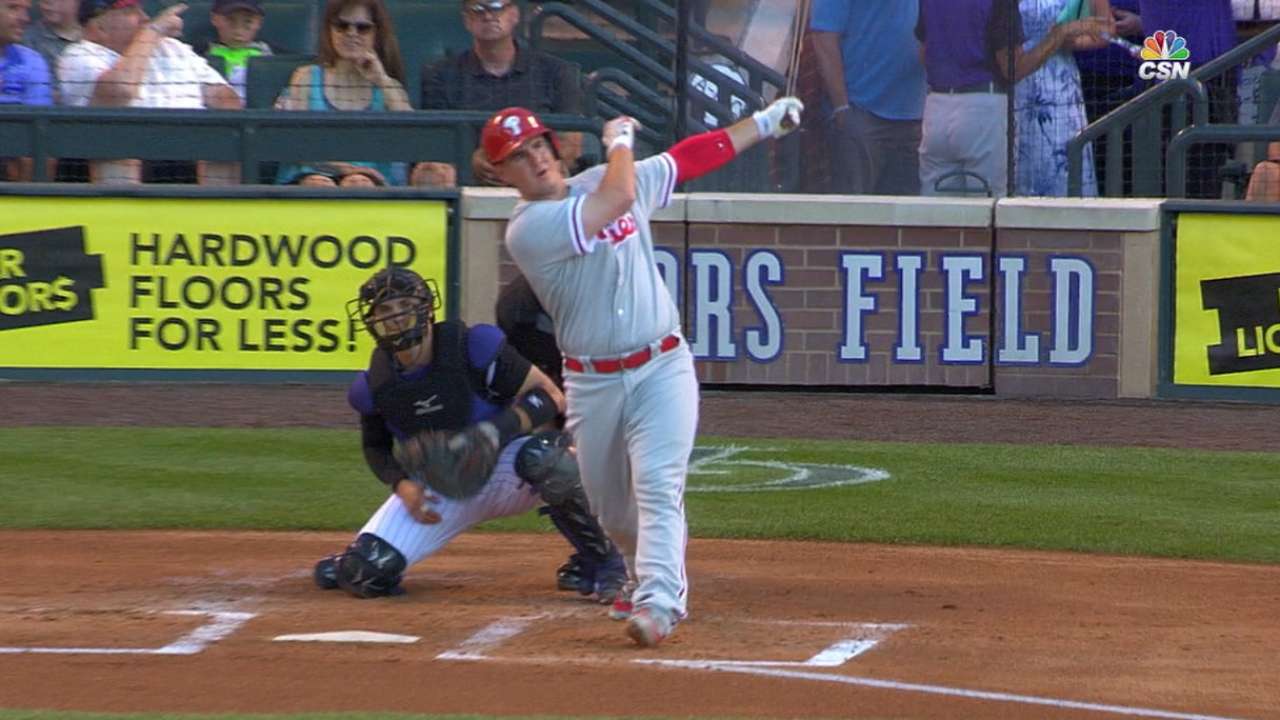 QUOTABLE
"The pitch to Anderson, I just looked at it. It was in off the plate, slider, first pitch. You've got to tip your cap there. He got a good swing on it and put it out." -- Eickhoff
"I didn't think that thing was a home run. I didn't think he had muscles like that. I was running my hardest. [Third-base coach Stu Cole gave me the home run signal], and I was like 'What? No way.' I looked behind me and [Anderson] goes into a little trot. He didn't know what to do. He's like 'What speed do I run on the bases?' It was awesome." -- Wolters, on Anderson's home run
SOUND SMART WITH YOUR FRIENDS
Joseph is the first rookie Phillies first baseman to have four hits in a game since Ryan Howard in 2005. No rookie Phillies first baseman had accomplished the four-hit feat prior to Howard since 1972, when Tom Hutton did it.
LYLES EARNS THE SAVE
Jordan Lyles earned his first save of the season and second of his career with three strong innings. He allowed one run on four hits with one strikeout. Since being called up in a relief role, Lyles has looked much better. In his last five appearances, he has given up two runs over seven innings.
"Jordan's done a nice job," Weiss said. "He looks renewed to me in that role right now. I wanted to stay off the bullpen, especially the back end, and the fact that he went three innings allowed us to do that. Just having to pitch Tyler and Jordan tonight was key."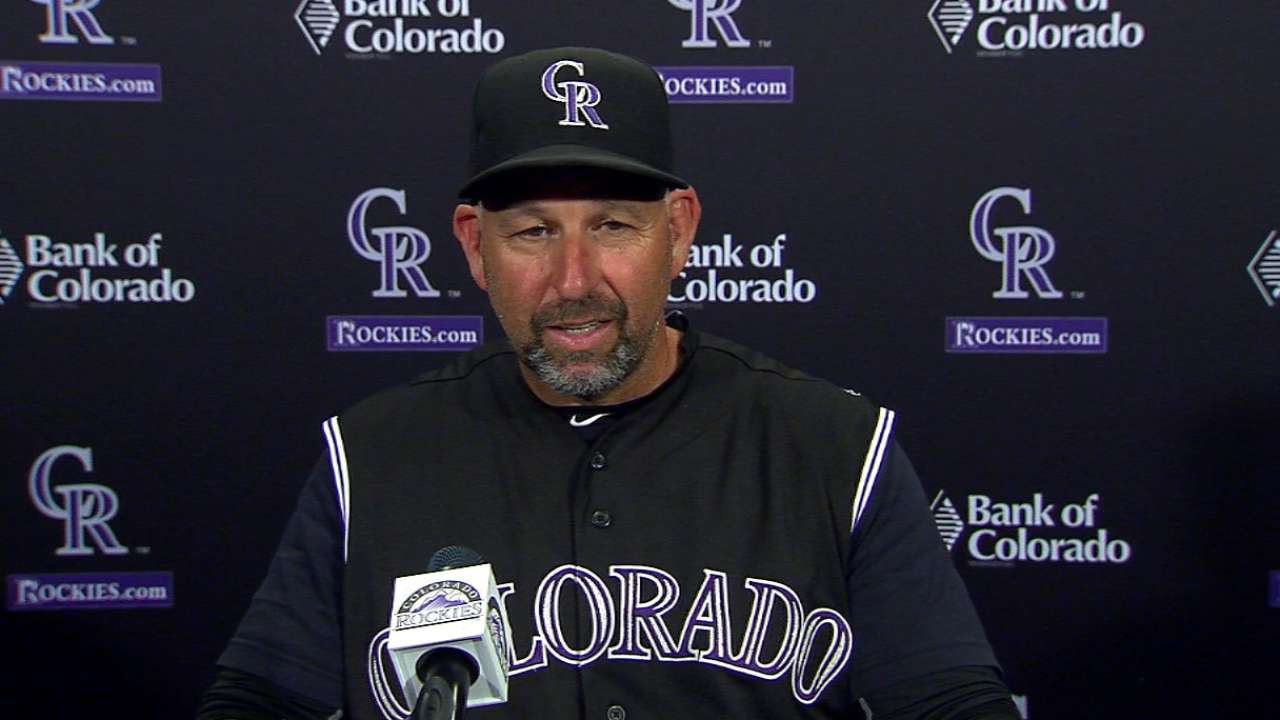 WHAT'S NEXT
Phillies: Rookie Zach Eflin (1-2, 4.30 ERA) will start the Phillies' final game before the All-Star break, a Sunday afternoon (4:10 ET) series finale against the Rockies at Coors Field. Eflin has a 2.03 ERA in his last four starts.
Rockies: Tyler Chatwood will toe the rubber at 2:10 p.m. MT. In his last start -- his first since coming off the 15-day disabled list with a mid-back strain -- he held the Giants to two runs (one earned) over five innings on three hits with four walks and four strikeouts.
Watch every out-of-market regular-season game live on MLB.TV.
Ben Weinrib is a reporter for MLB.com based in Denver and covered the Rockies on Saturday.

Todd Zolecki has covered the Phillies since 2003, and for MLB.com since 2009. Read his Phillies blog The Zo Zone, follow him on Twitter and listen to his podcast.

This story was not subject to the approval of Major League Baseball or its clubs.