Miggy falls just shy of rally-fueling home run
With Tigers facing 4-0 deficit vs. Twins, Cabrera's 417-foot bid for 3-run blast dies in CF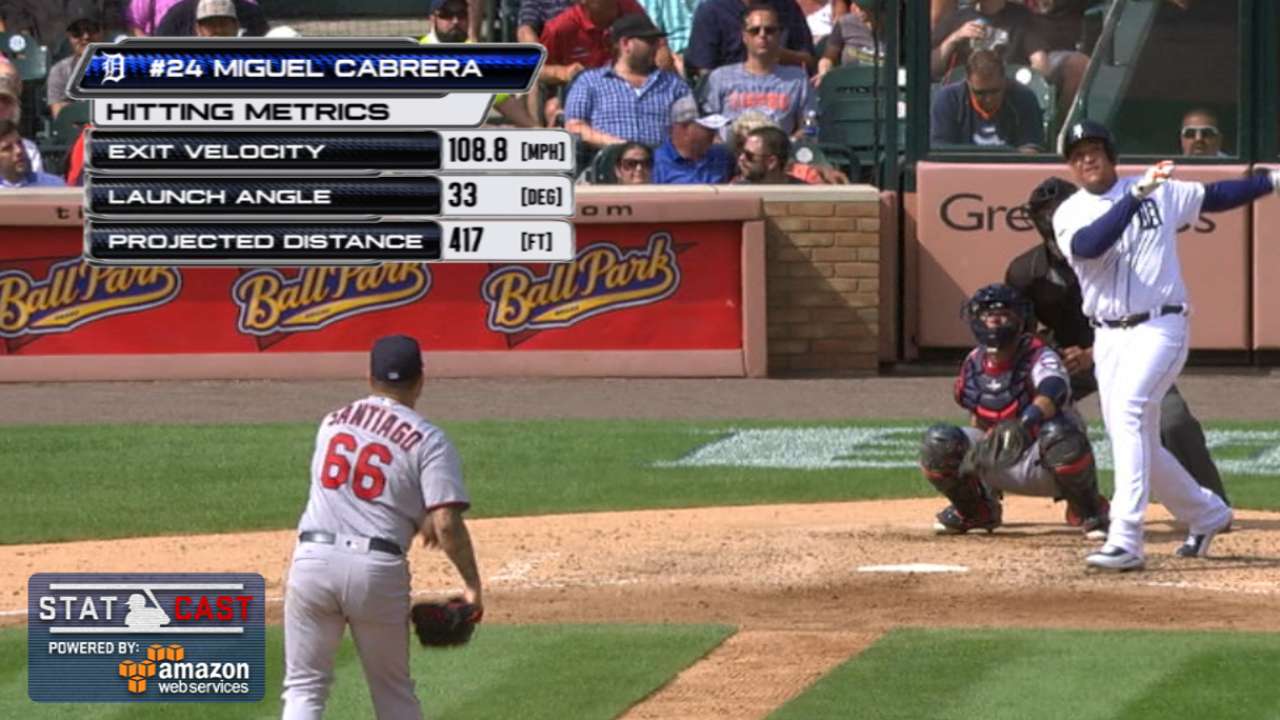 Miguel Cabrera had starred in this moment countless times before.
With two on and two outs in the bottom of the fifth, the Tigers slugger stepped into the box, looking to spark a rally for his club, facing a 4-0 deficit against the Twins. In fact, Cabrera had done just that the day before, fueling yet another late-inning comeback for Detroit with a go-head homer in the seventh.
But luck wasn't on his side Thursday.
Cabrera launched a 92.2-mph sinker from Minnesota's Hector Santiago deep into center field. The ball rocketed off his bat at 108.8 mph with a launch angle of 33 degrees, as projected by Statcast™. The four previous balls hit with that exit velocity and launch angle this season were home runs. Unfortunately for a visibly frustrated Cabrera, his was not, and the Tigers went on to lose, 5-1.
The ballpark -- Comerica Park's center-field fence extends to 420 feet, which is among the deepest in the Majors -- and the weather -- a sharp wind was blowing in from center -- were working against him. That combination assured his line drive was merely a hard-hit out, which traveled a projected 417 feet into the glove of Twins outfielder Byron Buxton, instead of a rally-fueling three-run blast.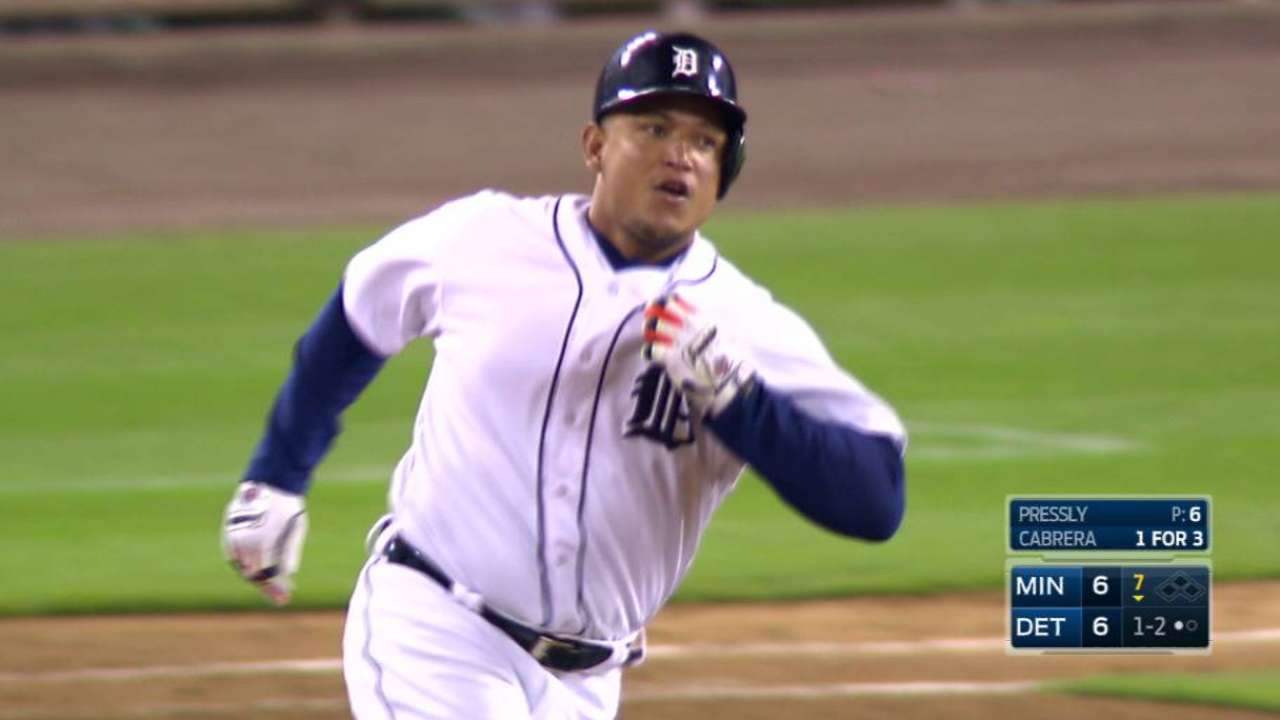 Even if you expand the exit velocity and launch angle parameters slightly, the story remains the same. Entering Thursday, there had been 30 batted balls this season with an exit velocity between 108 and 110 mph and a launch angle between 31 and 35 degrees, and 28 (93.3 percent) of them were home runs.
Coincidentally, one of those two outs also came against the Twins at Comerica Park. On July 19, Cabrera's teammate, Justin Upton, hit a ball with an exit velocity of 108.4 mph and a 34-degree launch angle that turned into a 418-foot out in a 6-2 loss to Minnesota.
Cabrera typically excels with two outs and a runner in scoring position; he entered the day batting .308/.466/.537 with 48 homers and 386 RBIs in such situations. But the circumstances got the better of him Thursday, erasing a potentially heroic moment for a player who's made a career of them.
Adding to Cabrera's frustration was the fact that the Tigers are in the midst of a tightly contested Wild Card race, with each game having major postseason implications. Thursday's loss stalled Detroit's pursuit of a place in the AL's one-game playoff entering a crucial three-game series against the Indians in Cleveland.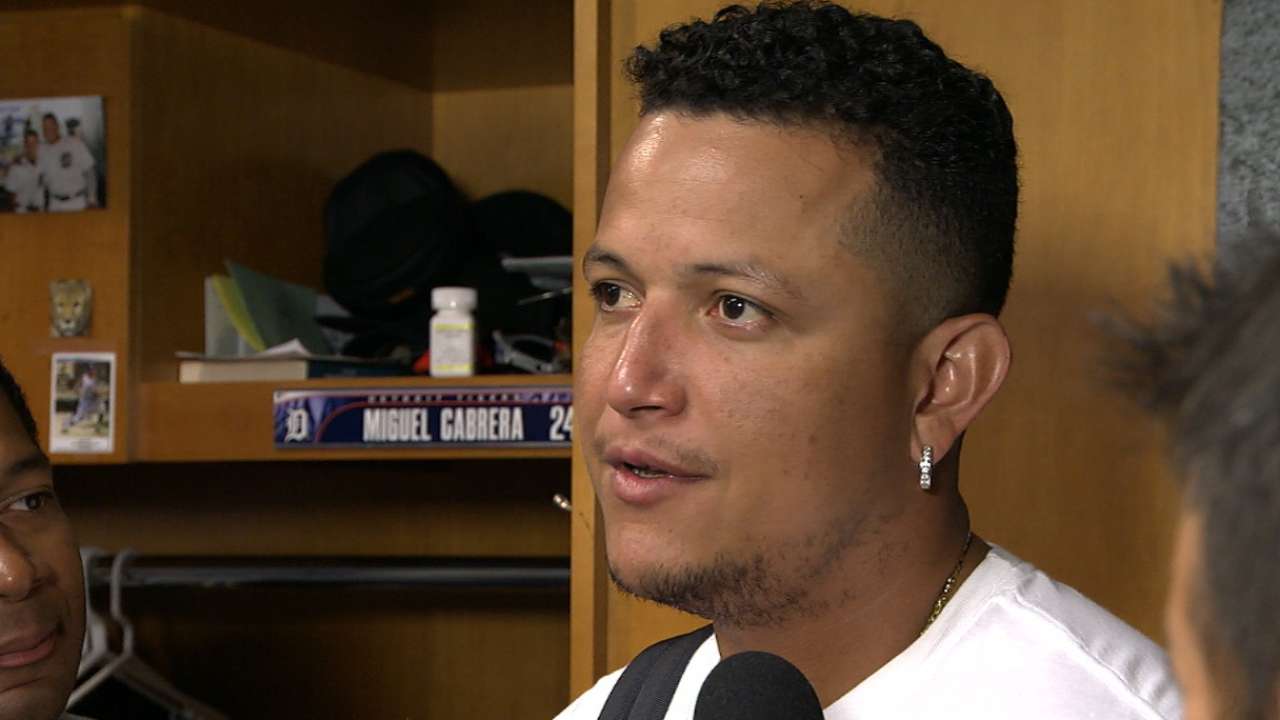 "This is fun," Cabrera said Wednesday. "It doesn't matter what people say, like, we're not going to make it, we're not going to do this. We hear a lot of bad things, but we've always got to stay positive. Let other people say the negative things, but we have to stay positive.
"It doesn't matter if we lose or win. We have a chance, and we have to believe."
Chad Thornburg is a reporter for MLB.com. This story was not subject to the approval of Major League Baseball or its clubs.