No burn to return: Retirement suiting Burnett
Longtime pitcher enjoying post-baseball life, got tattoo of MLB strikeout total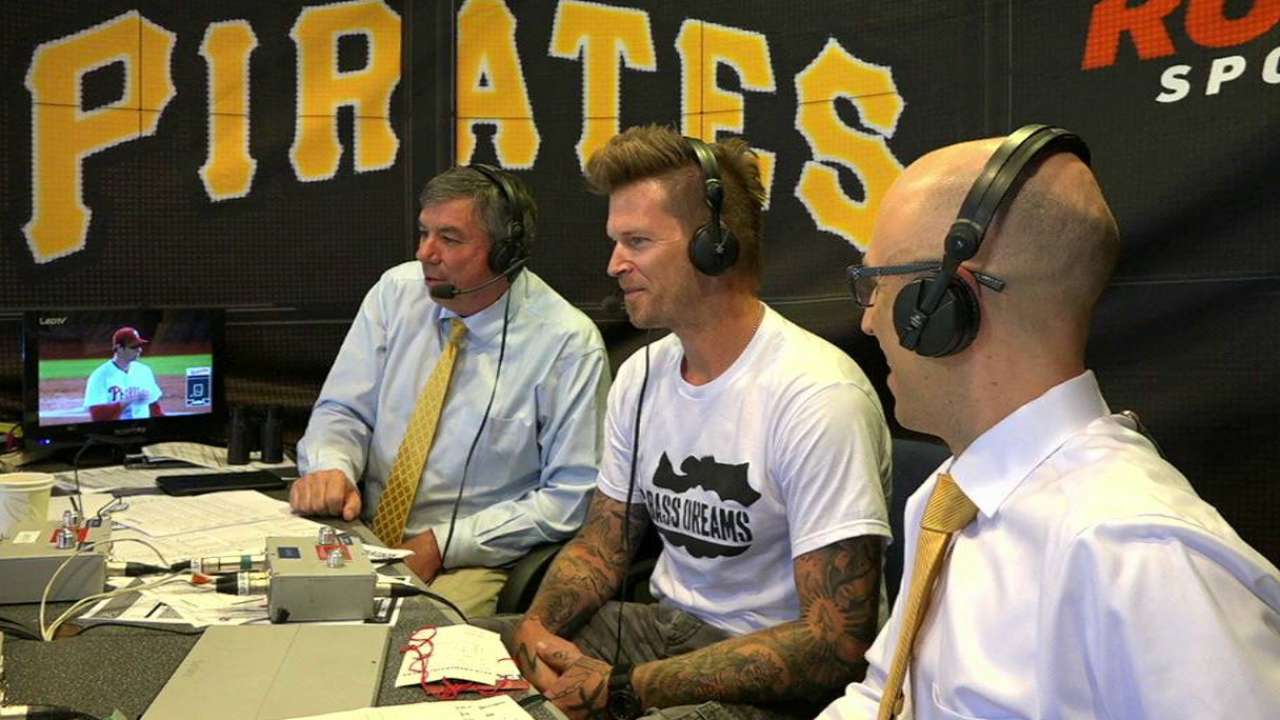 PHILADELPHIA -- Nearly a year into retirement, A.J. Burnett isn't contemplating a comeback. The proof is in ink across the fingers on his right hand: 2-5-1-3, his career strikeout total.
It was also evident in the way Burnett spoke Thursday, when he made the trip northeast to see his former Pirates teammates play the Phillies at Citizens Bank Park. He caught up with Pittsburgh's coaches and players behind the cage during batting practice, where Andrew McCutchen promised him he'd hit two homers for him.
Sure enough, McCutchen went deep twice in Thursday's 15-2 win over the Phillies.
"He said, 'Give me two,'" McCutchen said. "I said all right, I'll do it. That's basically what happened."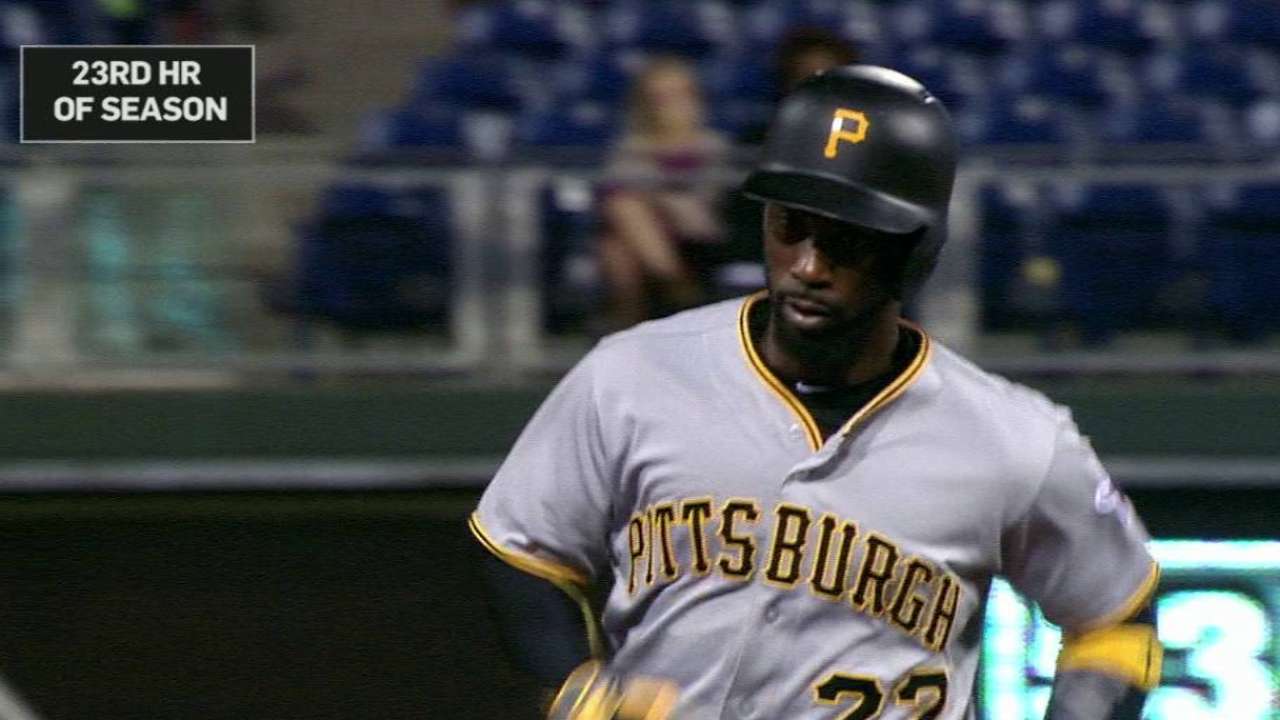 Burnett, who spent 17 seasons pitching in the Majors, is enjoying retirement. He's pouring the energy he once exerted on the mound into his sons, A.J. Jr. and Ashton.
"We've been booked up with everything. We've been taking vacations here and there. A.J. has baseball all summer. We didn't have time to do anything," Burnett said. "Something other than my baseball, that's what it is. You think pitching [makes you] nervous in the big leagues. Watching your son pitch, it's a million more times nervous."
That's not to say Burnett doesn't miss life in the Majors. It still pulls at him every day, he said. But he's filling his time helping out with his son's baseball practices, diving into math homework and working around the house.
Did he ever think about trying to come back?
"For about a day this summer. Then I was like, I'm good," Burnett said. "Everything I'm doing at home right now is outweighing everything else. I used to think I could still do it. I'm sure maybe I could. Once I left last year, the way I got to leave, no need."
A surprise visit from @wudeydo34 here in Philly pic.twitter.com/wHTJ0OHf1l

— Pirates (@Pirates) September 15, 2016
That's why Burnett felt secure getting his strikeout total tattooed on his fingers. But he waited until he was completely sure his career was over.
"I had a drawing of a plus, then some numbers over here," Burnett said, pointing to the other side of his hand. "Funny stuff going on."
Burnett spent the majority of his career elsewhere, pitching for the Marlins, Yankees and Blue Jays before he joined the Pirates. But Pittsburgh still holds a special place in his heart, as do the men with whom he shared PNC Park's home clubhouse. He doesn't follow baseball full-time, but he gets MLB At Bat app notifications to keep up with the Pirates and former Bucs Neil Walker and Pedro Alvarez.
Thursday was his first post-retirement trip to a big league ballpark, but he's hoping to make one more in the near future.
"I told them they needed to get on a roll so I can come to Pittsburgh in October and watch a game," Burnett said. "September's booked, so they need to play in October."
Adam Berry has covered the Pirates for MLB.com since 2015. Follow him on Twitter at @adamdberry. This story was not subject to the approval of Major League Baseball or its clubs.