Kuhl runnings for rookie in homecoming start
Righty carries perfect game through four in front of family, friends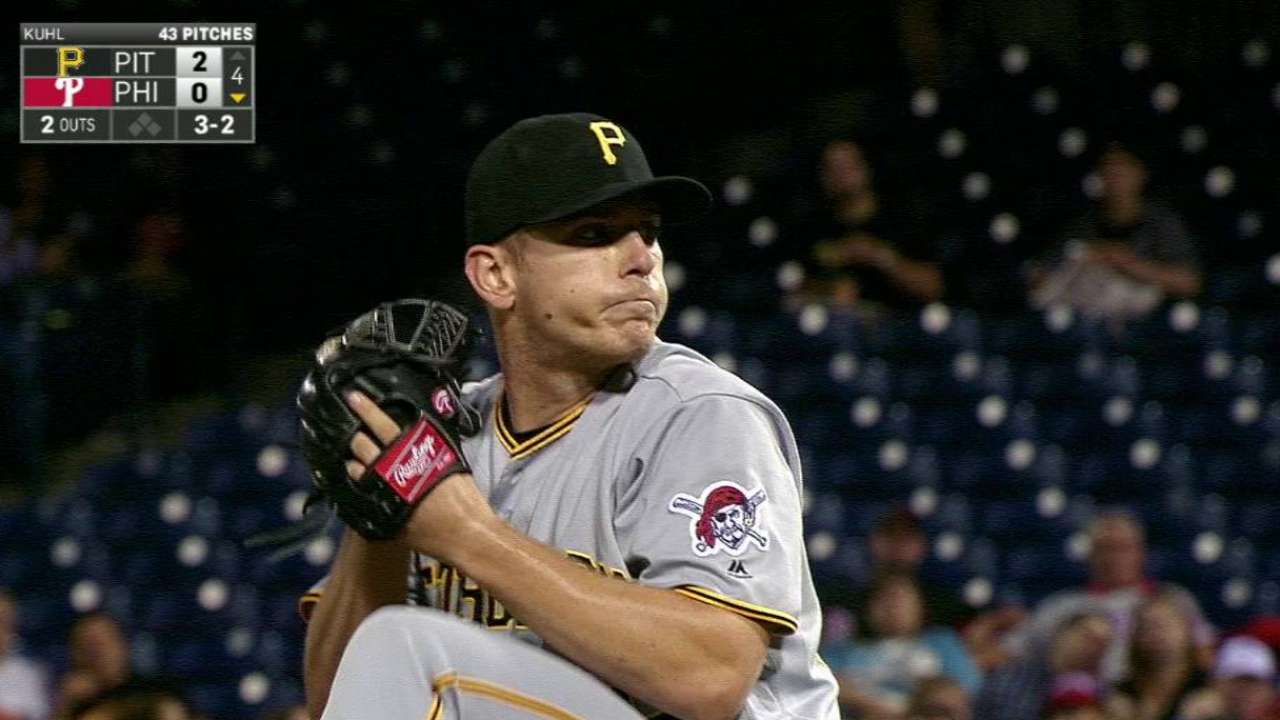 PHILADELPHIA -- Chad Kuhl looked refreshed and recharged Thursday night. He was clearly energized, due either to the extra time off he just received or the idea of pitching in front of family and friends -- or perhaps a combination of both. But he didn't look nervous.
"I definitely hid it very well, then," Kuhl said. "I was extremely nervous."
Kuhl channeled that nervous energy into his well-rested right arm and put together a gem in front of more than 100 family, friends and family friends at Citizens Bank Park. The rookie and native of nearby Bear, Del., threw six efficient innings, allowing two runs on four hits and striking out five without a walk.
He had plenty of support, too -- and not just the offensive eruption Pittsburgh provided in a 15-2 romp over the Phillies.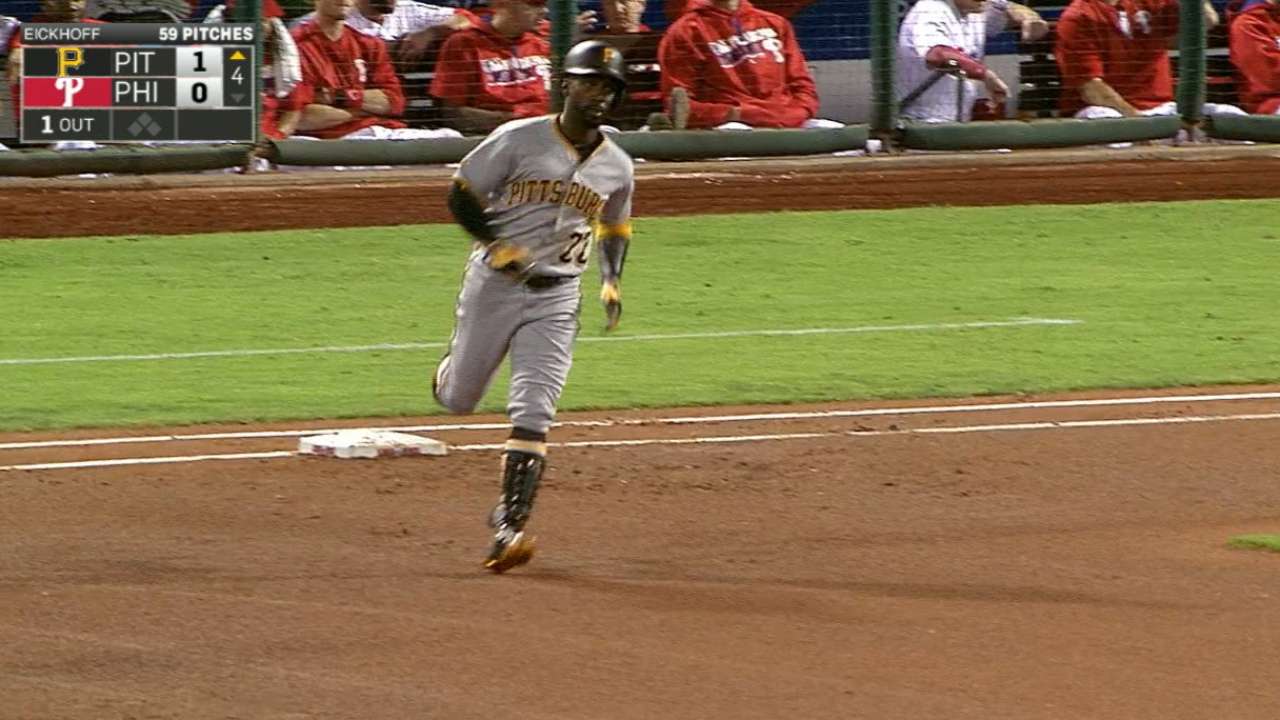 "I now can realize what it must have been like when Chad pitched Little League games," manager Clint Hurdle quipped. "We had 45 of his closest, dearest, most intimate friends right over the top of the dugout all night long. Very entertaining."
How entertaining?
"Every time he'd pitch or hit, they'd get really loud," Andrew McCutchen said. "That had to help him out a little bit. You could see he had that extra oomph behind him."
Indeed, Kuhl put on a show for his hometown crowd, overcoming the nerves that crept up as soon as he stepped on the bullpen mound to warm up. He saw former coaches, old friends, people he hadn't talked to since he was 12 years old or attending Middletown High School.
"I was definitely amped up," Kuhl said. "It was something that I was looking forward to. Thankful that I got the opportunity to start here."
The 24-year-old right-hander did his best to block out the anxiety, however, and focus on pitching. He struggled in his last start, which Hurdle mostly chalked up to fatigue. So the Pirates skipped Kuhl's last turn through the rotation, hoping the additional time down would keep him strong over the final few weeks of the season.
It appeared to work. He regained a quick and efficient pace on the mound, firing four perfect innings with only 55 pitches. As far as Kuhl could remember, it was the deepest he's carried a perfect game in his professional career.
He gave up two runs in the fifth and left after six innings, the limit the Pirates set for him entering the night. But even an abbreviated start from Kuhl provided welcome length for the Pirates. It was their first start longer than five innings from anyone but Ivan Nova since Sept. 3.
"I do think the time down helped. It seemed like the hometown crowd helped," Hurdle said. "He pitched a very effective game. … That was what we were looking for coming out of the chute for him."
The Pirates weren't necessarily looking for such a pro-Pittsburgh crowd in Philadelphia. But they got that from Kuhl, too.
"They kept telling us it was a home game," Hurdle said.
Adam Berry has covered the Pirates for MLB.com since 2015. Follow him on Twitter at @adamdberry. This story was not subject to the approval of Major League Baseball or its clubs.