Yankees plan Sept. 29 tribute for Ortiz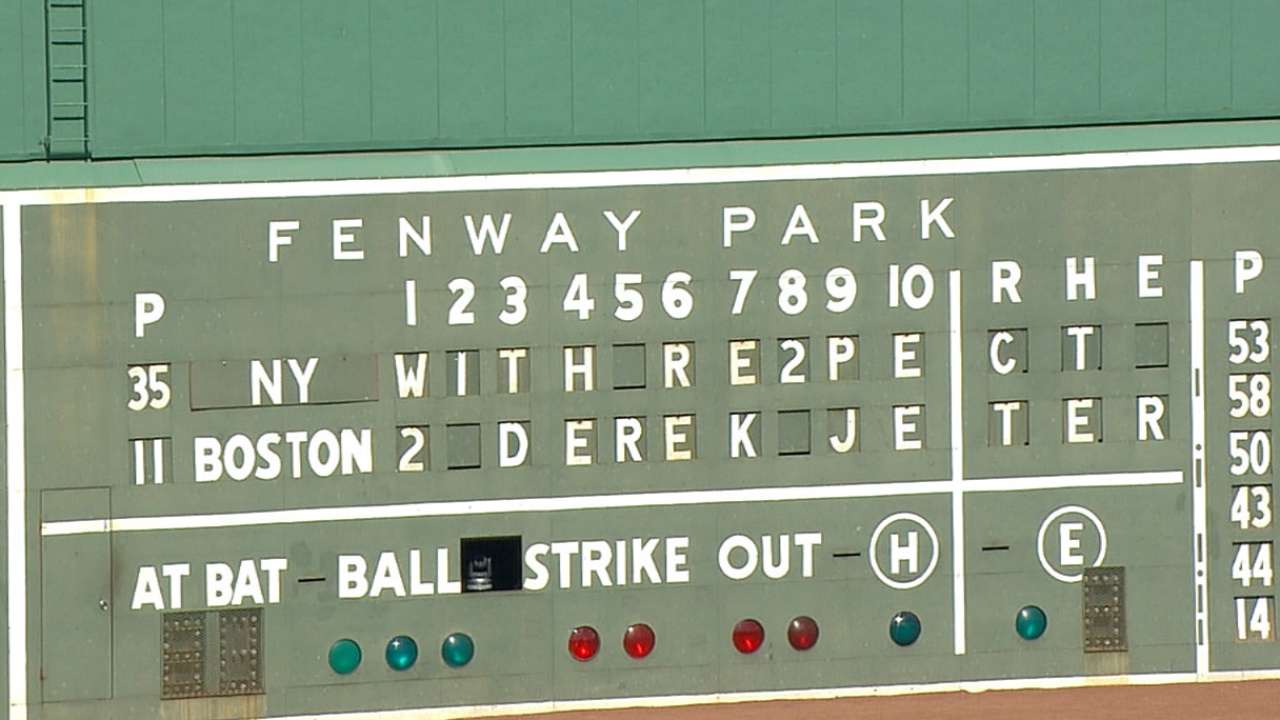 BOSTON -- The Yankees have announced before Thursday's 7-5 loss to the Red Sox that they will recognize Boston designated hitter David Ortiz in an on-field ceremony on Sept. 29 at Yankee Stadium, prior to their 7:05 p.m. ET game against the Sox.
The club did not release further details about the ceremony, but it will likely mimic what Ortiz has experienced around the Majors this year as he plays out his final season. Ortiz revealed in February that he has been thinking about how he'd like to exit the Bronx.
"You know what I want most of all?" Ortiz told the New York Post. "I would love it if the fans at Yankee Stadium gave me a standing ovation."
The contest will mark Ortiz's final regular-season trip to Yankee Stadium.
"I think we've been through it enough on the other side that we kind of understand what to expect," Yankees manager Joe Girardi said. "Guys have been through it, and we understand why it takes place. He's been a great player for a long, long time, and he's been really good for the game of baseball."
• Red Sox pay tribute to Mo with elaborate ceremony
Ortiz entered play on Thursday as a .305 (266-for-873) lifetime hitter against the Yankees with 52 home runs and 166 RBIs, having played a key role in their head-to-head battles over the years. Ortiz sparked Thursday's late rally with his 537th career homer, which moved the 40-year-old past Mickey Mantle, into sole possession of 17th place on the all-time list.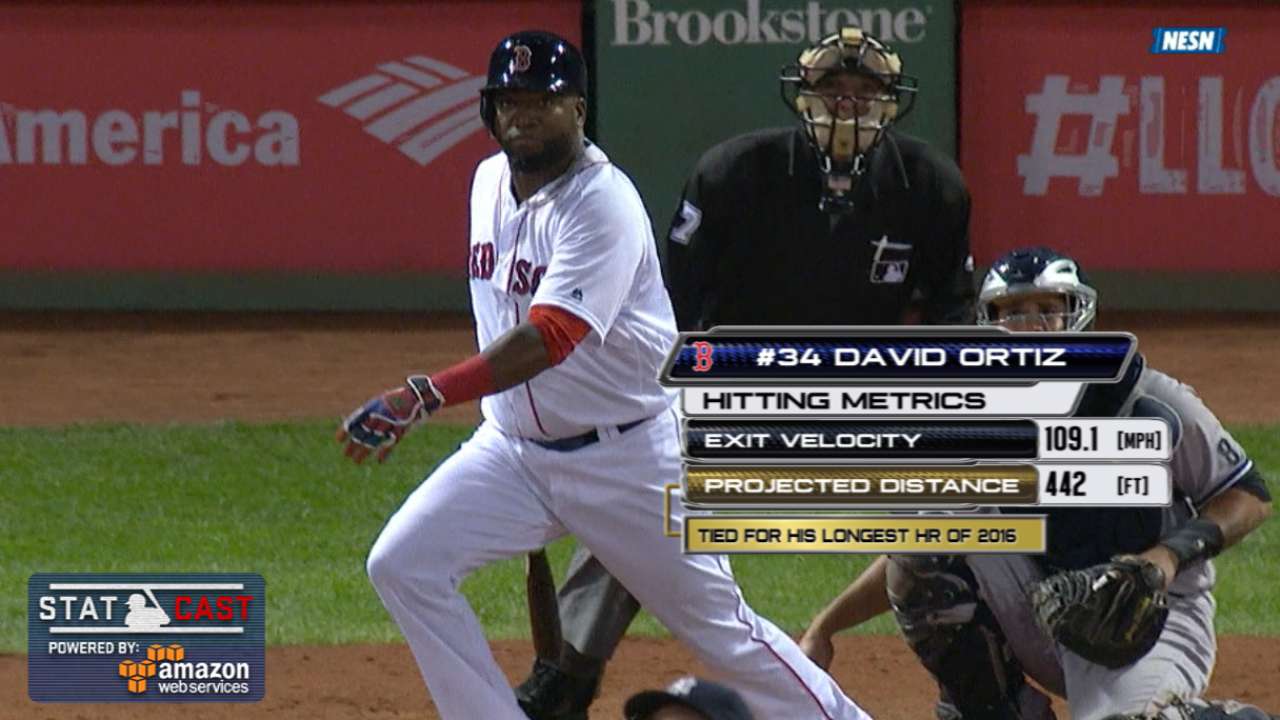 "Big Papi" crushed Yankees hurlers to a 1.025 OPS in 56 games at the original Yankee Stadium and is batting .234 (52-for-222) with 15 homers and 32 RBIs in 58 games at the current facility.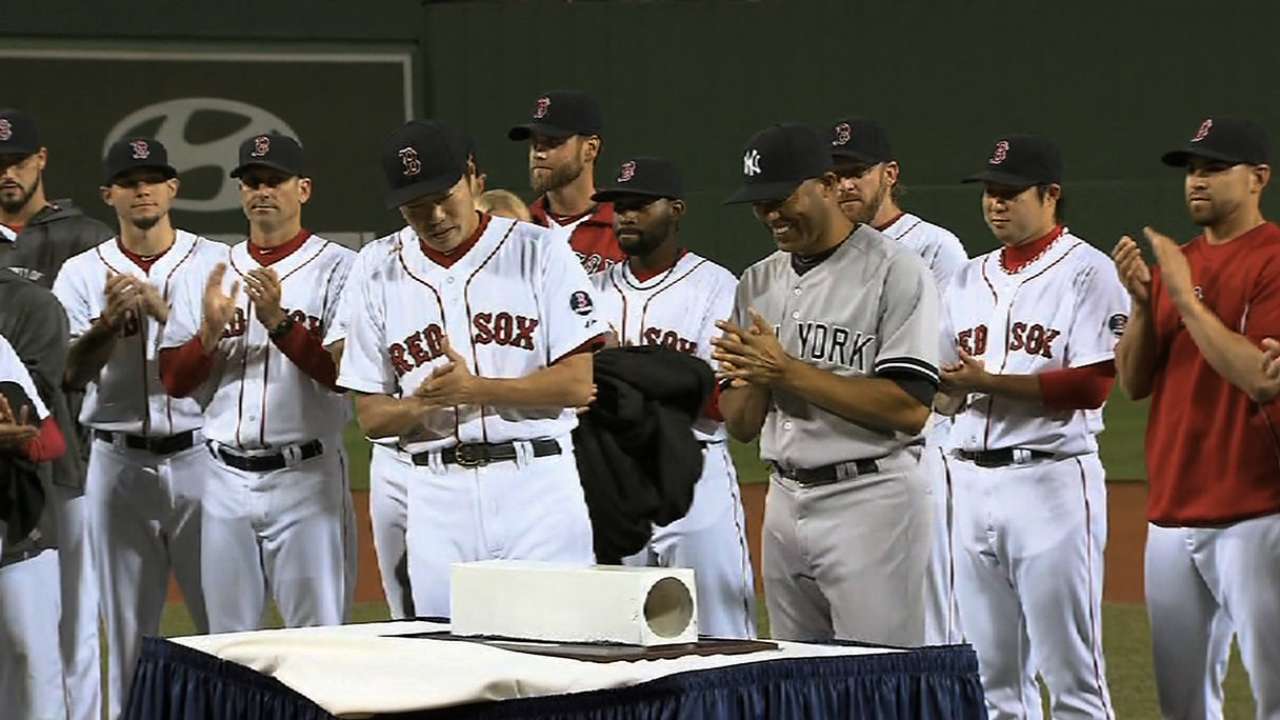 Ortiz and Yankee Stadium are connected in another way. In April 2008, one year before the new Stadium opened its gates, construction crews used jackhammers to remove a hidden Ortiz jersey from the service level of the ballpark. The resulting hole has been preserved and is still visible today between home plate and the third-base clubhouse.
• Red Sox toast Jeter prior to Fenway farewell
The Red Sox held ceremonies to honor retiring Yankees stars Mariano Rivera in 2013 and Derek Jeter in '14, with Jeter's final game having been played at Fenway Park on Sept. 28, 2014. Both players received gifts from the Red Sox organization.
Bryan Hoch has covered the Yankees for MLB.com since 2007. Follow him on Twitter @bryanhoch, on Facebook and read his MLBlog, Bombers Beat. This story was not subject to the approval of Major League Baseball or its clubs.