MLB.com Columnist
Jim Callis
Ranking this year's rookies based on long-term value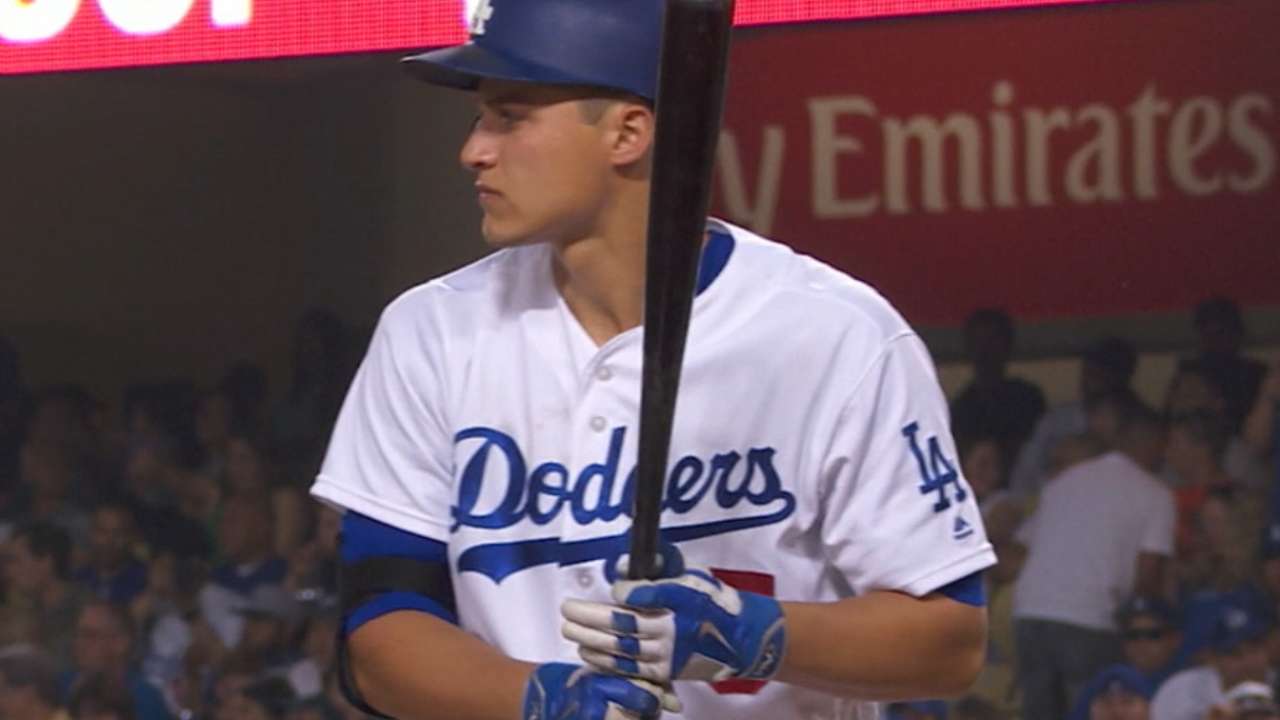 It seems a given that Seager, who's a legitimate National League MVP Award candidate, and Michael Fulmer, who could lead the American League in ERA if he pitches enough innings to qualify, will win the league Rookie of the Year awards. But which of this year's rookies will have the best careers? We rank them below.
Only players who have exhausted their rookie eligibility or are on pace to do so before season's end were considered, which is why Yoan Moncada and Lucas Giolito are absent. So too are Andrew Benintendi and Aaron Judge, who likely would have exceeded the 130 at-bat limit if not for late-seasons injuries. Yulieski Gurriel and Kenta Maeda, who are quite talented but have fewer productive seasons left than rookies five and 10 years younger, don't make the cut as well.
1. Corey Seager, SS, Dodgers
He entered the season as the consensus No. 1 prospect in baseball and could finish it with 200 hits and 30 homers. This is only the beginning for Seager, who potentially has batting championships and NL MVP Awards in his future.
2. Alex Bregman, 3B/SS, Astros
The Brady Aiken saga has worked out well for the Astros, who turned the compensation pick they got for not signing the No. 1 choice in the 2014 Draft into Bregman (the No. 2 selection in 2015). His bat and makeup are beyond reproach, and his power and defensive versatility are better than expected.
3. Byron Buxton, OF, Twins
The Twins didn't do Buxton any favors by rushing him, but since he got his first extended time in Triple-A, he has batted .311/.364/.705 with six homers in 17 September games. Small sample size, sure, but he still has better tools than most big leaguers and is just 22.
4. Julio Urias, LHP, Dodgers
The ridiculously precocious Urias earned his first two Major League wins before he turned 20 on Aug. 12. Though he's still on a tight innings count -- he'll spend the rest of the year in the bullpen -- he was the Dodgers' most reliable starter down the stretch as they took control of the NL West.
5. Trea Turner, OF/INF, Nationals
The Nationals hesitated to make him a starter until the second half, but Turner has batted .348/.367/.581 with 11 homers and 27 steals in just over a third of a season since they came to their senses. He won't maintain those numbers, but he does have game-changing speed, more pop than most burners and the capability of playing center field, second base or shortstop.
6. David Dahl, OF, Rockies
Significant injuries derailed him in 2013 and '15, but a fully healthy Dahl showed what he could do this year by chasing a 25-25 season (combining his stats in the Majors and Minors) and tying a big league record by hitting safely in his first 17 games. This is what a five-tool center fielder looks like, though the Rockies have played him mostly in left.
7. Dansby Swanson, SS, Braves
Part of the heist from the D-backs in the Shelby Miller trade last December, Swanson will be the face of his hometown franchise. The No. 1 overall pick in the 2015 Draft handled the jump from Double-A to Atlanta with aplomb, and while he doesn't have the offensive ceiling of the other players in this Top 10, he'll outproduce most shortstops while playing solid defense.
8. Nomar Mazara, OF, Rangers
Unexpectedly thrust into a starting role when Shin-Soo Choo strained a calf muscle in the first week of the season, Mazara has stayed in the lineup for the likely AL West champs ever since. He has an advanced approach for a 21-year-old, and he'll grow into 30-homer power.
9. Blake Snell, LHP, Rays
The Rays had a record 10 picks before the second round of the 2011 Draft, though it looks like they'll go 1-for-10. Fortunately for them, the lone keeper in the bunch is a front-line left-hander in Snell, who can miss bats with his fastball, curveball and changeup but will need to refine his command.
10. Gary Sanchez, C, Yankees
The Yankees have gone from Trade Deadline sellers to stealth contenders, thanks in large part to Sanchez, who reached 11 homers quicker than any player in Major League history. His power is for real, as is his arm strength, and he could become an All-Star after showing more maturity and receiving prowess the past two years.

The next 20
11. Steven Matz, LHP, Mets
12. Willson Contreras, C, Cubs
13. Orlando Arcia, SS, Brewers
14. Michael Fulmer, RHP, Tigers
15. Jameson Taillon, RHP, Pirates
16. Trevor Story, SS, Rockies
17. Joey Gallo, 3B, Rangers
18. Jose Berrios, RHP, Twins
19. Josh Bell, 1B, Pirates
20. Jon Gray, RHP, Rockies
21. Tim Anderson, SS, White Sox
22. Max Kepler, OF, Twins
23. Aledmys Diaz, SS, Cardinals
24. Raul Mondesi, 2B/SS, Royals
25. Cody Reed, LHP, Reds
26. Sean Manaea, LHP, Athletics
27. Dylan Bundy, RHP, Orioles
28. Archie Bradley, RHP, Diamondbacks
29. A.J. Reed, 1B, Astros
30. Jake Thompson, RHP, Phillies
Jim Callis is a reporter for MLB.com. Follow @jimcallisMLB on Twitter and listen to him on the weekly Pipeline Podcast. This story was not subject to the approval of Major League Baseball or its clubs.