Longo's 5 RBIs put crimp in O's AL East push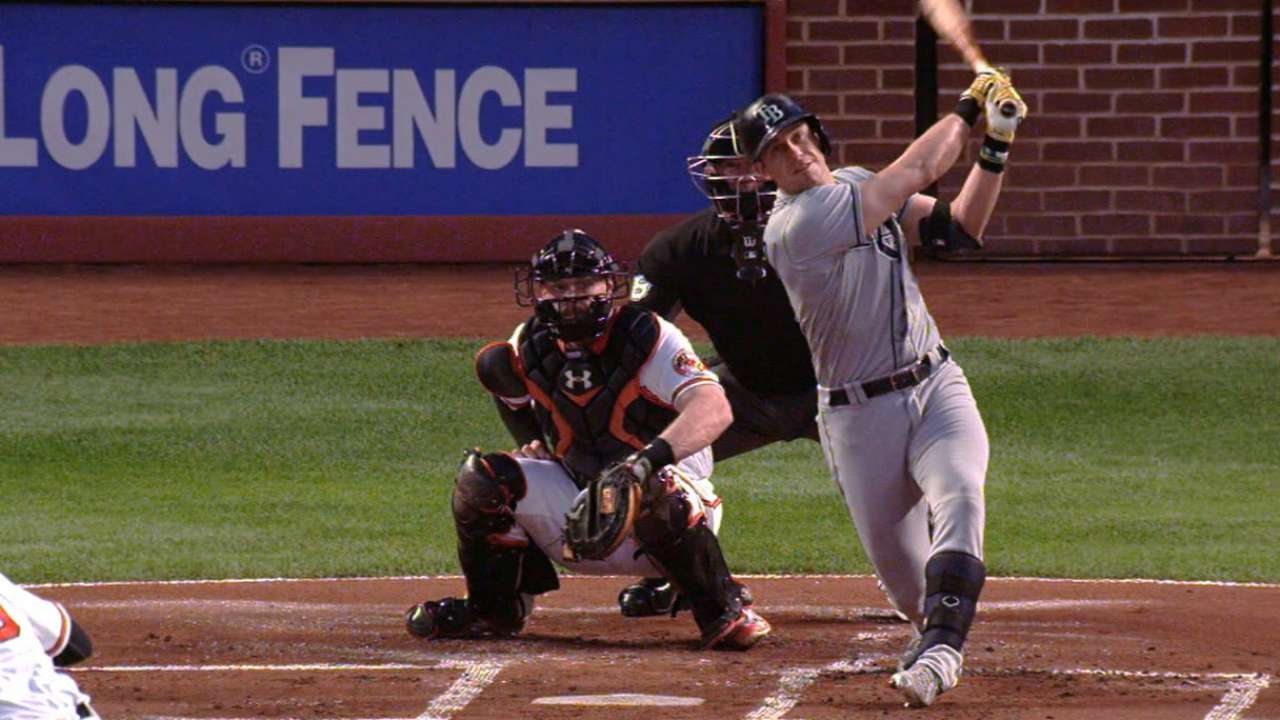 BALTIMORE -- Evan Longoria blasted a three-run homer and recorded a season-high five RBIs to power the Rays to a 7-6 win Thursday night at Camden Yards that pushed the Orioles two games behind the Red Sox in the tightly contested American League East.
The Orioles had the tying run 90 feet from home in the ninth inning with one out, but Rays closer Alex Colome struck out Mark Trumbo and Chris Davis to escape with his 33rd save of the season.
"We left a lot of opportunities out there today, but to have a chance there in the ninth inning, it's all you can ask for," catcher Matt Wieters said of the O's, who went 3-for-15 with runners in scoring position. "Didn't come through today."
Longoria's shot to center field gave Tampa Bay a three-run lead just three batters into the game, but the Rays were still forced to play from behind after the first inning. The Orioles responded in the bottom half of the first with four runs, all coming with two outs.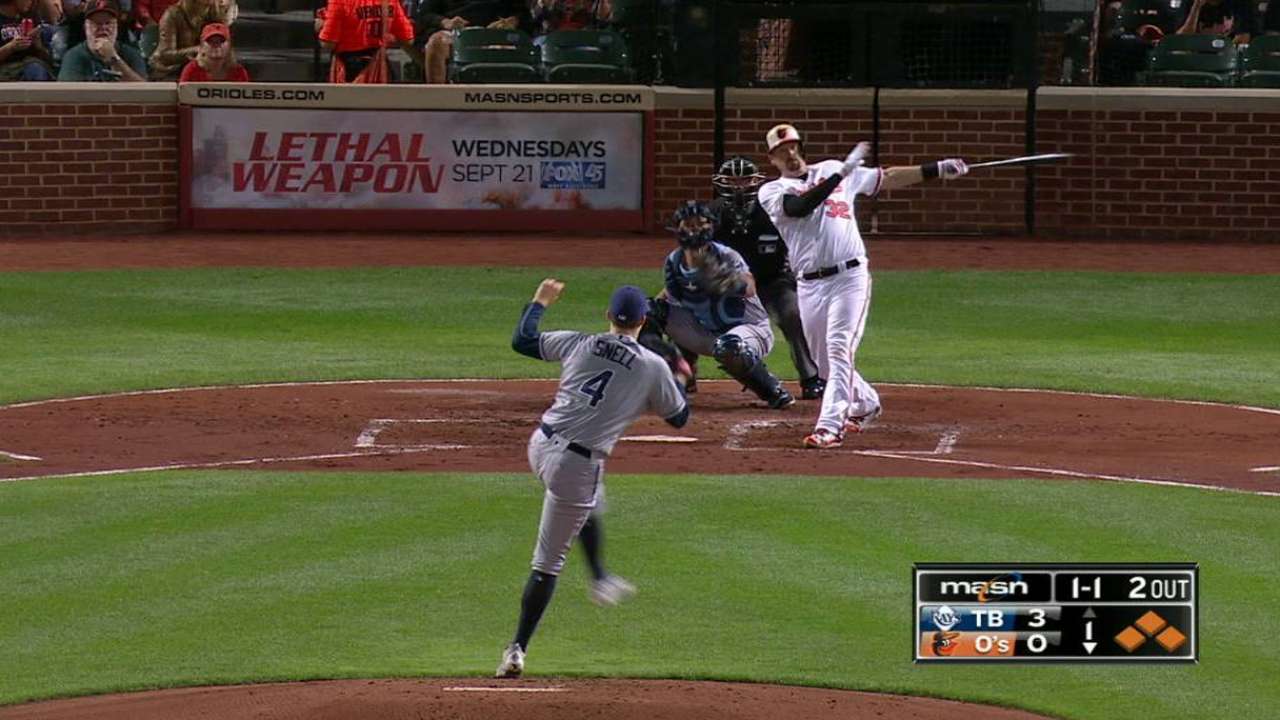 Blake Snell settled in after his rough first inning and held the Rays scoreless for the next 3 1/3 innings until he was pulled in the midst of a jam. The bullpen helped him escape and held the Orioles to two runs the rest of the way.
As the Rays limited the O's after the first, they continued to beat up on Orioles righty Yovani Gallardo, who lasted just 3 1/3 innings and allowed six runs. Tommy Hunter came on in relief in the fourth and allowed a two-run single to Longoria that gave the Rays a 7-4 cushion.
"It's frustrating for sure," Gallardo said. "I've been feeling really good. I was feeling really good coming into this start today. It just wasn't there. The command wasn't there for whatever reason. It can't happen."
After the Orioles couldn't score with runners on second and third and no outs in the fifth, they plated two runs in the eighth in the same scenario on a pair of groundouts. But they couldn't push home the tying run against Colome in the final frame.
Tampa Bay's victory is its fourth in the past five games, all coming against divisional opponents competing for a playoff spot. The Orioles trail the Red Sox, who beat the Yankees, by two games in the AL East. Baltimore and Toronto are now tied for the two AL Wild Card spots after the Blue Jays defeated the Angels.
"We're playing well," Rays manager Kevin Cash said. "I don't think we care about [being] spoilers. We're playing well. This is a great learning experience for all of us in these environments."
MOMENTS THAT MATTERED
First inning haunts Gallardo: While Gallardo has struggled this season, his biggest problem has been escaping the first inning unscathed. Thursday was no exception. The righty allowed a homer in the first for the fourth straight start and has allowed 21 runs in the first inning in his 21 starts. It's 10 more runs than he's allowed in any other inning this year.
"Every time you make a mistake to a hitter like that, he's going to make you pay," Gallardo said of the slider over the plate to Longoria. More >
Longo ties his best: Longoria got the Rays started in the first with a three-run homer on the first pitch he saw from Gallardo, giving the third baseman 33 for the season to tie his career high (2009). He's now hit 18 career home runs at Camden Yards. According to Statcast™, the blast had a projected distance of 423 feet and an exit velocity of 103 mph with a launch angle of 26 degrees.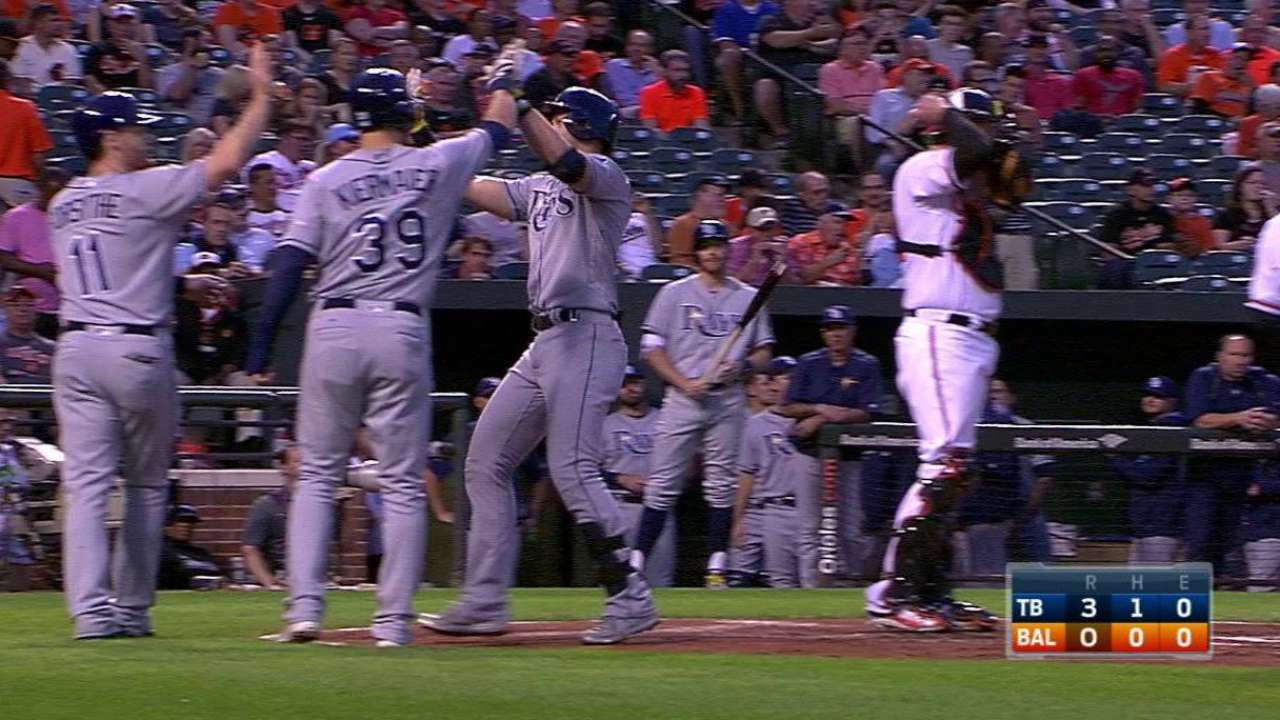 "Personally, it's been a nice year to be able to go out and accomplish that," Longoria said. "But like I always say, it doesn't really mean anything when you're not going to the playoffs."
Great escape: The Rays were protecting a 7-4 lead in the fifth when Snell walked the leadoff batter, Adam Jones. Jonathan Schoop followed with a ground-rule double to put runners at second and third with no outs. Snell recovered to strike out Manny Machado swinging for the first out. Brad Boxberger then took over, retiring Trumbo on a foul popup to first before getting Davis to ground out back to the mound for the third out.
"I think the biggest outs were what Brad Boxberger came in to get," Cash said. "I know it was unique that he came into that situation that early in the game, but that helped us win the game tonight."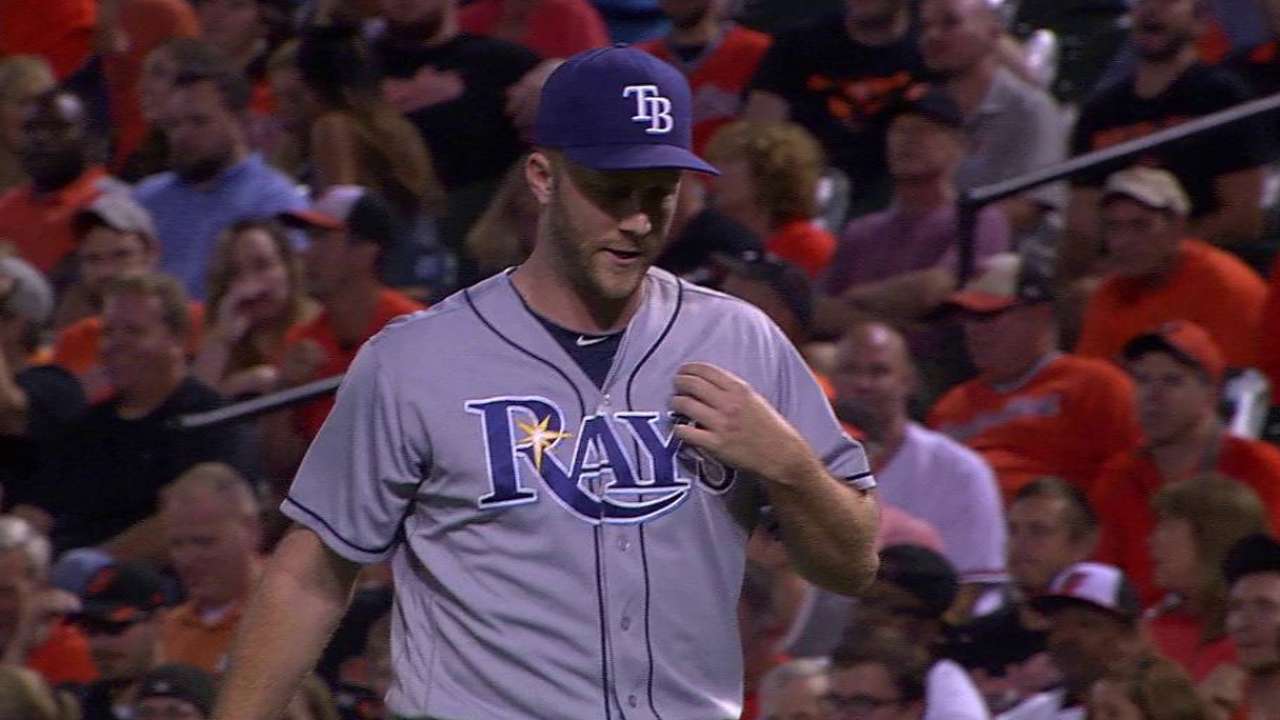 Missed chance in ninth: The Orioles routinely missed out on scoring opportunities, but they had another chance to break through in the ninth inning. Schoop and Machado recorded back-to-back one-out singles to put runners on the corners for the heart of the order. But Trumbo watched strike three while Davis went down swinging against Colome, as the O's left eight men on base for the game.
"Colome is probably one of the most underrated closers in the American League," Orioles manager Buck Showalter said. "He's got really good stuff, so you know you're going to have a tough time after the eighth inning."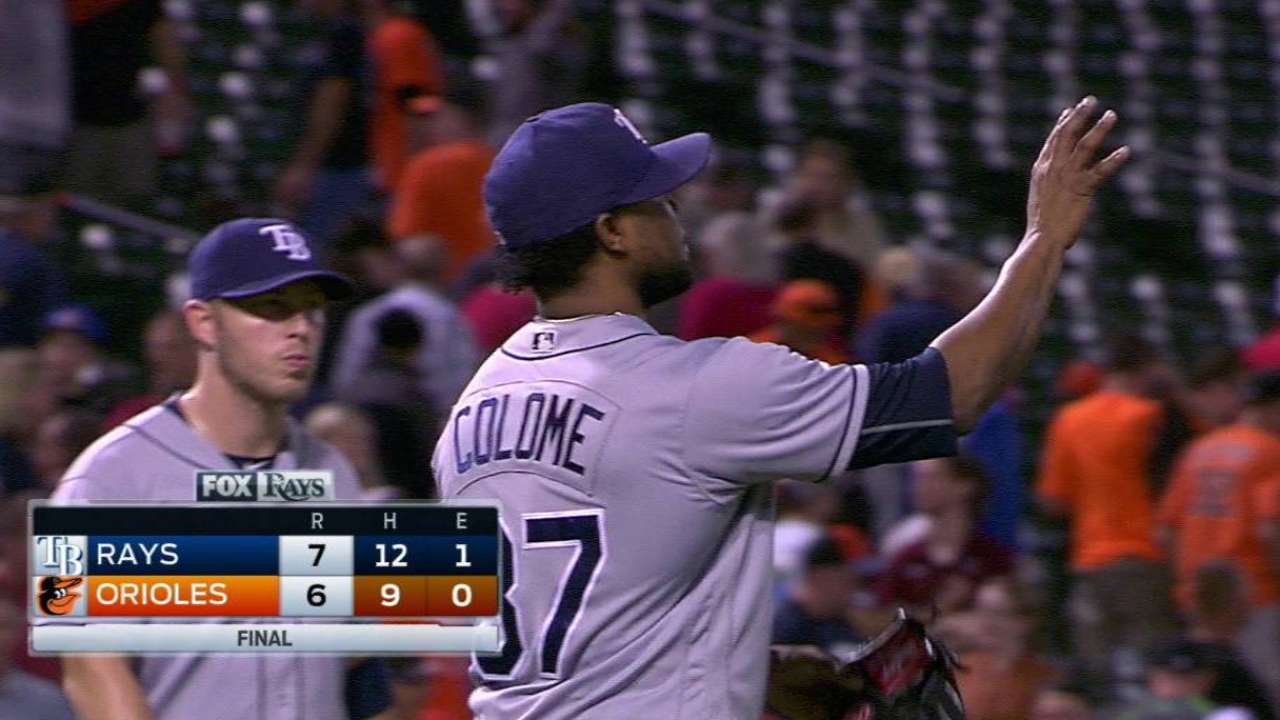 SOUND SMART WITH YOUR FRIENDS
There are times when a play you see on TV doesn't do it justice. That was the case with the catch Kevin Kiermaier made on Machado's line drive with one out in the seventh.
"It's amazing what a game-changer he is," Cash said.
According to Statcast™, the Rays' center fielder traveled 95.3 feet to make the catch, reaching a top speed of 20.3 mph with a route efficiency of 97 percent. The exit velocity on Machado's line drive to left-center was 97 mph and it had a launch angle of 23 degrees. The Major League batting average with that exit velocity and launch angle combination is .444 (52-for-117). Finally, on plays with fewer than 5 seconds hang time and less than 25 degrees in launch angle, Kiermaier's play ranks second for the 2016 season for most distance covered that resulted in an out. Houston's George Springer recorded the longest at 99.8 feet on April 22.
"I knew he hit it well, but honestly, that was an inning where the wind was doing some funky things," Kiermaier said. "If that same ball had been hit an inning later, it would have been out."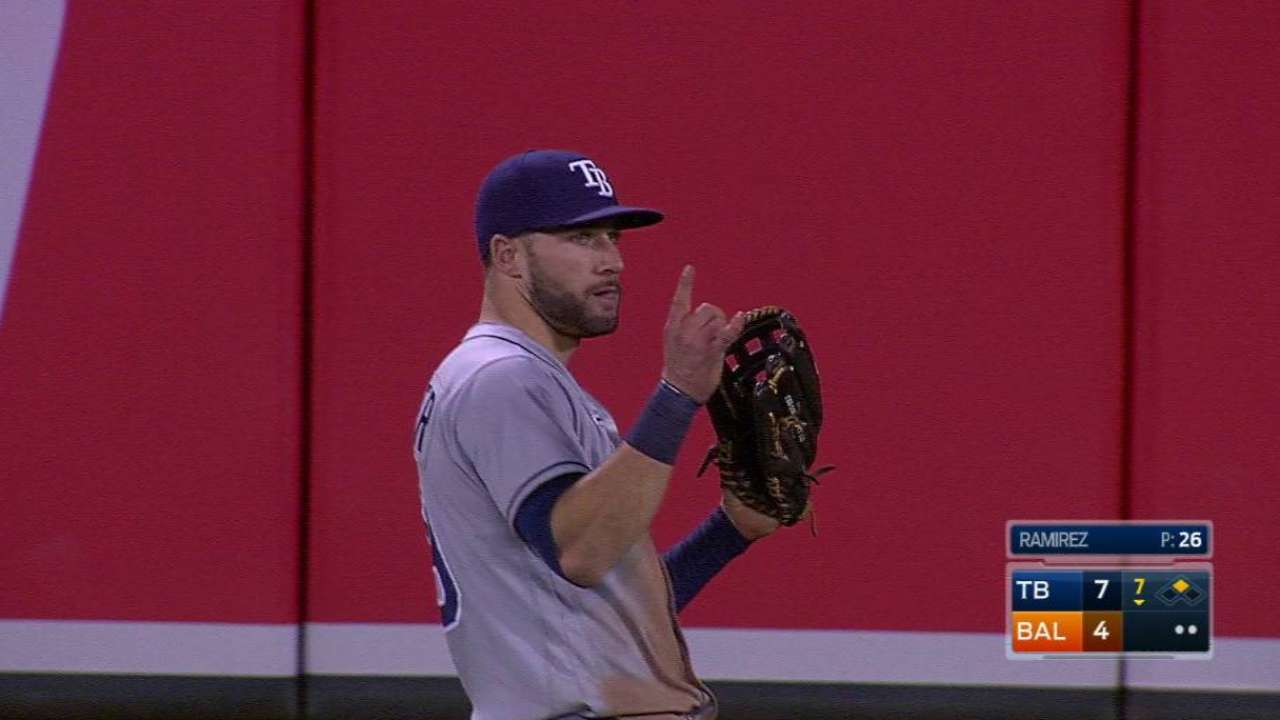 INJURY REPORT
Nick Franklin did not return to the field to play first base for the Rays in the bottom of the fifth inning after suffering a left hamstring strain while stretching out to catch the relay throw on an inning-ending double play in the fourth. Richie Shaffer took over to finish out the game.
"As of right now, I'm day to day," Franklin said. "I don't know what the protocol is for something like this. But for the most part, I'll just take it day to day and see what happens."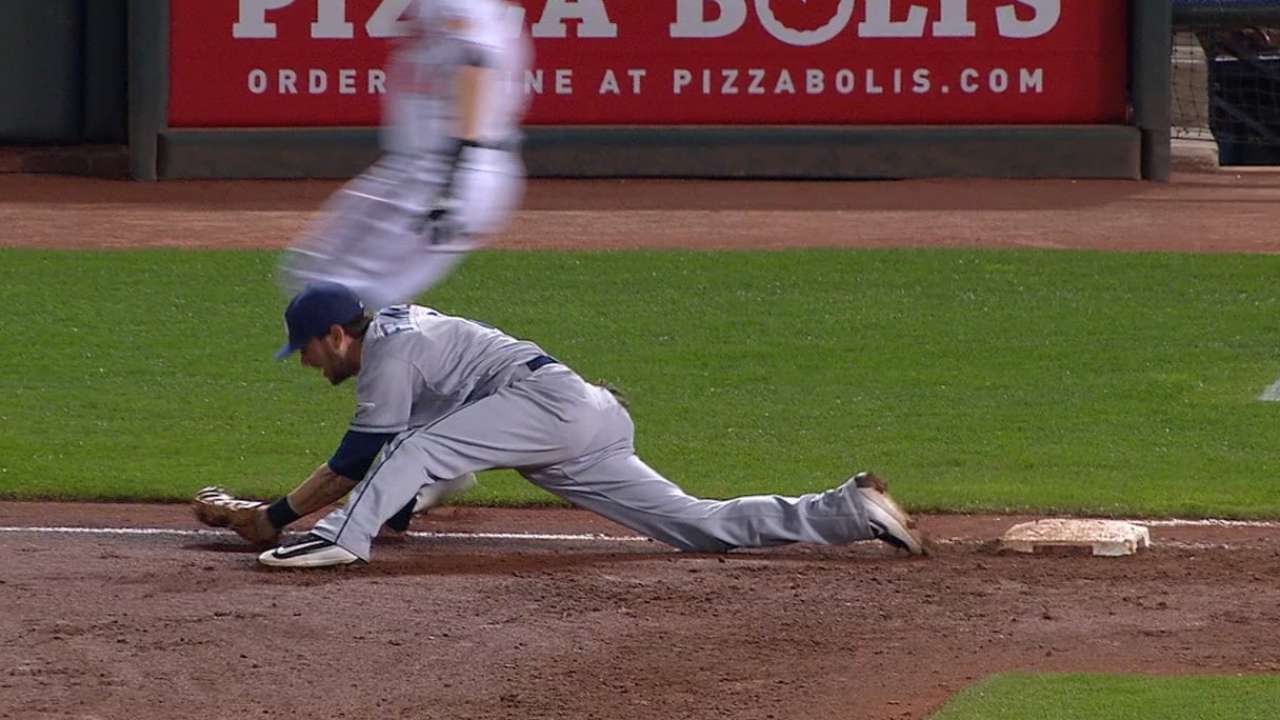 WHAT'S NEXT
Rays: Chris Archer (8-18, 4.05 ERA) will try to dodge his 19th loss of the season Friday at 7:05 p.m. ET, but he'll have to do so at a place where he's struggled. In four career appearances (three starts) at Camden Yards, he's 1-3 with a 6.41 ERA. He has been much more solid since the All-Star break (3.11 ERA) than he was before it (4.66).
Orioles: Ubaldo Jimenez (7-11, 5.98 ERA) will look to build on his strong second half when he takes the mound against a team he dominated on Sept. 5. In that start, Jimenez held the Rays hitless over the final eight innings after allowing a three-run homer in the first. It was the first complete game by an Orioles pitcher since 2014.
Watch every out-of-market regular-season game live on MLB.TV.
Ryan Baillargeon is a reporter for MLB.com and covered the Orioles on Thursday.

Bill Chastain has covered the Rays for MLB.com since 2005.

This story was not subject to the approval of Major League Baseball or its clubs.