Surging in second half, Martin hits key HR
Blue Jays catcher has 12 homers since Aug. 1, breaks game open with 3-run shot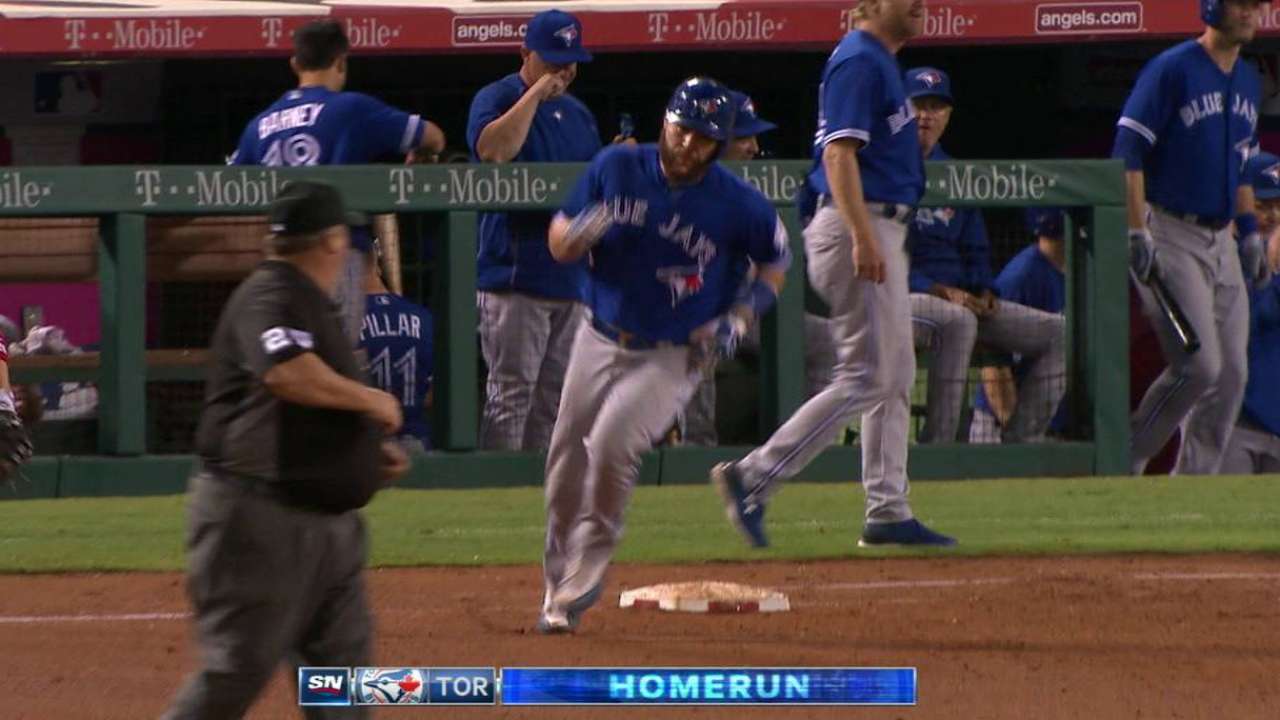 ANAHEIM -- Russell Martin has been a part of the postseason for each of the past six years. If he has any say, that number will soon increase to seven.
Martin has done more than his fair share of heavy lifting during Toronto's push for the playoffs and he was back at it Thursday night. The veteran catcher hit a key three-run homer that helped propel the Blue Jays to a 7-2 victory over the Angels at Angel Stadium.
Before Aug. 1, Martin had seven home runs. Since then, he has 12 and the sudden power surge has helped an otherwise struggling offense remain afloat in their pursuit of the American League East title or a Wild Card spot.
"Driving in runs always feels good, especially when you have a guy like [J.A.] Happ there pitching his butt off, putting up zeros for us," said Martin, whose team remains two games back of Boston in the AL East and is tied with Baltimore for the first AL Wild Card spot.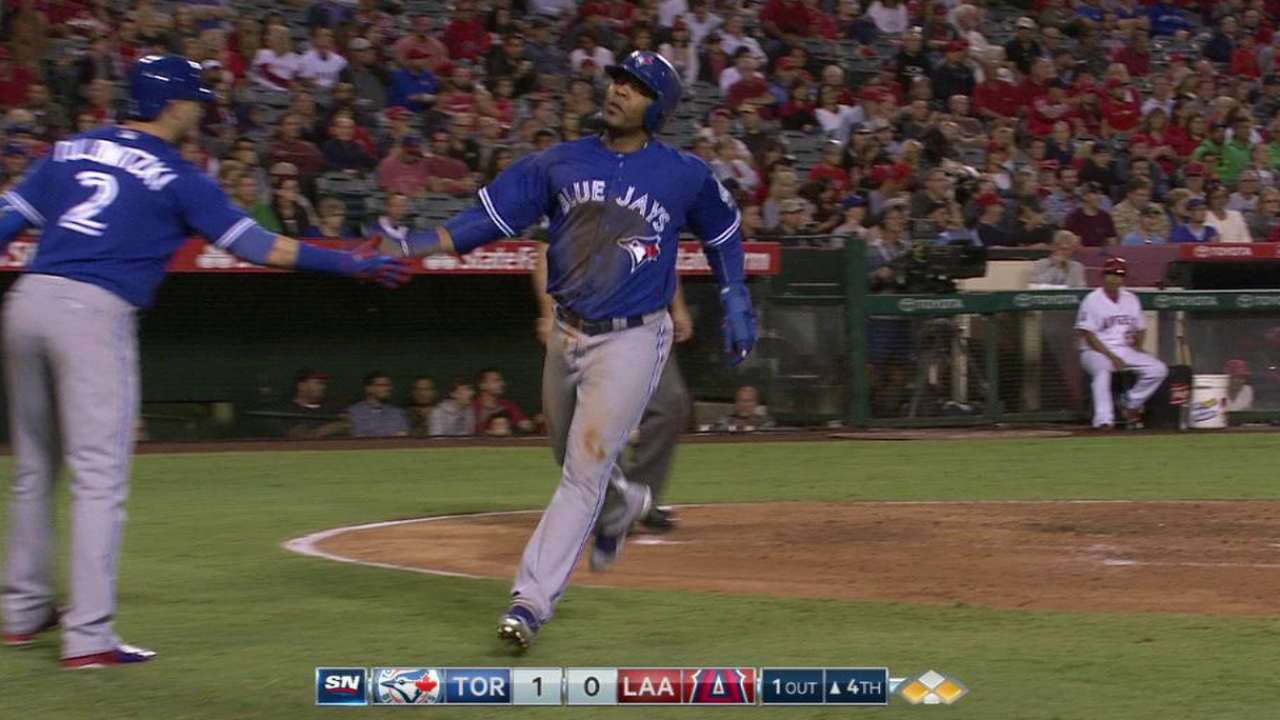 "Just widen the lead, give us a little breathing room, it gives us a chance to relax and play the game and have fun with it, instead of being on edge every time a guy gets on base and they're one swing away," Martin added. "So it's definitely nice to be able to widen the lead a little bit."
Toronto hasn't experienced much of that lately because its offense entered Thursday last in the AL with 42 runs in September. That's a stunning stat for a team that considers itself one of the best lineups in all of baseball, but has fallen on extremely hard times.
There was risk of that trend continuing during the series opener. Toronto managed just two runs through five innings against right-hander Daniel Wright, who posted a 5.82 ERA in the Minor Leagues this season. Even though the Blue Jays had the lead, they also had very little margin for error and that scenarios seem to have backfired quite a bit in recent weeks.
Martin was the one who helped alleviate any of the remaining tension. He unloaded on a 3-1 fastball from reliever Jose Valdez and sent it over the wall in left field for his 19th of the year. According to Statcast™, the ball was projected to travel 391 feet and left his bat at 111 mph. He got all of it and when you add in the fact that Josh Donaldson made his return to the lineup and went 3-for-3 with a pair of walks, it was an encouraging night overall for Toronto.
Now all the Blue Jays can hope is that it's the start of something much bigger.
"I believe in everybody on this team, but when we have our guys in the lineup it just adds depth from top to bottom," Martin said. "It makes the pitcher work out there. Everybody is collectively having good at-bats and it just seems like, when you have Donaldson back in the lineup -- your best player out there -- it's always going to be a plus. It was nice to see everybody seeing the ball well today and putting good at-bats out there."
Gregor Chisholm has covered the Blue Jays for MLB.com since 2011. Follow him on Twitter @gregorMLB and Facebook, and listen to his podcast. This story was not subject to the approval of Major League Baseball or its clubs.