Back from bruised hand, Simmons goes deep
Angels shortstop 2-for-4 with 3rd HR in past 2 games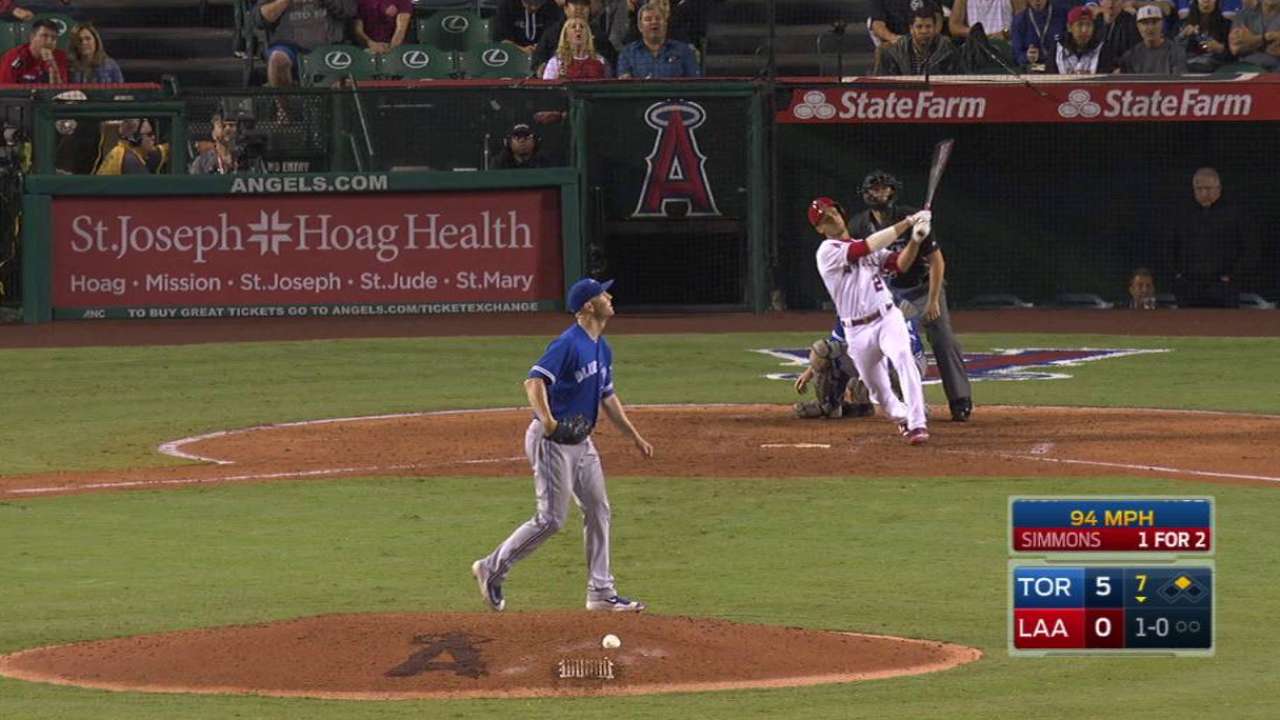 ANAHEIM -- Andrelton Simmons picked up right where he left off in his return to the Angels on Thursday.
The shortstop produced another multihit game, including a two-run home run, in a 7-2 loss to the Blue Jays in the opener of a four-game series at Angel Stadium. It was Simmons' first action after missing three games with a bruised right hand.
Simmons drove a 1-0 fastball from Blue Jays starter J.A. Happ into the visiting bullpen in the seventh inning for his fourth homer. The ball traveled a projected 382 feet with a launch angle of 24 degrees and an exit velocity of 100 mph, according to Statcast™.
The homer was a welcome sign for the Angels, as it came in the following at-bat after Simmons had jammed his hand again on an inside pitch in the fourth. He was seen shaking his hand on the field, but said there was no pain on the homer.
"It felt good," Simmons said. "Hitting homers makes everything a little better."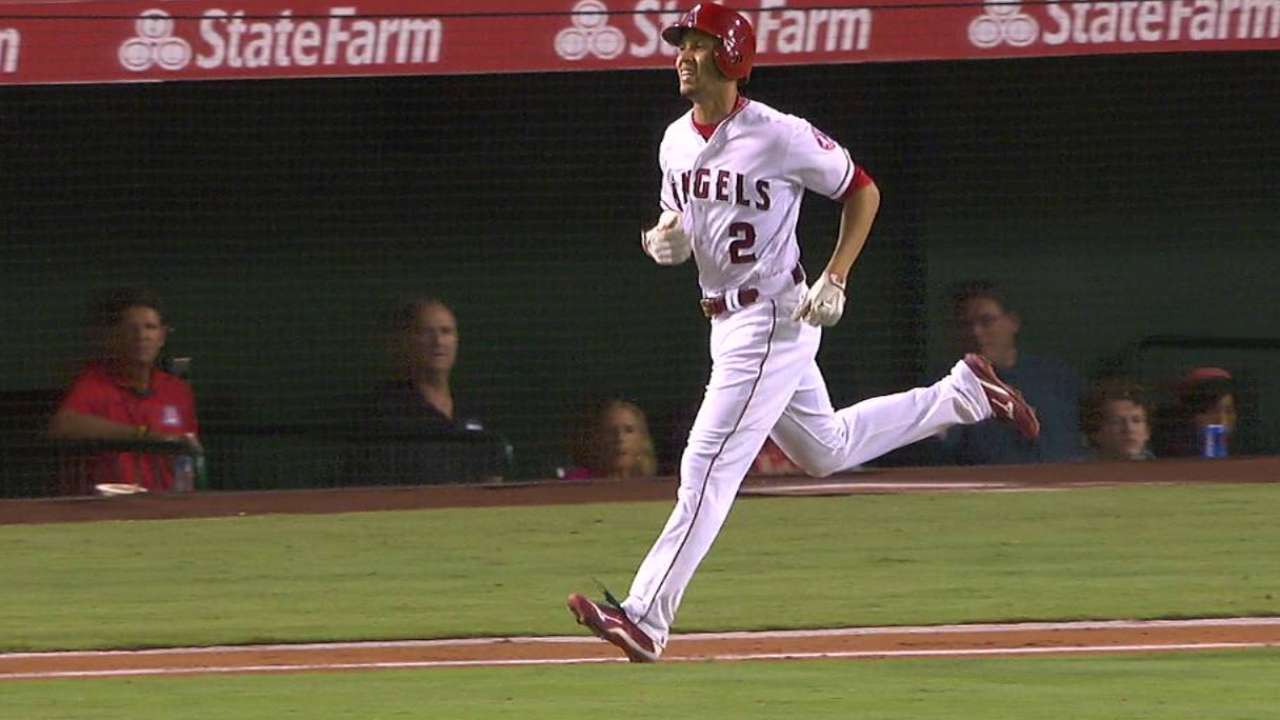 Simmons has three homers in his past two games, having gone deep twice Sunday before injuring his hand when he collided with the Rangers' Carlos Gomez on a rundown in the eighth inning of a 3-2 Angels win. Simmons is the third Angels shortstop in club history with three or more homers in a two-game span, joining Jim Fregosi (July 23-24, 1965) and Freddie Patek (June 20, 1980).
"The last couple games, he's gotten some pitches and hasn't missed them, drove them out of the park," Angels manager Mike Scioscia said. "He always tells us he's got more pop and he's showing it right now."
In his first at-bat since Sunday, Simmons singled to right to extend his hit streak to nine games, during which he has six extra-base hits and four games with multiple hits. Simmons is hitting .375 (27-for-72) over his past 18 games.
After going 329 plate appearances between his first and second homers of the season, Simmons has three homers in his last seven plate appearances. He said improved pitch selection has been pivotal in his resurgence at the plate.
"It took a little bit," said Simmons, batting .309 since the All-Star break. "Just approach. Instead of swinging at strikes, just looking for a particular pitch and waiting for that pitch. It doesn't happen every time. But I've been doing a better job at it, especially the second half."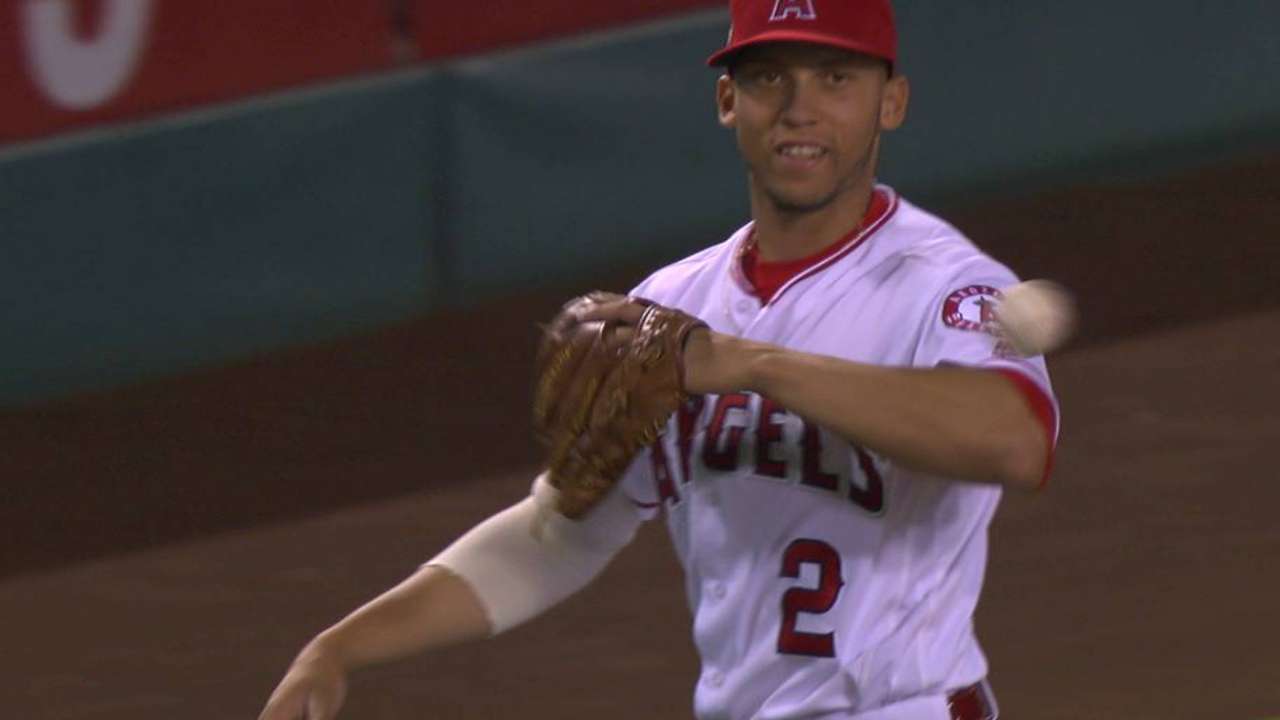 Simmons came to the plate in the eighth with two men on and two outs in a 5-2 game, but he grounded out sharply to third.
The Angels acquired Simmons in an offseason deal with the Braves. He hit 17 homers in 2013 with Atlanta, his second season in the Majors. Since then he's managed 15 homers. Simmons' .288 average is his highest since he batted .289 in 49 games a rookie in '12.
"I think that he's a better offensive player than he showed sometimes early in the first half and we're seeing him come alive," Scioscia said. "Obviously his defense is a difference maker, but at the plate, he's swinging the bat well."
Austin Laymance is a reporter for MLB.com. This story was not subject to the approval of Major League Baseball or its clubs.