Angels' Skaggs hoping to make another start
Lefty has followup with doctor, who says elbow's fine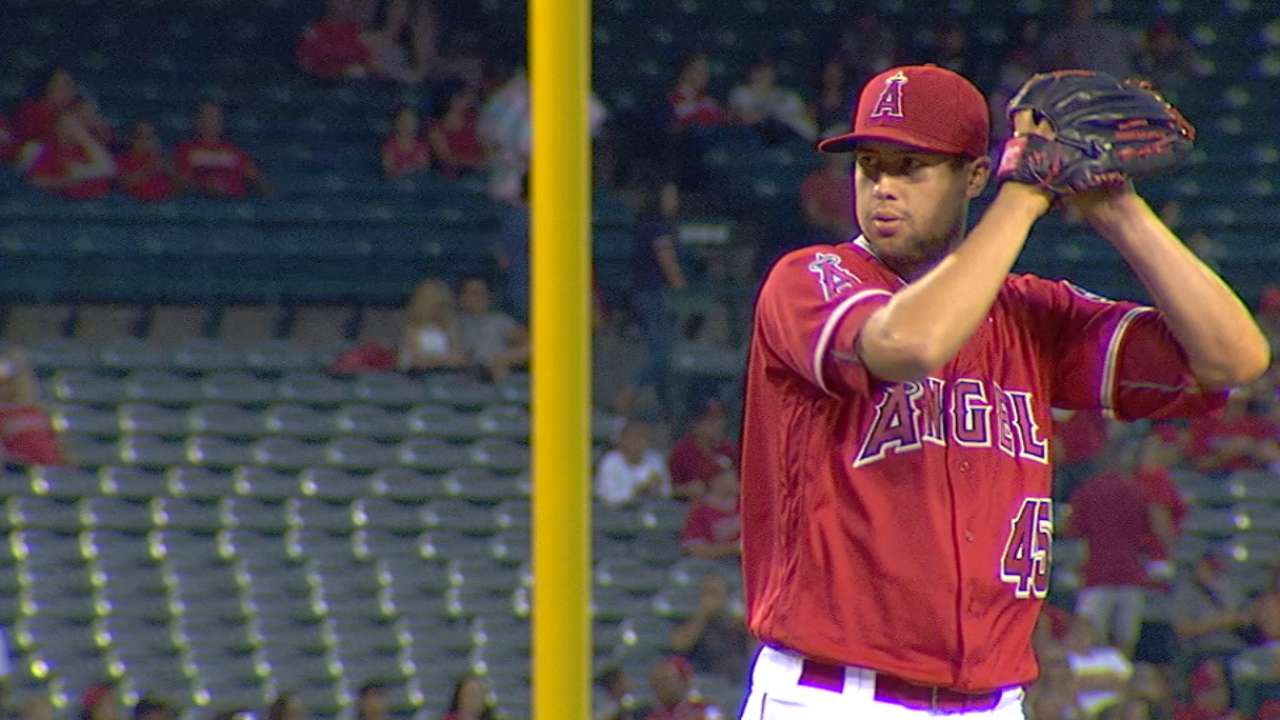 ANAHEIM -- The Angels have some important decisions to make with left-hander Tyler Skaggs moving forward.
Skaggs, in his first season back from Tommy John surgery, is dealing with a mild flexor pronator strain in his left forearm, which forced him to miss his scheduled start Wednesday. An MRI on Wednesday showed no structural damage in his elbow, and Skaggs had a followup Thursday with Dr. Neal ElAttrache, who performed his Tommy John surgery in August 2014.
"He said it was good," Skaggs said. "I'm hoping to play catch on Monday. Maybe make another start. We'll see."
The Angels just aren't sure where or when Skaggs' next start will be.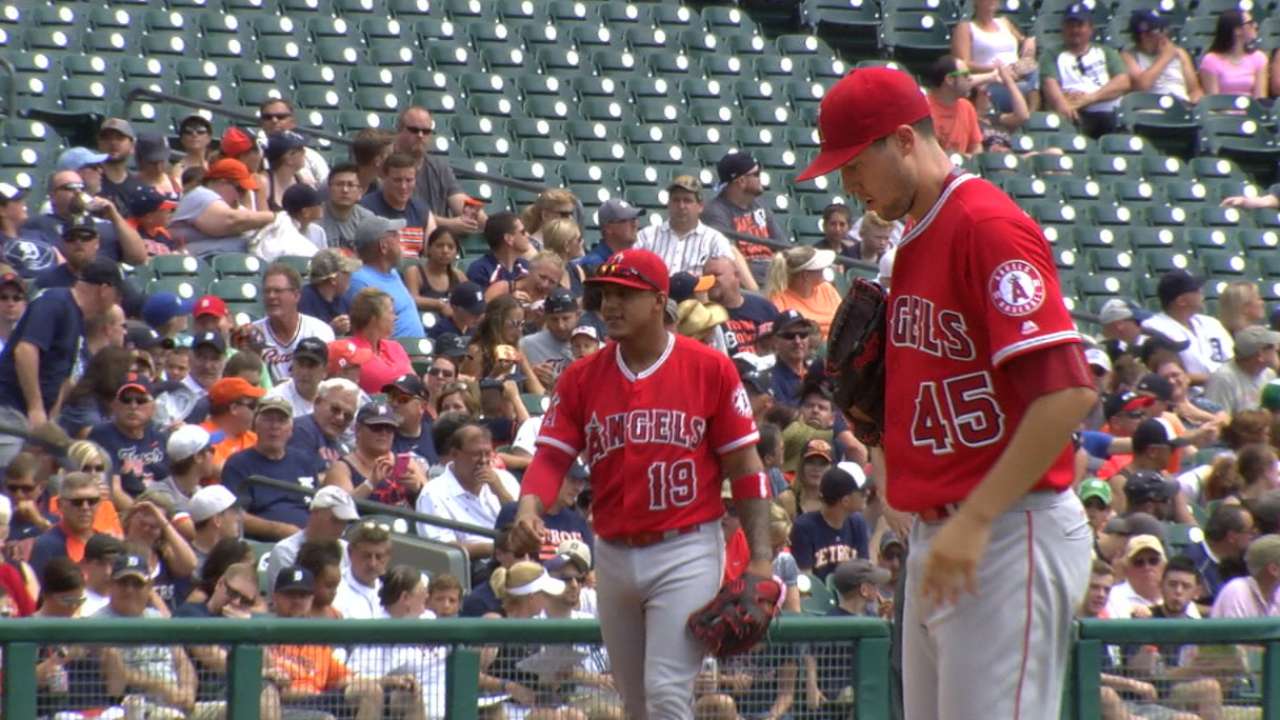 If Skaggs responds well to treatment, Angels manager Mike Scioscia said there's a chance he pitches in a Major League game before the season ends Oct. 2. Another possibility is for Skaggs to pitch next month in the Instructional League.
"What I think is important for Tyler right now is to get over this little hiccup, finish the year healthy and pitching somewhere," Scioscia said, "whether he goes down to Arizona and throws a little bit in Instructional League, just to know that he's over this little bout and then we'll obviously get him into his offseason conditioning program and ready for the spring."
However, Scioscia made it clear the Angels are not setting any timetable for Skaggs to pitch again.
"Believe me, we're going to be ultra conservative with this whole thing," Scioscia said. "We're not putting any timetable saying he's got to pitch here or he's got to pitch there. This thing is going to run its course and when he's ready to pitch -- if he's ready to pitch -- in a game and there's somewhere for him to pitch, then it might be good for him to go down there and just get peace of mind. He is not on any schedule other than get healthy and get where he's ready to pitch in a game again. That's his schedule."
Skaggs has pitched 87 1/3 innings between the Majors and Minor Leagues. He was 2-0 with a 1.50 ERA over his past three starts. Management doesn't feel like additional innings this year would help or hurt Skaggs going forward.
"If you were talking about what you would like his innings total to be to prepare him for next year, it's not going to make a difference," Scioscia said. "You want him to get to that 170-inning range, and he's not going to get there. So the extra 12 or 15 innings that he might be able to pitch, they're not really going to impact that."
It makes sense for the Angels to take a conservative approach with Skaggs in his first year back from Tommy John surgery. The rotation has already dealt with season-ending injuries to Garrett Richards, Matt Shoemaker, Andrew Heaney, Nick Tropeano and C.J. Wilson.
Austin Laymance is a reporter for MLB.com. This story was not subject to the approval of Major League Baseball or its clubs.