Pirates slug 5 HRs to rout Phils in finale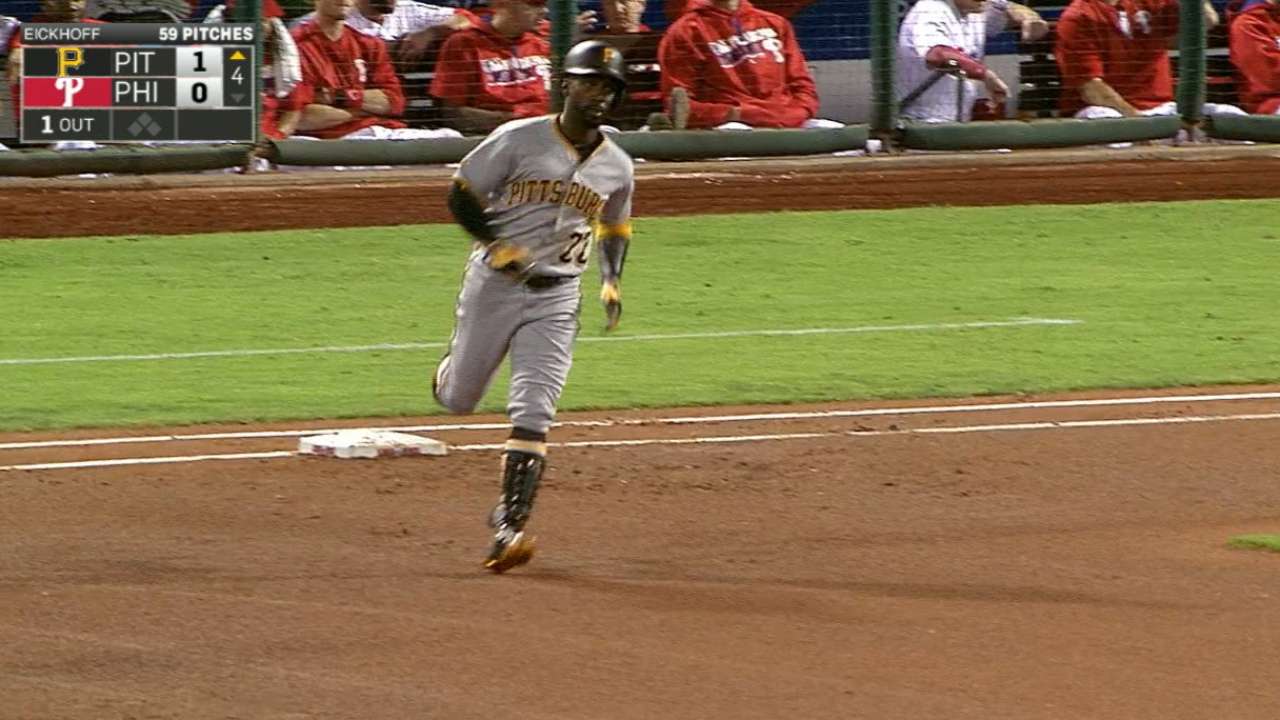 PHILADELPHIA -- Returning to the Pirates' rotation and pitching less than an hour away from his hometown, Chad Kuhl was bursting with energy Thursday night at Citizens Bank Park. But Andrew McCutchen and the rest of the Bucs' bats provided the power, crushing five home runs en route to a 15-2 win over the Phillies that secured a four-game series split.
McCutchen went deep twice, fulfilling his pregame promise to former teammate A.J. Burnett, and drove in three runs. John Jaso, Sean Rodriguez and Jordy Mercer also homered. Pittsburgh, fighting to keep its nearly nonexistent postseason hopes alive, set a season high with 15 runs and nine extra-base hits and tied a season high with five homers.
"It shows that we've still got it. It's still in there," McCutchen said. "We've just got to go out and do it. It was a good day to be able to do something like that. Hopefully we can take the momentum into Cincinnati and be able to do the same thing."
• No burn to return: Retirement suiting Burnett
The Pirates provided more than enough support for the well-rested Kuhl, the Delaware native who grew up coming to Phillies games, after he skipped his last start. With more than 100 people in attendance just to see him, Kuhl threw four perfect innings and exited after allowing two runs on four hits while striking out five in six innings.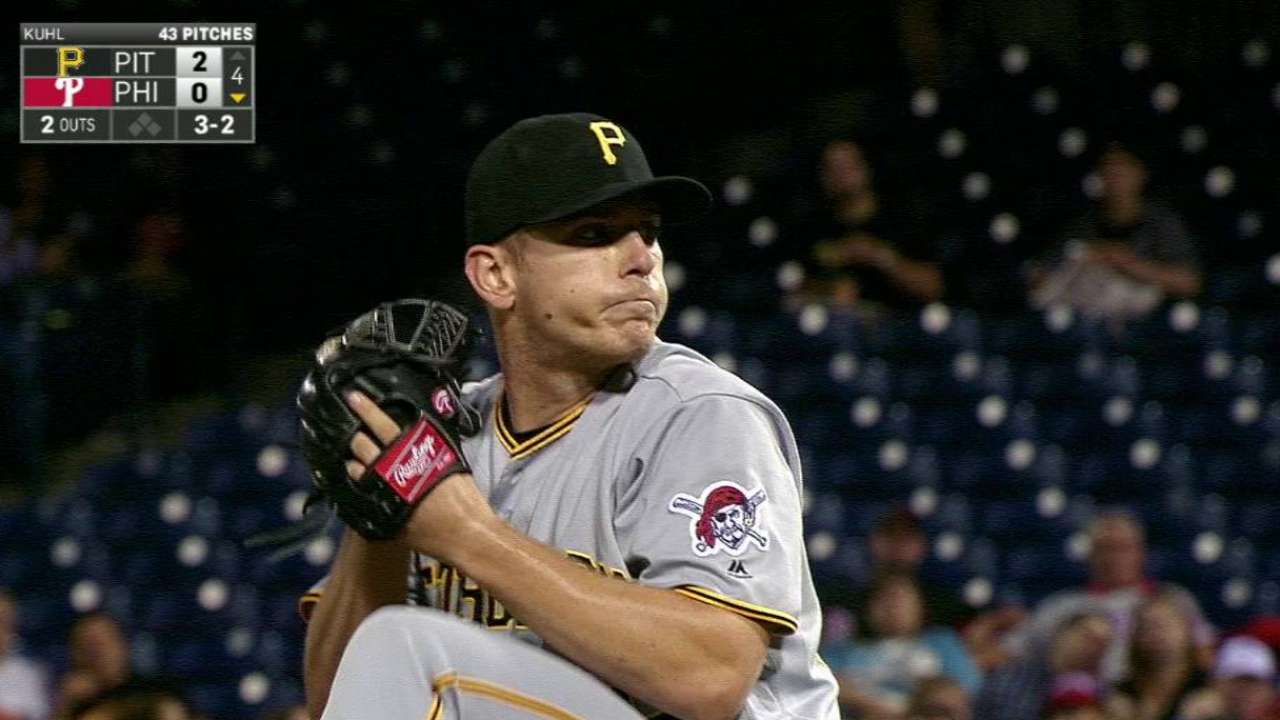 "Just a ton of fun," Kuhl said. "It lived up to everything and was way more emotional than I thought it would be."
• Kuhl runnings for rookie in homecoming start
Four of the Pirates' home runs came off Phillies starter Jerad Eickhoff, who yielded only one other hit in 6 2/3 innings. Philadelphia scraped together two runs off Kuhl in the fifth inning, a rally keyed by doubles from Tommy Joseph and Aaron Altherr. But the Pirates put the game far out of reach with an eight-run ninth inning. Josh Bell, David Freese and Jung Ho Kang added more extra-base power during the two-out rally, ripping a trio of doubles that helped pad the Pirates' lead. Pittsburgh ended the night with 13 hits, only four of them singles.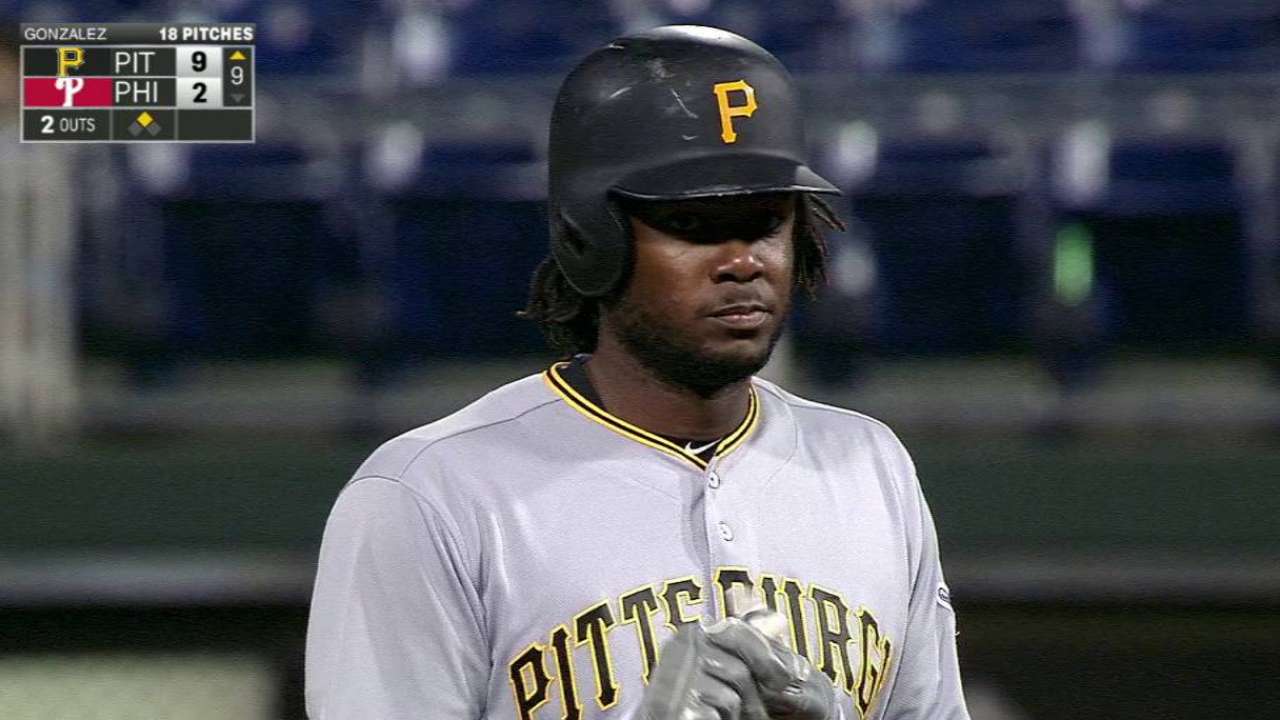 "The only thing that gave me any solace at all tonight was looking up at the scoreboard and seeing Kansas City losing 14-0," Phillies manager Pete Mackanin said. "That's about all I can say."
MOMENTS THAT MATTERED
Leadoff launch: Back in the leadoff spot for the first time since Aug. 2, and returning to the lineup for his first start since Saturday, Jaso wasted little time before making an impact. Jaso finished an eight-pitch at-bat by crushing a home run to center field off Eickhoff. The solo shot came off Jaso's bat at 103 mph, according to Statcast™, and traveled a projected 412 feet. It was Jaso's sixth homer of the season and the seventh of his career to lead off a game.
"I was just looking to put a good swing on it," Jaso said. "I was just happy about taking the pitches up to that swing. That's where the battling kind of started. It was a great result to have."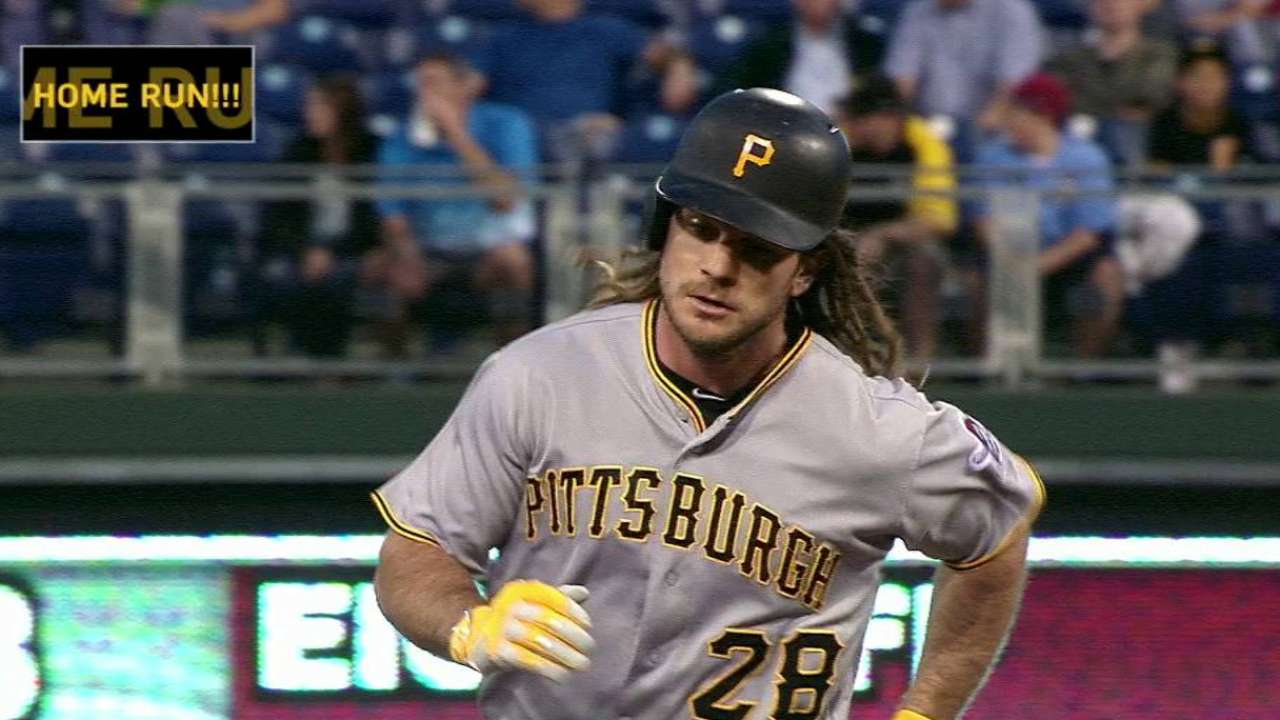 The streak lives: Eickhoff pitched deeper Thursday than he has in any of his past eight starts, throwing more than 100 pitches for the first time since July 4 and pitching into the seventh for the first time since July 26. But it was the seventh that did Eickhoff in. Mercer hit the Pirates' fourth home run of the night, scoring their fourth, fifth and sixth runs.
But a scoring change that gave Maikel Franco an error on the ball Francisco Cervelli reached on a batter earlier allowed Eickhoff to escape with only three earned runs, making this the 13th straight start of three earned runs or less by Phillies starting pitchers, matching a mark set by the 2011 club. With 6 2/3 innings and three earned runs allowed, Eickhoff has his own streak of five starts of at least six innings and three or fewer earned runs.
"The first three homers, I have no problem with those," Eickhoff said. "Those are gonna happen. Solo home runs don't hurt you at the end of the day. The three-run homer, those just kill you. Those with guys on base, those are frustrating. The biggest thing is I just feel I let the guys down in here."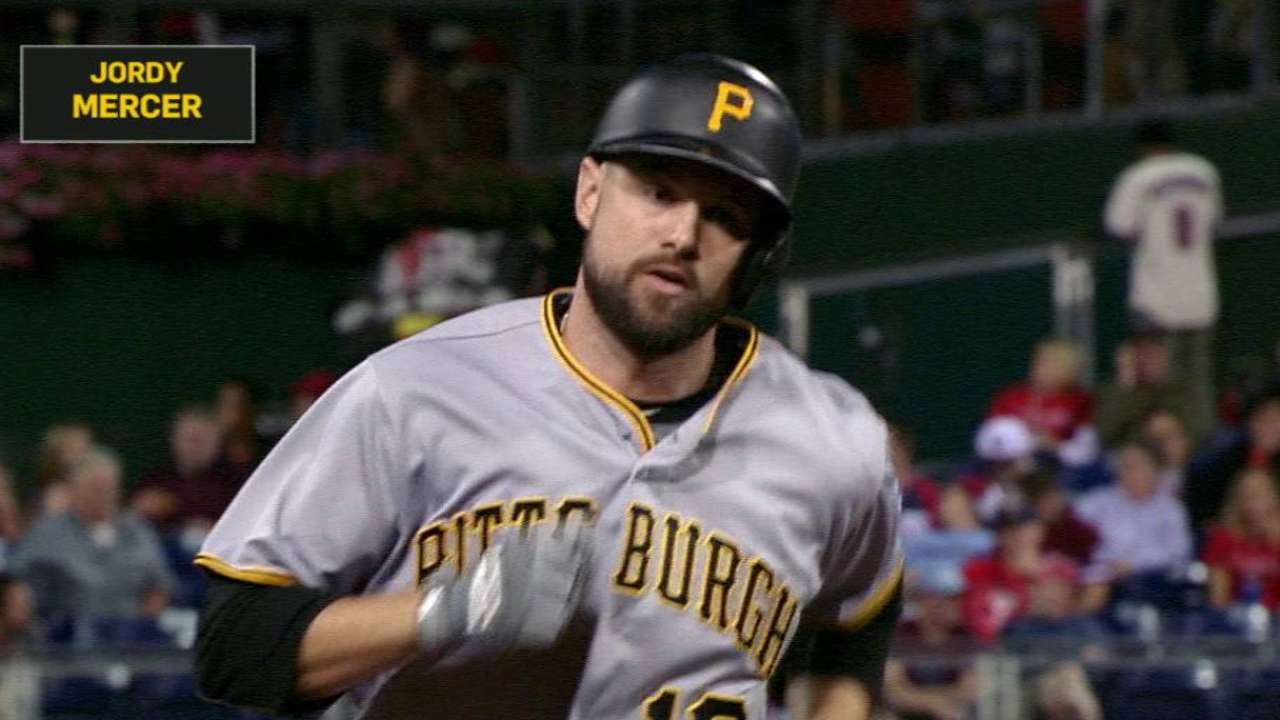 Deja vu: The Pirates' second and third homers of the night might have felt a little familiar for the crowd of 15,247 at Citizens Bank Park. McCutchen homered for the second straight day, ripping his 22nd of the season in the fourth inning and his 23rd in the eighth, and Rodriguez -- who hit a game-winning, three-run shot on Tuesday -- led off the fifth with a solo shot into the left-field seats. McCutchen's first blast of the evening traveled a Statcast-projected 403 feet, while Rodriguez's came with an exit velocity of 107.6 mph.
"Baseball's so unpredictable," McCutchen said. "You don't know what you're going to get."
Outfielders snapping slump: It has been 22 games since Altherr last homered. He recorded just his second extra-base hit over that span with a fifth-inning double that scored Odubel Herrera. Although it's unlikely Altherr's slump removes him from a starting role next season, manager Pete Mackanin was blunt when asked his assessment of Altherr before Thursday's game.
"He needs to hit better," Mackanin said. "That's pretty much it."
With a double Thursday and three hits the night prior, the 25-year-old outfielder could be on the verge of a strong finish to the 2016 season. Herrera, too, looks to be emerging from a prolonged slump. He's hitting just .255 since the All-Star break, but he's had hits in his last three games, including a pair of two-hit performances.
"He looks a little better, a little more under control," Mackanin said of Herrera. "It'd be nice for us if he can continue that the rest of the season. We can use all the hitting we can get." More >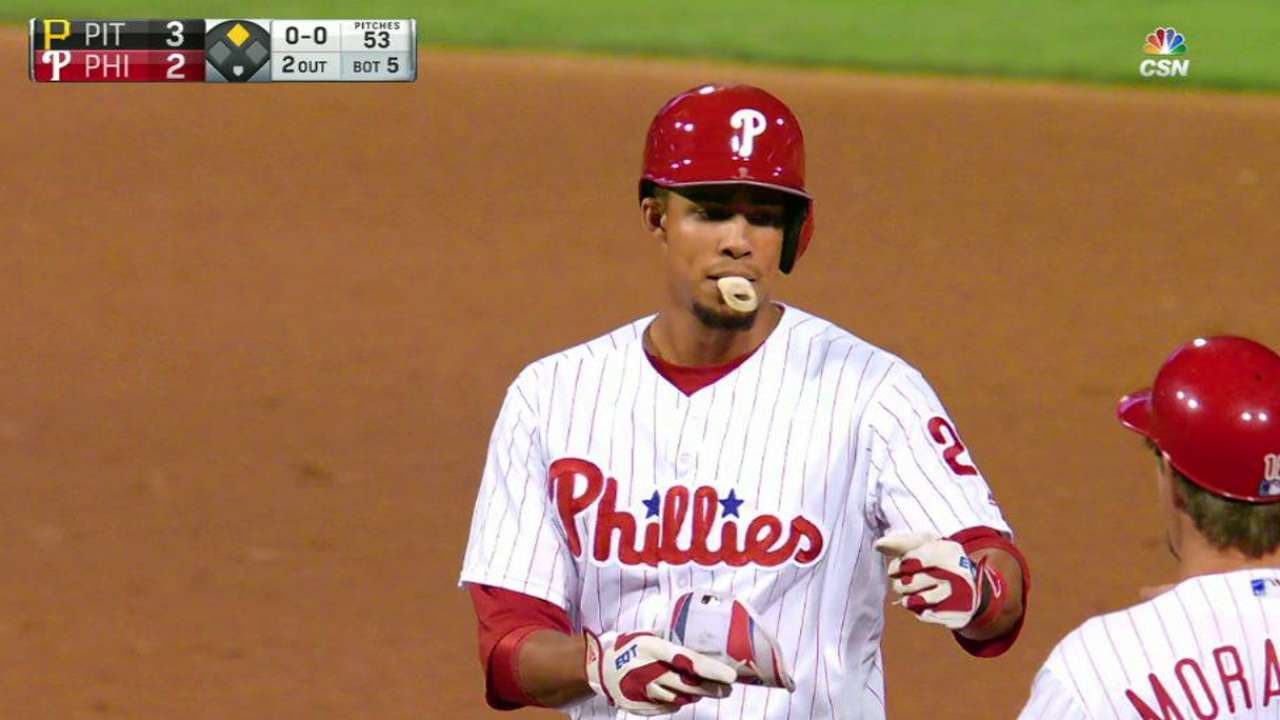 QUOTABLE
"They started smiling early, and they were able to smile throughout the game. I think Kuhl had a little bit to do with it. Offense had a lot to do with it." -- Pirates manager Clint Hurdle, on the impact of seeing Burnett before the game
SOUND SMART WITH YOUR FRIENDS
Pirates reliever Juan Nicasio has struck out at least one batter in a single-season club record 27 straight appearances. That is the second-longest streak of its kind in the Majors this season, now only one game behind the 28-outing streak Andrew Miller put together with the Yankees from May 6-July 17.
The Pirates' five-homer barrage was the fifth time the Phillies have allowed at least five blasts in a game this season, marking the most times they've done so in a single season in franchise history. Philadelphia had four such games last year. It's happened eight times to the Reds this season, an MLB record.
With 174 home runs, all of them with the Pirates, McCutchen trails Barry Bonds by two homers for fourth place on Pittsburgh's all-time list.
WHAT'S NEXT
Pirates: Right-hander Ryan Vogelsong will take the mound as the Pirates begin a three-day, four-game series against the Reds at Great American Ball Park on Friday night. Vogelsong has struggled in his last three starts, carrying an 11.08 ERA over 13 innings. He gave up six runs in four innings against the Reds on Sunday.
Phillies: Phillies left-hander Adam Morgan (2-10, 5.73 ERA) pitches Friday night in the series opener against the Marlins at Citizens Bank Park. Morgan's record and ERA are not much to look at, but he has pitched much better recently, posting a 2.41 ERA (five earned runs in 18 2/3 innings) in his last three starts.
Watch every out-of-market regular-season game live on MLB.TV.
Adam Berry has covered the Pirates for MLB.com since 2015. Follow him on Twitter at @adamdberry.

Evan Webeck is a reporter for MLB.com based in Philadelphia.

This story was not subject to the approval of Major League Baseball or its clubs.