Blue Jays' Donaldson has big impact in return
Back from sore hip, slugger goes 3-for-3 with pair of walks, scores twice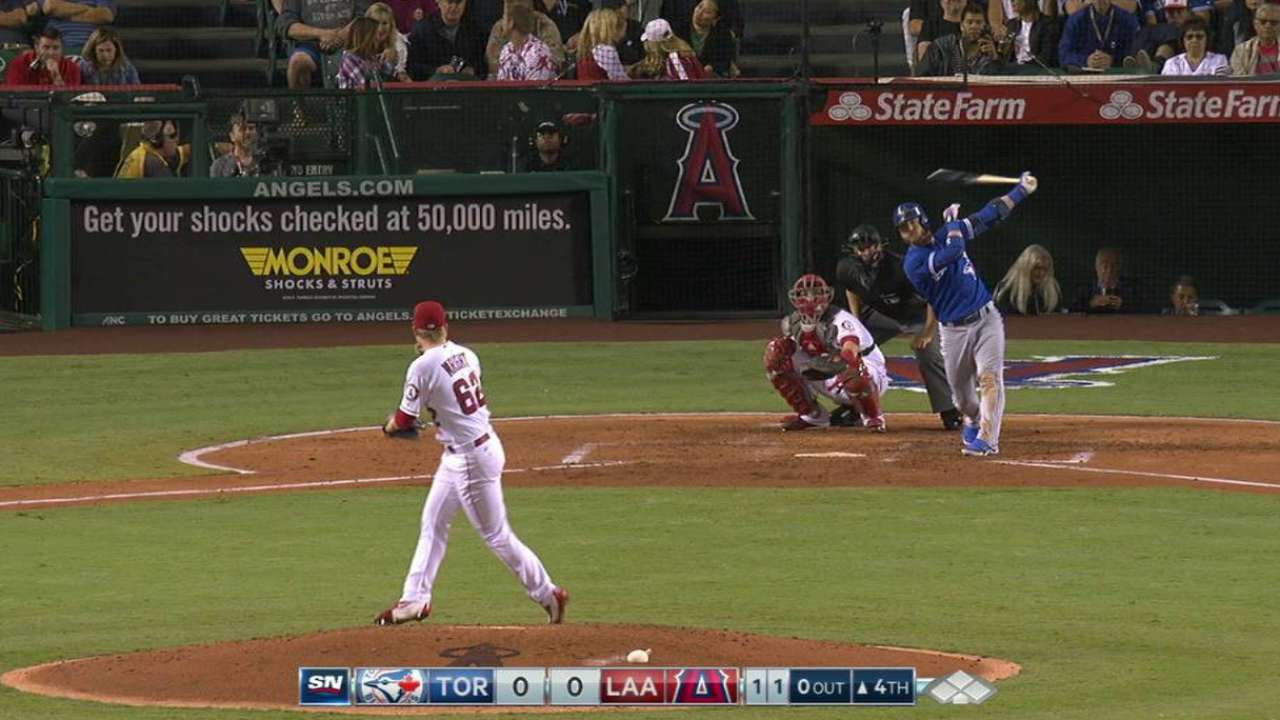 ANAHEIM -- The Blue Jays' lineup desperately needed a spark, and reigning American League MVP Josh Donaldson was there to provide it.
Donaldson made his return to the lineup following a three-game absence and went 3-for-3 with two doubles, two walks and a pair of runs scored in Toronto's 7-2 victory over the Angels.
The veteran slugger missed three games because of an undisclosed hip injury. The hip is not expected to be completely healed any time soon, but Donaldson proved in the series opener that there is still plenty of value to be found even when his health is not at 100 percent.
"Every day I've been getting my treatment, and the first couple of days I felt pretty bad afterwards, and the last couple of days, I've been able to get some of that soreness out," Donaldson said. "Pain is one of those things you have to learn how to play through, especially with as long a season as it is. I felt like I was able to go today."
Donaldson, who walked in his first at-bat, sparked Toronto's first rally in the fourth. He led off with a double, which was then followed by a pair of back-to-back singles by Edwin Encarnacion and Jose Bautista. It was the first time since Aug. 2 that Toronto's trio of sluggers all had a hit in the same inning.
That would have been enough for someone coming off an injury, but Donaldson was far from done. He walked in the fifth, doubled again in the seventh before capping his night in the ninth with a single. It marked the seventh time this season that Donaldson reached base five times.
"It looked like he came back well rested," Blue Jays catcher Russell Martin said. "He looked like he was strong today. It looked like he didn't skip a beat. Sometimes your timing can be off a little bit, after a couple of days off, it looked like he didn't miss a beat. It looked like he saw the ball great. He took some great swings. MVP-caliber at-bats today."
Donaldson and Blue Jays manager John Gibbons declined to get into specifics when asked about the results from Wednesday's MRI on his ailing hip. Toronto isn't revealing much, but Donaldson's performance Thursday night should alleviate some concerns about his ability to get through the rest of the season.
The 30-year-old got the start at designated hitter on Thursday night and it's not immediately clear when he will return to the field. Donaldson did field grounders before game and appeared to be moving well during the game, but the Blue Jays aren't going to rush this. The fact that his bat is back is more important than anything else.
"I didn't know what to expect, to be honest with you," Gibbons said. "But shoot, he looked great. He sparked us a little bit there too. He was running well, he turned those balls into doubles. That's good to see. He's a key guy for this team, everybody knows that. He just adds that one extra dimension, gets on base for those other guys. It's good to have him back."
Gregor Chisholm has covered the Blue Jays for MLB.com since 2011. Follow him on Twitter @gregorMLB and Facebook, and listen to his podcast. This story was not subject to the approval of Major League Baseball or its clubs.