Butler wastes no time giving Yanks a boost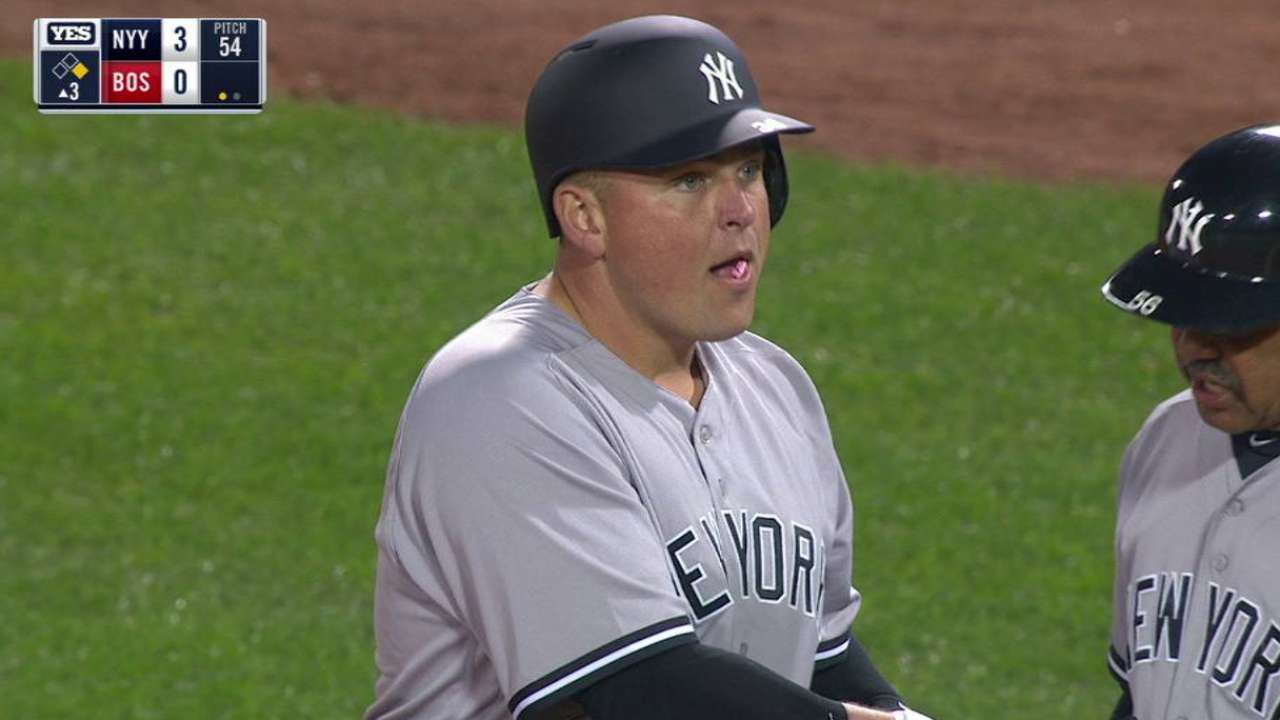 BOSTON -- The Yankees believe that Billy Butler will improve their offense against left-handed pitching, and they wasted no time putting that theory to the test, scribbling the designated hitter's name into the lineup for Thursday's series opener against the Red Sox.
Arriving at Fenway Park shortly before 6 p.m. ET, Butler didn't need much time to make a good first impression, driving home a first-inning run with a sacrifice fly and adding an RBI single two innings later. Butler finished 1-for-4 in the Yankees' 7-5 loss.
"It's definitely new for me," Butler said. "I was in K.C. for a long time, so I haven't been to too many places, [let alone switched teams in] September. I've definitely known some of the guys in here from playing against them, and they're all really nice and very welcoming."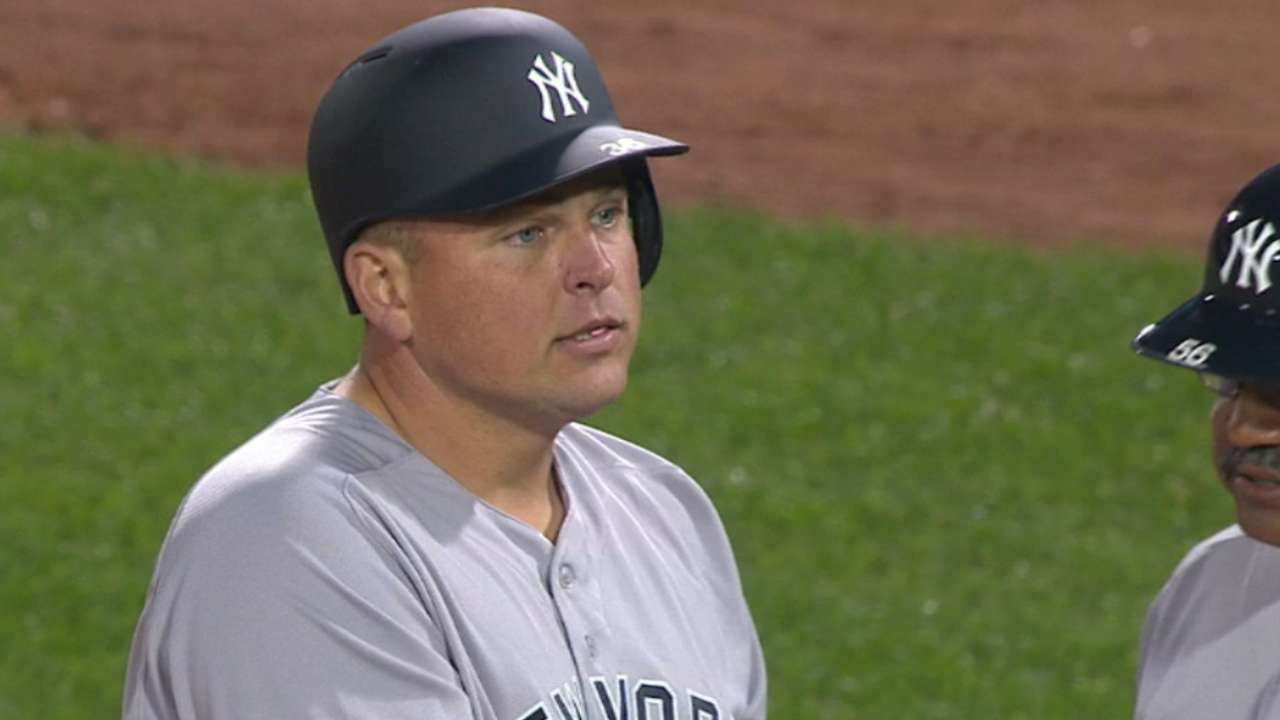 Yankees manager Joe Girardi said that the organization will serve "Country Breakfast" a regular helping of at-bats against southpaws down the stretch.
"That's why we went and got him," Girardi said. "Over his career, he's been successful against left-handers, and we're seeing three here, and I think one or two in Tampa. We're going to see a lot, so we brought him in to help."
In addition to Thursday's starter, Eduardo Rodriguez, the Yankees are scheduled to face left-handers Drew Pomeranz and David Price in this four-game series, with right-hander Clay Buchholz in line to start for Boston on Friday. As a team, the Yanks entered Thursday with just a .689 OPS against left-handed pitching.
Butler, 30, was released by the Athletics on Sunday after spending parts of two years in Oakland. He hit .276/.331/.403 with four homers and 31 RBIs through 85 games with the A's this season but had primarily logged time against left-handers.
In a reversal from his career norms, Butler's OPS against lefties (.685) was lower than against righties (.776).
"I think it's trying to, in a sense, catch lightning in a bottle," Girardi said. "I watched his at-bats the last couple of weeks. To me, they've been pretty good. If he gives you those at-bats, you're going to feel good about what he does."
The Yankees are now Butler's third big league team after he spent the first eight years of his career -- including his 2012 All-Star campaign -- with the Royals before signing a $30 million, three-year deal with the A's prior to the 2015 season.
Because Butler was released, the A's are on the hook for the majority of the $10 million he is owed from that deal. Through the end of 2016, the Yankees are responsible only for the pro-rated portion of the Major League minimum -- approximately $50,000.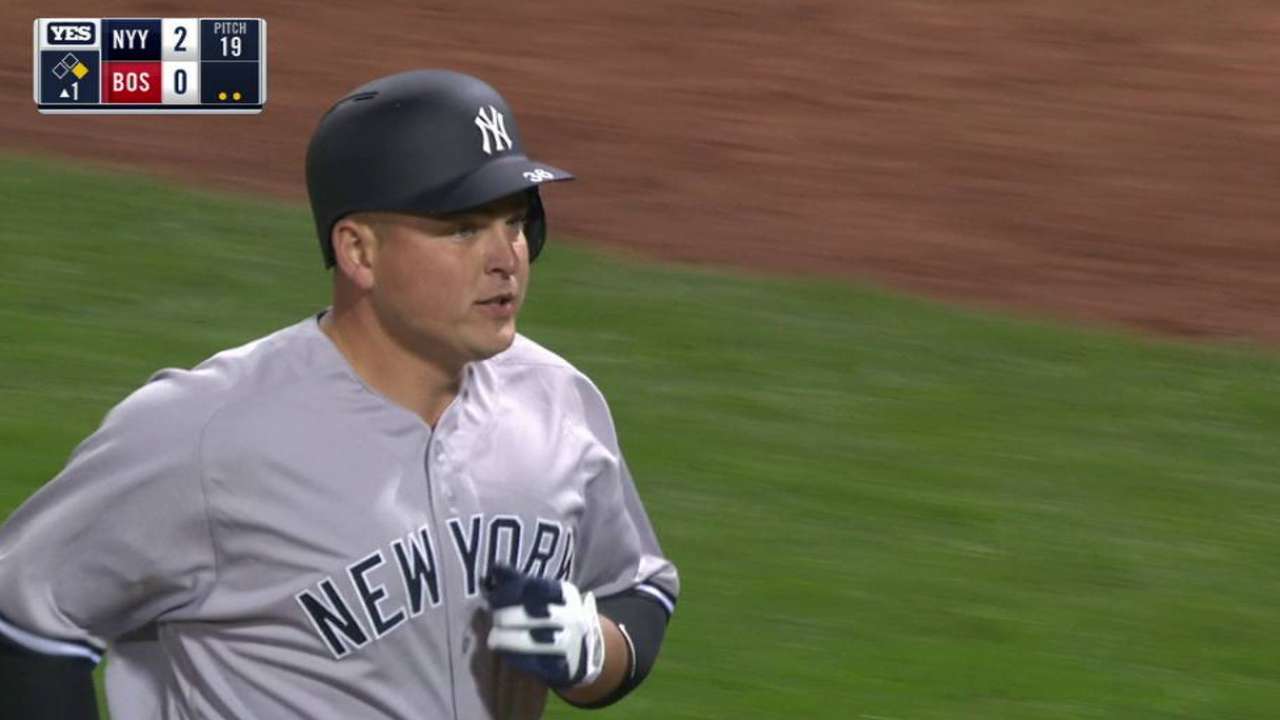 Girardi said that he foresees no issues following what transpired during Butler's final days with Oakland, when Butler was involved in a clubhouse altercation with infielder Danny Valencia. Butler missed 10 days following the incident and had not played since Sept. 6.
"I had an altercation with Danny," Butler said. "It happens from time to time with teammates, and it definitely happens in seasons when you're doing as bad as we were there. Tempers flare and stuff. It had nothing to do with me getting let go. Just two bad seasons, and they're going through a youth movement.
"Just one of those things. I just didn't fit in there anymore. It definitely didn't go the way I wanted it to, but there are always new opportunities. That's why I'm grateful to be here and finish out the season here, hopefully in a strong manner and help push this team over the top."
In a corresponding roster move, the Yankees transferred right-hander Nathan Eovaldi to the 60-day disabled list. Butler joins a Yankees team hoping to continue a postseason push, three games out in the AL Wild Card race entering play on Friday.
Should the Yankees qualify for postseason play, Butler will not be able to participate, as he was not in the organization as of the Aug. 31 deadline for a player to be eligible for the postseason roster. The Yankees' hope is that he can help them get there.
"Especially at this point in the season, with the chances that this team has to make the playoffs, that's definitely the main goal in here," Butler said.
Bryan Hoch has covered the Yankees for MLB.com since 2007. Follow him on Twitter @bryanhoch, on Facebook and read his MLBlog, Bombers Beat. This story was not subject to the approval of Major League Baseball or its clubs.
This story was not subject to the approval of Major League Baseball or its clubs.