Toronto's Tournament 12 thriving in 4th year
Alomar, Blue Jays present annual showcase featuring over 160 of Canada's finest young stars at Rogers Centre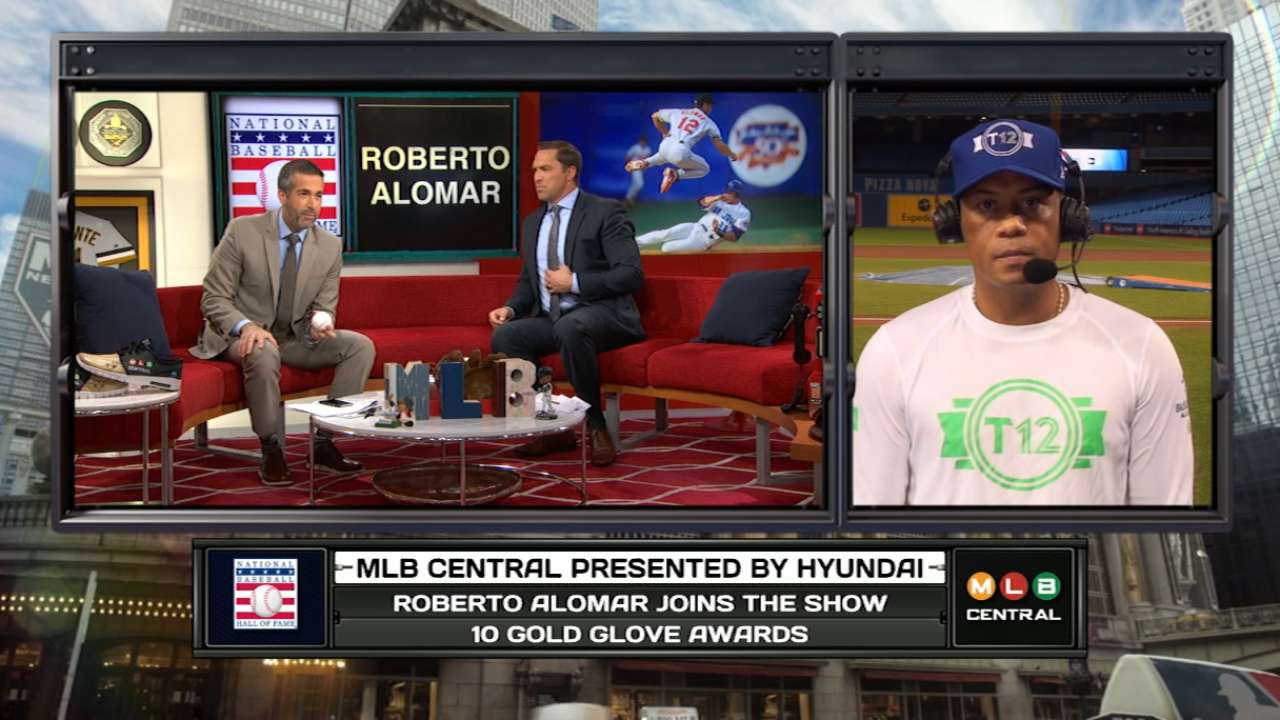 TORONTO -- Tournament 12 presented by New Era is entering its fourth go-round, and the event backed by the Blue Jays and commissioned by -- and named for -- Hall of Fame second baseman Roberto Alomar just keeps getting better.
The fourth annual showcase, bringing together more than 160 of Canada's finest Draft and college-eligible players from across the country, kicked off with a combine day for upwards of 60 professional scouts and college coaches at Rogers Centre on Thursday. Players from each of the eight teams participating took turns running, throwing and getting in some batting practice before games begin on Friday.
"T12 is an opportunity for the young guys here in Canada to be seen by the scouts, from college and professional baseball, and hopefully we can make their dreams come true," Alomar said. "This is our fourth year doing Tournament 12, and over 50 guys have been signed, going to play professionally and going to college, and I'm so glad that we have touched on this great opportunity."
• Tournament 12 presented by New Era
As well as featuring the top names for the future of Canadian baseball, the tournament once again features some of the biggest in franchise history and beyond.
Returning alumni coaches joining Alomar in the dugouts, around the cage and in the bullpens this year are his father, Sandy, former Major League infielder Mario Diaz and fellow former Blue Jays George Bell, Lloyd Moseby, Tanyon Sturtze, Duane Ward and Devon White.
"I played with some of them, I played against them, and I'm so, so happy that when I call them all the time, they come here and they come through," Alomar said. "I'm glad to have those guys behind me ... they're always there for me, and I can't thank them enough."
The 12-time All-Star's long-time friend and fellow recipient of Toronto's Level of Excellence honour, Carlos Delgado, also joined the alumni staff for the first time.
"This is a great opportunity," Delgado said. "Sometimes kids don't get the exposure they need, and bringing them to Toronto and having all the scouts in the stands, it's great. And the competition itself, playing against the best amateur players in the country, it would be a great experience. It's a nice treat for the kids to come out and play here at Rogers Centre, and with some of the alumni. Robbie's done a fantastic job to give these kids an opportunity."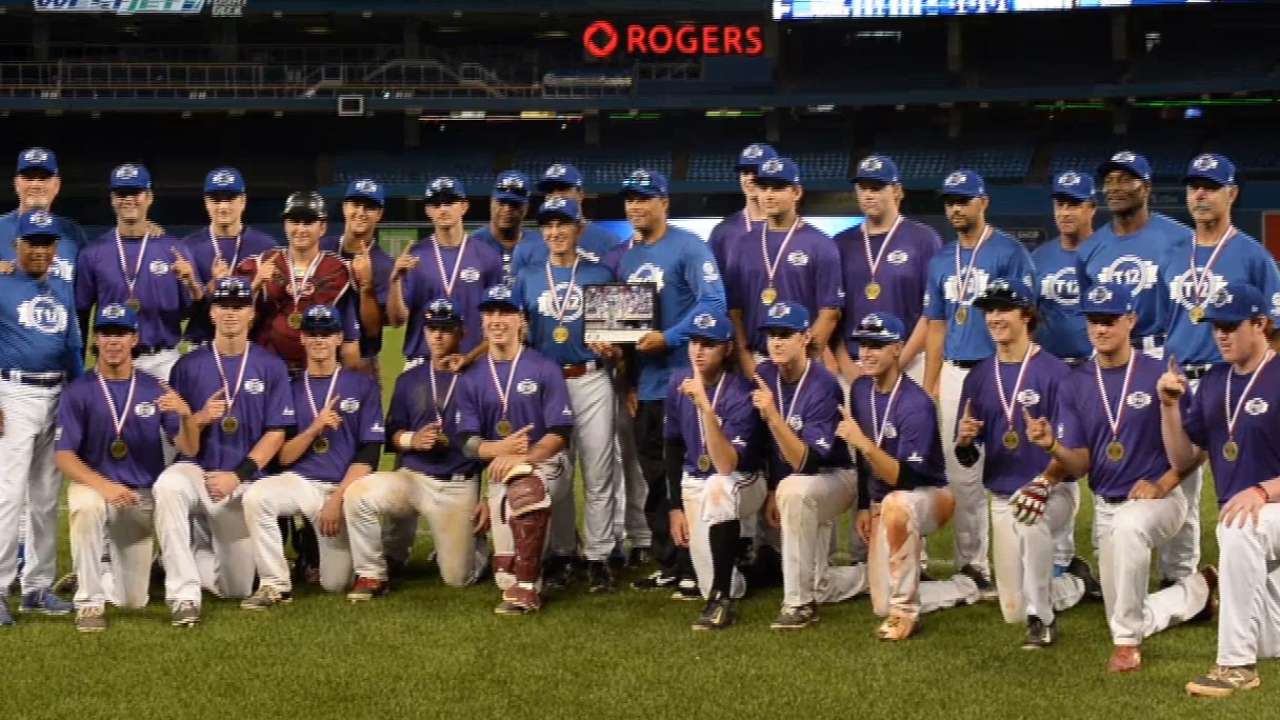 Throughout the more-than-four-year progression of the showcase, the Blue Jays have made slight tweaks to the size and length of the tournament and have fine-tuned the selection process. The organization is confident that it is consistently adjusting and improving with each event.
"We've gotten a lot better over the four years," said Jamie Lehman, the Blue Jays' area scout for Canada and New York. "That relates to player selection, and our footprint across the country, we're seeing who we need to see now, and that's led to a higher calibre of player in the tournament. Then, at the same time, that's been reflected in the colleges and pro teams that have come.
"Our tournament's the best it's been this year. The [T12] alumni and what they're doing in professional baseball and college baseball are helping us prove that worth, and it's only getting better."
Past participants of Tournament 12 include: Andrew Yerzy, selected in the second round of this year's Draft by the Diamondbacks after playing in all three events that preceded his Draft; 2015 first-round picks Josh Naylor and Mike Soroka, chosen by the Marlins and Braves, respectively, and who each played in the two T12 events they were eligible for; and 2014 second-round selection Gareth Morgan, who was taken by the Mariners after the inaugural event.
There hasn't been a Canadian high schooler selected in the Draft since the inception of Tournament 12 who wasn't a participant at the showcase, with this year's talent being led by infielders Jason Willow and Adam Hall, and outfielder Cooper Davis, the latter two participating in Tournament 12 for their fourth time each.
"This is their year," Alomar said. "Now it's time for them to show their skills. I know Cooper really well, and I like Cooper and Adam a lot. I've worked with them with the [Canadian Junior National] Team, so I know what they can bring to the table. It's up to them now to showcase their skills here, in front of the scouts ... they're getting better, they're getting stronger, they're getting smarter."
Beyond the next four days of the tournament, Alomar continues to be excited for the future of Canadian baseball, happy to team up with his former team and be a part of the growth and development of the sport across the country.
"Baseball's grown a lot," Alomar said. "I'm so grateful to be able to help the kids here in Canada. I know that hockey is the No. 1 sport, but baseball is getting way up there, so it's good for the kids and it's a great opportunity. It's all about opportunities in life, and taking advantage of opportunities and hopefully you can make your dreams come true."
Alexis Brudnicki is a contributor to MLB.com. This story was not subject to the approval of Major League Baseball or its clubs.