Pearce has PRP injection, out at least 10 days
Orioles utility man has been dealing with right elbow/forearm discomfort all season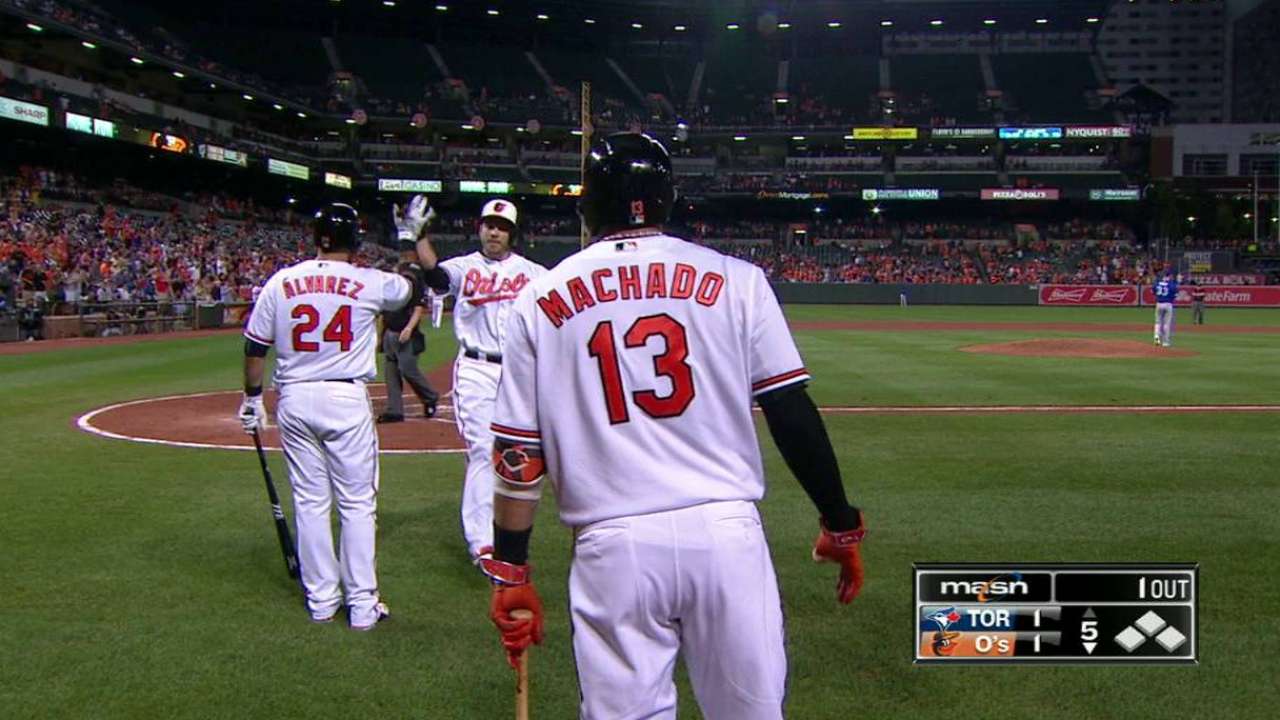 BALTIMORE -- After receiving a platelet-rich plasma injection in his right elbow/forearm Wednesday, Orioles infielder/outfielder Steve Pearce said he won't participate in baseball activities for 10 days.
With just 17 regular-season games left, Pearce wouldn't rule out a potential regular-season return, but he acknowledged that they need to "take care of what's going on right now."
"It's frustrating, especially with where we are at in the season," Pearce said of the discomfort in his right elbow/forearm, which he's been dealing with off and on all season. "We are so close to the playoffs. Just the timing of it, it's just not really ideal. It's very unfortunate."
The O's made three roster moves before Thursday's game against the Rays. They selected infielder Paul Janish's contract from Triple-A Norfolk and recalled right-hander Mike Wright from the Tides. They also recalled left-hander Chris Lee from Double-A Bowie and placed him on the 60-day disabled list to make room on the 40-man roster for Janish.
Manager Buck Showalter said the Orioles recalled Wright to provide additional length in the bullpen in case a starter is forced out of a game early.
As for Janish, he provides an extra backup infielder behind Ryan Flaherty, who was previously the only other one. Janish has appeared in nine games at third base and six at shortstop for the Orioles this year.
"If Flaherty plays and you take him out or pinch-hit for him, you've got an issue, and that shouldn't be the case in September," Showalter said.
Worth noting
• If Darren O'Day's simulated game goes well Friday, the next move will be to activate him, Showalter said. O'Day has been on the DL since Aug. 13 with a right rotator cuff strain.
• Showalter is hoping outfielder Joey Rickard is activated from the 60-day DL Monday, but he said they won't rush him back. Rickard is scheduled to play games Friday and Saturday in Sarasota, Fla.
• The Orioles haven't announced a starter for Sunday's series finale with the Rays, but Showalter said he's leaning toward Wade Miley, who is 1-5 with an 8.41 ERA in eight starts for the Orioles since being acquired from Seattle.
"We need to wait and see how we get through the next three days and what we have available," Showalter said. "[Miley] will proceed like he's starting Sunday with his work day and everything."
• The Orioles announced Thursday that righty Odrisamer Despaigne was claimed off waivers by the Miami Marlins. The O's designated Despaigne for assignment Sept. 5 to clear room on the 40-man roster for Brian Duensing.
Despaigne appeared in 16 games with Baltimore this season, going 0-2 with a 5.60 ERA.
Ryan Baillargeon is a reporter for MLB.com based in Baltimore. This story was not subject to the approval of Major League Baseball or its clubs.