Maturing Fulmer unfazed by big Cleveland stage
Rookie set to start opener vs. Tribe as Tigers vie for playoff spot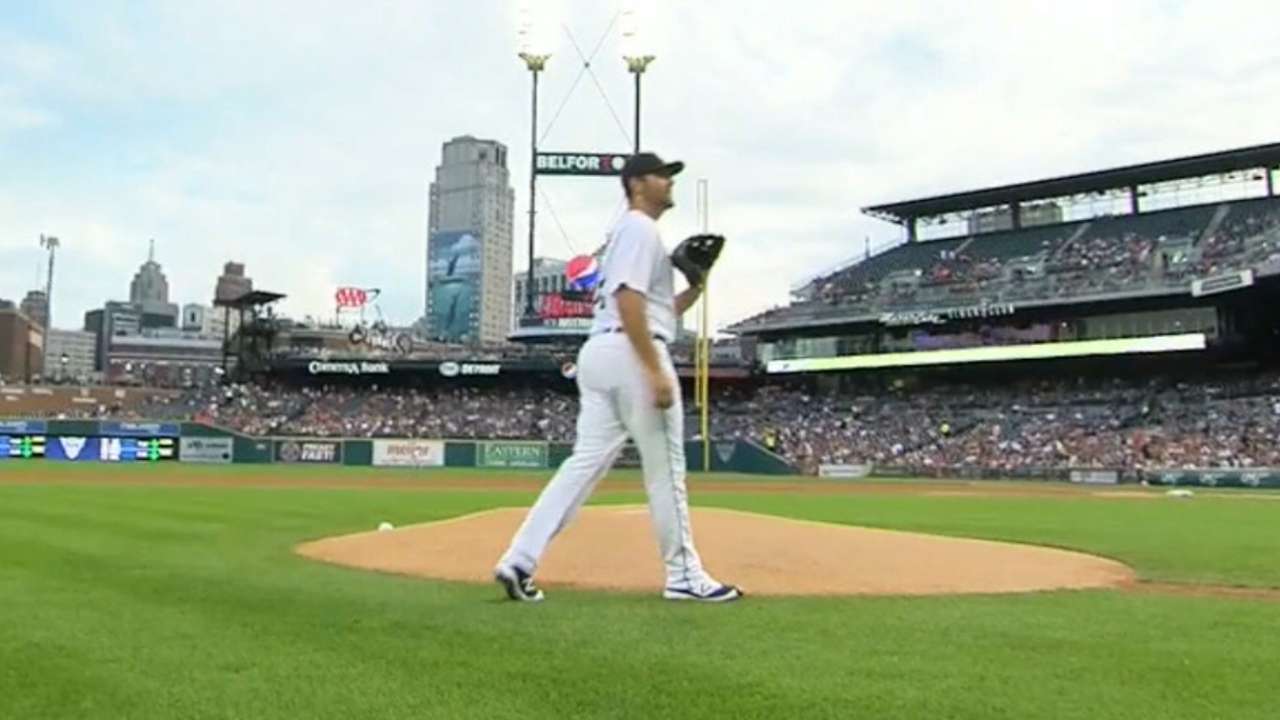 DETROIT -- Rookie pitcher Michael Fulmer has shown maturity beyond his years en route to his name popping up in the American League Rookie of the Year Award discussion.
With Fulmer on a limited-innings count to preserve his young arm, he is scheduled to start three more games this season, including one in Cleveland on Friday against an Indians team the Tigers are trying to chase down in the AL Central standings. Detroit remained six games behind Cleveland following the Tigers' 5-1 loss to the Twins and the Tribe's 2-1 loss to the White Sox on Thursday.
Brad Ausmus said the 23-year-old rookie has been mature about the innings-limit situation and understands the reasoning, though Fulmer has told his manager he prefers to pitch every five days to stay in a rhythm.
"I couldn't be happier with what I've seen with Fulmer," Ausmus said. "He's pretty even-keeled, stoic. He doesn't get rattled too much. He doesn't get too emotional when he's pitching.
"I just think he feels like he's being handled with kid gloves, and he doesn't want to be handled with kid gloves. I said he's got to get through it this year, and next year, he won't have to worry about it. He'll be able to hit 200 innings, and the kid gloves will be off."
Fulmer has been in the Tigers' rotation for most of the season due to a number of injuries, and he has stepped up in a big way. Though he does not qualify for the AL ERA title because he has only thrown 143 2/3 innings, his 2.76 ERA is among the best in the league.
Fulmer has dipped into a bit of a funk over the last four starts, going 0-3 with a 5.32 ERA. He has allowed at least one home run in each of those games, but Ausmus is confident in his young starter, even heading into hostile territory under pressure. Fulmer finds himself on a big stage as Detroit looks to keep division-title hopes alive in Cleveland. The Tigers also enter the weekend neck and neck with Toronto for the second AL Wild Card spot.
"I'm going to treat it like a normal start," Fulmer said. "Obviously, I know it's a big game, but nothing's going to change as far as our routine and our preparation and stuff like that. I'm going to treat it like every other start I've had this year, and hopefully all goes well and we get a good team 'W.'"
Kyle Beery is a reporter for MLB.com based in Detroit. This story was not subject to the approval of Major League Baseball or its clubs.