Urias showing elite skill at picking off runners
Six successful pickoffs leads Majors, in just 72 innings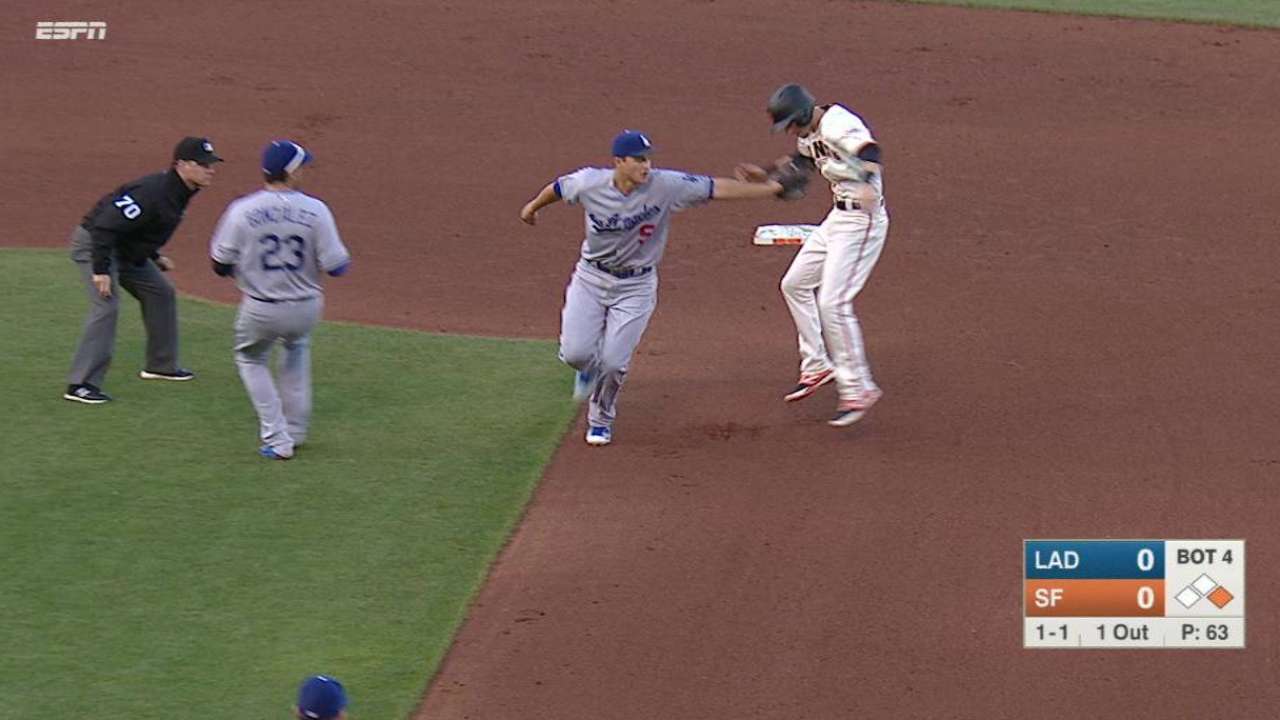 All things considered, Julio Urias is having an extraordinary rookie year. In 72 innings of his age-19 season, Urias has struck out a quarter of all the batters he's faced while posting a 3.50 ERA and a 3.25 Fielding Independent Pitching. The respected ZiPS projection system already sees Urias as being the near-equal of American League Cy Young Award candidate Masahiro Tanaka, and the Steamer projections think even more highly of the Dodgers' young phenom.
Already, Urias has put himself on the map as one of baseball's best young pitchers. And already, Urias is coming after one of teammate Clayton Kershaw's crowns.
Kershaw wears plenty of crowns. You know about the big ones. Among the lesser-known ones: since he's entered the league, Kershaw has been baseball's Pickoff King. Dating back to his debut in 2008, Kershaw has picked off 57 baserunners. Next most is Mark Buehrle, with 49. After that? James Shields, with just 29. In other words, among active pitchers, Kershaw, as is the case with so many other pitching traits, stands completely alone when it comes to the art of the pickoff.
• FanGraphs' Corinne Landrey shares why the Dodgers still need Puig
Kershaw is baseball's reigning Pickoff King. Except lately, a challenger has emerged. And that challenger plays on Kershaw's team, and that challenger just turned 20 years old.
Urias picked off his sixth batter of the season on Tuesday night. His six pickoffs lead all pitchers in the Major Leagues this season, and again, he's only pitched 72 innings. No one else in baseball even has five pickoffs. Urias picked off a baserunner in four consecutive starts back in June. To really drive that point home: in a four-start stretch, Urias picked off as many baserunners as any other pitcher has all year.
Kershaw leads all of baseball over the last eight years by picking off 3.3 percent of his baserunners, and that number is substantially larger than anyone else's. Urias has allowed 105 baserunners, and he's picked off six of them. That's a rate of 5.7 percent. He's nearly doubled down on the rates posted by the game's truly elite pickoff artists.
Of course, Urias has a tiny, tiny sample, and Kershaw's thrown more than 1,700 innings in his career, so Kershaw's pickoff rate is a lot more telling than Urias'. But get this: Urias threw 45 innings in Triple-A this season, and in a four-start stretch in May, he had five more pickoffs.
Including those, we can also say Urias actually has 11 pickoffs this season, in just 117 innings, with just 143 baserunners. Minor League baserunners are probably somewhat more prone to being picked off than their Major League counterparts, but my gut tells me the deviation in true talent level of "not getting picked off" between Triple-A players and big leaguers is relatively inconsequential.
So we see Urias' crazy Major League pickoff rate against Kershaw and the rest of the league since 2008, and we see that Urias' crazy Major League pickoff rate gets even crazier when you combine this year's Minor League numbers. We already addressed the sample-size concerns, so to account for that, I wanted to gain some single-season context. So, I grabbed every pitcher in the expansion era dating back to 1961 with at least five pickoffs in a season, and I calculated their pickoff rate, with total baserunners as the denominator.
The all-time expansion-era single-season pickoff rate leaderboard:
Jerry Garvin had an absolutely insane pickoff season in 1977. His 23 pickoffs that year are an expansion-era record by raw total, and also by a staggering margin on a rate basis. And yet, between Triple-A and the Majors this season, Urias has Garvin beat. Urias' combined numbers, of course, won't go down in the record books, but even now, his Major League pickoff rate of 5.7 percent falls just outside the top 10 of a leaderboard that dates back more than 50 years.
Urias has more than one pickoff move. The one that nabbed Starlin Castro in New York on Tuesday was a lightning-fast side-arm move, thrown off the back foot: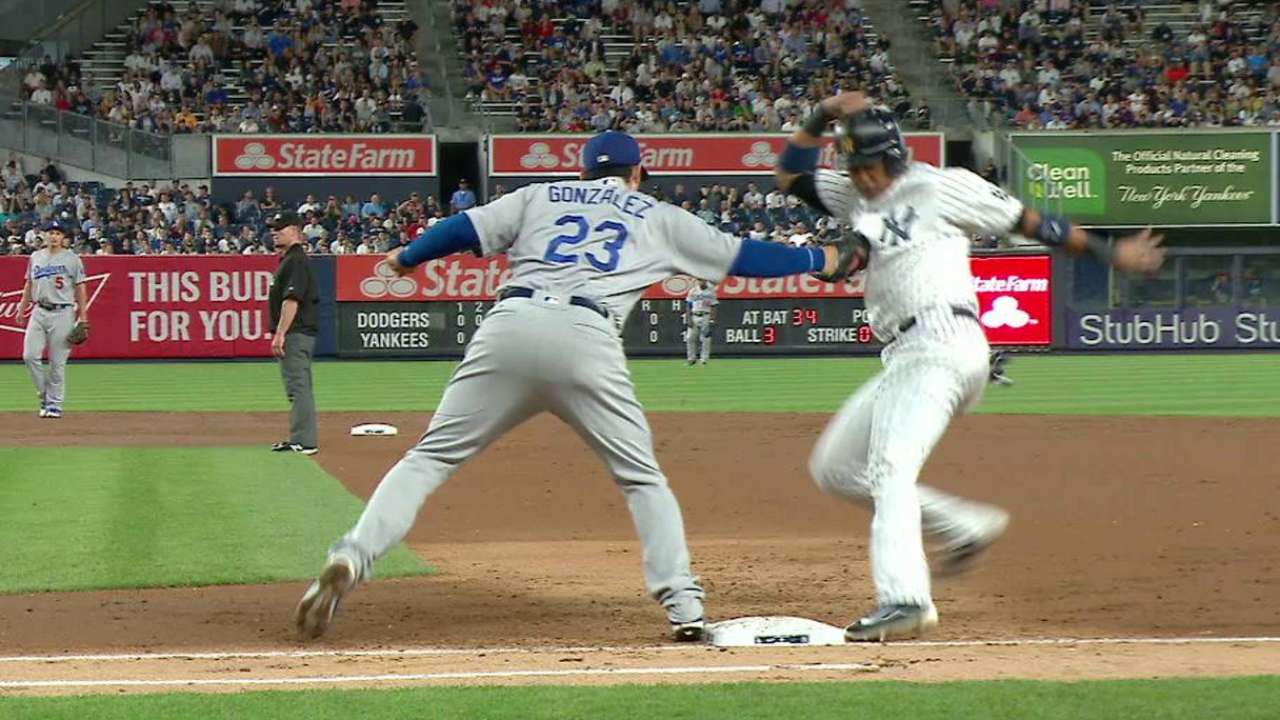 The more common move is a more traditional leg-lift style pickoff move that invokes memories of Andy Pettitte: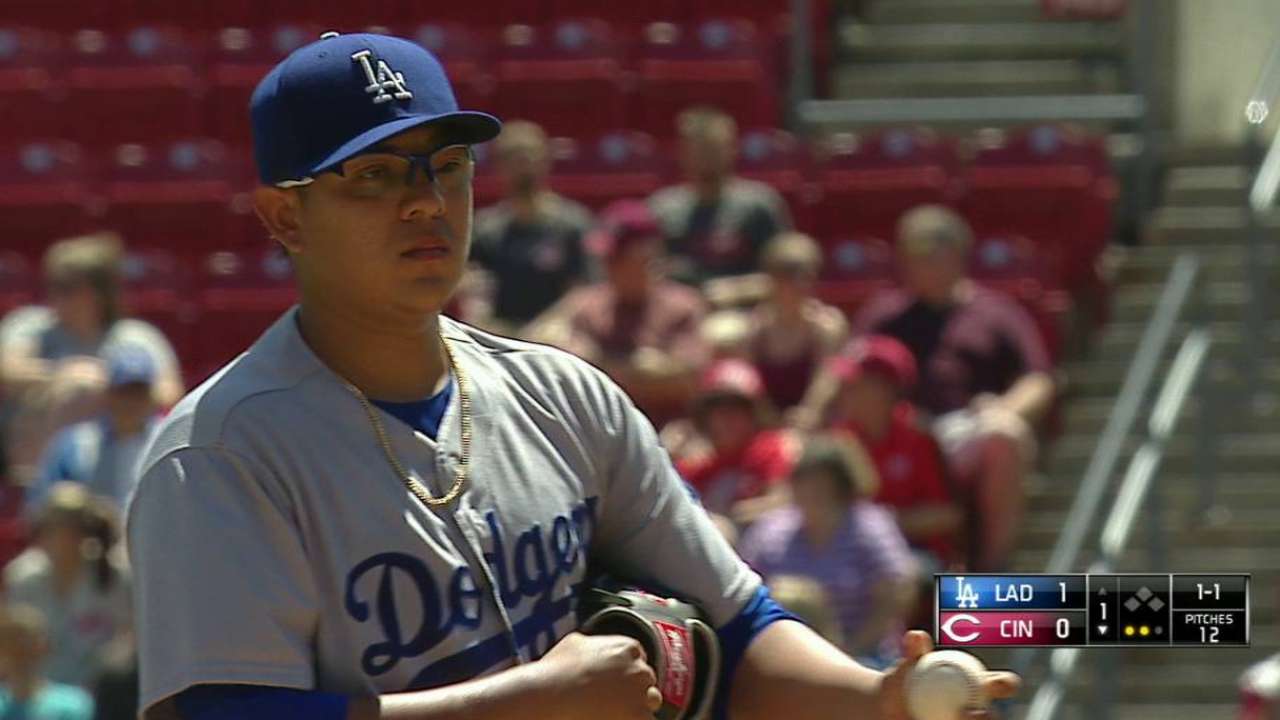 Watching Urias' move, what strikes me is the speed of the arm action. It's immediately obvious in the first clip. But even with the leg lift, notice how compact Urias keeps him arm and how quickly he's able to get the ball out of his hand from the moment he commits toward first base.
This is where we really see shades of Pettitte, in the way Urias creates deception with his back leg by having his momentum begin ever-so-slightly toward home before taking the 45-degree step toward first base. And while opposing players and coaches will surely begin crying balk over this, as they did against Pettitte throughout most of his career, Rule 5.07(d) of the MLB Rulebook states a pitcher "may throw to any base provided he steps directly toward such base before making the throw." The subjectivity of the word "directly" perhaps leaves the above move in a bit of a gray area, but the step is certainly more toward first than it is home, and the tip of Urias' foot is pointed directly at the bag, so he ought to be in the clear.
So long as Kershaw's still around, Urias is going to have a hard time getting past playing second fiddle, let alone achieving the title of baseball's Pitcher King. But in his age-19 season, Urias may already be moving in on Kershaw's status as baseball's Pickoff King. Beyond that, anything is possible, I suppose. He's got all the time in the world.
August Fagerstrom is a contributor to MLB.com. A version of this article first appeared at FanGraphs.com. This story was not subject to the approval of Major League Baseball or its clubs.