Streaking Mariners ready for crucial homestand
Winners of 8 straight, Seattle will face tough test from Houston, Toronto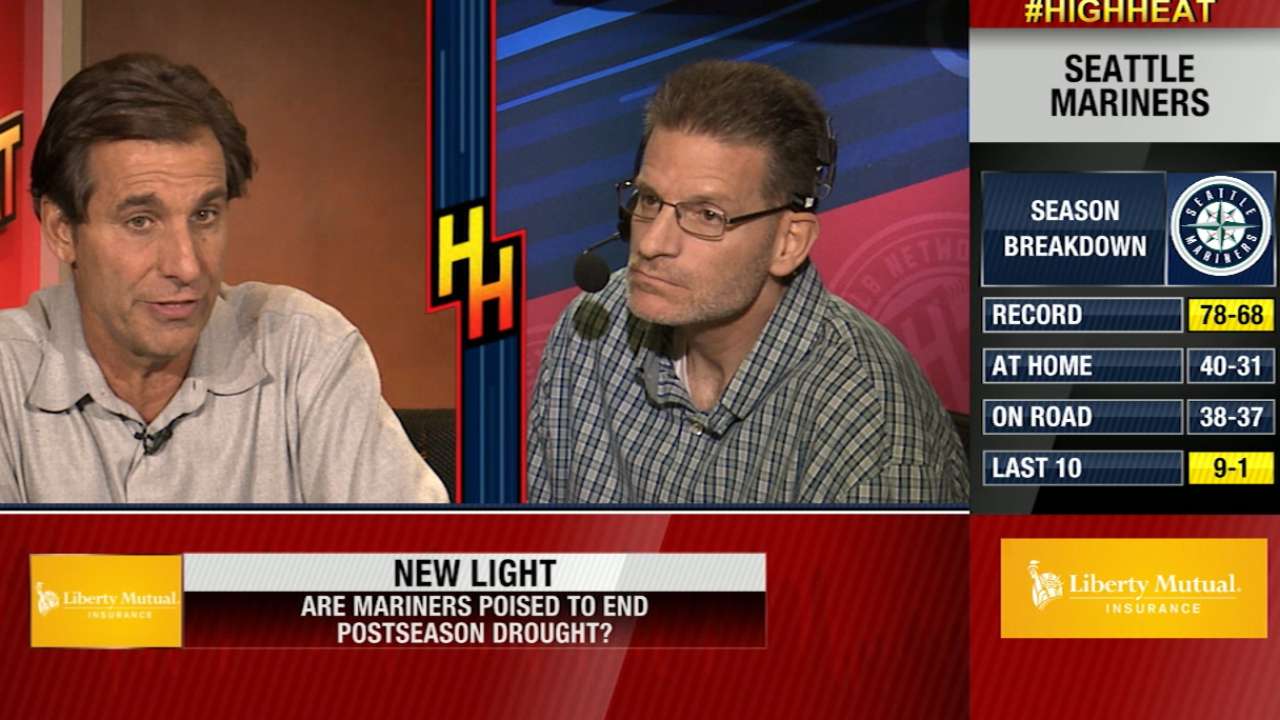 SEATTLE -- So now things get interesting for the Seattle Mariners. Sixteen games to play, and with an American League Wild Card berth squarely in sight.
The team with the longest playoff drought in the Majors opens a critical six-game homestand Friday against the Astros knowing that it still has a chance to crash the postseason party. And that's all this group has asked for from the start of a season under new management, having undergone a significant roster makeover following a 76-86 finish in 2015.
Thanks to Seattle's current eight-game winning streak, this year's club has already exceeded that win total, sitting at 78-68 with just over two weeks remaining. And after taking care of business against the A's and Angels during a 6-0 road trip, the Mariners moved within two games of the AL's second Wild Card berth.
• Celebrate 8 straight wins with $8 tickets this weekend
The Mariners were six games back in the Wild Card race on Sept. 6 after falling to 70-68 with a 10-7 loss to the Rangers.
But Seattle topped Texas in the final two games of that series at Safeco Field and ran the table on its just-completed road trip.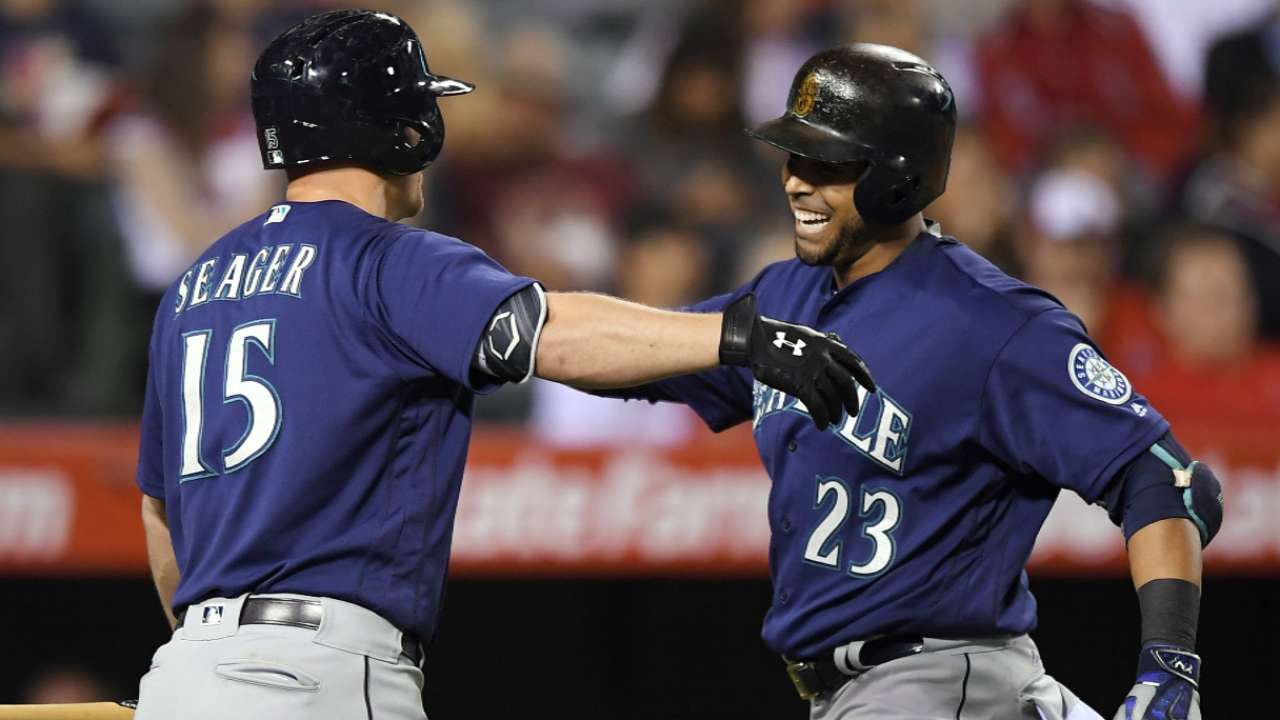 What seemed like a pipe dream just a week ago has suddenly taken an intriguing turn, and the Mariners are relishing the chance to play meaningful games down the stretch.
"There's nothing better than coming to the ballpark knowing you're playing for something and every game matters, every play matters," said designated hitter Nelson Cruz. "This is like the playoffs, where every game is important. Even what we're feeling in the clubhouse is a playoff atmosphere."
Cruz has been here before, having played in two World Series and reached the postseason four times with the Rangers and Orioles. Robinson Cano also has extensive playoff experience. But most of the Mariners are shooting for their first playoff invite. And the key, they all know, is to keep things loose and maintain the same approach that has gotten them to this point.
"The team is playing really good, everyone is clicking, the clubhouse is fun, the dugout is fun," said pitcher Taijuan Walker. "It just feels really good."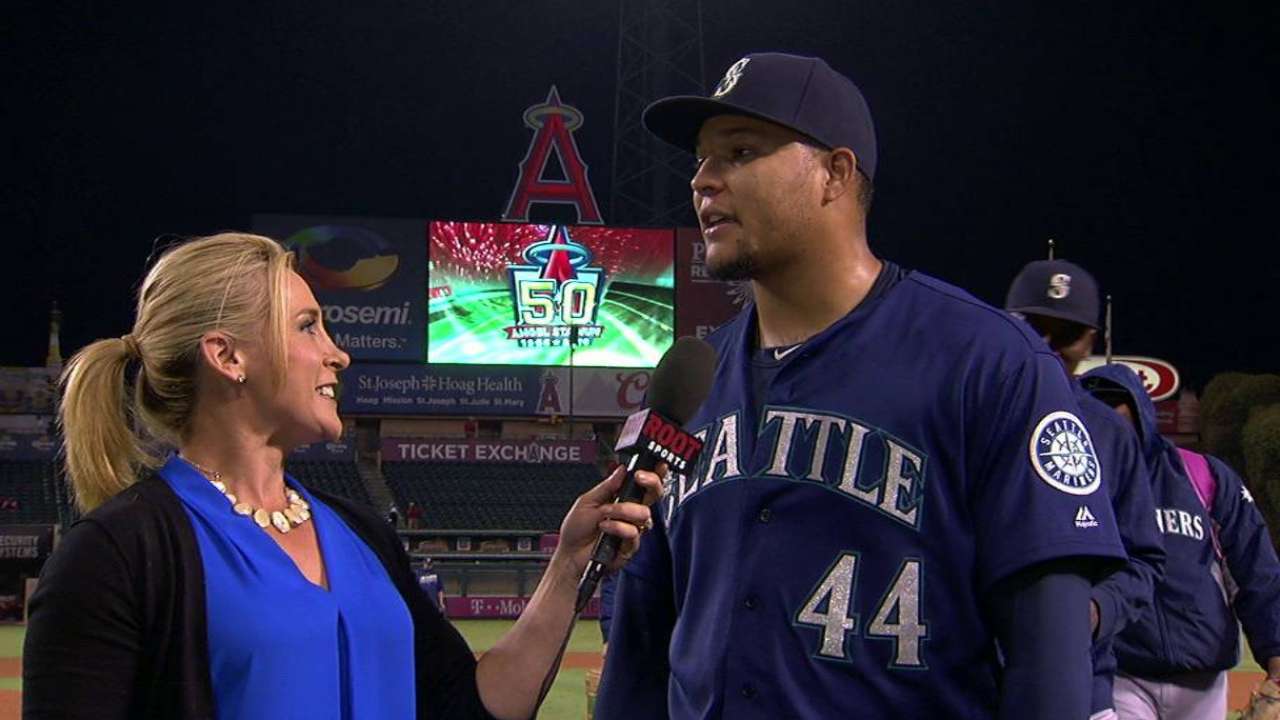 The Mariners made up considerable ground while playing the non-contending A's and Angels, but Seattle now faces tougher foes in Houston and Toronto in its upcoming homestand. The Blue Jays and Orioles top the Wild Card race, while the Astros are in pursuit, along with the Tigers, Mariners, Yankees and Royals.
These next six games could be the most important in years for the franchise if things go well.
"We're going to enjoy it, we'll keep playing ball," said manager Scott Servais. "We're playing against good teams. We've had a tough time against Houston this year, and Toronto has a very good club. But we'll show up.
"We're playing our best baseball at the right time. The stakes get a little higher, but we're not looking at it that way. We're just playing and guys are doing their jobs."
After this homestand, Seattle heads to Minnesota for a three-game series, followed by three more at Houston before closing out with four games against Oakland at Safeco Field.
The Twins and A's are both in the cellar in their division, so the Mariners could put themselves in excellent position if they fare well in the nine remaining games against the Astros and Blue Jays -- which is another reason this homestand looms large.
"Everything is important at this time," third baseman Kyle Seager said. "You're playing teams ahead of you, and teams in the hunt with you. That's something you really have to focus in on. But we're going to maintain the same attitude and energy. We're going to have fun with it."
Greg Johns has covered the Mariners since 1997, and for MLB.com since 2011. Follow him on Twitter @GregJohnsMLB and listen to his podcast. This story was not subject to the approval of Major League Baseball or its clubs.