Gibbons: Estrada's back an issue all season
Blue Jays manager calls herniated disk 'old news'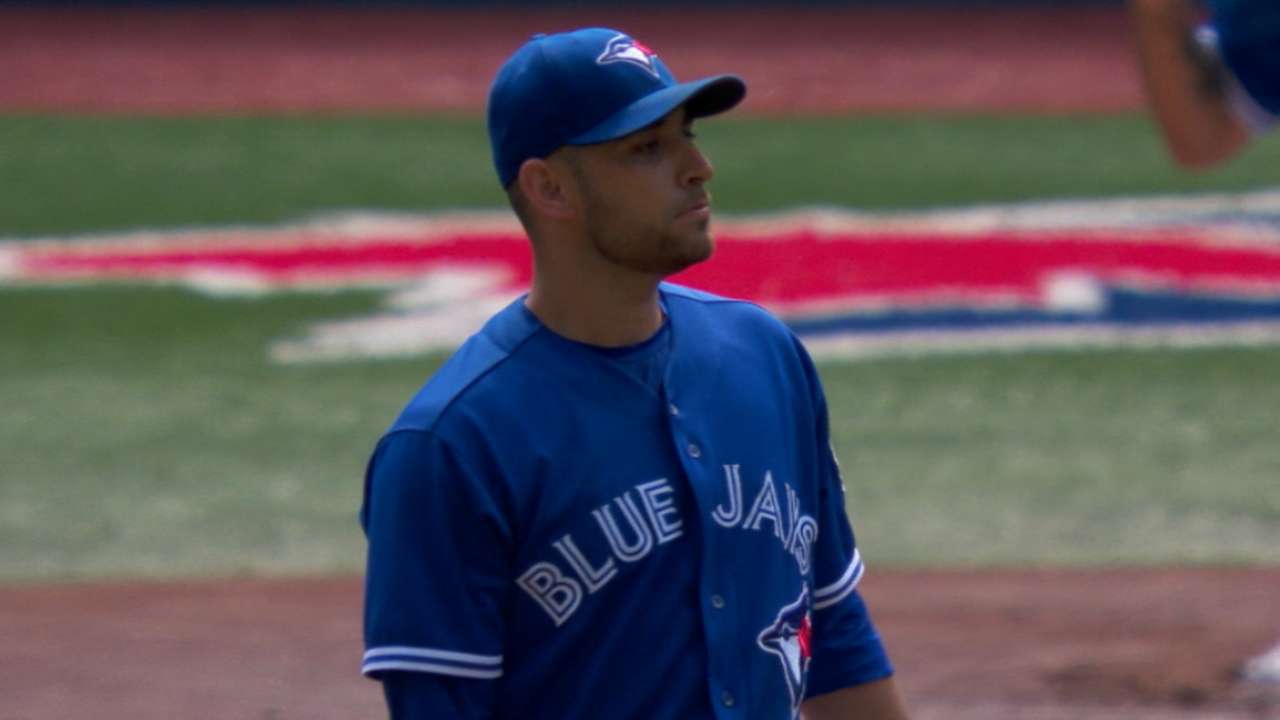 ANAHEIM -- Blue Jays manager John Gibbons confirmed Thursday afternoon that right-hander Marco Estrada has a herniated disk in his back, but said that the report was "old news."
MLB Network's Jon Morosi revealed Estrada's diagnosis earlier in the day. The fact that Estrada has been dealing with back problems is nothing new, but the club previously referred to the injury as "soreness" and "tightness."
Estrada originally sustained the injury while working out during his preparation for Spring Training in February. The 33-year-old had a delayed start to the season because of the back issue and also spent 15 days on the disabled list for a similar issue during July.
"Really, that's old news," Gibbons said before Thursday's 7-2 win over the Angels. "He's had it since the beginning of Spring Training. My understanding is that anybody who has back problems, it's from a herniated disk on some level. It's what affects the nerve."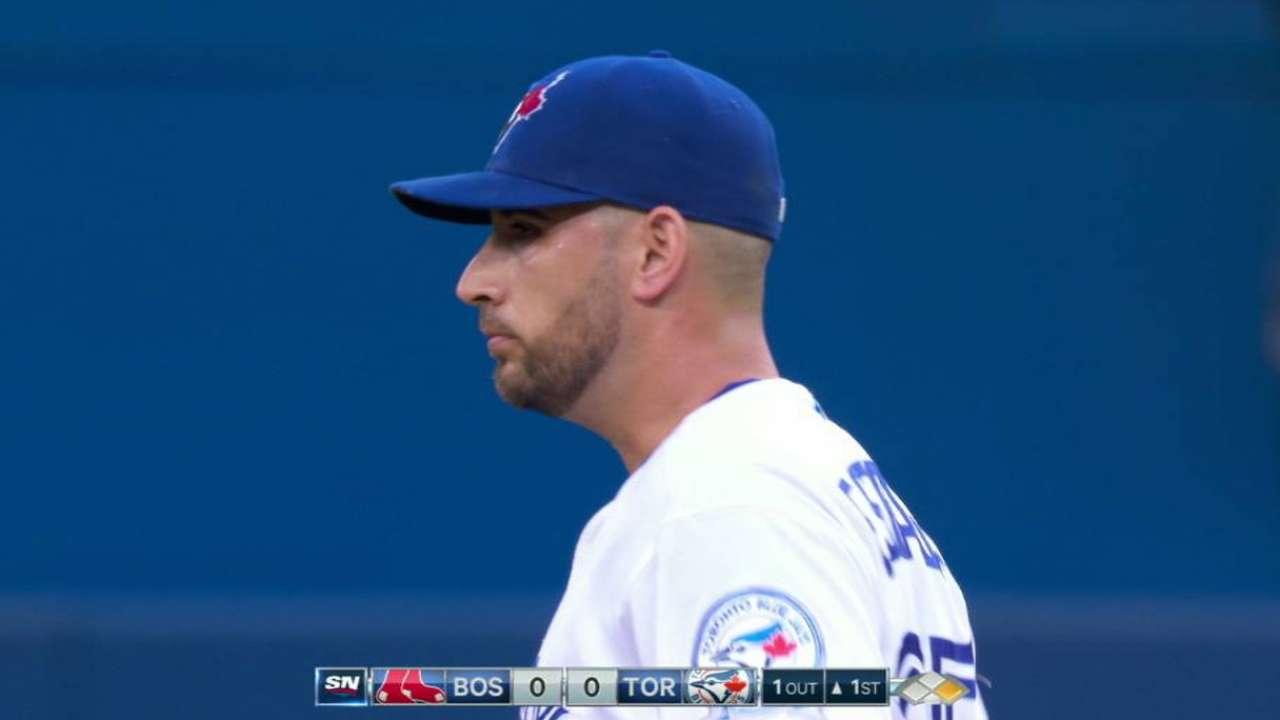 Despite the injury, Estrada began the season by going 5-3 with a 2.93 ERA in 16 starts before the All-Star break. Since returning from the DL, he is 3-6 with a 5.47 ERA over 10 starts and his workload also has been reduced. Before the break, Estrada averaged approximately 6 2/3 innings per start compared with an average of 5 1/3 innings since that time.
Gibbons seemed caught off-guard when news of the injury broke Thursday. In his mind, it wasn't a big deal because Estrada has been dealing with this for all season and not just the past several weeks.
Sanchez on track for Seattle start
Right-hander Aaron Sanchez remains on track to start the series finale in Seattle on Sept. 21. Sanchez dealt with a blister issue during his last outing against Boston, but he's expected to be fine.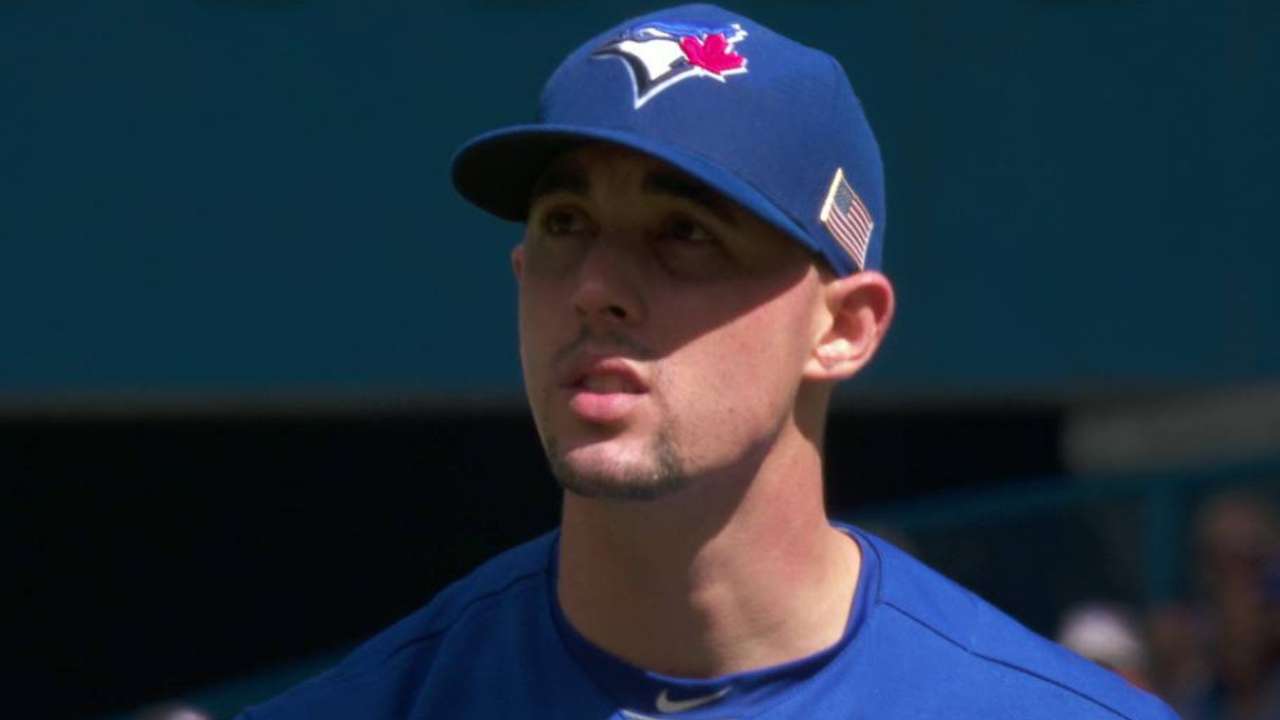 Sanchez had one outing skipped, but it wasn't entirely because of the blister on his right middle finger. The 24-year-old previously wasn't expected to start again until Seattle as the club continues to monitor his workload because of an undisclosed innings limit.
"You won't see him out of the 'pen, but the plan is for him to be ready in Seattle for that third game," Gibbons said. "He's feeling better. That was the original plan. If it was going to happen, this was as good a time as any."
Quantrill joins 'pen as coach
Former Blue Jays reliever Paul Quantrill joined the club Thursday afternoon to serve as their bullpen coach for an undetermined amount of time. Toronto pitching coach Pete Walker is away from the team because of a family matter.
Bullpen coach Dane Johnson has since assumed Walker's role in the dugout and Quantrill has joined the coaching staff in the 'pen. Quantrill was in the Majors for 14 years, including six with Toronto as one of its' primary relievers.
Gregor Chisholm has covered the Blue Jays for MLB.com since 2011. Follow him on Twitter @gregorMLB and Facebook, and listen to his podcast. This story was not subject to the approval of Major League Baseball or its clubs.