Maybin adopting special mitt for sliding
Goal is to protect speedster's left thumb when he steals bases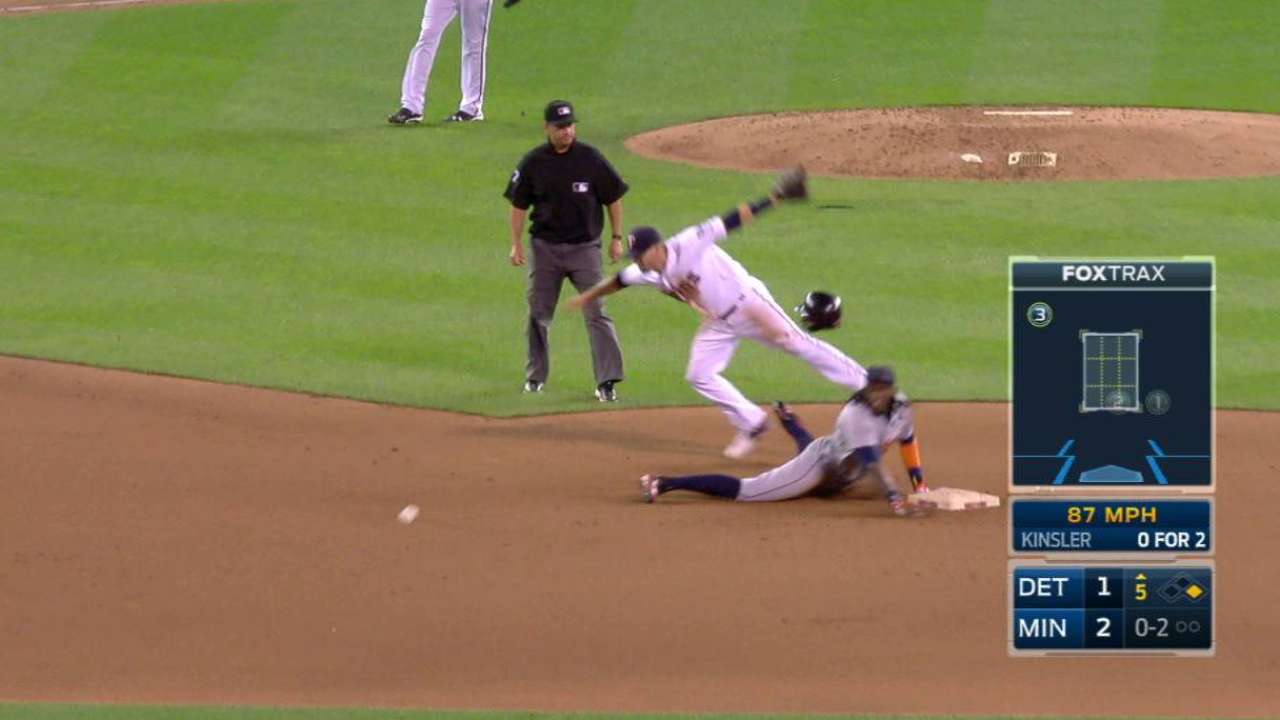 DETROIT -- Cameron Maybin was out of the Tigers' starting lineup on Thursday to give his injured left thumb a figurative break. But when he has been playing in recent days, he has tried his best to avoid a literal break.
That meant the reluctant adoption of a sliding mitt this week. In the bottom of the ninth in Thursday's 5-1 loss to the Tribe, he singled off the bench and didn't don the mitt, probably because a steal in that situation was unlikely. In general, as hard as Maybin tried to avoid it, he's coming around to the idea embraced by other basestealers such as former Tiger Rajai Davis.
"I kind of like it, but I don't like it," Maybin said. "It's weird. I like it just because it makes me feel safe to go headfirst, especially [leading] with my left hand. I'm probably going to wear it until I'm done playing, just to be safe, especially because I'm very uncomfortable sliding feet-first trying to steal bases."
Maybin was strongly against the mitt when he returned from the disabled list after a sprained thumb cost him three weeks in late August. He continued to slide headfirst into second base until he bruised the thumb Aug. 29, catching it between Tyler Saladino's knee and the bag. He returned to action Sept. 5, but didn't try stealing a base until last weekend, when he tried sliding feet-first.
"It just slows me down," Maybin said of going in feet-first. "You go from full speed, and me being a long guy leaning over, to having to flip myself over. Believe it or not, that slows me down just enough.
"It blew my mind when I got thrown out the other night, because I had a great jump. It had to be [going] feet-first. I went and watched it, and I slowed down so much right before I started my slide. I was like, 'Give me the oven mitt. I'm over it.'"
Maybin started wearing the mitt during this series.
The mitt, like the one Davis wore during his two seasons in Detroit, has one small pocket for the thumb and one large pocket for the fingers. It has strong backing on top to protect the thumb and fingers from being crushed, and it also protects the wrist from possible injury.
"It makes me feel claustrophobic, even though it's on my hand," Maybin said. "It's weird."
Still, given the choice of that or an open-fingered glove, Maybin chose the mitt.
"It definitely protects my whole hand," he said. "It's in there real tight and snug. It takes some getting used to, though."
Jason Beck has covered the Tigers for MLB.com since 2002. Read Beck's Blog, follow him on Twitter @beckjason and listen to his podcast. This story was not subject to the approval of Major League Baseball or its clubs.