MLB.com Columnist
Jim Callis
Inbox: How good is Dodgers prospect Alvarez?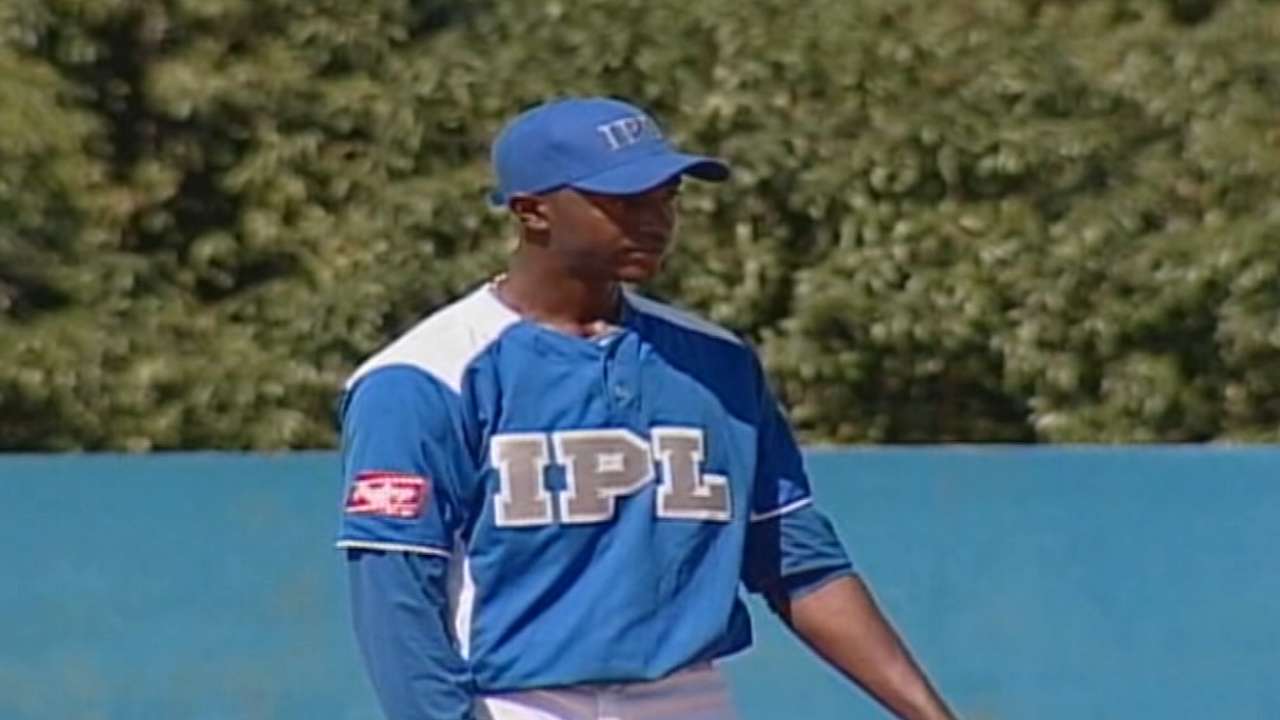 On Tuesday, the Cubs' Class A Short-Season affiliate ended a 41-year drought as the Eugene Emeralds won the Northwest League championship behind five strong innings from NWL Pitcher of the Year Manuel Rondon. Wednesday night, Chicago's Class A Advanced club became the first Carolina League team to repeat as champions in 30 years, with red-hot Donnie Dewees (.423 in the postseason) scoring the winning run for the Myrtle Beach Pelicans.
Could these be good omens for the Cubs? Chicago easily has the best record in the Majors at 93-52 and already has clinched a tie in National League Central with 17 games remaining, but it can use any help it can get. As you may have heard, the Cubs haven't won the World Series since 1908 or appeared in the Fall Classic since '45.
@jimcallisMLB @MLBPipeline Yadier Alvarez. Big year numbers wise. Nice stuff. Projections/ranking?

— Stan Slate (@tovkalov) September 13, 2016
Part of the Dodgers' $150 million-plus international spending splurge (counting bonuses, guaranteed salaries and tax penalties) in 2015-16, Alvarez signed for $16 million, and the club paid an equal amount as a penalty for exceeding its bonus pool. He made his pro debut this summer, and it was spectacular: a 2.12 ERA, a 81/21 strikeout/walk ratio and a .185 opponent average in 59 1/3 innings between Rookie ball and low Class A. Alvarez hasn't allowed a run in nine innings over two starts in the Midwest League playoffs, helping the Great Lakes Loons reach the finals.
Alvarez has the stuff to match those numbers, too. The 20-year-old right-hander works at 96-97 mph with a fastball that can hit 101 mph, and he can overmatch hitters with a slider that can reach 90 mph. He also has developed a hard curveball and is working on a changeup. There were some questions about Alvarez's control when he signed, but he did a good job of throwing strikes in his introduction to pro ball.
We snuck Alvarez onto MLBPipeline.com's Top 100 Prospects list late this summer, and he currently sits at No. 96. I suspect we'll move him up when we revamp the list again in January, and if he continues to pitch like this, he could shoot up the Top 100 next season.
@jimcallisMLB @MLBPipeline after Brinson, who is Brewers OF prospect with best chance of making future impact? Phillips, Ray, Clark, other?

— Tyler Laabs (@laabstyler) August 29, 2016
The Brewers have enviable outfield depth in their farm system. Brinson, part of the Jonathan Lucroy /Jeremy Jeffress trade with the Rangers in July, has the highest ceiling and the highest ranking on the Top 100 at No. 15. Milwaukee also has three more Top 100 outfielders in Corey Ray (No. 28), Trent Clark (No. 64) and Brett Phillips (No. 65), plus another group of other athletic outfielders that includes Ryan Cordell, Monte Harrison, Demi Orimoloye, Michael Reed and Tyrone Taylor.
It's the obvious answer, but after Brinson, Ray has the best chance of becoming an impact player. In fact, while he can't quite match Brinson's 30-30 ceiling, the No. 5 overall pick in the 2016 Draft isn't that far off and may have a slightly higher floor. Ray has the approach and bat speed to hit for average and power, and he's a plus runner. And while he has a chance to play center field, he'll likely wind up on a corner alongside Brinson in Milwaukee.
Though his numbers from his pro debut aren't as glittery as Alvarez's, the Brewers challenged Ray aggressively by sending him directly to Class A Advanced. He hit just .221/.262/.265 and went homerless in his first month at Brevard County, then adjusted and batted .271/.348/.500 with five homers and five steals in his final 31 games there.
@jimcallisMLB @MLBPipeline what are your thoughts on new Astro Cionel Perez?

— Chase Kruckemeyer (@chasek17) September 12, 2016
The Astros have invested in the international market more heavily than ever in 2015-16. They're already getting contributions at the big league level from Yulieski Gurriel, as hoped when they signed the 32-year-old Cuban to a five-year, $47.5 million contract. They handed out seven-figure bonuses to shortstops Freudys Nova ($1.2 million) and Anibal Sierra ($1.5 million), bolstering the middle-infield depth in their system.
Now Houston has agreed to a $5.15 million bonus (which comes with a matching tax penalty) with Cionel Perez, the second-best lefty available in this signing period, and the No. 4 prospect on MLBPipeline's International Top 30. Though he's just 5-foot-11 and 170 pounds, he has a low 90s fastball that tops out at 95 with room on his frame to add most strength and thus velocity. Perez also has the makings of a solid breaking ball, a developing changeup and advanced pitchability for his age.
As soon as his signing becomes official, Perez will be easily the best left-handed pitching prospect in Houston's system. He'll jump into the middle of our Astros Top 30, right behind third baseman J.D. Davis.
When the Mariners signed shortstop Donnie Walton earlier this year, you said he would definitely play in the big leagues. What do you see in his skill set to make you confident he'll make it to The Show?
-- Tyler T., Edmond, Okla.
The heart and soul of Oklahoma State's 2016 College World Series club, Walton is a classic grinder who plays above his tools. He's a switch-hitter who makes consistent contact without a lot of pop, plays faster than his fringy speed and is a reliable defender who likely will wind up at second base after spending time there and at shortstop at college and in his pro debut. A $125,000 senior sign taken in the fifth round in June, Walton hit .281/.361/.421 with nearly as many walks (22) as strikeouts (24) and six steals in as many attempts in 43 games at Class A Short-Season Everett this summer.
Any coach or scout who ever has dealt with Walton raves about his instincts and makeup, which he honed growing up around the game as the son of former Oral Roberts head coach and current Cowboys pitching coach Rob Walton. I don't expect Donnie to be a star, but I do think he'll will himself to the Majors, either as a regular second baseman or a utility man.
Jim Callis is a reporter for MLB.com. Follow @jimcallisMLB on Twitter. This story was not subject to the approval of Major League Baseball or its clubs.