5 things to watch for during Marlins' final push
Fernandez's innings, Stanton's return to outfield highlight club's stretch-run topics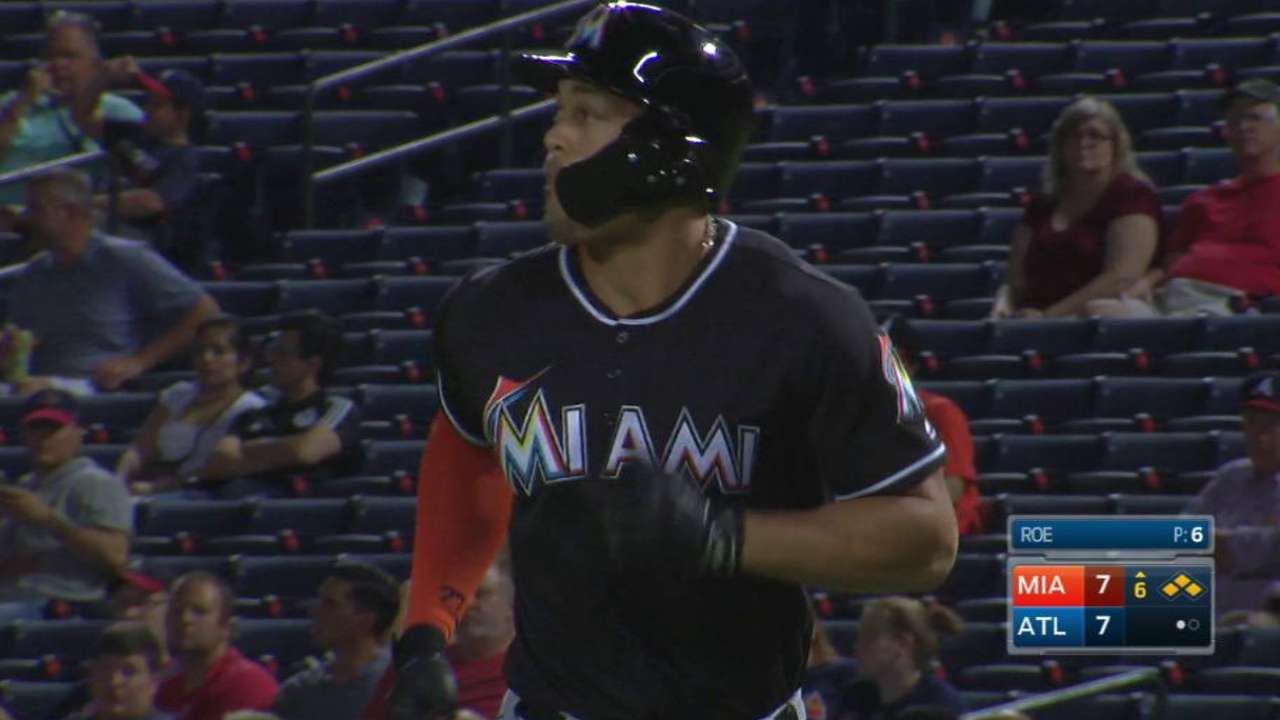 MIAMI -- Until they are officially out of it, the Marlins are pushing forward and hoping they can get some help in their quest to reach the postseason. The odds aren't in their favor, but the fact that they still have hope marks improvement over the past few years, when they were already eliminated at this time.
After taking two of three at Atlanta, Miami entered Thursday's off-day four games behind the Mets for the second National League Wild Card spot. From an organizational standpoint, playing meaningful games down the stretch is a way for the Marlins to see what the team is made up of right now, and which players will be part of the plans in 2017.
"This is definitely the best time to evaluate," manager Don Mattingly said. "[See] who's who -- who is going to play in this situation? This is really where you want to be in. You want to be in situations where you actually feel like you have to win every day."
With 16 games remaining, here are five things to pay attention to as the regular season winds down.
1. Jose Fernandez's innings
All along, the plan was to keep Fernandez around 180 innings, but also have him in position to pitch into the playoffs. The two-time All-Star is 15-8 with a 2.99 ERA and 241 strikeouts. He's at 174 1/3 innings. As long as the Marlins are mathematically alive, Fernandez will pitch. But if they are eliminated, he could be shut down.
2. Giancarlo Stanton's return to the field
Don't look now, but Stanton may be in the starting lineup and playing right field on Friday in Philadelphia. Mattingly confirmed as much on Wednesday night after a 7-5 win in Atlanta. Remember, Stanton sustained a Grade 3 left groin strain on Aug. 13, and at the time, the best-case scenario was a return in the final week. He was active on Sept. 6, strictly as a pinch-hitter. It would be a huge boost to the lineup if Stanton is able to play the field and get multiple at-bats down the stretch.
3. Adam Conley in relief
If Conley does get back, it will be as a reliever. The 26-year-old last started on Aug. 13, and the next day, he was placed on the 15-day disabled list with left third finger tendinitis. The club is taking no chances with Conley, a top-of-the-rotation candidate in 2017. He's 8-6 with a 3.94 ERA in 130 1/3 innings.
"We're going to make sure we're careful with him, as far as, he is still having some issues with slider grips and stuff like that," Mattingly said. "It's a work in progress. We're still progressing, but I don't think we're going to see him get back as a starter."
4. When for Wei-Yin Chen?
Chen hasn't started since July 20, but he continues to get closer to making a start at some point on the final homestand. Chen made the road trip, and he recently threw 65 pitches in a simulated game.
The veteran remains on the DL with a left elbow sprain. Chen is being built back up to start, and it may be during the series next week at home against the Nationals.
5. Relief for bullpen
The fact that no starting pitcher has thrown a complete game this season means the bullpen is being used every game. The workload for many of the relievers is very high. Kyle Barraclough has made 70 appearances and thrown 67 2/3 innings. If the Marlins are eliminated, chances are good he will be shut down. The same holds true for Nick Wittgren, who has thrown 49 2/3 innings in his first big league season.
Joe Frisaro has covered the Marlins for MLB.com since 2002. He writes a blog, called The Fish Pond. Follow him on Twitter @JoeFrisaro and listen to his podcast. This story was not subject to the approval of Major League Baseball or its clubs.